Flexible Solar Panels are one of the greatest green technology to harness solar energy from sunlight while you are back on the road trip with your RV or breathing a piece of nature on campgrounds under the sun.
Flexible solar panels can come in a kit. A starter kit is perfect for you to get started as they have all the components and everything you need to get a solar power setup in no time.
Flexible solar panels for RVs are available for both rooftop and ground installation, they are made of thin, flexible material that can be easily mounted on an RV roof. They are easy to set up and require no special connectors, drilling, or special equipment. and there are a variety of solar system options for your energy needs to choose from.
RV solar panel kits you can now enjoy not just a bit but a whole lot of things while powering your devices, mini DC aircon, small LCD TV, and other small appliances making you feel like you are right at the comfort of your home.
As you camp with your RV you can also make use of the best portable solar panels for camping.
Top Picks Flexible Solar Panels for RVs
Best Portable Solar Panels for RV
As with flexible solar panels, portable solar panels are incredibly versatile for an RV due to their semi-permanence. You simply use them whenever you need, them and fold them up when they are not needed.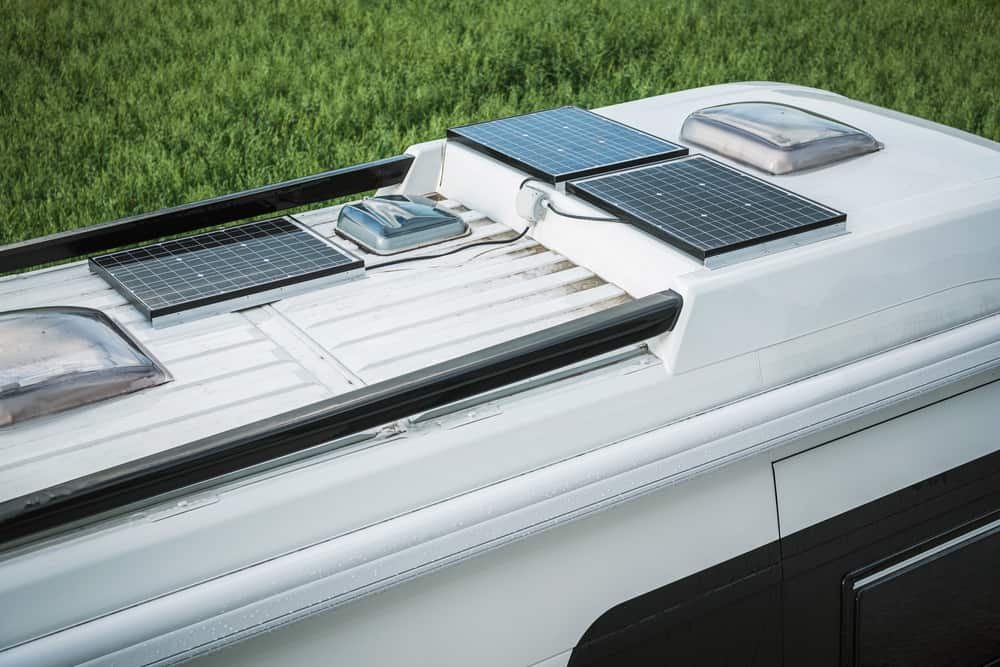 This makes them a versatile option for activities off-grid, such as camping, hiking, and even picnics outside of the RV. A real good investment that gives value to your money.
In this article, you will find 5 of the best flexible and portable solar panels for an RV, along with a handy buyers' guide, reviews, and FAQ section to explain the advantages and disadvantages of flexible solar panels.
In a Rush?
Our top pick is the TP-solar Flexible Solar Panel, a 100 Watt solar panel suitable for 12 Volt battery charging. This panel can bend up to a 30 degree arc, which is ideal for mounting on top of uneven or curved surfaces on an RV or other modes of transport.
This monocrystalline solar cell panel is designed for complete efficiency and durability, as the material is highly waterproof for extreme weather conditions. It isn't made of glass, so there's no chance of breakages from low-hanging trees.
This panel can be mounted by adhesives or velcro, so it is extremely versatile and portable.
Flexible Solar Panel Reviews
TP Flexible Solar Panel
The TP-solar flexible solar panel is ideal for RVs, as it can be curved to a maximum of 30 degrees. This can not only fit perfectly on the roof of an RV, but also on a car, a boat, a trailer, a cabin, or even a tent.
It weighs just over 3 pounds and can be easily transported and moved, as it can be mounted using adhesives, glue, or even velcro.
The panel is designed to be waterproof and high temperature resistant, making it ideal for extreme weather conditions – as opposed to glass solar panels that may crack or break under low-hanging trees or bad weather conditions.
The solar aspect itself is made of monocrystalline solar cells, which are the most efficient of the solar cells and do not take up as much space. This solar panel is 100 Watts and can charge a 12 Volt battery, and comes with a controller and cable.
Pros
Semi-permanent installation for portability
Waterproof and temperature resistant for all weather conditions
100 Watts and can charge 12 Volt battery
Versatile
Cons
Controller must be purchased separately
---
Newpowa Semi-Flex Solar Panel
Editor's Choice


The Newpowa semi flexible solar panels are another great product for an RV roof that has a curved or uneven surface.
Made with monocrystalline solar cells, this solar panel can charge 12 Volt batteries with 100 Watts of power. The monocrystalline solar cell type is incredibly durable and does not waste extra energy for highly efficient performance.
This solar panel is incredibly thin and lightweight, making it ideal for travel and relocation purposes. It comes with 6 mounting holes and an attached MC4 cable.
The solar panel also features an IP68 rated junction box to ensure that the panel is completely waterproof, which makes it versatile for both bad weather conditions on top of an RV as well as on boats or yachts.
The material of the panel is also heat resistant. The panel can curve up to 30 degrees. This product also features a 5 year warranty for transferable power output.
Pros
Lightweight and durable
Can charge 12 Volt batteries
Waterproof and heat resistant
Versatile
Can be mounted in multiple ways
Cons
Controller needs to be purchased separately
---
SunPower 110 Watt Flexible Solar Panel
Best Value
The SunPower solar panel offers an impressive 110 Watt energy output, which can charge 18.8 Volt batteries. On the sunnier days, the power output will range between 50 Watts and 110 Watts, and between 10 and 50 Watts on overcast days.
This solar panel is lightweight and flexible up to 30 degrees, making it ideal for RVs with uneven rooftops as they require light solar panels to avoid damage. This is achieved due to the light polymer materials.
The solar panel is built on a solid copper foundation, and the cells are SunPower Maxeon solar cells – which work to prevent loss of power if the panel is damaged. This makes the panel extremely durable, regardless of scratches or cracks from extreme weather or damage from low-hanging trees.
The panel comes equipped with stainless steel grommets for easy installation, but can also be installed with adhesives or velcro for a semi-permanent mounting. The cables are standard and quick-connect. SunPower offers a 5 year power warranty and a 2 year product warranty.
Pros
Durable solar cells
Lightweight material
Semi-flexible
Easy installation
Long warranty
Cons
Power output may vary depending on the weather and shadows
---
ECO-WORTHY Flexible Solar Panel
Runner Up

This ECO-WORTHY flexible solar panel stands out on our list for its simple design. Obviously, the aesthetic of a solar panel is not a key feature, but for those who want a subtle appearance, this solar panel has an all-black design.
This gridless design is actually beneficial to the solar panel, as it is not affected by shadows. Bending up to 30 degrees of flexibility, this solar panel uses glue instead of solder tape welding to connect the cell slices, which prevents cracking and power loss.
This solar panel has been tested vigorously to withstand extreme weather conditions from high winds and snow.
What's more, the panel is self-cleaning due to its non-stick surface, meaning that rainfall is essentially a shower for cleaning dirt and debris. The power output is 100 Watts maximum and this panel can charge 12 Volt RV batteries.
This solar panel is versatile and can be used on an RV, trailer, boat, or camping tent.
Pros
Gridless design to prevent power alterations from shadowing
Glue instead of solder tape to prevent cracking
Can withstand extreme weather conditions
Versatile and lightweight
Cons
Additional backing may be required to help the panel withstand extreme heat from the roof
---
DOKIO Portable Solar Panel Kit
Top Pick

The final product on our list stands out because, whilst it does not look as flexible as the other solar panels, the DOKIO solar panel is foldable and completely portable. These are quite popular amongst RV owners, as they are the most efficient to mount and move around.
They can be hung or stuck, and then easily removed.
Once folded, the handle works to keep this solar panel incredibly portable. It is protected by a sewn thick fabric to prevent damage. This portable feature means it can be used for vehicles such as RVs, boats, and cars, as well as outdoor activities such as camping, hiking, or even on the ground at a picnic.
Whilst it is waterproof, this foldable feature means you can take down the solar panel for peace of mind against water damage. This makes it the most versatile solar panel on our list.
It is ideal for 12 Volt batteries, but can also reach a maximum power voltage of 18 Volts. It also comes with a charge controller though it's not clear if it's PWM or MPPT type it serves well for its purpose.
Pros
The foldable feature makes it ideal for portability
Incredibly versatile
Easy to install and remove
The kit comes with all charging accessories
Cons
Only slightly waterproof, not recommended to be left in the rain or bad weather
Not a flexible solar panel
---
Best Flexible Solar Panels for RV Buyer's Guide
Flexible vs Traditional Solar Panels
Flexible solar panels work as the name suggests. These solar panels are bendable and can sit on curved or uneven surfaces without breaking.
Flexible Solar Panels are:
thin
lightweight
awesome for portability and transportation
incredibly versatile applications
ideal for RVers or campers, but also water-based vehicles such as boats or yachts
For a frequent camper or hiker, flexible solar panels are easy to carry. Adding the fact that installation is also incredibly simple as it is semi-permanent, meaning you can take them down in extreme weather conditions or when they aren't needed.
Whilst their paper-thin exterior may seem ineffective, these panels work in the same way as traditional solar panels.
The power outage, measured in Watts, is the same as the power outage on a rigid panel. The thing is, rigid panels are often heavier and less simple to install, flexible panels offer unique portability with the same benefits as traditional solar panels.
Flexible solar panel kits are ideal for an RV because their energy efficiency makes them beneficial both financially and for the environment. They do not require screws or brackets for installation, which cancels out the possibility of leakages in the roof, and are incredibly lightweight to prevent damage to the roof also.
The Best Part
This type of energy production does not pollute the earth, does not depend on the burning of fossil fuels, and costs very little in production. For an RV, flexible solar panels are a good tie-up. An ideal way of reducing your vehicle's carbon footprint.
Solar Cell Types
The most popular solar cell type is monocrystalline. These are incredibly efficient solar cells, as they don't take up much space and can perform well in overcast conditions.
They are durable and long lasting, with some cells said to last between 20 and 25 years.
Polycrystalline cells require a cheaper production, which means the quality of the panel is often less durable. They are said to have a lower heat tolerance to monocrystalline cells and are generally less efficient.
Amorphous solar cells are generally the most flexible due to the thin layer of silicon. These cells can work efficiently in overcast or winter weather conditions.
Output and Charging Compatibility
When looking to buy flexible solar panels for an RV, the output is an incredibly important factor. You will need to know the size of the battery in relation to how much the solar panel can charge.
The general rule is to look for panels with 100 or 150 Watts outage, as they can charge 12 Volt batteries as well as supply the rest of the vehicle with a suitable amount of power.
It is, however, recommended to opt for solar panels with a larger maximum output voltage. For example, a 12V battery could benefit more from a solar panel that can produce an output of 18V.
This can often be hard to find with flexible solar panels, however.
It is worth noting that the maximum output of flexible and portable solar panels is generally less powerful than traditional rigid solar panels, as flexible solar panels tend to average only between 100-150 Watts.
Flexibility
The key feature of flexible solar panels is the amount of flexibility they can offer. Most flexible solar panels can curve up to 30 degrees, which is ideal for an RV that does not have a flat roof.
Some panels offer more flexibility that can be rolled up, also. Some are less flexible than they are portable and can be folded instead – these are very versatile for other situations such as camping or outdoor activities.
Limitations
Whilst flexible solar panels do have their versatile and practical advantages, it is worth looking at the limitations and disadvantages. These forms of solar panels often aren't as durable as rigid panels, which can last up to 10 or 20 years longer than a flexible panel.
They are also not advisable for commercial and industrial use, which usually requires larger systems.
Traditional residential solar panels also have a larger power output than flexible panels, which is why they are better suited for powering an entire home. For an RV, however, flexible panels are more suitable due to their lighter weight, bendable design, and easy installation.
Frequently Asked Questions
Are flexible solar panels worth it for an RV?
Whilst they have their limitations compared to traditional rigid panels, flexible solar panels are definitely worth it for an RV. They are lightweight, easy to install and remove, durable, and incredibly beneficial to the environment.
An RV can be expensive to run, so a solar panel is a cost effective way to charge a battery and maintain the electricity inside the vehicle. They do not require permanent installation such as screws, which means no damage to the roof is caused – as screwed equipment can often increase the possibility of leaks.
They also do not contribute to the burning of fossil fuels or a carbon footprint, making them environmentally friendly.
How many solar panels do I need to run an RV?
In most cases, the more the merrier, however, an excessive amount of solar panels can actually waste energy. We recommend installing around 300 Watts of solar panels on the roof of an RV, which is generally around 3 flexible solar panels.
This obviously depends on the battery size, but multiple solar panels can work to charge other aspects of the RV such as an air conditioner.
The main bonus of multiple flexible or portable solar panels is that they don't all have to be installed and used at the same time, as their lightweight and slim design takes up little to no storage space.
Are flexible solar panels less efficient than rigid panels?
Whilst they have their differences, flexible solar panels are not hugely less efficient than rigid panels. If a rigid panel has a power outage of 100 Watts, then it would have the same outage as a 100 Watts flexible panel.
However, they are often not as durable or as long lasting as rigid panels. Though this means that flexible panels will need to be replaced, RVs are not used as often as the energy in houses (that are better suited for rigid panels).
This means that flexible panels are the better choice for an RV due to their semi-permanence. True, they don't have the same maximum output as conventional solar panels, but multiple flexible panels can be purchased to make up for this.
Do flexible solar panels work in rain?
Most flexible solar panels are waterproof to work efficiently in extreme weather conditions. This is due to secure PET lamination. These solar panels also feature a non-stick coating on the surface, meaning that they are self-cleaning in the rain.
This is when solar panels actually benefit from rainwater, as it helps to clean dirt or debris. Some solar panels, for example, foldable ones with fabric outer layers, are not designed for excessive water exposure.
Whilst they can withstand light rain in emergencies, the fabric will soak up the water which can damage the quality of the solar panel. Fortunately, flexible and portable solar panels are easy to uninstall and store, it is recommended to put them away efficiently when not in use to prevent extreme damage.
---