There's nothing quite like getting into a hot Jacuzzi after a hard day of work. But did you know you can lower your heating costs by using a solar cover? Today, I'm going to show you the best solar blankets for hot tubs. You can soon look forward to fewer expenses and warmer waters.
When buying a solar cover for your spa, it's essential to consider your needs and expectations. What is your main goal for purchasing a solar cover? Are you trying to warm your water temperature, or would you somewhat lower your heating bill?
Fortunately, using a solar cover gives you the best of both worlds. They have many excellent features that go a long way in letting you get the most out of your Jacuzzi. In the following sections, we'll take a closer look at the ins and outs of solar spa covers.
We'll also discuss the many ways that they can benefit you as a hot tub owner. But you must buy the right cover for your spa. Depending on where your hot tub is located makes all the difference in the cover you will need to invest in.
You also want to make sure that it is installed correctly if you're going to get the most out of your new solar cover. We'll talk more about that in a moment to ensure that you follow the proper guidelines for installation.
The color of your solar cover also comes into play. A darker cover works to retain heat better than that of a lighter or clear solar cover. If you wish for your hot tub to stay warmer longer, a blue solar cover should yield the best results.
Which Side Is Up on a Solar Pool Cover?
This is important in getting the best results from your new solar blanket. Always make sure that the bubble side goes face down into the hot tub water. Why is this important?
The bubbles are what harness the heat from the sun. When placed directly down into the hot tub, these bubbles transfer the heat into your water. The function is identical to that of a solar pool cover. Pool owners use solar pool covers to heat their pool quickly and efficiently.
And just like when using a pool variant, the bubbles always go into the water. Many pool owners have significantly benefited from using the solar pool and spa covers.
So always make sure that the bare side is up, and the bubble side is down. From here, you can simply trim the cover to the size you need if it is too large.
Some covers will fit perfectly, and you won't have to worry about this step. But if you need to trim your new cover, they are fortunately effortless to work with. Solar blankets are made of a thin plastic that is easy to cut to the size you require.
Can You Heat a Hot Tub With Solar Panels?
Using solar panels or the best portable solar blankets to warm up your hot tub is certainly an option. But it's important to remember that the cost and effectiveness aren't quite as reasonable as you'd find with a solar hot tub cover.
Investing in a tub cover is a great way to save money and get fast results. A solar hot tub cover works by using sunlight much the same as solar panels. However, the wait time for your hot tub to warm up is far greater than that of a tub cover.
If you're looking to enjoy your hot tub as much as possible, you'd be better off going with a solar tub cover. It will heat your water faster, and it won't cost quite as much, either. If you don't have much patience in heating your hot tub, using one of the best solar pool heaters is another option.
Do Solar Spa Covers Work?
They sure do. Solar spa covers work exactly the same way as solar pool covers. Heat is harnessed from the sun and then transferred into your hot tub water. And thanks to their ability to retain heat, you don't have to worry about your hot tub getting cold overnight.
These tub covers are also a great way to reduce evaporation. You won't have to add water to your hot tub as often as you used to. A solar tub cover serves to cut down on your expenses and maintenance costs associated with the upkeep of your hot tub.
If your hot tub is in direct sunlight, you can opt for a thinner solar hot tub cover and save money. Your hot tub will warm up much faster and allow you to enjoy it more frequently.
What Is a Spa Blanket?
A spa blanket is the same as a spa cover. These solar covers work to heat the water of your hot tub using the natural heating abilities of the sun. It's an affordable option for doing so that yields excellent results. Pool owners rely on these types of cover quite heavily to reduce their maintenance costs.
Spa blankets, like pool blankets, work to reduce your overall expenses by keeping your hot tub warmer longer. Any heating costs associated with the hot tub will effectively be reduced thanks to the properties of the solar blanket.
Investing in a hot tub cover will give you far greater enjoyment out of your hot tub. It's the best way to heat your hot tub without breaking the bank.
Hot Tub Solar Blanket Reviews
---
Best Overall Option – SPA Thermal Solar Blanket
No products found.
This 7 x 7-foot solar hot tub cover is ideal for those who want to get the most out of their hot tub. It comes in a handy 15 mil thickness that works to keep heat trapped into your hot tub water.
We like this option, as it is affordable and effective. The square shape is easy to trim to the exact size you need to cover your hot tub adequately.
You're also getting a blue cover that retains heat far longer than clear solar covers. If you're trying to cut back on energy costs, the SPA Thermal Solar Blanket is a smart investment.
Pros
Heat retention – One of the best features of the SPA solar cover is its ability to trap in heat. Whether daytime, nighttime, or on cloudy days, this hot tub cover will effectively keep your spa warm.
Affordable – We love the price of this cover, as it isn't too expensive. If you've been trying to reduce your bills, this hot tub cover is a great investment.
15 mil – This thickness ensures that you are getting one of the best covers around. It is highly durable and long-lasting, so you won't have to worry about replacing it anytime soon. This thickness is the same as you'd find on a solar pool cover.
Cons
Longer wait – The only drawback to this cover is that the heating process takes a bit longer than it would with a clear cover. Blue covers are known for their protective qualities, but they take longer to heat a pool or spa.
Upgrade Option – Sun2Solar 1600 Series Spa Cover
Sun2Solar consistently delivers exceptional solar heating options for pool and spa owners. It should therefore come as no surprise that their 1600 Series Spa Cover is no different. This lightweight and versatile tub cover worked well in our testing.
It is one of the best ways you can heat your hot tub. And thanks to its 16 mil thickness, you're getting a hot tub cover that you can count on to last. It is very durable, and yet it's surprisingly easy to work with.
If you need to trim its 8 x 8-foot diameter, you'll have no trouble getting to fit your hot tub. This cover comes in a blue shade that is just like their pool variant, giving you even more excellent protective qualities.
The blue color works to keep heat trapped in more extended, so you won't have to worry about your hot tub cooling down once the sunsets. This hot tub cover even retains heat on cloudy days. It comes at a reasonable price and is sure to serve you well.
Just be sure to install it with the bubble side down so that you get the best heating possible.
Pros
4Blue – The blue color works to trap heat longer. Your hot tub will stay warmer on cloudy days and even overnight. Now you will be able to look forward to a warmer hot tub the following morning. It will take far less time to heat up your tub, too.
16 mil – This hot tub cover is quite thick, giving you incredible durability and longevity. Don't waste your money on a flimsy hot tub cover that you'll just have to replace by next year. This is the best thickness for ensuring that you're getting your money's worth.
Easy to trim – This thick cover might be tough and durable, but it's a breeze to work with. You'll have no trouble cutting it to the size you need if it's too big for your hot tub.
Cons
Slower heating – The only real downside with the blue color is it takes longer to heat your hot tub. This hot tub cover makes up for it by keeping heat locked into your hot tub longer, however.
---
Value Option – Blue Wave NS098
Are you looking to save some money on your solar heating investment? Blue Wave has you covered. This brand is well-known for its high-quality solar pool covers. And the NS098 is no different.
This spa cover is one of the best around, providing you with an outstanding balance of heating and protection. We love the attractive royal blue color and 12 mil thickness. Both work to keep your hot tub warm and comfy.
Best of all, it is highly affordable. We were quite impressed with this budget-friendly option. Just like Blue Wave's pool models, our hot tub retained its heat overnight. This cover works the same as their pool covers by reducing evaporation.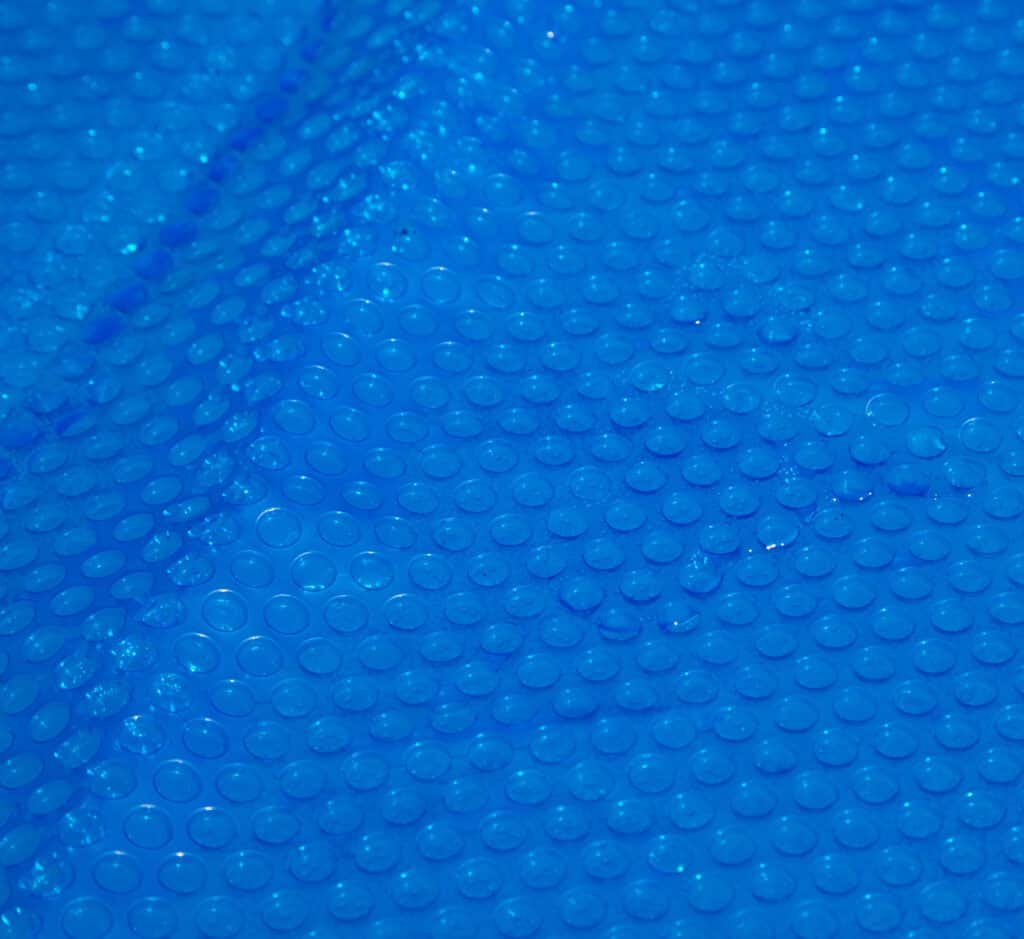 You'll find that just like with a pool; you won't have to add water to your hot tub as often.
Pros
12 mil – This thickness is easy to trim to the size your hot tub requires. And yet it is durable and long-lasting, too. If you want a hot tub cover you can rely on, you'll be quite pleased with the NS098.
Blue– The blue cover means your spa will retain its heat far longer than that of a clear cover. If you want to get the most out of your hot tub, this cover makes a great investment.
Less evaporation – You can look forward to as much as 95% less water evaporation. This will effectively cut your water bill down and save you even more money in the long run.
Cons
Slower heating – The royal blue color is rather dark, resulting in longer wait times for your spa to heat up. But just like Blue Wave's pool covers, you can look forward to warmer temperatures longer.
---
Our Recommendation for Solar Pool Cover for Jacuzzis
Heating your hot tub is easy, efficient, and affordable. But which cover won us over the most? In the end, Blue Wave's NS098 got our pick as the best option. It's budget-friendly price and effectiveness makes it a winner all the way.
But for a company that creates such exceptional pool covers, we expected nothing less.
---