Solar blankets have become an immense hit in no time since they have shown unprecedented vigilance in keeping up with the modern modes of travel. With such a technological godsend, you don't have to worry about charging your appliances no matter wherever you go.
The solar blankets have a plethora of features like USB ports that let you charge multiple devices at once. The one significant aspect that sets it apart from the traditional solar panels is that it is more flexible and you can easily fold it to reduce it to the minimum size.
Simply put, prominent factors like greater portability, easier adaptability, and convenient flexibility have made a solar blanket, a must-have for all the passionate travelers out there. This is the time you bid farewell to excessive luggage and opt for the best portable solar blanket to make your journey more fun than ever before.
We have sorted out some of the favorite choices of this season, with no further delay, let's dive right in:
Top Picks Portable Solar Blankets
Factors To Look Out for While Buying the Best Portable Solar Blanket:
Technological Advancements:
The first thing that we'd advise you is to go for such solar blankets that depict a major technological advancement i.e. monocrystalline cells. On one hand, these cells occupy a smaller space so the product can have a greater efficiency without having a gigantic size that'd affect the portability.
On the other side, these cells are better at absorbing the natural sunlight instead of reflecting it, and this makes it a more liable choice as a power backup. The monocrystalline solar blankets might cost more, but they do manage to last for more than 20 years, making each bit of your money worth it.
Size of the Blanket:
This is another important factor that is going to influence your solar blanket for a long time. What happens is that most of the time we go for such blankets that aren't capable of providing enough output and consequently, you have to rely on other sources.
You can prevent this from happening by first ascertaining the total power supply you might need during the camping. For instance, appliances like camping fridges tend to consume more power than anything else.
If that's the case, then you'd have to go for the blankets like Renogy solar blanket that can cater to all these needs.
However, to remain on the safe side, the best tip is to use online solar power calculators to find out how much power your appliances are going to consume. This is a reliable option as you won't have to spend any money and it'd also cancel out the risk factor in the long run.
Primary Features:
Thirdly, the features like mc4 connectors and in-built chips are the ones people usually miss out on while seeking the more prominent aspects. These small innovations can cast a bigger impression on your overall experience with the solar blankets.
The connectors let you cut out on the budget that otherwise you would have spent on buying plug-ins to connect multiple panels. In the same way, the in-built chips save your devices from over-charging incidents and hence protect their longevity.
Likewise, the aluminum frame and stainless steel holes not only keep the weather changes at bay but also ensure the panel is safe from rust attacks.
Accessories:
Now come to the accessories, we'd suggest that before going for any solar blanket, you make thorough research on what's inside the package. For example, some companies offer a charge controller, and portable solar panel stands, or others offer free Velcro attachments strips that can save the trips to the supermarket when you have to mount the panel on your trailer.
In the same way, there is a greater chance that you may get CDs in the package that work well than any instructional manual. All these accessories, collectively, can bourgeon the convenience factor to multifold.
If you are camping, other than the solar blanket you may also want to get the best portable solar panels for camping.
Best Portable Solar Blankets Reviews
Best Latest Features
Rockpals Folding Solar Panel
This makes it a more practical choice if you want a power source that would work even in the low-light environment. In addition to this, it has 3 USB ports that let you connect and charge multiple devices at once without relying on the extra power options.
Best Technology Option
Windy Nation Solar Blanket
Gone are the days when you would rely on conventional methods to power up your trailer, this is the time when technology has blessed us with new ways to utilize sun power. We are talking about our favorite Windy Nation solar blanket that has taken the market by storm in a brief period.
Best Overall
Rating 4.9/5
12V solar power
Flexible
Travel-friendly
Aluminum frame
Let us start with one of the best portable solar blankets you can find out there. What makes this rank among the trending solar panels is its highly convenient nature and travel-friendly design.
Firstly, it provides you with 12V of solar power that ensures your devices don't run out of power no matter where you are. This can be a long-lasting purchase for travel enthusiasts since one essential like this can replace tons of charging devices.
This is what makes these solar panels for camping as they are impressively adaptable to the wanderlust of nomadic spirits. Now comes one feature that makes it stand among the popular portable solar panels.
It is its flexible nature, all you have to do to fit it into your bag is just to roll it. The cells have a durable structure so constant rolling won't damage them.
It also comes in handy when you don't want to take a lot of travel bags with you, just take this solar blanket and set yourself free from carrying extra charging devices. To add to this, if you own an RV, you can easily charge it just by spreading it over the roof, or covering one window of your van with this blanket.
This would let it absorb the energy present in the rays and it can produce a cheaper power source for you.
We understand being a traveler means that you have to accustom yourself to all sorts of weather changes. However, this seems hard when it comes to the costly travel essentials, including a solar panel.
With a flexible solar panel like this one, you get a corrosion-resistant aluminum frame that paves the way for solar power while keeping at bay all the foreign entities like dust particles.
---
Best Value
Rating 4.8/5
Concise designing
USB ports
Fabric pocket
5 lbs. weight
The best thing about this foldable solar panel is that it depicts monocrystalline cells that indicate their better longevity in comparison to the others. This feature casts a positive effect on the panel's power efficiency and, let us tell you, with all this, it has a smaller body that adds to its travel-friendly aspect.
The concise design lets you store it easily in your traveling bag without going for an extra one, and regardless of wherever you are, you will always have a durable power backup. To make it more resistant to external factors, the company has sewn it with a fabric pocket so it cancels out the risk factor.
This cover also has a handle at the top so carrying it to places would be a piece of cake. It comes with a free charge controller that bourgeons its proficiency to multifold.
It takes power from the sun and also makes sure that the cells remain safe from unpleasant incidents like over-charging, short-circuit or reverse polarity. The intelligent protection feature makes it a more liable choice for the beginners who are laymen in this discussion and need a trustworthy option, to begin with.
It also depicts 2A USB ports that let you charge portable USB devices. Let us give you a surety that the solar cells present in the panel are resilient to the damage that might result after a long period of constant folding.
It weighs only 16.5 lbs. that further accentuates its travel-friendly aspect. It is also easy to set, all you have to do is just to spread it where there's more sunlight and let it absorb all the solar power.
---
Best Latest Features
Rating 4.7/5
3 USB ports
10W power output
Built-in chip
Weighs 81 ounces
Rockpals brings you a 100-watt solar panel that has made its place among the best camping solar system essentials in a comparatively shorter span. The reason for this is that it has multiple anti-reflective amorphous cell layers that work by absorbing 21 to 23% of solar power.
This makes it a more practical choice if you want a power source that would work even in a low-light environment. In addition to this, it has 3 USB ports that let you connect and charge multiple devices at once without relying on the extra power options.
The factors like space and weight tend to be more compelling when you go out to purchase this one. It's because it measures up to 20.5 x 14.2 x 2.6 inches so it'd take lesser space and you don't have to go for an extra carrier.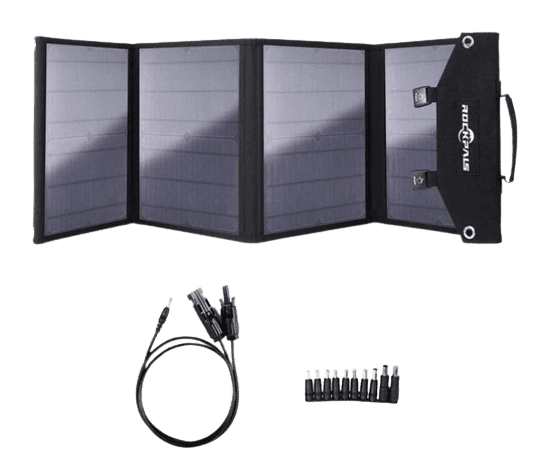 Coming to the weight, it weighs around 81 ounces which makes it lighter than the other pricey options out there. The high-efficiency configuration lets you make the most out of the 10W power output which goes a long way.
The monocrystalline solar layers are water-resistant so in case you leave it outside during the rainy season, you don't have to wake up to long-term damage. It does have a built-in smart IC chip that measures your device's power consumption as soon as you plug it in, and also helps to keep the overcharging incidents to the minimum.
In this way, it never fails to add to the overall battery life and your product would go for good years. The best thing about these blankets is that you can carry them efficiently wherever you go without looking out for the pocket burdening options present in the market.
---
Best Budget-friendly
No products found.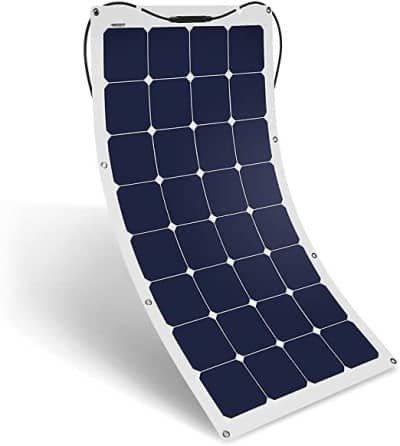 Rating 4.6/5
Depicts mc4 connector
Aluminum frame
30 degrees flexible arc
100W power
If you want to buy the best portable solar blanket that'd fight all the external forces like weather, extreme jolts, or rough usage, you are at the right place. The Suaoki camping solar blanket has an ultra-thin body that you can easily fold to fit in your bag's corner instead of carrying an extra suitcase.
Similarly, the lightweight body makes it possible to carry it for hours without straining your arms. The feature that separates it from the ones mentioned above is that it works with the 18V devices or even with the ones below it.
It lets you opt for this solar blanket for a larger number of devices and makes it stand out as an all-rounder in a true sense. Batteries undoubtedly form the core of any solar blanket.
This one possesses 100 W of ultimate power that not only signifies a strong battery but also promises impressive longevity. Let us tell you that it is also compatible with mc4 connectors so that you can connect multiple panels at once without spending your money on any other tool.
This goes best for the people who own an RV and want to go for more than one solar blanket. To make things further easier for beginners, the company provides you with pre-drilled 4 holes that let you mount it on your car as soon as the package reaches your threshold.
It depicts a corrosion-proof aluminum frame that keeps all the corrosion attacks at bay and maintains its first-day shine. It does have a handle at the top so that you can carry it for a longer time. The flexible arc structure makes it easy to bend it to the whole 30 degrees without fearing any breakage.
---
Best Technology
Rating 4.5/5
Water-proof junction
inches thickness
Blocking diode
Semi-flexible
Gone are the days when you would rely on conventional methods to power up your trailer, this is the time when technology has blessed us with new ways to utilize sun power. We are talking about our favorite Windy Nation solar blanket that has taken the market by storm in a brief period.
The primary reason for this is that it is fully loaded with unprecedented technical innovations that give it an edge over the others. For instance, it is semi-flexible so no matter how small baggage you carry, you'd never run out of room with this solar panel.
Secondly, it has a waterproof junction box and solar panel layers, hence you don't have to worry about the rainy season anymore. The multiple monocrystalline cell layers take its efficiency to sky heights and you can get the fruit of every bit of your hard-earned money.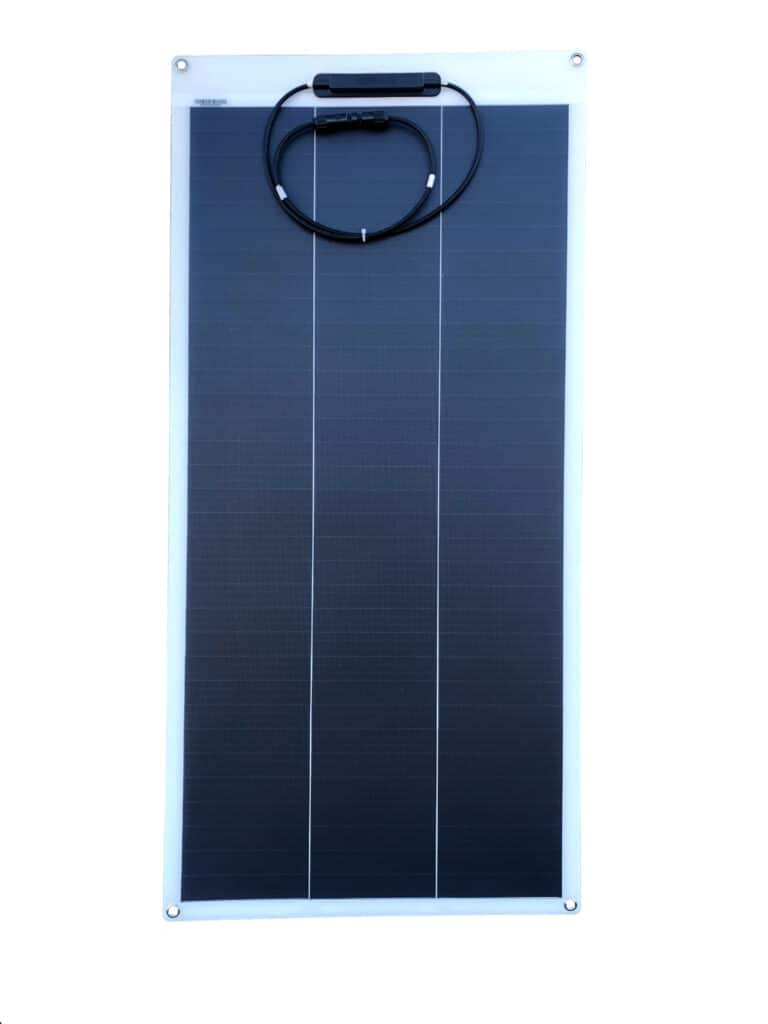 The new feature is that they provide you with stainless steel drilled holes instead of aluminum ones, so there's no compromise when it comes to strong adhesion. On the same note, the company does give it sticky ends or Velcro attachment, so you can use it in multiple ways.
For beginners, you need not go for any professional help when it comes to the installation. This panel comes in a ready-to-use condition with the attached PV connectors.
It measures up to only 0.1 inches in thickness which is no less than a dream come true moment for people who hate going out with extra baggage. Let us tell you it also has a blocking diode in the junction box that helps prevent the battery from draining in the low light environment so one-time charging would go for long hours.
---
Best User-Friendly
Rating 4.4/5
25 years warranty
12V battery
14 pre-drilled holes
Polycrystalline cells
Now, this solar panel is for people who are looking forward to a one-time purchase. It is one of the few best portable solar blankets that can go for a whooping duration of 25 years.
One aspect that makes campers fall in love with this one is that it works at a variety of angles, helping the panels absorb a greater proportion of sunlight. It is user-friendly since if you are on a tight budget, with this one you don't have to waste your money on buying connectors.
The package comes with all the cardinal essentials that you need to get started with the blanket. It can generate 5.4 amp power and can charge a 12V battery.
Not only for the homes, this one is an ideal solution even for the industry-level power requirements and works with both parallel and series connections. It comes with 14 pre-drilled holes that save your time and you can mount it on your RV as soon as you open the package.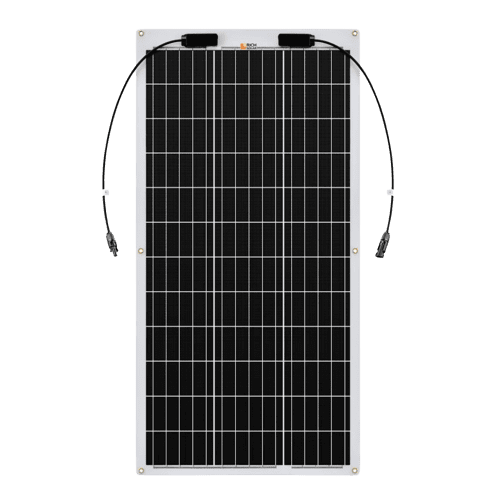 In the same way, it has z brackets and pole and tilt mounts that further add to its easy installation feature. Comes with an anti-reflective tempered glass that works by absorbing a bigger part of the solar energy and keeping the unnecessary reflection at bay.
It can be a perfect purchase when we talk about panels that can withstand extreme weather changes. It has an aluminum frame that makes sure your solar blanket remains safe from rust attacks and helps maintain its first-day shine.
Let us highlight that it depicts polycrystalline cells and is capable of coping with multiple devices at once. It weighs only 18 pounds so for travel enthusiasts, you can carry it to all your dream destinations with zero difficulties.
Lastly, you can use this panel in both ways i.e. alone or with a full panel combination.
---
Best Compact Size
Rating 4.3/5
Compact size
115W power
Innovative solar layers
Anderson connectors
This 115W solar blanket is all you need for this holiday season. It has all the features that you might find in the pricy options out there, but all this comes at a pretty reasonable rate.
The one thing that we adore about this one is that it has a compact size that fits easily in your travel luggage. You don't have to go for the extra bags anymore, just fold this panel up and adjust it in a corner, and voila!
You're good to go. It depicts high portability, it's because it is lightweight and you can carry it for hours without straining your back. To add to this feature, the company has made a handle on the top so there's no room for slipping incidents.
Furthermore, it has multidimensional layers of solar cells so that this panel has a greater platform for the sunlight to fall on and hence produces more electricity in comparison to the others. To strengthen its power output, the crystalline cells make sure that the blanket doesn't give up in the low light environment.
The scratch-resistant coating casts a positive impact on the longevity of the product while the anti-reflective surface boosts the solar energy absorption. The built-in Anderson connectors are easy to cope with and connect to the other panels, so beginners can give it a shot as well.
The best feature is that you don't have to risk your money anymore. The panel provides you with a 2-year warranty and 24/7 email support so you can depend on professional help for the basic assemblage problems without squandering your money on non-reliable sources.
---
Best Lightweight
Rating 4.2/5
Lightweight
25W power
Industrial-strength polymer fabric
Faster charging
This one depicts a 25W power that is capable of making use of 21.5 to 23.5% of solar energy. One thing that separates it from the others is that it shows a faster charging at the rate of 2amp under direct sunlight.
For long trekking sessions, this one is the best solar blanket since it has the capability of charging two devices simultaneously. The industrial-strength polymer fabric keeps it safe from all the challenging weather changes and the extreme jolts it might come across during traveling.
Let us tell you that you don't have to worry about its weight, since it weighs only 1.3 lbs. which feels as light as feather. They do come with 24 months warranty and 24/7 email support so that beginners can invest their money without fearing any risk factor.
The compact size makes it an easy fit among the travel essentials while the power efficiency is such that you can even charge your car's battery with it. The 10A charge controller keeps all the unpleasant outcomes in check and safeguards the longevity of your product.
It does have an aluminum frame that is capable of fighting all the corrosion and rust attacks.
---
Conclusion
Hence, the crux of all this discussion is that solar blankets can be the worthiest purchase if you are thinking of investing in reliable travel essentials. They not only take care of your devices' charging but also make sure that you can enjoy your journey to the maximum by putting aside all the fears of running out of power.
For that reason, solar panels like Renogy are excellent for the people who are eager to go over the top with the essentials, while the ones like Windy Nation and Suaoki are more suitable for the ones who are rather on a tight budget. At the end of the day, the decision relies on your pocket and traveling demands, to make the most out of the natural resources instead of letting them go to waste.
FAQS
Are solar blankets any good?
Portable and easy-to-use, solar blankets may be used to harness the sun's energy to charge electronic devices. Lightweight and portable, they are a common choice for emergency power on lengthy excursions or during longer stays in out-of-the-way places. The materials used to make solar blankets are often soft, durable, and resistant to the elements; these qualities allow the blankets to be readily folded or rolled up for storage or transit. They have photovoltaic cells built in, so that sunlight may be turned into electricity for use in charging electronics or running small appliances. Camping, hiking, and other outdoor activities where access to electricity may be limited benefit greatly from solar blankets since they are a dependable and environmentally beneficial solution for generating power on the fly..
What's the best solar panel for camping?
Renogy is a popular manufacturer of solar panel and other alternatives to fossil fuels. Solar panels made by them have a stellar reputation for reliability, longevity, and efficiency. Their portability, light weight, and ease of setup make them a favorite among campers and other outdoor enthusiasts. Renogy solar panels come in a range of sizes and wattages to accommodate a wide range of applications. Numerous panels are constructed from long-lasting, weatherproof materials, making them perfect for outdoor settings. Renogy solar panels include convenient built-in features like charge controllers and numerous connections that make it simple to hook them up to batteries and other electronics. Renogy solar panels, in general, are a dependable and hassle-free way to produce power when camping or elsewhere in the great outdoors.
Are portable solar panels worth it?
When it comes to solar panels, Renogy is a household name because to the quality and longevity of their products. As a dependable and easy means of generating power in isolated regions, their solar panels are especially popular among campers and other outdoor enthusiasts. The Renogy solar panel is ideal for these circumstances because of its compact size, low weight, and ease of installation. Additionally, its high efficiency rate implies it can produce a sizable quantity of electricity even in low-light environments. If you're searching for a sturdy and effective solar panel to use when camping or doing other outdoor activities, the Renogy is likely your best bet.
---