You have decided to go solar, now it's time to choose the best roof material for solar panels. Today, we're examining which roof types will yield the best results for installing solar panels.
There are some truly innovative roof types that we think you will be excited to learn about.
What Is the Best Type of Roof for Solar Panels?
When it comes to panel installation, it's important that you use the best material in your roofing. Asphalt shingles are a great choice if your home has a flat roof.
You may need to install additional brackets when going with this roof option to ensure proper installation.
For other roof types, you may want to consider solar roof shingles. They can be pricey, but solar shingle roofs are far more durable than composite roof types.
With shingle solar rooftops, you can look forward to a lifetime investment, as these are incredibly long-lasting shingles. Solar panels work remarkably well with metal roofs, too.
Panel installation is made much easier thanks to the design and function of the metal roof. This gives the solar panels something to hold onto, ensuring that installation is safe and secure.

Any time you install solar panels, it's important to thoroughly research your home to ensure that you choose the better roof type. This will result in lasting solar panel installation.
What Color Roof Is Best for Solar Panels?
Your new solar panel system will get optimal sunlight absorption on roofs that are a light brown or tan color. This allows sunlight to reflect from the roofs far better than a dark color.
With that being said, black roofs look a lot more attractive with solar panels. The choice is yours, but we recommend going with roofs that will yield the best solar energy production.
As you research different roofs, you will find that solar roof shingles are typically black in color. Metal roof types can be found in many different colors.
If you decide to invest in metal roofs, you'll have much greater flexibility and freedom to go with the design that is most suitable for your needs.
What Exposure Is Best for Solar Panels?
Before anything you might want to check what part of the United States is best for capturing solar energy. If at all possible, you always want your solar panel installation to result in the solar panels facing true north. This will ensure that your solar panels get the absolute greatest sun exposure going forward.
Installing solar panels doesn't always give you the options you want for optimal exposure. The goal when installing solar panels should always be to get the most sunlight possible throughout the day. And true north is always going to be the better option.
This is just one thing you can do to ensure that your solar panels are getting the most sunlight. The type of roof you choose, the color of the roofing, and reflective properties can all play a big role in helping you get better sunlight absorption.
It's important to try everything you can to make this happen. You may even want to think about investing in a tracking system down the road.
This will make sure your panels always face the sun throughout the day and get the most exposure to sunlight.
Who Has the Most Efficient Solar Panels?
SunPower is the maker of the most efficient solar panels on the market currently. In fact, the solar energy that they produce set a world record by increasing efficiency by nearly 23 percent.
If you're thinking about installing solar panels, you should give SunPower some serious consideration. Just be sure to invest in the best roof material to ensure you get optimal solar panel installation.
With an energy-efficient roof, your solar panels will deliver even better efficiency. This will result in you seeing big savings in the long run. And if you really want the absolute top of the line, consider the Tesla Solar Roof.
No panels, and no roofing material. both are combined to deliver an innovative and technological marvel that covers, protects, and produces electricity. It's will cost you a small fortune, but it's definitely the most convenient way to go.
Reviews of the Best Solar Panels
Best Overall Option
Aponuo Spotlight
Solar roof shingles are making waves among the solar community and for good reason. This innovative material is incredibly durable and is designed to last you a lifetime.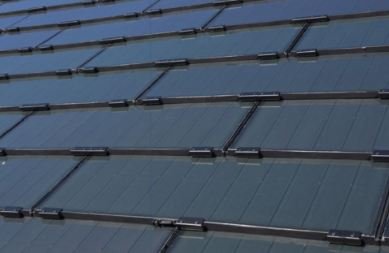 This material not only looks sleek and stylish, but it can also give your roof additional strength. If your roof currently isn't rated to accept a lot of extra weight from solar panels, solar roof shingles are definitely the roofing material you want to invest in.
There are both tile and shingle roofs available in this material type. In the end, it comes down to the aesthetics that you prefer the most. Both types will net you the same functionality.
Pros
Strong – Solar roof shingles are ideal for roofs that aren't designed to hold a lot of extra weight. If you have an older roof but don't want to go through the added expense of restructuring it, solar roof shingles are right up your alley.
Sylish – One of the nicest features of solar roof shingles is that they can breathe new life into an old roof. We especially like the way these shingles look, as they complement solar panels really well. If you're wanting to give your home a facelift when you install solar panels, solar roof shingles may be the perfect fit.
Versatile – The material and form of this roof make it easy to use and install. In fact, installing this roof type should be faster than any other entry among our reviews. It's a breeze to manage and is lightweight compared to other options.
Cons
Costly – Expect to pay considerably more for this type than what you would expect to pay with conventional roof material. As a new roof option, these shingles still need to be around for a while before a major price drop occurs.
---
Upgrade Option
Asphalt Shingles
This roof option is better suited for homes with flat roofs. Installing this roof is done in sheets of rock and tar, giving your roof incredible durability and added life.
You should think of asphalt shingles as a lifetime investment, as they are designed to withstand years of weather and outside elements. This roof type can get to be pretty pricey, but you can look forward to remarkable service.
There is often some extra hardware needed to ensure the roof is installed safely and securely.
Pros
Long-Lasting – the most important aspect of this roof is that it is designed to last for years. You can look forward to your solar panels staying securely in place for the majority of your life, too.
Great for Solar Panels – To ensure that your solar panels get great sun exposure, this roof type will work to provide better reflection. This is thanks to the rock and tar combination that helps reflect sunlight better than other roof types.
Cons
More Hardware Needed – Due to the nature of the installation process, it isn't uncommon for solar users to need to invest in additional hardware. This isn't always a bad thing though, as it ensures you that your roof is securely in place to house your new solar panels.
---
Value Option
Metal Standing Seam
If you're looking to save as much money as possible, you might want to consider metal standing seam roofing. This type of roof is a great option for solar panel installation, as it gives the panels a firm and secure foundation to be affixed to.
Furthermore, metal roofs give you greater freedom to choose a style and color that best suits you and your home. You shouldn't have any trouble finding a light brown or tan metal roof, as this will complement the solar panel system much better, resulting in better energy production.
The lighter colors reflect sunlight much better than other roof options, ensuring that your solar panel system absorbs as many rays as possible.
As always, the goal of solar panel installation should be to produce as much solar energy as you can allow.
This roof type will give you the confidence that your new solar system is delivering optimal power production.
Pros
Freedom – You can't choose the color of your roof when you opt for asphalt or solar shingles. Metal standing seams allow you to pick just about any color you want, giving you better solar energy in the long run.
Affordable – Metal roofing is one of the more affordable options you will find as you research roof types. If you just spent a sizable amount on your new solar energy system, you may be looking for affordable roof options. Metal will give you the freedom you need to customize your home while going easy on your wallet.
Cons
Hot – Make no mistake, this roof type gets really hot. If you are going to be installing it on your own, be sure that you prepare for it. You could very easily burn yourself if you aren't careful. If you take the proper precautions, however, you should do just fine.
---
Conclusion
If you want the very best roof type, we recommend solar roof shingles. They might cost a lot more than other options, but they will net you huge savings in the long run.
The goal should always be to get the most energy production possible, and this roof type will certainly allow for that.
---