RVs are massively popular amongst families for road trips all across America. With its comfortable size, an RV is a much more convenient option to travel in than any other car or vehicle. It has the capacity to have adequate sleeping beds, a common space, and even a functional kitchen.
Essentially, your RV becomes your mobile home. Because of its size, it becomes possible to take multiple travelers along as well as the best appliances for solar power that will make your travels even more homely. Therefore, a solar refrigerator is an excellent idea for your RV.
When you're on the road for days or if travel to a remote site, it becomes essential to have all the food supplies preserved properly. A functional fridge makes all the food concerns disappear because you can store your supplies for days without worrying about them going bad.
If you're an RV owner looking for a solar fridge for your vehicle, you've reached your destination. We are going to review our best RV fridge for solar power today. Let's get started.
Things To Consider When Buying a Refrigerator for Your RV
1. Size
The first thing that you need to consider when buying a refrigerator for your RV is the size. Although RVs are quite spacious, you can't buy a fridge without looking for a place for it inside your vehicle first.
It's very important to maximize the space of your RV and to designate a spot for your refrigerator. Make sure that the area is enough for the closing and opening of the fridge's door as well as comfortably adding or taking out supplies.
Once you've figured out the spot for your fridge, it will help you pick out the size that would be ideal for it. The next thing you need to concern yourself with is the amount of food that you need to stock up on.
You can determine this by the number of people who'll be traveling in the RV as well as the number of days you have to stay off-grid. If you usually travel solo, then there's no need to get a huge refrigerator. A small, portable fridge should enough for these ventures.
2. Capacity
After you choose the right size of your fridge, depending on its use, the capacity of your RV refrigerator needs to be the next factor under consideration. The capacity of an RV fridge doesn't only refer to the amount of food it stores.
It also means the maximum time all the features of the fridge will be available to you. As the concept of traveling in RVs becomes increasingly popular around the world, technology is also stepping up.
The recent RV refrigerators come with several new advancements and high-end features that make traveling in the RV very comfortable and sometimes even luxurious. An example of these technological advancements includes the option of two doors and the reversible feature in fridge doors.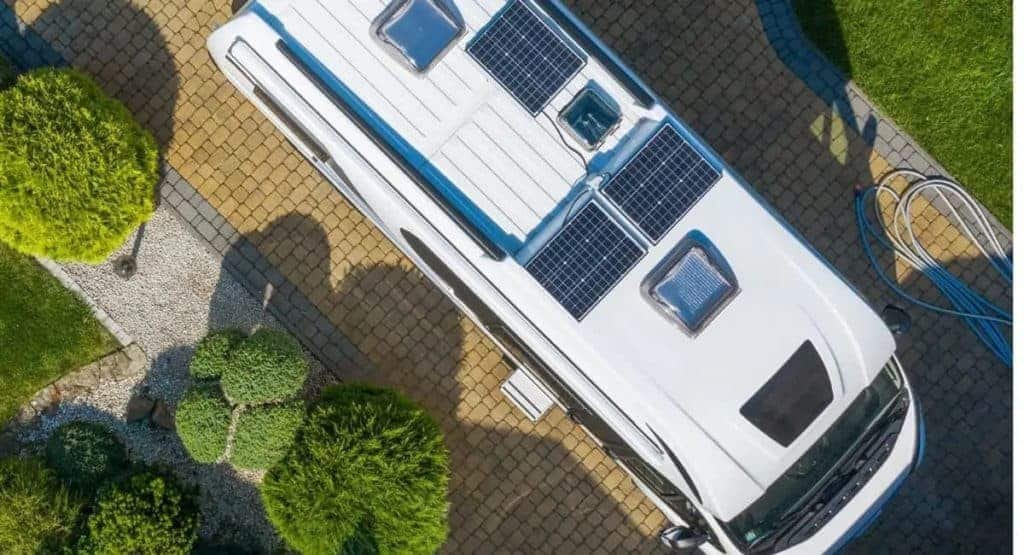 Some refrigerators now come with an ice maker, which keeps all your beverages icy cold. Some give you the option of automatic defrosting and temperature control, which makes it very easy to store and use frozen items.
You'll have to specify your needs when looking for a solar RV refrigerator. Just going after the latest features may not be the best option because they can reduce the functioning hours of your fridge when it's completely charged.
Heavy features such as thermostats and flame indicators reduce your battery time, but if safety is your top priority, then you should go for them. To deal with the battery problem, you should buy a refrigerator that has more than one power source so that you always have an alternative.
3. Price
Once you've settled on a size, capacity, and required features in an RV fridge, now you need to make a budget for it. The price of the freezer is another important factor that you need to consider before buying one.
If you have a brand in mind, make sure that their products fulfill all your requirements. We would strongly recommend buying a fridge that comes with a warranty. The price of RV refrigerators varies depending on the features that it offers.
The more high-end features you look for, the price would increase. An RV fridge is an investment and one you'll be living with for a long time. So, if you have the budget, make sure you buy one without compromising on the quality.
4. Material
Another important factor to consider while buying refrigerators is the material. Ask about the manufacturing material used for the making of the refrigerator. Make sure it's not made up of any material which has the potential of harming your RV or its environment.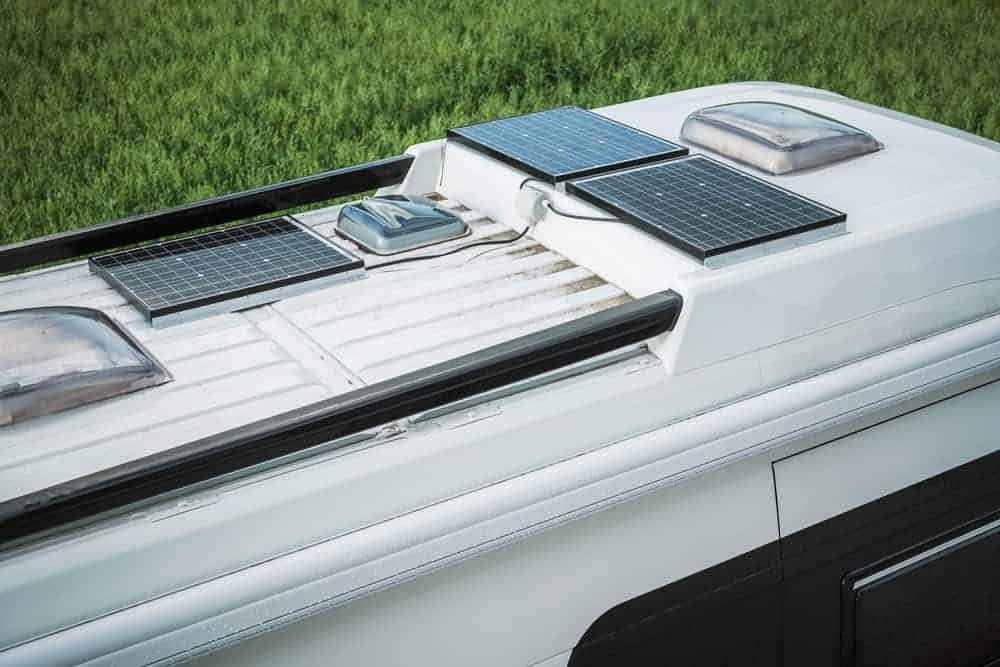 You need to make sure that your refrigerator is compatible with your vehicle. The material of a refrigerator has an impact on its weight and overall efficiency. Always ask the sales representative about the quality and constituents of the material used in manufacturing.
What's an RV Refrigerator?
RV refrigerators are similar to domestic fridges, but they are designed to function in the mobile environment of a vehicle. Recreation vehicle, or RV, is quite popular across America and other countries. It's a perfect vehicle for a road trip with friends or family.
Its spacious size allows for the comfort of its inhabitants. Unlike a car or a van, you can have beds and a working kitchen in this wonderful moving vehicle. That's why most families choose RVs for a road trip.
Since RV provides so much room, then why not use it to make your travels more comfortable? Because of this reason, many brands have started introducing appliances and tools that will help upgrade your RV.
However, the impact of these additions needs to be considered carefully for the long life and optimum performance of your beloved vehicle. Now that you have understood the RV and its functions in full detail, it will be easy to understand an RV refrigerator.
RV refrigerators are different from domestic fridges because they are specially designed to operate and last in the mobile environment of an RV. That's why factors like size, weight, capacity, power source, and other features are designed to last a long time in the RV.
How Is an RV Refrigerator Different From a Standard Fridge?
Many RV users may believe that an RV refrigerator is just like any standard fridge that we use in our regular lives. However, that assumption couldn't be farther from the truth.
Along with the difference in size, design, and capacity, an RV fridge also differs from regular fridges in functions and operations. But how?
A standard fridge applies the cycle of vapor compression to operate. When the constriction of refringent vapor occurs, the temperature and pressure of the refrigerator go up. Then the hot gas collects in the coil of the fridge.
When the coils come in contact with the low-temperature environment of the refrigerator, the hot gas turns into a liquid. The newly formed liquid then flows through the expansion valve and reaches the evaporator coils of the refrigerator.
When the temperature goes up again, the refrigerant liquid turns into a gas again. Then, the gas flows back inside the compressor. This cycle repeats over and over again.
On the other hand, RV refrigerators function quite differently. Since an RV is continuously in motion, the refrigerators are adapted to this environment by making changes to some processes, which help shed some weight off them and make them efficient.
Instead of using a compressor to cool the environment, an RV fridge incorporates the process of absorption refrigeration. It is a cycle of chemical processes involving hydrogen gas, water, ammonia, and sodium chromate.
The mixture of these chemicals flows through the pipes of the freezer to keep it cool. The cycle is mainly fueled by gravity.
What Are the Types of RV Refrigerators?
RV refrigerators differ from each other in many ways, and there's no single classification system to differentiate them in types. Some refrigerators differ in their sources of power. Most RV fridges come with a two-way power supply.
They either use an 11-v electric power source or utilize propane gas to power up. There are also a few brands that offer RV fridges that have a three-way power supply.
They either come with an additional feature of using the 12v power provided by the batteries of the RV, or they have the option of recharging with solar power. Apart from the power source, different RV refrigerators come with different features.
Some are big in size, while others are small and portable. The bigger refrigerators also come with double or reverse doors, if that's your preference. Some RV fridges also come with an ice maker with the option of automatic defrosting and temperature control, which frees the user from having to do any manual work.
Technological advancements have now introduced electric controls for your RV fridge. It makes it convenient for users to navigate and maintain the operational systems of the fridge.
Many fridges have versatile space for the storage of supplies, which keeps them fresh through long distances and time. You can also choose to buy a fridge that comes with an advanced thermostat and other features like a flame indicator.
Almost nothing is impossible to have if you're willing to pay the price for it.
Why Should You Get an RV Refrigerator?
Keeping in mind everything that we've discussed so far, your RV needs a fridge that is specifically designed for operating in its environment. A regular fridge wouldn't be as efficient when used in an RV and can pose a lot of problems for you during your trip.
The main factor that makes RV fridges better is their power supply. It is designed to withstand and be compatible with your vehicle's system. Moreover, a standard fridge will utilize a lot of space and battery power.
Unlike a regular fridge, the material used to manufacture the RV fridge, it's size, capacity, and other features are all compatible with the RV. The RV fridge makes your trip comfortable and doesn't cause problems on the road.
It's essential to choose appliances for your RV based on their compatibility with them. It will ensure that the systems of RV are not affected by incompatible additions.
How Do Keep RV Refrigerators Cold?
Sometimes refrigerators stop cooling down as efficiently. This happens due to various reasons like a lack of power supply, extremely hot and humid weather, or poor maintenance.
In order to fix this problem, you first need to make sure that you've been performing all the required maintenance tasks regularly. If it's not a maintenance problem, and your fridge doesn't feel cool enough, then you can take one of the following measures:
Fridge Fan
An RV fridge fan will keep the air cool inside your refrigerator. It will help fast-track the cycle of cooling, especially in the lower compartments of the fridge. The fridge fan usually comes with a powered battery, so it wouldn't require a power source for occasional use.
Vent Fan for the Fridge
A vent fan for your RV fridge is a great idea because it will decrease its power use by assisting it in expelling out the hot air. Make sure you place the vent fan on the fridge's vent. It comes with a battery and can also be powered by the RV's electric system.
Benefits of a Solar RV Refrigerator
Energy Efficient
The primary selling point of solar RV refrigerators is that they are highly energy efficient. They run on limited solar power and operate their compressor systems very efficiently.
Better Insulation
RV solar refrigerators mostly have thick and highly efficient insulation system. It makes it easier to bring the fridge's temperature down very quickly. Solar refrigerators that come in the chest type design don't require heavy amounts of power to function efficiently.
Two Power Modes
Most solar-powered refrigerators come with the ability to function on two power modes, including 12V DC power and 11V AC power. It makes it easy to connect them with your solar power bank.
Best Solar RV Fridge Reviews
Unique UGP290L1DCB
No Product Found
We have tried several Solar refrigerators, but Unique UGP290L1DCB is hands down the best refrigerator that you can have in your RV. Its name precedes it because it truly is one of a kind.
First off, it's a combination of a freezer and an upright fridge, which runs on the DC power of 24V. It's very spacious, with the storage of 10.3 cubic feet. Moreover, it comes with adjustable levels of temperature.
The wide storage space of the solar fridge is a huge plus point because you can store at least a week's worth of groceries for an average family. Regardless of what supplies you store, it will keep them all cool and fresh, including meat, vegetables, and even frozen items.
The unique UGP290L1DCB functions on a compact cooling system which is highly efficient and doesn't require a lot of power. So, even if you don't have a huge system of giant solar panels, your fridge will still work just fine.
The best part is that it's fridge and freezer work just as perfectly in the off-grid solar setting as an electrically-powered fridge does in households. One benefit of buying this solar fridge is that the shipping is completely free in the US, which saves a lot of dollars.
There simply isn't any other refrigerator that can match the productivity of this solar fridge while providing excellent value for money. It makes a perfect partner for your off-grid trips and experiences with your friends, family, or even alone.
When it comes to solar refrigerators for RVs, the Unique UGP290L1DCBis our clear winner.
Key Features:
It's power draw averages around 865 KW per day
Provides storage capacity of 10.3 cubic feet
24" x 61" x 27" dimensions
The temperature of the fridge ranges between 28.4 °F and 50 °F
The temperature of the freezer goes as low as 28.4 °F
Pros
Provides the efficiency only matched by a traditional fridge
Very spacious compared other DC fridges
Can store a week's worth of groceries for an entire family
Shipping is free across the United States
Comes in three different colors, so you can choose one that matches your RV
Cons
No drawbacks, really. It's ideal for your RV.
---
If you're on a budget but don't want to compromise on the efficiency and quality of the fridge, then no choice is better than Whynter FM-45G 45 Quart Portable Refrigerator. Although it's not enough for the whole family, it's a great value option for solo travelers or couples.
It's a solar-powered and portable fridge that is durable and easily powered. It also uses both AC and DC modes of power. It makes an excellent companion in the wilderness because you can carry it everywhere.
The freezer of Whynter FM-45G can go as low as -8s °F, which can keep your groceries and other supplies fresh for quite a few days. It comes with a thick insulation design, which keeps its temperature from going up quickly.
It's very easy to use and offers the option of temperature adjustment. It also has the option of working in the low power mode. The fridge also provides the option of low energy use if you keep the lid on for several hours.
The closed lid can reduce as much as 50% of the power use, which makes it highly energy efficient. If you don't need to store a lot of supplies and want a great value option, then this portable solar refrigerator is just the match for you. It can store supplies enough to last a few days.
Key Features:
It's power draw averages around 1.56 KW per day
It provides a storage capacity of 1.5 cubic feet
18" x 28" x 20.8" dimensions
The temperature of the fridge and freezer ranges between -8 °F and 50 °F
Pros
Sufficient for solo travelers or couples
Attractive design
Highly durable
Can be used as both freezer and fridge
Comes with handy and detachable wire baskets
Great value option
Cons
Not sufficient for more than two people
---
If you're want to go for a high-end solar-powered refrigerator that comes with premium features, then Sundanzer Solar-Powered Refrigerator is what you're looking for. It's one of the most reliable and efficient solar-powered fridges, which makes it ideal for your RV.
It offers a storage capacity enough for a family. You can fit groceries, drinks, and any other supplies easily. Although it feels a bit expensive when you buy it, its operational cost is one of the lowest.
Moreover, it's highly energy-efficient, so it can last very long during your outdoor adventures. Along with solar panels, you can also power the fridge with two other sources, including a battery and a charge controller.
It has a very versatile design. It comes with a top basket and an insulated cabin powered by a heavy-duty motor. The Sundanzer operates using a refrigerant, which is CFC-free. This refrigerant makes it much more eco-friendly than other fridges.
This solar-powered fridge requires at least 80 watts of power draw from the solar panel. If you want to power it with a battery, it will have to be 110Ah. For a controller, you'll need a 15-ampere charge.
Key Features:
Three-way power supply including solar panel, battery, and charge controller
CFC-free refrigerant
Requires at least 80 watts in a solar panel
15-ampere charge controller
110Ah battery
Pros
Highly efficient power use
Easy to use
Lowers the temperature quickly
An excellent option for off-grid trips
Offers storage capacity enough for a family
Low operating costs
Cons
Bulky in size
More expensive than other models
---
Conclusion
When you choose a solar refrigerator for your RV, it's essential to be mindful of the size and the capacity that would be sufficient for you. If you want your solar fridge to work just like any traditional fridge operates in a household, then Unique UGP290L1DCB would be the best choice.
It is highly efficient and provides great value for your money. Moreover, it offers a spacious storage capacity, unlike other solar fridges. It will be the best choice for long road trips with your family.
If you have any feedback or questions, feel free to drop your comments below.
FAQs
What is the best fridge for solar power?
The Unique UGP290L1DCB is our top-rated solar-powered fridge. It is highly efficient and offers spacious storage. You can store a week's worth of groceries for an entire family. Additionally, its shipping is free across the United States.
How many solar panels do I need to run an RV refrigerator?
A regular refrigerator needs three to four solar panels to function. However, RV solar fridges are designed to be highly efficient and can even run on one solar panel, depending on the type of the fridge. You might also want to check if a 300 watt solar panel can run a refrigerator.
Can you run a fridge on solar power?
Yes, you can run a refrigerator on solar power. However, it's always a good idea to have the option of powering your fridge with more than one source.
How long will a 12-volt battery run an RV refrigerator?
Running your RV fridge solely on a 12-volt battery is not a good idea. The refrigerator drains the power from the battery, just like it would from a direct source of electricity. Therefore, the 12-volt battery will drain out between six and eight hours.
---