Solar garage lights are eco-friendly and at the same time, affordable. With these lights, you do not have to worry about running cables throughout your garage.
When it comes to shopping for garage solar lights, you will encounter a wide range of choices. It could be difficult if it is your first time buying these lights.
We have researched the best exterior garage lights, so you don't have to. This guide gives you a deep insight into the best outdoor solar lighting and helps make the best decision when shopping.
Top Picks Solar Garage Lights
What Are the Benefits of Solar Garage Lights?
The initial set up for exterior solar lights might seem very expensive. This is especially so if other parts of your run on conventional electrical power and you feel it would have been cheaper to extend the cords.
However, solar lights have a horde of advantages, including:
Eco-Friendliness
By using solar lights in your garage, you are using the most renewable source of energy – sunlight. By so doing, you will cut down on the carbon footprint significantly.
While it may not seem like much, if we all adopted solar lighting, we would slow down global warming.
Cost-Effectiveness
When you are buying new model solar lights for your garage, you will spend more than you would with conventional lights. However, in the long run, solar lights are cheaper as you will never get electrical bills.
After a few months, you will have covered the cost of buying the lights.
Little Maintenance
Once solar lights are set, and the photovoltaic panel is exposed to capture maximum sunlight, you are good to go. All you need to do is ensure the panel, and the lights are clean and exposed to full sunlight.
Choose From Various Styles
Exterior garage lights come in various shapes and sizes to not only serve a functional purpose but also for aesthetics. They are designed in different accents to meet your decorative needs.
Like having them attached around your garage fence, there are a number of ways how to attach solar lights to the fence.
Unlimited Source
The sun will always shine above us. Even in areas with minimal sunlight, strong PV panels can absorb light photons to charge the battery.
Again, if you live in an area where storms are common, blackouts might be expected too. Solar lights will illuminate your garage in cases of blackouts.
Related Articles:
Which Types of Solar Lights Are Suitable for Your Garage?
There are different types of solar lights you can install in your home. Solar shed lights, solar path lights, solar driveway lights, solar deck lights or one of the best outdoor solar pillar lighting will fit perfectly in your garage.
These lights are designed with metallic housings, instead of the conventional plastic housing, to make them resistant to weather elements. Again, they are designed to automatically go when darkness kicks in and go offer at dawn.
The lights have different power settings; notably full power and low power settings.
Features To Consider When Shopping for LED Outside Garage Lights
Lighting Features
When buying solar lights, the more the lighting functions, the more expensive the lights will be. For instance, a solar garage light with motion sensors designed to warn burglars from invading your home will cost more than a simple atmospheric light.
Again, if the lighting has more lighting settings, such as automatic on/off and dimming features, it will cost relatively more but will serve you better.
Lighting Effects
For your garage, you do not need the cozy and amble glow that most solar lights offer. These lights, and other colored lights, are meant to beautify your garden.
For your garage, you need bright LED garage lights which are not only bright but long-lasting. These lights are designed to offer security. If you want this additional security feature, tap on one of the best solar motion security lights.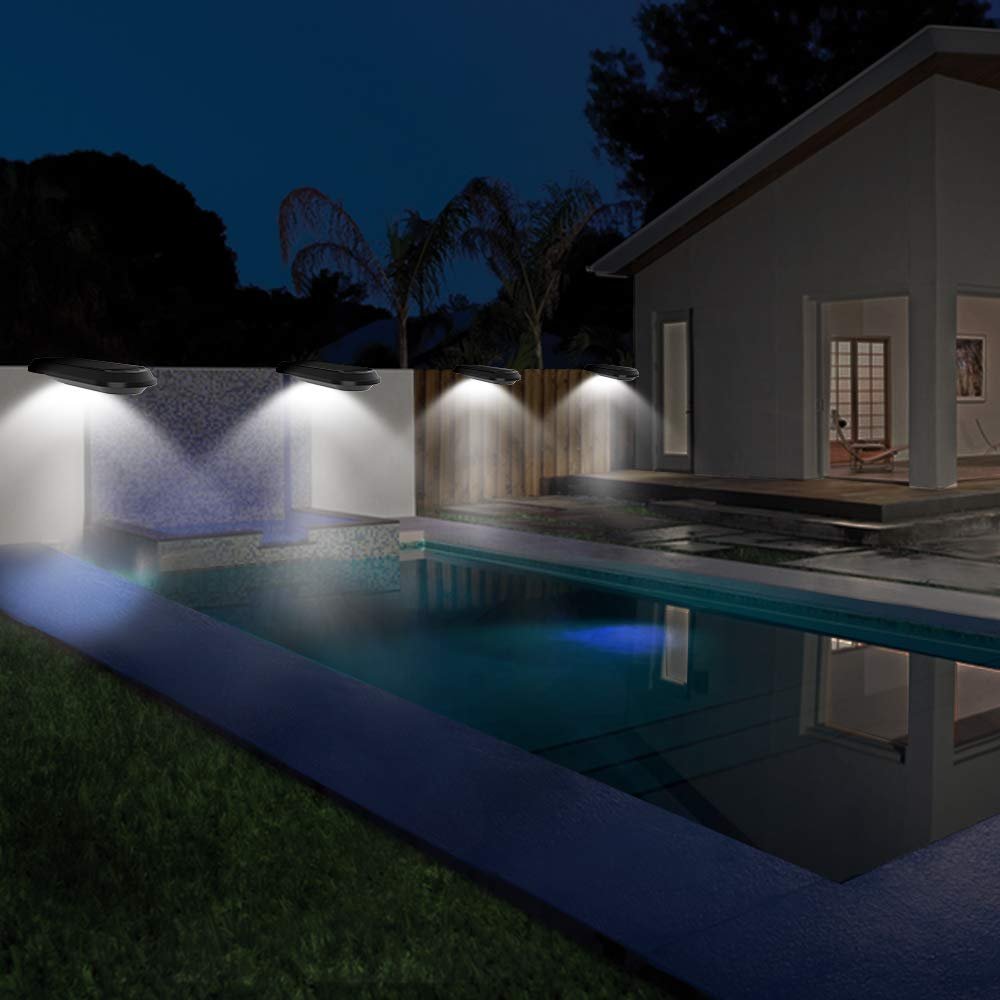 Besides, check the lighting hues. While most solar lights use LED which gives off a bright white light, incandescent bulbs might come with tinted covers to give off different shades.
Because your garage needs security, only choose hues that will offer maximum illumination.
Brightness
Most solar lights use LED bulbs which give off bright white lights. Garage solar lights brightness is measured in lumens.
Some models will produce as low as 15 lumens; these give off soft and warm lighting. Others produce as high as 800 lumens; these are great in areas that need brighter security lights such as your garage.
Battery Type and Its Capacity
Most solar lights used Lithium-Ion batteries, but a few use NICAD and Lead Acid batteries. Li-Ion batteries are preferred because they can charge even on days when there is minimal sunlight.
Li-Ion batteries have a long life cycle, and they also have high recharge and discharge rates. For these reasons, choose Li-Ion batteries. Again, consider the capacity of the battery you choose.
Intelligent Functions
Today, solar-powered garage lighting units are designed to operate automatically. Some are designed with modern processors to adapt to the prevailing environment in your home.
For instance, some lights are fitted with microprocessors that adjust the lights based on the weather patterns in your home environment.
Other lights are designed to adjust to the light intensity to save energy and last longer. Models with these intelligent features will cost more, but they are more functional.
Taking Care of Your LED Exterior Garage Lights
Your solar lights are powered by sunlight, and as such, you need to clean off the dust and remove the snow that might fall on them. Because the panels do not do well during winter and during the rainy seasons, unplug them and store them away in a dark area.
Best Solar Garage Lights Reviews
Quick Take: OUR RECOMMENDATIONS FOR Solar Garage Lights
LITOM Original Outdoor Solar Lights
The LITOM Original Outdoor Solar Lights come packed with intelligent features to make them more functional while still falling within your budget.
You can get the unit as a one-pack if all you need is to illuminate a small garage, and a two-pack or a four-pack depending on the size of your garage.
The unit is rated 30,000+ hours lifespan to last longer and offer value for money.
Pros
BThe units are made of premium ABS and PP materials to not only make them long-lasting but also withstand weather elements. It is also IP65 Waterproof to ensure that it works even in the rain.
The solar panels are fitted with high power LEDs with an energy management chip to last longer even with a little charge.
One unit can illuminate up to 200 square feet of your garage which means a pack of four lights can illuminate up to 800 square feet.
The unit is fitted with modern motion detectors to warn burglars when they invade your home. When motion is detected, the lights.
Each LITOM solar light has three working modes to meet different usage needs.
To install the lights, you do not need a lot of fixtures as you can just hang them on a wall in your garage. This also makes it easier to move to a lit place during the day.
Cons
​In bad weather, the motion sensor is not as sensitive as it ought to be. Again, at 9 feet, the motion sensor is slow to detect.
---
Licwshi 1100-Lumen Solar Outdoor Light
Licwshi 1100-Lumen Solar Outdoor Light is a high-power and high function unit designed to add a bit of security to your garage. It comes with four different intelligent modes.
The first mode combines microprocessor and induction mode to high light when someone comes close to the light and dim when someone leaves for 15 seconds.
In the induction mode, the solar light high lights when someone comes and goes off when someone leaves for 15 seconds.
It also has the always dim mode and the continuous high brightness mode to be used based on the security of your home.
Pros
The lights are fitted with aluminum alloy housing to make them more durable and more exquisite. This housing also makes the light heat, water, and dustproof to enhance the lifespan even further.
It sports a 4500mAh battery allowing it to store more solar energy and allow more runtime.
It is fitted with motion sensors that can detect motion from as far as 33 feet and up to 120 degrees, making them ideal for an area, such as your garage, which needs security.
The unit only needs to charge for 6 hours to last the whole night making it great for areas with minimal sunlight. The battery is also fitted with a charging protection device to keep the battery and the entire unit safe from explosion.
You can choose between white light and warm white lighting options.
Cons
With all the great features, this is not among the cheap LED garage lights; it is offered at a premium price. Again, since it is designed to be screwed on a wall, it is not easy to move when your outdoor garage space is not well lit.
---
InnoGear Upgraded Solar Lights
If you are looking for a garage solar light on a budget, this might be a good option for you. It sports a large solar panel allowing it to absorb maximum sunlight.
It is also fitted with 62 bright LED lights to illuminate a wider area. Like the two units reviewed up there, this unit is also fitted with intelligent sensors.
The sensor mode stays on standby when no motion has been detected.
When motion is detected, the light goes on, and 20 seconds later, the light goes off. There is also a dim light mode where the light stays dim all night, and when motion is detected, it turns bright for 20 seconds.
Lastly, there is the medium-light mode where the light goes on automatically at dusk.
Pros
This light has 62 densely distributed LED lights that offer up to 1000 lumens. This is bright enough to light your entire garage outdoor space.
It has a powerful motion sensor head that can detect motion up to 39 feet away at up to 120 degrees.
It has three optional lighting modes to meet your needs.
The lights are housed by a strong ABS material that enhances the lifespan of your light. The material makes the unit dust, water, and heatproof.
These lights offer a longer working time, especially with the sensor modes. Charging the battery for 8 hours will last the lights throughout the night.
Cons
The unit battery has a relatively low capacity of 2000mAh.
---
Final Thoughts About Choosing a Solar Garage Light
The LITOM Original Outdoor Solar Lights are the most recommended according to our research and our reviews. These lights are designed with different intelligent features.
These include motion sensors that are bright and can last all night. They are easy to install, and they are created to last long.
Even better, they are offered with all needed solar garage light fixtures all at a great price. When shopping, you will also realize that the unit has been designed compact and easy to move.
You can move the panel to a place that has maximum light if it is under a shade. Your budget should determine the light you buy. However, note that a cheaper light may have fewer features or low-quality parts.
---