We all love our lawns and gardens where we have spent hours planting, watering, and weeding. They allow us to express ourselves, enjoy a fresh breeze in the backyard, and distinguish ourselves from the neighbors.
Installing outdoor lighting can add value to your home and garden by accenting that hard work you put in during the day, at night. Electric lights are bright but require a nearby outlet and raise your power bill. Battery-powered lights are also an option but are expensive in the long term.
Solar is a one time purchase that requires little thought during and after installation, allowing years of enjoyment from your lights. This makes solar stakes are a good choice for many gardens.
The best outdoor solar lights for the yard, landscape & lawns come in many fun shapes and sizes that will bring a smile to your face when you see them light up at night. This guide will help you choose between many different options, deciding which might best fit your need.
Top Picks Solar Garden Stakes
The Value of Solar
The sun is a huge generator of energy that can be converted into electricity through the use of photovoltaic cells. When placed beside each other on a panel, the individual cells absorb sunlight and start knocking electrons loose.
These electrons start flowing, creating a current which can be fed through wires into a battery for later use. Falling prices have made solar a reasonable solution for household power.
How To Choose the Best Solar Garden Stake Lighting
Solar lights require no plugs or extension cords and are simple to use and enjoy. Stick it in the ground where the sun shines and wait for nightfall! An outdoor solar powered garden stake is the best option for simplicity. They are budget-friendly and require little to no maintenance.
Sunshine
Keep in mind you will need 4-6 hours of direct sunlight daily to provide enough energy to run the lights throughout the night. Overcast days can still provide power but the lights may end up faltering halfway through the night. Keep that in mind when considering the placement of your lights at home.
The Solar Panel
The solar panel is probably the most important part to consider during the purchase. The quality and size will directly affect how much energy you can gather for use at night.
Solar panels are measured in watts or mAh, a higher number equaling more power. Look for larger panels that can absorb several watts/mAh of energy.
Battery Capacity
Battery capacity is measured in mAh. A higher number means more electricity can be stored in the battery. Keep in mind larger batteries either require longer charge times or bigger solar panels to reach full capacity.
To compare battery sizes and solar panels, divide mAh of the battery by the mAh of the solar panel to determine about how many hours of direct sunlight you'll need for a full charge.
Brightness
Solar LED garden stakes are easily seen from a distance, accenting your garden and home. Brightness will be similar among brands. Most differences are in run and charge times due to battery capacity and solar panel efficiency.
Waterproof Ratings
Ingress protection ratings, IP for short, are an international standard used to determine the sealed effectiveness of electrical products. The first digit indicates intrusion protection from dust on a scale of one through six, six being completely dustproof.
The second digit refers to moisture protection on a scale from one to eight, eight indicating protection from prolonged submersion. IP65 is a good rating to look for. It will ensure your unit is protected from dust and water spray in all directions.
Construction Materials and Durability
When purchasing outdoor equipment durability should be on your mind. Discoloring of lights, water damage, and broken stakes can reduce the enjoyment of your outdoor solar stake lighting.
Make sure the product you select is made of quality materials that will last in the sun and rain. You should expect to replace your lights after 2-4 years of regular use.
Warranties
It is a good idea to check out the manufacturer's warranty. It's a good sign when a company stands behind their product, offering either replacements or refunds.
Adding a Personal Touch to Your Home
Look for something that expresses who you are and what you enjoy. Options to choose from include light-up moons, frogs, ladybugs, flowers, abstract shapes, gnomes, and more. Make your garden stand out.
Tips To Get the Most Out of Your Solar Light Garden Stakes
Think about the placement of your lights to optimize sunshine
Make sure you consider construction materials, ensuring it will last more than one season
Consider buying multiple sets, evenly placing lights near walkways to provide security for guests that may be unfamiliar with your yard.
Use solar garden décor to accent existing electrical lights
You might consider using a UV protective coating to increase longevity
Make sure you have the power switch, usually located on the solar panel, in the On position.
If lights fail to come on at night check that no lights shine on the sensor detecting light levels
If your lights turn off early in the night leave them off for a few days to top up the battery
Keep your solar panels clear of dust, dirt, and debris which will reduce efficiency.
Installation of Your New Lights
Solar lights are simple to install but a few things deserve your attention. Soil composition will determine if you need to moisten the soil with water before installing the stake. Forcing a stake into the hard ground can break your lights or cause injury.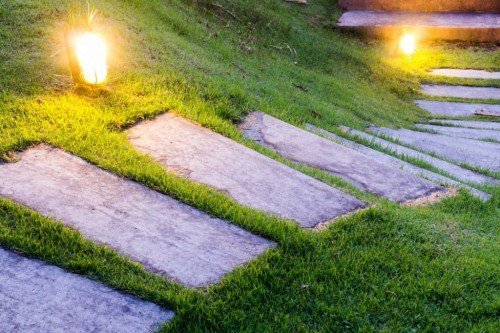 If the light detaches from the stake, install the stake in the ground first before attaching the light. You may consider installing multiple sets to prevent the lights from looking too lonely in your garden.
Solar Garden Stakes Reviews
Tonulax Color-Changing Lily Solar Flower Garden Stakes
Tonulax has upgraded its outdoor solar flower light stakes with a wider solar panel and larger flowers. The new solar panel helps collect more sun energy on those cloudy days or in slightly shady spots giving this garden stake a greater range of use.
The lilies are made of high-quality fabric increasing the durability and appearance of the flowers. Stems and leaves are adjustable, bending the metal wire inside the stem allows each flower to be a little different.
Included in the packaging are one red solar lily, one purple solar lily, two iron stakes, and the user's manual. Adding these lights amongst existing plants in your garden will look good during the day and add an ambient glow to your garden beds in the evenings.
On/Off switch and Auto On/Of
Fabric flower, adjustable metal wire stem, and metal stake
4 flowers per stem
IP65 waterproof rating
Flower cycles through rotation of 7 colors
Color changing LED Bulb
5-watt solar panel
Rechargeable 1.2V/600mAh Ni-MH AAA Battery
6-month hassle-free refund with 12-month warranty on defects
Pros
Large solar panel
Natural fabric flowers
Adjustable metal wire stem an leaves
Good warranty
Cons
Only in 2 pack, you will probably need multiple sets to prevent lonely looking flowers
Can look tacky if not placed discreetly around other plants or lights in the garden
---
Yunlights Crackle Glass Moon Garden Solar Lights
No products found.
I really like these copper-colored metal and crackle glass crescent moons that are built strong and sturdy. These solar garden stake lights are available in white or warm white, lighting up brightly at sunset and lasting an entire night when fully charged.
The ornamental lights look elegant in your garden, day and night when compared to some of the cheaper garden stake lighting made of plastic. The one-year money-back guarantee should ensure you aren't disappointed with your purchase.
Adding these solar-powered moonlights to a garden or path lends a nice touch to your home.
On/Off switch and Auto On/Of
Two metal crescent moon stakes with a crackle glass globe light
IP64 waterproof rating
50 mAh Solar panel
Rechargeable 600 mAh battery
8-10 hours runtime
One year money-back guarantee
Pros
Metal and glass construction
Ability to stand alone, don't need multiple sets
Easy to assemble and install
The Bright light that can be used in the garden or along paths
Excellent 1-year money-back guarantee
Cons
Only rated IP64, be cautious when installing around sprinklers
Smaller than they appear in photos
---
ArtDIY Solar Outdoor Decorative Lights
A more playful option are these insect shaped garden lights. Made of a clear polymer, they look nice during the day and light up bright rotating colors at night.
Four white LED bulbs line the inside of the clear stem adding a little extra illumination to your garden while the insect ornament rotates between red, blue, white, purple, yellow, and green. These lights are playful and are good for getting kids engaged with planting and weeding in the garden.
On/Off switch with Auto On/Off
Comes with one hummingbird, one dragonfly, and one butterfly constructed with ABS polymer
IP 65 waterproof rating
The Cycle of 7 color variations
Rechargeable 600 mAh Ni-MH AAA battery
90 mAh Solar panel
One-color changing LED bulb with 4 white LEDs
6-8 hours charge time; 8-12 hours runtime
30-day money-back guarantee
Pros
Realistic enough to blend into your garden during the day. Posable stems and petals help you position the flower light perfectly.
Good for getting kids excited about planting, watering, and weeding in the garden
Easy to install
Pack of 3
Cons
Short warranty period
May not be for every garden
Made of plastic which can degrade in the sun
---
Conclusion
Garden stakes will light up your garden and allow you to enjoy it even after the sunsets. With many options to choose from it can seem a little overwhelming deciding between products when many appear similar on the outside. If you focus on 4 simple metrics it will make your decision easier.
---