If you are one of the people who are trying to create a more inviting atmosphere in your yard or lawn, landscape lighting is a great way to do it. I love summer memories that involve grilling out and the gentle transition from daylight to landscape lighting.
Solar-powered pathway lights are a great way to keep the fun going into the evening without worrying about the electricity bill. The best solar path lights are ones that are durable and give off a natural light that enhances any part of the house like your patio or your yard's design and walkway illumination.
With the right level of light, your patio can have a gentle glow that makes it more inviting for entertaining. On rainy nights, solar path lights can also help prevent slips and falls on walkways.
The brightest solar lights are perfect for other purposes such as lighting up a driveway or any other large area in your yard. Most solar lights come with stakes, so you can easily place them on the ground.
For extra security, you can also use solar lights to light up dark areas around your home.
Top Picks Solar Path Lights
Value and Overview
Solar pathway lights are a low-cost way to illuminate your yards without increasing your energy bill, but you should keep in mind the amount of sunlight that your yard is working with, as well as the angle of the sun, the temperature, and the frost.
Operating times for solar path lights can vary as much as 30-50% during winter months when sunlight is less than optimal, so it is important to choose a light with a rechargeable battery that can hold a charge in colder weather.
When testing different designs for pathway lighting, ease of use and potential light output are important considerations. Lamps that use LED lights are very energy efficient, using up to 85% less power than regular bulbs. Since energy is not a factor, you now focus on the lumens, solar panel quality, and batteries.
Aesthetics
Outdoor solar path lights spend half their time in the sunlight, remember? You don't want to have lights that look good at night but are an eyesore during the height of the day.
Get creative with your landscape path lighting, or do some DIY fixes, like this video.
The addition of different elements and materials can make all the models into something that will look good during the day and varied at night. You can accentuate it with colors and you can remove the stake from the pack or metal frame.
Using a lamp with pattern and style settings can be all you need to get creative with your landscape path lighting.
If you want a light that looks good and can be used during the day, the Tom Care solar lights or Yinuo Mirror Solar Lantern might be better options. The XJEXPRO flower lights look a little tacky during the day because of the flower petals, unless they are well-disguised into existing landscaping.
If you need help with ideas for installation and placement, you can check out this video.
The real appeal of solar lights is that they can be used at night. The SUNNEST lights are silver in color, but they give off more of artificial light than I would prefer. The TomCare lanterns look more like you've lit tiny fires in little torches, which creates a lovely ambiance in your backyard.
The color rotation of the XJEXPRO flower lights is lovely at night, but it really depends on the backyard you have. If you have a fun cabana space or tropical pool, you might need flowers!
Durability and Safety
There is a great variety of solar lights for pathways available, so it's important to find durable outdoor solar lights for the yard, landscape & lawns with compact construction.
LED pathway light kits are a popular choice for most users, but they can break, which can be disappointing, but also broken lights can be a safety hazard! If you have pets or children running around, you will probably want to avoid lights that break easily.
Glass or plastic in a foot or paw is not a good look. Look for a spotlight with a head or globe that is made of stainless steel that will likely withstand strong winds and other elements. There are many different sets of solar pathway lights to choose from, so take your time to find the right choice for you.
Pathway lights are meant to be used outdoors, so they need to having high and effective waterproof rating to withstand being under the rain or snow during winter.
If you want your lights to last, buy products that are durable. This way, even if one light breaks, the others will still be intact. A good way to tell if a product is durable is if it comes with a warranty, which at the same time means that you are protected if the product stops working after a short amount of time.
Solar and Brightness
The change in seasons and temperatures can have a big impact on how bright solar lights appear. Summertime will provide different lighting than in winter under the snow! Look for solar lights that has light mode switches that you can pair with each season.
When looking at solar lights, it's tempting to think that 6 to 8 hours of light is enough, but keep in mind that the angle of the sun and the number of daylight hours vary by season.
The Yinuo Mirror Solar Lantern promises 15 hours, and after all, isn't that too many? What we tend to forget is that the amount of exposed sunlight per day varies, so lights that have longer charge times and lower charge holding can actually give out even before the night begins.
Low voltage path lights need to last!
Price
The price of these lights is not just the initial cost, but a lot more than the cost of other factors like water resistance, battery life, the efficiency of the solar panels, led bulbs, the material type, styles, the overall performance, and durability.
In the process of choosing the right product, make sure to review all factors on top of the cost as well as your budget. Read market reviews, and post about the product rating.
Dealbreakers
When considering a pathway light, there are certain information and features that the product should have in order to be a good product. These features are not what makes a product better than others, but they are essential and should be expected.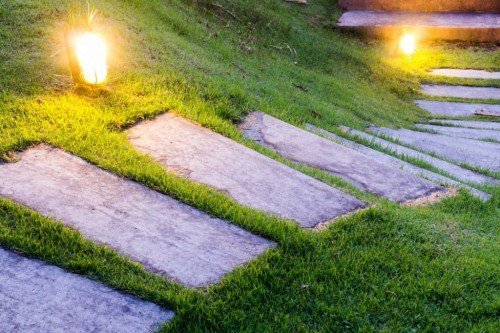 If a product is missing one of these features, it is not worth considering.
Going Wireless: It is 2022 and solar path lights with wires running are out.
Weatherproof: As spotlights are used outdoors, they should withstand the event of rain and other weather conditions.
Easy to assemble: The company shouldn't be delivering products or items with parts that are too complicated.
Look for lights that are easy to set up. This is not on the list because you will not be able to set up your lights, but because I know from experience that the more assembly that we have to do at home, the more room for error and issues there is, which diminishes the longevity of your lights.
Sensor-activated on and off switch: You shouldn't have to wander out to turn on your lights when the sun goes down.
Best Solar Path Lights Reviews
Pros
A Beautiful natural flickering flame won't make your yard feel tacky. Great for walkways and patio areas.
Super durable. They'll weather severe rainstorms and
At three feet tall, they're significantly bigger than many solar lights and the other lights on this list.
Last for years.
Cons
The plastic stakes aren't great for hard ground. You may have to buy some PVC pipe and insert that into the ground, then insert stakes into those.
Difficult to tell if the light switch is in the on or off position… because it's a single button. You may accidentally not charge a light by forgetting whether it's on or off.
Not super bright beyond the surrounding few inches. The backdrop determines how much light you'll get. Put them by a dark bush, and they'll be kind of dull. Put them by a lighter rock face or by cement, and they'll reflect more light.
On a cloudy day, you only get a few hours out of them. This brand really does need direct sunlight.
More expensive than similar solar lights.
---
Yinuo Mirror Solar Lantern
Sunforce solar motion security light produces an impressive 1200 lumens. This enables it to outperform many of the solar light options available in the market. The best solar motion security light is equipped with sensors that accurately identify motion.
This provides an added level of security to your home and family.
Pros
The natural light attracts far fewer bugs than more artificial variants.
Bright enough to be visible down the street.
A Great charge that lasts until the early morning.
Can be easily taken camping! The hook and ring allow you to hang it up.
I love the realistic dancing flame. It isn't the steady brightness of a security light. It has some play to it.
Lanterns are made of durable plastic which prevents rusting.
Cons
Very expensive. You'll pay a lot for only 2 lanterns.
You should upgrade the batteries that they come with. The lanterns run on rechargeable double
A's, but the batteries included are a bit cheap. You'll increase the brightness and charge time by purchasing higher quality batteries. Of course, this just adds to the cost!
Not always the path light aesthetic you might be going for. Just like the flower lights, they can look a bit tacky in the wrong backyard. Make sure you have some rocks (like mine) or a cabin feel.
---
Pros
The Unique design brings more fun and more pop to your yard than the other lights.
Flowers are fairly realistic and posable. They look lovely at night, and mix really well into foliage and flowers.
The design is really bright, and LEDs in the stakes bring the whole fixture to life.
The lights are bright enough to light up a walkway.
Cons
Requires more cleaning than the other lights. The fabric and shape of the lights will collect dust and leaves.
They tend to look cheap in the day. They really do need the nighttime to bring out their full colors.
Some assembly issues upfront. It is difficult to get the stakes into the light.
Color changing lights rotate between 7 colors, but there's no way to set the rotation or get them to stay one color. This feature makes the lights a bit quirkier than you might like.
---
SUNNEST Solar Garden Lights
Solar lighting for walkways can get expensive quickly, but these solar garden path lights are a great way to light a backyard without lighting up a bank account.
At $20 for a dozen, you can light a backyard even if you have a lot of space.
My only negatives are that the light is a little less natural than the more expensive varieties, they aren't as bright, and they don't hold a charge as well. But the price might be unbeatable.
The SUNNEST make the list as my favorite low-budget option for pathway lighting.
---
Conclusion
The Sunnest solar garden lights are my favorite, even though there are some cons. If money wasn't an issue, I would prefer the TomCare lights because they look nicer.
However, the Sunnest lights are still a good option because they aren't too bright during the day, they have a nice low light, and they are very affordable. Also, any durability issues are overcome by the price.
All four of these lights are good options though! You might want the flower LEDs if it fits your vibe, or the lanterns if you only need a couple of pathway lights.
---