A cool pool certainly has its benefits. But most of the time we prefer the water to be comfortable when we get in it. So, how does one remedy chilly temperatures? While there are a couple of different ways to go about it, the most affordable is that of a solar pool cover.
These types of pool covers will not only heat up your water, but they will help you cut back on the number of chemicals you use, too. But how do you know which one to invest in? We have you covered. Today, we're going to share with you the best solar pool covers.
Top Picks Solar Pool Cover for an Above Ground Pool
How To Choose the Right Solar Pool Cover
When it comes to choosing the right solar pool cover, you need to consider a few factors. You first need to think about how often you swim during the swimming season.
Do you want a solar cover that's going to heat up the water quickly? Or would you prefer to save money on chemicals instead?
What Color Solar Pool Cover Works Best?
The color of the solar cover and its thickness will play a big role in the results you get. Let's focus on color first. A clear solar cover is going to heat your pool faster.
However, it won't prevent chemical degradation as well as a blue solar pool cover. And that's where blue covers shine. They do a fantastic job of reducing evaporation and limiting the waste of costly pool chemicals.
However, blue pool covers take longer to heat up your water. Again, if you're not a daily or even weekly swimmer, a blue cover is going to be a great fit for both you and your pool.
What Is the Best Thickness for a Solar Pool Cover?
The ideal thickness is around 12 or 14 mil. This will allow for sufficient sunlight to penetrate the solar cover while fighting off evaporation in the process.
Your water will increase in temperature, and you'll save money on pricey chemicals. Pool covers that are 16 mils are the best for reducing evaporation, but they take longer to heat up your pool.
A 16 mil solar cover retains heat longer, however. On the other end of the spectrum lies the 8 mils solar cover. These heat up water much faster, but they don't retain heat as long.
Nor do they prevent evaporation as well as the aforementioned solar covers.
Benefits of Solar Pool Covers
By implementing a solar pool cover, you are effectively reducing the need for costly chemicals, while making your pool temperature much more comfortable. A good pool cover will also serve to keep out bugs and debris. The best solar covers fight off harmful UV rays, as well.
This is important if you wish to prolong the effectiveness of your pool chemicals. It will also serve to extend the life of your pool, as well as the pool cover itself.
Things To Consider
Always consider the thickness of the pool cover you're thinking about buying. You also want to think about the color of the solar cover, and how it will benefit your pool.
A solar pool cover that is too thin will result in evaporation and wasted chemicals. It might heat your pool faster, but your chemical budget will increase exponentially.
Always ensure that you are following proper procedures when installing a solar cover. You want your new cover to keep your pool warm and limit evaporation. But it must be installed correctly in order to give you the best results.
Make sure there are no gaps between the solar cover and the pool. This will reduce the likelihood of heat escaping. It will also prevent debris from getting into your swimming pool.
And this is where the biggest complaint with solar pool covers lies. You have to take the time to ensure that you're trimming the cover properly. It's true that this can be a daunting task.
But if you take your time and make sure you're not cutting off too much cover material, the extra work is worth it. There are just too many benefits that come from utilizing a solar cover. Sure, some of them can be a bit pricey.
But when you consider the money they can save you in the long run, they are well worth the investment.
Using a Solar Pool Cover
When you invest in the best solar cover, you want to make sure it is designed to fit your pool. Obviously, you don't want to buy a rectangular cover for your round pool, and vice versa. It pays to take measurements beforehand to ensure you end up choosing the right kind of cover.
Also, is your pool under a tree or near a lot of vegetation that causes shade? You might want to consider a clear cover to ensure that your pool's getting the most sunlight possible. This will go a long way in giving you comfortable swimming conditions.
Solar Pool Cover for an Above Ground Pool Reviews
Best Overall Option
Sun2Solar 1600 Series
Sun2Solar's 1600 Series Solar Pool Cover works to increase the temperature of your pool water. The cover is designed to trap heat, thereby keeping your swimming pool warm for a longer period of time.
Thousands of bubbles on the solar cover work to raise your pool's temperature. Not only that, its blue color helps prevent evaporation by as much as 95%. This also keeps the heat trapped in, ensuring that your pool temperature will be comfortable the next day.
We really like the 1600 Series Solar Pool Cover. It does a fine job of heating, and it comes in a variety of different sizes. This ensures you get just the fit you need. And it's easy to trim, too. The quality of this cover is excellent, sporting a 16 mil thickness for lots of durabilities.
The downside to being so thick is that your swimming pool will take longer to heat up than it would if you were using a clear cover. Nevertheless, once the heat is in your pool water, you can look forward to it staying in there.
Pros
Thousands of bubbles – When placed face-down in the water, these bubbles work by collecting heat directly from the sun's powerful rays. With the bubbles touching the water, your temperature will slowly start increasing.
Exact fit – The material can be trimmed to give you an exact fit on your pool. This is important and beneficial due to the nature of solar pool covers. You want the pool cover to butt up against your pool's perimeter as closely as possible. This ensures that you get the best performance from the cover, as it prevents heat from escaping through any potential gaps.
Excellent retention – Sun2Solar's solar pool cover works to keep the heat locked in, thereby warming your pool more efficiently. The 16 mil thickness means there is less evaporation. This ensures that you get the best heating possible, although it may take longer to increase your pool temperature.
Blue color – This results in less evaporation, prolonging the effectiveness of your pool chemicals. Your swimming pool will stay warmer longer, as well.
Cons
16 mil – Takes longer to heat up the water in the pool
---
Upgrade Option
Blue Wave NS510 Solar Cover
Blue Wave's NS510 Solar Cover is a bit pricey compared to other entries. But it's the best solar pool cover we reviewed for heating up your pool quickly. Its clear design ensures sunlight penetrates your water better.
The NS510 is equipped with tiny bubbles that serve to allow heat in while preventing it from getting out. While the clear color doesn't prevent evaporation as well as a blue cover, its 14 mil thickness helps a lot in this regard.
This also makes it quite tough. We found that the NS510 is durable and resists tears and punctures really well. If you have a large, rectangular pool, the NS510 is a great option. It measures 12 x 24 feet, giving you plenty of coverage where you need it.
This cover also works to fight off harmful UV rays, prolonging the effectiveness of your chemicals. Blue Wave is so confident in their solar swimming pool cover that they include an impressive 6-year manufacturer warranty.
Pros
Quick heating – The NS510's clear design means you're getting warmer temperatures faster than others. If you want to enjoy swimming more often, Blue Wave's Solar Cover is your best bet.
Big – The 12 x 24-foot cover is ideal for large pools. If you have a lot of water to cover, the NS510 is the right choice for the job. It's easy to trim to size, too. So if your pool's smaller, you'll have plenty of material to work with.
Warranty – Thanks to a great warranty, you know you're getting a solar cover you can rely on. If you have any manufacturer defects within that period of time, Blue Wave will make it right for you.
Cons
Clear – Although clear covers warm up your water faster, they also don't prevent evaporation quite as well as darker material. This means your water won't retain its heat as long, either
---
Value Option
FASESH Solar Cover
This affordable option is designed to fit over a round swimming pool. It measures 15 feet in diameter, and it's easy to trim to get the best fit on your pool. Solar pool covers like these are great at trapping heat to prevent evaporation.
If you find that you are going through a lot of pool chemicals throughout the swimming season, the FASESH Solar Cover will help reduce your pool's need for them. Additionally, it does a fine job of warming up the water in your pool.
Solar energy is harnessed in the tiny bubbles of the pool cover, improving your water's temperature so that it is much more comfortable and inviting.
We like that FASESH fabricated their Solar Cover with holes in it. This helps to prevent standing water and potential sinking into your swimming pool.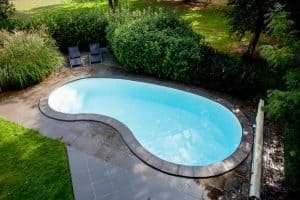 You will also benefit from less evaporation, ensuring that your water stays warmer a lot longer. The blue color of the pool cover works to prevent harmful UV rays from penetrating into the water.
UV rays from the sun can degrade your pool chemicals, causing you to have to buy them more often. This ensures that your need for chemicals is greatly reduced.
Whether you have a metal frame swimming pool or an easy-set, the FASESH Solar Cover is perfect for either model. We are pleased to report that the installation is a breeze. We allowed it a couple of days to heat our pool.
Afterward, the temperature raised nearly 10 degrees! That's a big difference that makes this pool cover an excellent investment.
Pros
Drain holes – This is a big plus, as it eliminates standing water and prevents the chance of sinking. You want your pool cover to stay in place in order to work as it is intended. Another benefit of not having standing water is that will reduce the frequency of mosquitoes, as these pesky insects love to lay eggs in it.
Reduces evaporation by 95% – Less evaporation means your pool is going to stay warmer a lot longer. Conversely, you can look forward to spending less money on chemicals over time. Many pool owners depend on solar pool covers for these very reasons. FASESH's Solar Cover is a great value for this reason alone.
Dust-proof – You want your solar pool cover to accumulate as little debris as possible for a variety of reasons. By being dust-proof, you are sure to get better sunlight penetration into the water through the pool cover. This will result in better heating throughout.
Affordable – Many solar covers are a bit on the pricey side, although nowhere near that of a pool heater. FASESH's solar pool cover is both affordable and effective.
Cons
Unspecified thickness – FASESH doesn't specify the thickness of their solar pool covers, making it difficult to determine the proper mil.
---
Alternative Option
Xchenda Pool Heater Floats
If you don't want to cover your pool completely, Xchenda's Pool Heater Floats are an excellent alternative. These are ideal for large above-ground pools. The Floats measure 6 feet in diameter.
You simply lay them anywhere in your pool and they will slowly warm up your water using the same solar heating methods that solar pool covers to use. The Xchenda Pool Heater Floats are raised slightly to prevent water from accumulating.
This ensures that each cover stays in place without fear of sinking into your swimming pool. Aside from the best solar pool heater, these are some of the best solar heating alternatives available. They keep your pool temperature noticeably warmer throughout the swimming season.
Best of all, they are a highly affordable way to heat your pool. Solar energy is harnessed in areas you place the Floats. When spread out evenly in your pool, that solar energy has a better chance of warming all of your pool water. It's a clever concept that works surprisingly well.
The only real downside here is that the Floats take longer to work compared to a traditional solar cover. But if you're patient, you'll soon be enjoying comfortable swimming conditions.
Pros
Low maintenance – One of the best things about Xchenda'a Pool Heater Floats is that they are very easy to maintain. They don't require trimming to get them to fit. You simply lay them in your pool and the Floats do the rest. Depending on the size of your swimming pool, you may not even have to take them out while you swim.
Raised – With the Floats being raised in the center, water isn't able to accumulate on them. This is beneficial for a couple of reasons. Not only they do not sink as a result, but mosquitoes won't populate on and around them. Less standing water means fewer pests.
Inexpensive – While devices such as these are less effective than a solar pool cover, they are much more affordable. Xchenda's Pool Heater Floats cost a fraction of what you'd pay for a pool cover of any kind. If you're looking for a cheap – but slow – way to heat your pool, this is it.
Cons
Slow – The problem when using devices like Xchenda's Pool Heater Floats instead of solar pool covers is that they take longer to work. Since they don't cover all of the pool, they don't fight off evaporation as well as a traditional pool cover. That's not to say they aren't effective. Quite the opposite, actually; they are just much slower at it.
---
Conclusion
It was a tough call, as all entries were impressive in their performance. But when it came down to it, Blue Wave's NS510 took the top spot. While Sun2Solar's 1600 Series Solar Pool Cover is very similar to Blue Wave's cover, we felt that Blue Wave was more effective.
Sun2Solar's blue cover takes a little longer to heat up, as where the NS510 is much faster. It's true that the 1600 Series Solar Pool Cover might save you more money on chemicals. But the difference is negligible, and we prefer to get the most swim-time in while the swimming season allows for it.
Obviously, this can easily come down to personal preference. If you don't swim as often and would rather spend less on chemicals, the 1600 Series Solar Pool Cover is right up your alley.
In the end, we felt Blue Wave's clear 14 mils solar cover was thick enough to help reduce chemical degradation, while sufficiently heating our pool. Sure, it doesn't prevent it as much as Sun2Solar's 1600 Series Solar Pool Cover. But it makes a difference nonetheless.
---