We've had the honor of reviewing a lot of solar pool covers over the years from some truly excellent brands. Today, we'd like to share our top picks with you.
If you don't yet own a solar cover, you'll want to stick around to see who comes out on top.
What Brand Makes the Best Solar Pool Cover?
There are plenty of high-quality solar covers made by top brands. Which one you ultimately go with depends largely on your needs. Are you trying to cut back on your pool expenses?
Do you want to heat your water quickly so that you can enjoy your swimming pool more frequently?
Let's look at a few factors related to solar blankets and what you should look for before deciding on any one product. Armed with this knowledge, you'll be able to make the right call on choosing the best brand for your needs.
What Is the Best Thickness for a Solar Pool Cover?
The thickness of a solar pool cover plays a big role in its performance and how long do solar pool covers last. If your main goal is to reduce chemical costs and cut back on your water usage, a thicker cover is going to be your best bet.
Go with a 16 mil cover to get the best results. If heating is your number-one priority, a thinner solar cover will do nicely. Anything within the 8- and 12-mil range will see your swimming pool warming up a lot faster.
But thickness isn't all you should rely on. It's important to consider the color of the solar cover, as well.
Is a Blue or Clear Solar Pool Cover Better?
So, which of the two is right for you? Once again, it gets down to preference. If you're trying to save money on regular pool maintenance and upkeep, you might want to invest in a blue solar pool cover.
This will give you much better results in terms of reducing expenses. A blue solar pool cover is great for limiting water evaporation. When this occurs, you'll see a reduction in your need for chemicals.
Less pool evaporation means less of a need to add water to your swimming pool. This will effectively reduce your water usage.
You can also count on blue solar pool covers to retain heat much better. It might take longer for your pool to heat up, but any increase in temperature will stay trapped a lot longer.
Conversely, a clear cover is perfect for getting warmer water temperatures a lot faster. This is because sunlight is able to penetrate the clear solar cover a lot easier than a blue one. However, your pool won't stay warm quite as long as what you'd get from a blue cover.
Benefits of Solar Pool Covers
Solar pool covers are a great way to reduce your out-of-pocket expenses on pool upkeep. As any pool owner knows, chemicals are expensive. It's one of the main reasons for investing in a solar pool cover, as they are highly effective in extending the life of chemicals.
You can also look forward to more comfortable swimming conditions, regardless of which thickness or color you choose. Your pool water will stay warmer longer, effectively extending the swimming season as a result.
Additionally, these covers serve to keep bugs and debris out of your pool. They help to cut down on your need to clean your pool as often, too. With so many advantages to owning a solar cover, they make a safe and worthwhile investment for any pool owner.
Things to Consider
It's important to first determine what your expectations are in a solar pool cover. By knowing beforehand what you're trying to accomplish, you'll have a much easier time choosing the right cover for your needs.
This will also make it easier to select the right thickness, as well as the color. With that said, you should also consider the location of your pool. Is it susceptible to high winds? Is it in a well-shaded area, or surrounded by a lot of vegetation? Is it located above-ground? See the best solar pool cover for an above ground pool.
By factoring these kinds of things into your decision, you stand a better chance of investing in the right solar cover. You might want a thicker, more durable model if your pool frequently collects debris.
A thicker cover will be more durable and hold up better throughout each swimming season. However, you might need one of the best solar pool cover reels to help you with the removal and installation.
Are Solar Pool Covers Any Good?
Without question. As we've already mentioned, there are just too many benefits to owning one that can't be overlooked. Solar pool covers work simply by protecting your pool water while raising its temperatures, allowing you to swim in safety far longer than you could without one.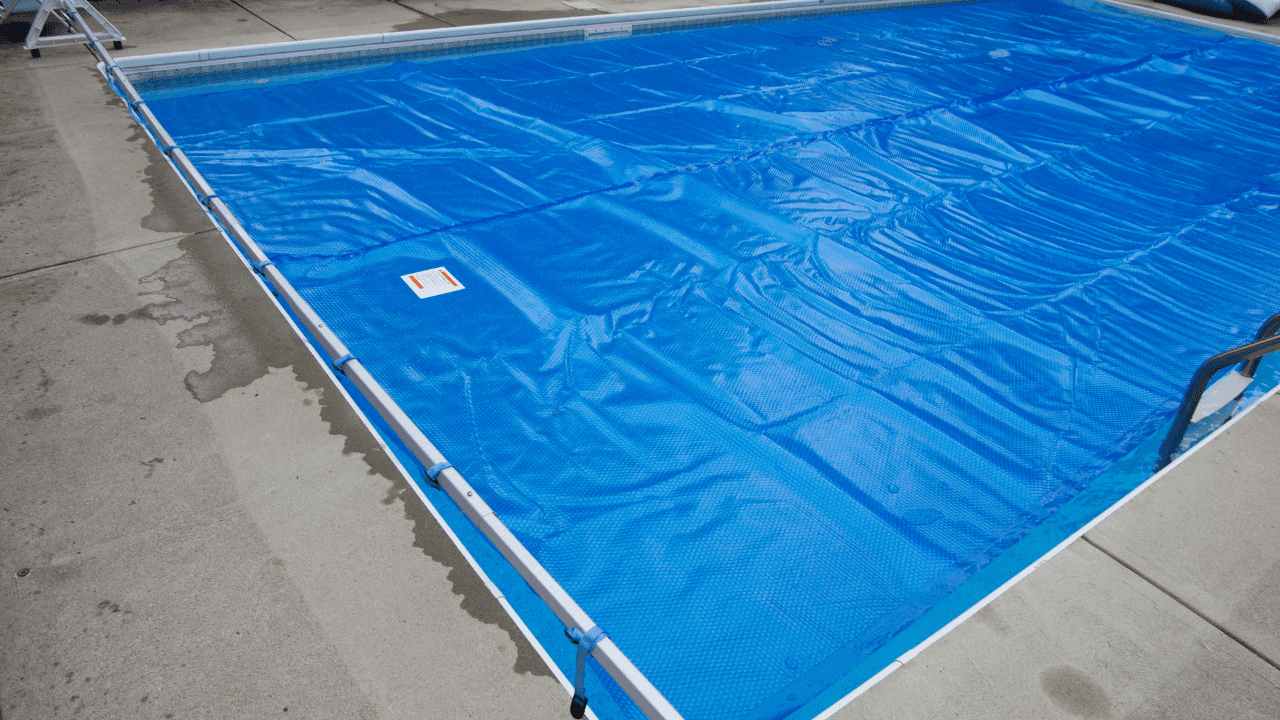 With that said, it's important for you to make sure that it is properly installed. Taking the time to follow the proper procedures will ensure that the cover delivers the best results and see how efficient are solar pool covers. If you don't want a physical installation you can try using the best liquid solar pool cover.
You don't want any visible gaps between the solar cover and your pool's liner. A tight fit will prevent heat from escaping your pool, and it will keep your chemicals effective.
Best Solar Pool Cover Brand Reviews
1. Best Overall Option – Sun2Solar
Sun2Solar is well-regarded as one of the best solar pool cover brands. They consistently produce high-quality products that excel in their usefulness and effectiveness. We have tested several Sun2Solar pool covers in the past, and each one has ranked highly.
They offer a variety of some of the best solar pool covers, ranging from 8 mil to 16 mil. When you invest in a Sun2Solar solar cover, you're getting a durable, effective, and easy-to-use product that is sure to last.
We love Sun2Solar for a lot of reasons. Their pool covers are always very well-made, and they always have a huge selection to choose from. From clear to blue, you'll have no trouble finding the right pool cover for your needs.
One of our favorites that we tested recently was Sun2Solar's 800 Series Blue Solar Pool Cover. It's easy to trim to the size of your pool, and it does a great job of heating and retaining warmth.
Pros
Well-made – You can always count on Sun2Solar to deliver a well-crafted solar pool cover. Their line of covers work as advertised and hold up really well. Lesser brands might last one swimming season. But Sun2Solar's covers last for several with the proper care.
Huge variety – One of our favorite things about Sun2Solar is their massive selection of goods. We've never had trouble finding the perfect solar cover for our needs. From thickness to color, you can count on Sun2Solar to have exactly what your pool calls for.
Versatile – No matter what kind of pool you have, Sun2Solar's covers are made to work on all shapes and sizes. Whether above- or below-ground, you can count on Sun2Solar to work every time. Above-ground solar pool covers can sometimes be hard to find. With Sun2Solar, you're sure to get what you need.
Cons
Pricey – While most of Sun2Solar's prices are reasonable, there are some covers that tend to get a bit costly. Usually, the bigger the pool, the more expensive the cover. Still, considering their effectiveness and reliability, you're sure to get your money's worth.
---
2. Upgrade Option – Blue Wave
Blue Wave is another solid investment that is worth its weight in gold. They might not make the most inexpensive solar blankets, but they sure do a fine job of heating and protecting your pool.
Blue Wave also offers a wide range of covers, although not quite as much as Sun2Solar. Still, the covers they do provide are well-made and very high quality.
They have a respectable selection of various thicknesses ranging from 8 mil to 14 mil. Each thickness usually comes in either blue or clear colors to best fit your needs. If you're looking for a solar pool cover that is sure to last, Blue Wave might be the right one for you.
Even better, Blue Wave provides excellent warranties in their solar blankets. Typically between five and six years, you know you're getting a cover that is backed by Blue Wave in the event that you should experience a manufacturer.
Pros
Good variety – Blue Wave has enough variety to ensure that you'll find the perfect match for your swimming pool. There are various colors and thicknesses to choose from, although you might have trouble finding a solar cover made specifically for above-ground pools.
Excellent heat retention – One of the main things we like about Blue Wave solar blankets is their ability to retain heat. Their covers also work well to reduce evaporation, thereby prolonging the life of your chemicals.
High-quality – Blue Wave consistently makes top-notch covers that are both reliable and long-lasting. You can look forward to getting a lot of use out of your investment. Furthermore, Blue Wave's warranties provide peace of mind in your purchase.
Cons
Expensive – As reliable as Blue Wave's covers are, they can get a bit expensive. But considering how effective they are, your money is definitely well spent. You might be spending a little more, but you know you're investing in a cover that lasts.
---
3. Value Option – Intex
Intex is well-known for making a variety of swimming pools, among many other things. Unlike Sun2Solar and Blue Wave, Intex doesn't just specialize in solar blankets.
For this reason, we don't feel that they consistently produce solar covers of the highest quality. That being said, we've been fairly pleased with the ones we have tested.
They offer both above-ground and in-ground covers for a variety of pool shapes and sizes. Best of all, if you're trying to spend as little as possible, Intex is a great place to start. Their covers are generally quite affordable and work well enough in their application.
If you're on a tight budget and don't feel comfortable investing in a costly solar cover, Intex is a safe bet. While we don't feel their solar blankets are as well-made as the previous two entries, they work well enough in their use.
Pros
Affordable prices – The great thing about Intex is that they are less expensive compared to other brands. Plus, their solar covers are generally well-made. They may not be the same high quality found in Sun2Solar or Blue Wave. But they should last you a couple of swimming seasons.
Above-ground selection – Solar blankets for above-ground pools can sometimes be hard to come by. But since Intex produces so many above-ground pools, it stands to reason that they would make covers to fit them.
Well-known – Intex is a widely-known company that has been in the pool business for years. They have a lot of name recognition, and as a result, their products are easy to come by. If another manufacturer is out of stock, there's a good chance that Intex will have what you need.
Cons
Limited selection – The biggest drawback with Intex is their limited amount of solar covers. If you need one for an in-ground pool, you're likely out of luck. This is due to Intex focusing on above-ground pools. That being said, you might be able to use one of their above-ground covers on your in-ground pool if the sizes work out.
---
Our Recommendation for Solar Pool Cover Brand
As you can see, each of the three brands cater to specific needs. Those needing a cover for above-ground pools should look into Sun2Solar and Intex, while in-ground pools are best left to Blue Wave and Sun2Solar.
So, who do we think makes the best solar pool cover? When it came down to it, we had to once again go with Sun2Solar. They simply offer the best selection of goods at the best prices.
Every pool cover we have tested has performed well and been a solid investment. If you need to spend as little as possible, Intex is certainly worth a look. Every above-ground solar pool cover they make is easy to use and affordable.
If you just want a solar pool cover that is sure to last, Blue Wave is your best bet. They might cost a bit more at times, but they are reliable and well-made.
If you want the best of both worlds, Sun2Solar won't disappoint. Every pool cover is well-made, and they work exactly as they say they do. With the right care, your Sun2Solar investment will likely pay for itself many times over. And that's the best part about using a solar pool cover.
---