Heated swimming pools during colder weather becomes a necessity if you are a pool owner. You may want your pool to be serviceable and in good shape even in the colder months.
If the cold weather persists for about seven months, what is the point of getting a swimming pool only functional for four months out of the 12?
Since the sun is an excellent source of energy and warmth, Solar Pool Heaters use energy from the sun to help you have warm water to swim in. It is crucial that you know the different kinds of heating systems available.
It can be, pretty, tasking to choose from the variety. Hence your knowledge about the factors to consider, such as the pool type, size, capacity, to mention but a few, matters to accurately decide on the best solar pool heater for your swimming pool.
Top Picks Solar Pool Heaters
Although it is more expensive than a gas pool heater, a solar pool heater is an investment that can last a lifetime. It is also more environmentally friendly as it reduces carbon footing, unlike electric and gas pool heaters.
It lasts longer than a heat pump or gas heater – usually about 10 to 20 years – and the payback rate is about seven years. This article contains a list of the best solar pool heaters of 2020. The GAME 4721 is our best overall solution for above-ground and in-ground pools.
It is not just a reliable brand for pool heaters, but it also comes with many unique features. See the full article for all the ten best solar pool heating options. It contains a comprehensive guide on the factors that you should consider before buying a solar pool heater, too.
These factors include but are not limited to solar heaters, solar power, swimming season, flow control valve, pool solar panels, and solar water. It is also necessary to check the heated water valve and understand how to install your choice solar pool heater to keep the pool temperature per your liking year-round.
Advantages of Using a Solar Pool Heater
A solar pool heater comes with many benefits for the user.
i) No Waiting for the Right Season of the Year
If you have a swimming pool at home, you want it to be functional all year round. A solar pool heater allows you to warm up the pool no matter what the temperature is. Thus, allowing you to make the most of it.
ii) Eco-Friendly
Solar pool heaters are environment friendly as they use the sun's energy to generate heat. It is perhaps the eco-friendliest way to heat your pool without any carbon footing. Since it uses no gas or fuel, it releases no harmful emissions into the air either.
If you want to take it a step further, investing in a solar blanket is a good idea. It helps the water keep the warm temperature even at night.
iii) Cost-Saving
Using a solar pool heater helps you save much money as you rely on the sun's energy instead of paying for additional electricity bills in the case of electric heaters. Your only money spending is in the beginning, and after that, it is just occasional maintenance.
iv) Long-Lasting
On the average solar pool, heaters can go up to 15 to 20 years. However, some of the more high-end brands can also go up to 30 years. Thus, it is not only a one-time investment but also a long-lasting one.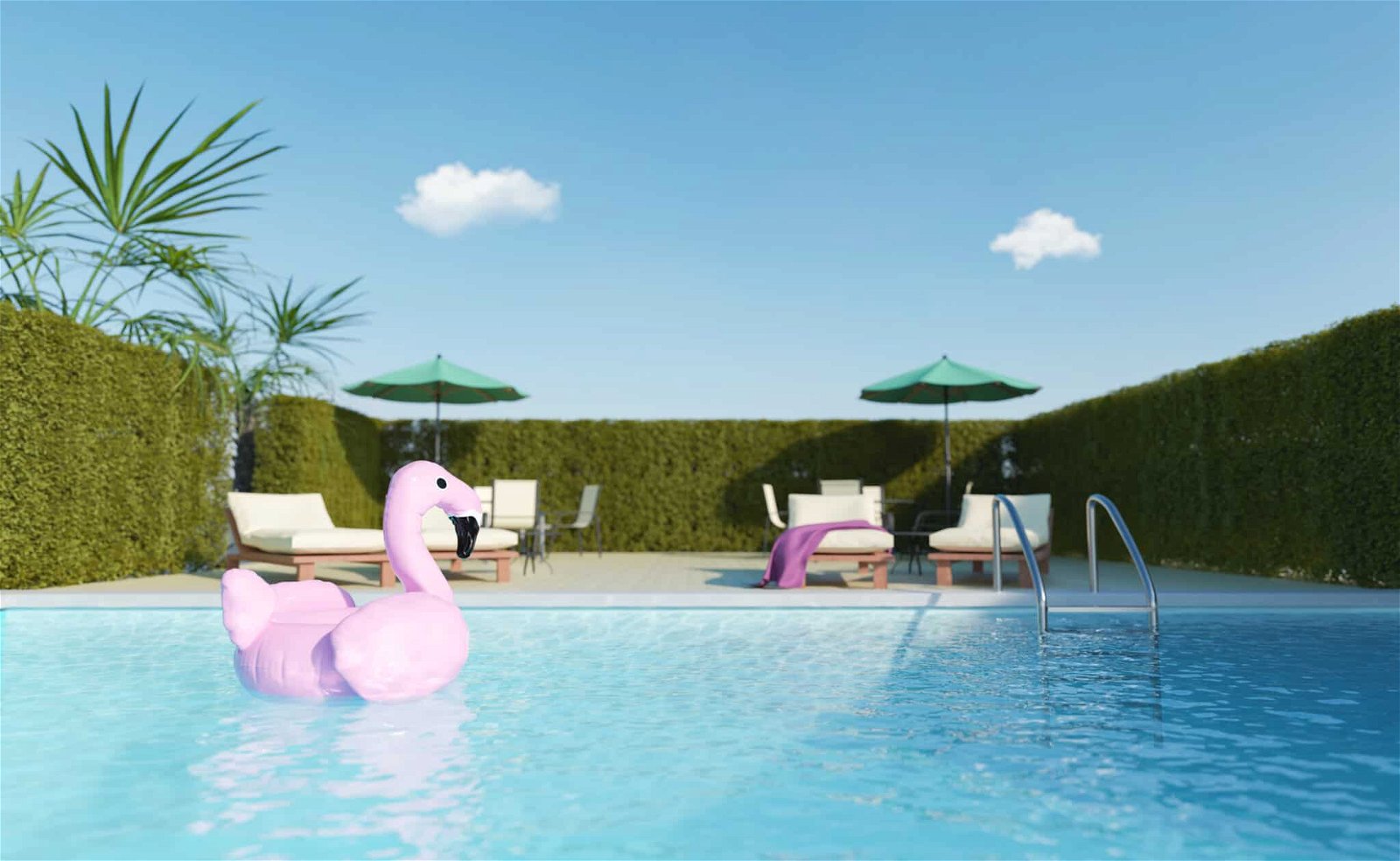 v) Low Noise
Despite what it may look like, solar pool heaters are noiseless. They do not create any humming noises either so that you enjoy a nice soundless swim.
vi) Water-Resistant
Since solar pool heaters do not come with electrical wiring or components, there is no chance of water damaging them. Moreover, you can place them next to swimming pools and on the roofs exposed to rainwater. Thus your solar heater will be excellent if exposed to water and safe to have around water.
Best Solar Pool Heaters Reviews
GAME 4721-BB SolarPRO Curve Solar Pool Heater
Rating: 4/5
Gradually increases temperature – space-saving footprint.
Comes in a unique curved shape (contour shape also available)
Easy to set up due to its foldable legs Suitable for in-ground and above
ground swimming pools Durable and sturdy construction
The GAME 4721 is a reliable brand for solar panel pool heaters, perfect for both in-ground and above-ground swimming pool types. It is compatible with brands like BESTWAY'S and INTEX.
THE GAME 4721 stands out tall among other solar pool heating systems due to its ability to gradually increase the temperature of your pool by 5 degrees F in 4days (say your pool water capacity is about 8000-gallon) – that's quick!
It is also known for its space-saving footprint, which is ideal because it helps you save space. This solar panel pool heater is constructed with very durable materials and does not go bad if under the extreme sun for more extended periods.
Its curved shape is so designed to ensure it harnesses enough heat and energy. Its other features include: threaded ports that are great for versatile plumbing, adjustable and fold-able legs which help maximize the sun's exposure, and clamps and two hoses and adapters for installation purposes.
---
Intex Solar Heater Mat
Rating: 4/5
Include installation accessories
Heats the pool in the range of 5 to 9 degrees F
Its surface dimension is 47 x 47Inches
Made of UV-stabilized PVC
The INTEX solar heater mat is an eco-friendly pool heater with a surface area of 47 x 47 inches. It is made of UV-stabilized PVC, which ensures that it lasts long enough.
This pool heater is portable and can become compact; it is small in size and foldable. Furthermore, its bypass valve makes Installation a breeze and is thus, easy to set up.
INTEX is a famous brand in the market and is known for its reliable products. It is made for above ground pools (with a capacity of up to 8000 gallons). It is not made for in-ground pools but is compatible with filter pumps with a flow rate of less than 9463 l/hr.
Thus, it is easy to set up, eco-friendly, and a large surface area solar pool heating mat. This solar pool heating system comes with a 32 mm hose attachment, a bypass valve, and an adapter.
---
Smart Pool S601 Inground Pool Solar Heating System
Rating: 4.5/5
Comes with wind vents
Heating tubes cover a wide area
Fiberglass strengthened over-molded header
4 x 20 ft. The heating panel, with a square ft. Of 80
The SMARTPOOL S601P is a superb solar pool heater option not just for in-ground pools but for above-ground pools as well. This solar pool heating system has a pre-installed pump that makes the water flow via solar collectors that heat the water to almost 6 to 10 degrees F, more significant than the average temperature.
The 4 by 20 feet long heating collector can fit well near the pool or on top of your roof for maximum sunlight collection. It is made of fiberglass enforced header that allows this pool heater to last for long.
Moreover, its solar panels are designed so that each tube is greater in surface area, so more solar energy reaches the valves. The heating panels are made of long-lasting polypropylene and its liquid heat shield stores heat by reducing the pool's evaporation.
Additionally, the reel system allows you to apply or remove the solar blanket easily. The Installation is comparatively more complicated, and it requires the user to buy an SK21 system kit. This solar heating system covers an area of 80 square feet which is quite large.
---
XtremepowerUS Swimming Pool Solar Panel Heating System
Rating: 4/5
Made of lightweight polypropylene
Ideal for 18 ft circular pools and 350 sq ft. oval ones
Solar heat collector measures 2 x 20 ft.
Increases 10 to 15 degrees F above standard temperature
The XTREMEPOWERUS is a powerful pool heater for colder months. The solar heating system is made for both in-ground (350 sq ft. For oval ones) and above-ground pools (18 ft for round ones).
However, adding another solar heating mat can increase its capacity. It comes with a solar heat collector that is made of lightweight materials. This pool heater is made of tube construction that creates a greater surface area for heat transfer through the pipes.
It can raise the water temperature to 10 to 15 degrees F and is compatible with most pool pumps. What's incredibly unique about this solar pool heater is that it is made of high-grade materials suitable for harsher weather.
It comes with a 1.5-inch header that can be attached with a rubber coupling. It works by circulating the pool water with the pump and filter system's help through the pool's solar panels.
It is cost-effective, eco-friendly, and requires low maintenance. Sometimes the diverter kit is needed for pumps 1.5 hp and more.
---
Sun2Solar Ground Mounted Heating Solar Panel System
Rating: 4/5
Flexible and lightweight construction
Made of black polyolefin
Two by 20 feet long
Increases temperature up to 6 to 10 degrees F
it is a solar heating mat of 40 square ft.
SUNSOLAR ground-mounted solar pool heater is an eco-friendly option, with heating panels that produce no greenhouse gases. It requires minimal maintenance and is a suitable option for both above-ground and in-ground pools.
Each kit consists of 2 x 10 ft. Panels, and it is made of flexible, lightweight, and long-lasting polyolefin. The tubes allow for a greater surface area that absorbs more heat and heat the pool faster.
It can raise temperatures to 6 – 10 degrees F than average temperature. The perfect rooftop solar pool heater as the Installation is straightforward because of its lightweight and flexibility.
Furthermore, the panels help protect your roof from radiation and rain by absorbing incoming heat. The pump mustn't be a high horsepower one as it can blow up the system.
For maximum heat absorption, you should place the panels at an angle of 45 degrees. This solar heating system comes with a bypass valve that allows you to adjust the flow rate and distribute the water all around the panel
---
Kokido Keops Swimming Pool Solar Water Heater
Rating: 3.5/5
Includes a protective cover for storage
Comes with an angled built-in rack for heat collection
Saves costs by a lot
Dome-shaped
Eco-friendly heating
The KOKIDO KEOPS is a dome-shaped, solar heater that is suitable for above-ground pools only. You can also heat your pool water in the summer with it because it is quick and easy.
It is great for the colder months; overall, it is a reliable dome-shaped solar-powered pool heater. It comes with a protective cover when it is not used to stay away from dust and other problems. It is reliable, does the job adequately, and helps save on energy costs.
It is also straightforward to install and store, although it might take a little longer than other pool heaters to warm up the water. However, it is much more economical than gas or electric pool heaters.
It comes with 4 feet hoses, stainless steel clamps, and fittings. You can also add more pool heaters if your swimming pool is large.
---
Doheny's Solar Heating Systems
Rating: 4/5
Comes with a mounting kit
It has two solar panels of 2.5 x 10 ft.
50 sq ft. total surface area
Temperature goes up to 15 degrees F
5-year warranty
The DOHENY'S solar pool heater is polypropylene and consists of two 2.5 by 10 ft., long panels. The total surface area for heat radiation is 50 square feet.
The Installation and mounting are relatively easy as the package comes with a mounting kit and diverter valve. It is mostly for above ground pools (as the Installation is easy), but can also work with in-ground ones.
It can heat the water to about 15 degrees F if you have correctly sized the pool heater. Its five-year warranty reassures its users about its longevity, where each solar panel user purchases is of superior quality.
You can also set it up on a slope with the help of a mounting racking kit that comes with it. You can fix the collector kit on plywood and set it next to the pool or roof. This ensures maximum heat radiation.
The mounting kits come with the required hardware, including the diverter valve and spacer. You can also add more collectors to maximize the heating, although you need a bypass kit to connect more heaters.
---
SUNGRABBER Solar Heating Systems
No products found.
Rating: 4/5
2 x 20 ft. long panel
80 square ft of surface area
Temperature goes up to 15 degrees F
Made for above ground pools
10-year warranty
The SUNGRABBER is famous for providing its users with solar technology solutions for water heating purposes. It is precisely for above ground pools and can increase the water temperature to 10-15 degrees F.
It features two 2 x 20 feet long panels or collectors that it uses for round heating pools of up to 24 or 28 feet (depending on whether you use one panel or both). The greater the solar panels you use, the faster it'll increase the water temperature.
It comes for a Reasonable price and is famous for its high heating efficiency. It is compatible with almost all kinds of pool pumps, and it works better than gas heaters.
Not only do you not have to pay hefty gas bills, but it is also environmentally friendly. It also features more tubes on a panel in comparison to other brands.
It comes with a bottle of 310 ml of liquid heat solar blanket, ensuring the heat stays in the pool. Furthermore, it has a 10-year warranty which shows it is reliable.
---
SUNQUEST Solar Pool Heater
Rating: 4/5
Can increase the water temperature up to 10 degrees F
Suitable for both inground and above ground pools
Compatible with all pool pumps
Features MAX-FLOW design
Easy DIY installation
The SUNQUEST solar pool heater is a heat cost-saving a pool heater that is of premium quality materials. It comes with a mounting kit (racking or roof) and couplers, making Installation and setting up a breeze.
It is suitable for both types of pools, in-ground and above-ground. The pool heater uses superior technology, which ensures smooth performance and innovation. It is compatible with most kinds of pool pumps, including old pool pumps.
Moreover, it has a max-flow design, which allows for more excellent water circulation and Reduces pressure on the pump. It also increases the temperature of the pool up to 10 degrees f.
Essentially, it helps save heating costs. It does not require you to spend on electricity or fuel costs that gas or electric heaters need. Its construction makes it durable and long-lasting.
---
Fafco Solar Heating System
No products found.
Rating: 4/5
Comes with a user manual for installation
Very little maintenance required
Compact and sleek design
Can mount on a rack, the ground, or nearby roof
Optimal heating between 10 AM and 4 PM.
The FAFCO solar pool heater is a high-quality pool heater that is quite versatile when it comes to its mounting. You can mount it on a roof, ground, or even a rack.
When placed at an angle of 10 to 30 degrees south from 10 AM to 4 PM, it maximizes efficiency. It is constructed with UV stabilized polyethylene, which is supposed to be sturdy and long-lasting even under extreme sunlight.
Its simple Installation is made even easier by including a barb connection, valve handle, 12 mounting caps, 20 rubber tube pieces, six mounting straps, and 12 mounting bases.
The unique thing about it is that it features a pool pump and circulates water from the collector. The bypass valve it comes with allows users to turn it on or off quickly.
In case you need ground installation, additional materials like ground spikes and hoses will have to be purchased separately. It is one of the most reliable solar technology businesses since 1972. It comes with a 10-year long warranty, so it is worth it.
---
Things To Consider Before Choosing the Solar Pool Heater
It would be best if you kept in mind the following factors before picking out a solar pool heater that suits you best. Installing a solar was never so easy by getting heat from the sun.
However, now pool owners can get different types of solar for the ground swimming pool. A solar system pumps the pool water after installing a solar. You also get the direct flow system of warm water per day for your swimming pool using solar energy.
i) Climate
Since the heating efficiency and the collection of heat is dependent on how much sun it receives, the location matters a lot. If you live in a sunny area like Florida, then a solar pool heater is a great option.
However, for people living in colder climates, you must get a pool heater with high output and heating.
ii) Efficiency
This is important for a pool solar or ground pool.
iii) Pool Size and Type
Naturally, the larger the pool, the greater heat it will require, and so the solar panel or collector should be equally large. It should be able to cover at least 80% of the size of the pool.
Another consideration to keep in mind is the pool type. As discussed above, some solar pool heaters are made for in-ground or above-ground pools only. Some are compatible with both, but you need to be sure of it.
Moreover, temperatures in the water vary for leisure and exercise pools, which should also be kept in mind.
iv) Roof Stability
Since most solar panels are placed on the roofs of houses, the roof should be reliable and sturdy. This is so because it should be able to hold it for several years. Thus, if you think your roof is not strong enough, you should arrange it beforehand.
v) Accessories
In some cases, a simple solar panel or mat is not sufficient to heat the pool. Sometimes you need additional accessories to enhance the performance. Although the other accessories are not a must, we still recommend them to maintain it better.
vi) Mounting Type
Solar pools have three kinds of mounting options: flat, racking, and rooftop. Flat mounting is mostly applicable for solar heat mats, which simply need to be rolled out or spread flat on the ground.
These are not ideal though because it is better to have them placed at an angle for maximum heat collection. Racking systems are not as simple as mounting flat systems.
They mount at a tilted angle to achieve greater efficiency. Lastly, the rooftop mounting has the most extended Installation but is the best one in terms of space and heat collection.
Related Articles:
Using Solar Energy for Residential Pools
Different Types of Solar Pool Heaters?
All solar pool heaters have the same function of heating the pool using the sun's energy. However, there can still be differences in the way they operate.
i) Evacuated Tube Collectors
This is perhaps the most effective way to heat your pool, even though it is costlier than solar collectors are. However, they are more reliable and suit better to colder climates. It uses a system where smaller glass tubes fit into larger ones to create a vacuum.
When the sunlight heats the glass, the heat stays within the vacuum, then transfers with a heat exchanger to the adjacent water box. Thus the water heats until it goes back into the pool but at a higher temperature than before.
ii) Thermal Solar Absorbers
These are perhaps the most popular solar pool heater type. We place the solar panels on top of the roof or next to the pool. The thermal absorbers are either glazed or non-glazed.
The latter is of rubber mostly and the water transfers with a group of pipes. These are better for warmer regions. Glazed ones are more sturdy than aluminum, copper, or glass; these are better for colder regions.
Thermal absorbers are easy to install and also reasonably priced compared to other kinds of pool heaters.
Conclusion
Solar decks are easy to set up, does not require maintenance, are small enough not to spoil your house's aesthetic but rather enhances it, and most of them come with rechargeable batteries so that you never run out of light during the night.
The above ten devices are some of the best deck lights you will find in the market. Each one of these is unique in their way, but if there is not one thing that they have in common; it is their brilliant performance and consistency is the best of the best! It has 12 deck lights in a single pack, can be easily installed, and can work for as long as 12 hours a day!
Furthermore, it has a sturdy construction which further makes it one of our favorites. Our next choice is not because it is the best budget option but also because it has a pressure resistivity of up to 20 tons!
This means it can be used on the decks, driveways, and pathways without worrying they'll get damaged by the weight of your feet, cars, and trucks. Furthermore, it has Ip68 waterproofing, which means it can survive all types of problems.
If you haven't found the perfect solar deck lights till now, then go over the above ten enlisted ones. They have a long shelf life, can withstand harsh temperatures, and helps conserve energy.
Ideally, you should opt for the rooftop mounting if the Installation is not too expensive. The next option should be racking system one as it is at an angle that maximizes heat radiation.
---