Keeping the temperature of your attic regulated is an essential part of an energy-efficient, well-built home. Solar gable fans or solar roof-mounted attic fans can prevent ice damming in the winter.
It can protect your shingles from super-heated attic air in the summer as well. Choosing a solar-powered attic fan can be a simple attic ventilation solution.
How To Choose a Solar Powered Attic Fan
Adding solar attic fans to your home can protect it from seasonal damage. Also, it can provide modest energy savings. Running wiring to the attic can be a pain, solar can simplify the problem. Depending on your municipality, you may also qualify for an additional tax credit incentive.
In this guide, we will discuss the importance of a properly ventilated attic. And what to look for while choosing your solar attic fan.
Keeping Cool
Attic air gets extremely hot in the summer as the shingles absorb heat from the sun. This super-heated air can damage roofing tiles by cooking them from the underside.
Attic fans in combination with proper soffit ventilation reduce heat and moisture in the attic protecting it from damage. In the winter, this moisture can cause condensation, potentially damaging attic materials, or causing mold growth.
Ice Damming
Proper attic ventilation is essential in snowy climates to prevent ice damming. Ice dams occur when meltwater from snow on a warm roof collects in the gutters and on the eaves.
This water refreezes and the process continues until meltwater has nowhere to go, collecting on your roof. This can cause damage to your home if water starts leaking through the roof.
Soffit and Gable Ventilation
Proper soffit or gable ventilation is needed to prevent pressure differences from building up in the attic. In the summer, hot air is pushed out of gable vents or roof vents by the fans.
And relatively cooler air from the outside is in turn drawn into the attic through the soffit or gable vents. This air movement cools the attic temperature and protects shingles from being damaged.
This process is the same in the winter. The goal is to be temperature equalization with the outside to prevent melting snow on the roof from causing ice dams.
Insulation
If your attic is not properly insulated, you should invest in that before installing any kind of attic ventilation. Proper insulation prevents heat transfer between attic air and the conditioned air inside your home.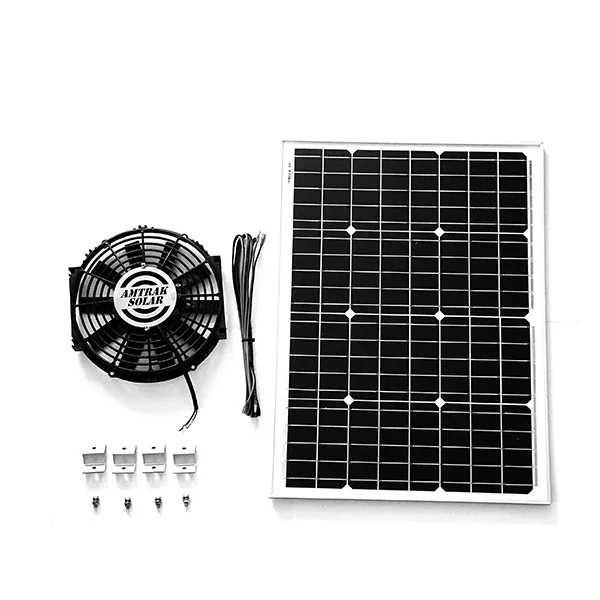 Improper insulation in combination with attic fans will cause energy loss in both summer and winter.
Types of Fans
There are two main types of attic fans to choose from. Roof-mounted fans are found on flat and pitched roofs. These fans are installed in a circular hole cut in the roof. This may require expert installation if you lack the necessary carpentry skills.
Gable mounted fans are generally placed behind existing gable vents. If you don't have existing vents, the installation is made more difficult.
Fan Size
Most attics are around the same square footage as your home. Multiplying the sq. ft of your home by 0.7 will give you an approximate minimum cubic foot of air a fan should be able to move per minute.
A steep roof will increase internal attic volume. And a dark roof will increase energy absorption from the sun. Both cases would require a fan that is capable of moving more air.
No Electrician Necessary
Without basic electrical knowledge, installing wiring in your attic needs a professional electrician. A clear benefit of solar attic fans over wired fans is their simplicity.
Gable fans can be installed behind existing vents. Plus, roof-mounted models are easily installed with a little carpentry work.
Adjustable Solar Panel
An adjustable solar panel will allow you to move the unit into alignment with the sun. This is important because your solar fan will only operate when receiving direct sunlight. Placement is important to ensure the fan is running throughout the day and providing its intended benefits.
Construction Quality
Durable materials must be used in the construction of solar roof ventilators. Your fan will be exposed to UV radiation, rain, hail, and depending on where you live, snow, tornadoes, and hurricanes.
It is important that the fan housing is durable. It includes a quality screen to prevent rodents, birds, and insects from entering through the vent. A thermostat can also be a useful feature.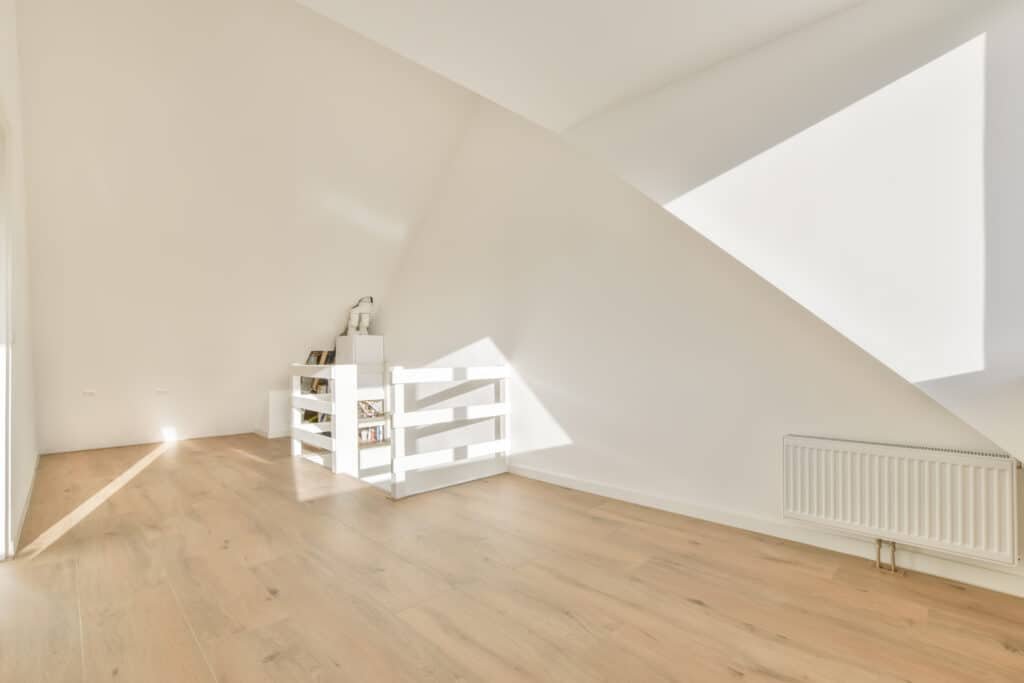 Thermostats turn the fan on and off depending on ambient temperature prolonging the life of the fan motor.
Installation
Installation of your solar powered attic fan is a project of moderate difficulty. A few hours of sweating it out in the attic should finish the job if planned properly. Many houses are constructed with 14.5" between rafters allowing room for the fans.
Be sure not to cut or damage any rafters during installation as it will compromise the structural integrity of your roof. Read instructions carefully and consult a professional if you are unsure about any aspect of installation.
Best Solar Powered Attic Fan Reviews
Natural Light Solar Powered 24 Watt Gable Mount Attic Fan
No products found.
Many homes with pitched roofs already have existing gable vents installed. The easiest way to add powered ventilation to your attic is to install fans behind these existing vents.
The 24-watt gable mounted fan by Natural Lights allows you to do just that, with installation taking little more than one hour. It is hidden from the outside so it doesn't affect the aesthetic value of your home.
Also, it will not allow water to seep in through holes cut in your roof, as is required for roof-mounted options. The independent solar panel and 15-foot connecting cable allow you to place the panel in an optimal location to receive maximum sunlight.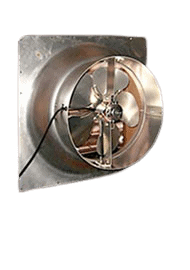 It moves 1,339 cubic feet of air per minute providing ventilation for attics up to 2,100 sq. ft. The product is made in the USA of commercial-grade materials and is built to last.
Natural Lights also offers an outstanding 25-year warranty on the motor, housing, and solar panel. It is one of the best warranty periods in the industry.
This unit also qualifies for tax credits in eligible municipalities. This fan is available in 12, 36, or 60-watt versions for your specific needs.
Pros
Made in USA
25 Year Warranty
A top choice of contractors
Independent solar panel
Cons
Must have pitched roof with gables
---
Broan 3555OWW Surface Mount Solar Powered Attic Ventilator
I like this durable solar attic fan made by Broan. The unit comes with a durable 20-watt tempered glass solar panel able to survive hail strikes. Plus, a design capable of withstanding 140 miles per hour hurricane-force winds.
The unit is flush mounted and attractive so it doesn't look bulky or out of place on your home. The steel motor housing, sealed ball bearings, and a hardened shaft protect the motor from wear.
The 1/8 inch heavy gauge bird and rodent screen protect against uninvited house guests while still allowing adequate airflow. The one-piece aluminum five-blade fan moves air effectively without excessive noise.
This fan is relatively easy to install with a little knowledge of carpentry and roofing. It is not the most powerful option, venting attics up to 1,600 sq. ft, but is built of quality materials and made to outlast other products.
This is a good option for homeowners along the gulf coast. Or in the tornado-prone Midwest due to its sturdy and wind-resistant construction. Broan makes a range of attic ventilators that can suit a variety of attic sizes.
Pros
Can withstand hurricane force winds
Florida building code certified
USA made
---
ESM Products 30W Surface Mount Solar Attic Fan
A great value option to consider is the ESM Products solar attic fan. The 30-watt unit is capable of moving up to 1,550 cubic feet of air per minute in direct sunlight. This allows it to properly ventilate attics up to 2,800 sq. ft.
The solar panel angle is adjustable with two included brackets. This allows you to place the panel at an optimum angle to the sun. The seamless aluminum housing is warrantied for a full 25 years, while the motor is covered for five years. The fan is an aluminum five-blade design 12" in diameter.
Pros
Powerful
Adjustable solar panel angle
---
Conclusion
Solar-powered attic fans are a simple and effective way to protect your attic from weather-related damage. I prefer the simplicity of the gable mounted fan by Natural Light when compared to other options.
The fan can be easily mounted behind existing gable vents in your attic making them a breeze to install. They are hidden from the outside. So they don't affect the aesthetics of your home but still, provide enough power to ventilate your attic.
Additional fans can easily be placed in other gable vents you already have. You could also consider a roof-mounted option for the gable fan. Natural Light provides a best in class 25 year warranty on the motor, housing, and solar panel.
Providing ventilation to your attic is essential to protect your home from extreme weather. Solar attic fans can be a simple solution. Also, they provide years of energy-free attic protection.
---