At first glance, moles look like animals you'd keep as pets. They look all cuddly and cute, but if you have a garden, you know how dangerous these animals can be; they leave hills of soil on your yard and eat up plant roots in your garden.
Smoke bombs, traps, and poison can eliminate moles and other rodents, but they can harm your children and your pets. This is where you need a solar sonic mole repeller.
This best solar-powered mole repeller review was created to help you choose your yard's best repeller.
How To Choose the Best Solar Rodent Repeller?
There are so many solar-powered repeller brands today. While this gives consumers a more comprehensive selection of products to choose from, it might be a challenging task selecting the best, especially if you are buying repellers for the first time.
Consider the following factors to pick the right solar sonic repeller.
Protection Range
Solar-powered mole repellers keep away moles from your garden by producing vibrations and sonic wave sounds underground. The sonic wavelengths determine the size of the area these repellers can protect; the frequency of waves produced can determine wavelengths.
Most units will have between 400 and 1000 Hz. Repellers with a high pulse frequency will repel moles over a long distance.
Size of Your Garden
Your garden's size and the frequency of the repellers you choose will determine how many sonic repellers you buy. A single solar-powered mole repellent unit will cover a radius of about 49 feet.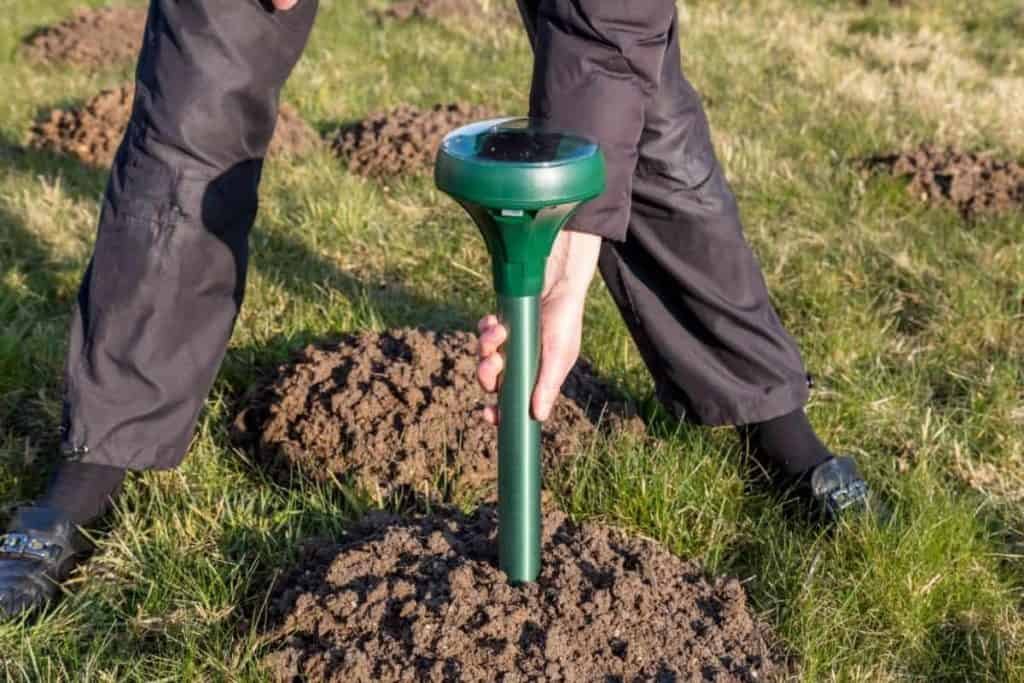 This means that you should place these units at least 98 feet apart to achieve the best repellent results. Therefore, to get the best results, you need to know the size of your land and the range of protection of the repellent.
Most units will show the area a repellent will cover on their product descriptions.
Repeller Construction
Solar-powered mole repellers are always exposed to the weather elements; a part of the unit has to be staked underground. Another feature is left above ground exposed to rain and snow and other elements.
The units can get damaged by rain and intense sun. To ensure that your unit lasts for long, choose one that is waterproof, anti-corrosive, and made of an anti-UV material.
Most units are made of strong ABS plastic, others of aluminum alloy, and some with weak plastic. Avoid units made of light plastic as they do not offer value for money.
Charge Time and Run Time
How long does the solar panel take to charge the battery to full power? Most units take between 3 and 5 hours of exposure to full sunlight to charge fully.
Some units are fitted with strong Li-Ion or Ni-MH batteries to last for up to four days after a single full charge. Such units are great if you live in an area that is always rainy. When shopping, pick a unit with a highly efficient panel and a high capacity battery.
Price and Warranty
When you are buying a solar vole repeller, you have to consider the price. Units designed with a large solar panel with a high capacity battery and a high frequency will be more expensive. Smaller units with weak plastic construction will cost less but will not last long.
Choose a unit that will perform efficiently and last long. The right unit should come with at least a 2-year warranty. Such a warranty shows that the manufacturer trusts in their products.
Again, you are covered for at least two years.
Additional Features
Besides repelling moles, mole deterrent units are fitted with lights to decorate or illuminate your yard or garden. The lights are fitted just beneath the solar panel. You can choose between lights of diverse colors depending on the mood you want to create in your garden.
Some lights are fitted to go on and off automatically at dusk and dawn, respectively, but others have to be manually switched on and off. Repellent units with weak batteries should not have very bright lights, which will drain the battery power.
Why Choose Solar Powered Repellents?
There are different other ways of repelling or eliminating moles besides using solar-powered sonic repellents.
Safe and Eco-Friendly
Some people have used bleach, broken glass, razor blades, and petroleum products. While some of these methods may work, they are detrimental to your children and pets.
These chemicals can affect the health of your children and pets if inhaled. Regardless of when are moles most active during the day, with solar mole repellent units once you stake them on the ground, your work is done.
Unlike chemicals that you have to prepare and burrow in the ground, solar pest repellents are self-powered and do not need a lot of maintenance as long as they are exposed to the sun.
Chemicals might eliminate moles, but they may also eliminate beneficial microorganisms in your soil.
Cost-Effective in the Long Run
Solar-powered mole repellents might be relatively expensive to install, but they are cheaper than other means of repelling moles in the long run. Once installed, the units will last for years.
With just a little maintenance, you can have the solar mole repellents for more than five years. This is unlike other methods of chasing away moles, such as natural oil-based repellents, which have to be burrowed into the ground every after a few weeks.
Do Solar Mole Repellers Affect Pets?
Solar-powered mole repellents work by producing ultrasonic sounds that are irritating to moles and other rodents. When moles hear these ultrasonic sounds, they perceive them as a danger, and they burrow away from your garden.
Dogs can hear some frequencies produced by the repellents. Before buying a solar-powered repellent, be sure it does not affect dogs. Again, before installing the repellers, notify your neighbors of your decision seeing that the moles will run to their gardens.
Best Solar Powered Mole Repeller Reviews
Vekibee 6-Pack Sonic Solar Mole Repellent
The Vekibee 6-Pack Sonic Solar Mole Repellent is s designed to repel moles, voles, and gophers, and even squirrels making it an all-in-one unit. The frequencies of the sounds produced do not affect humans and pets.
Sold as a pack of 6 units, the Vekibee repellers sport a sizeable solar panel powerful enough to charge the battery to full power in only four hours of maximum exposure to sunlight. The Li-Ion battery can last for up to five days after a single charge, making it ideal in rain areas.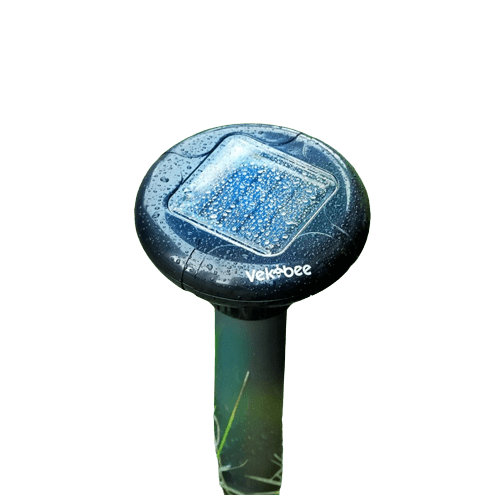 The solar panel is housed in a strengthened ABS plastic that protects it from weather elements. This panel is attached to a corrosive resistant aluminum spike that makes the unit long-lasting.
The whole unit is designed to weatherproof; it can survive water splash from any direction. However, the solar panel has to be 4 inches above the ground.
While the unit does not come ready to use, you can connect it in minutes. Connect the cord from the spike to the solar head, then screw the head to the spike and stake it to the ground and see how do sonic mole repellers work to disperse rodents.
Pros
Charges to full power in 4 hours of maximum exposure
Battery can run for 5 days on a single full charge
Made of ABS plastic and corrosion resistant aluminum to last long
The vibrations are safe for humans and all pets
Easy to set up
Covers a wide range; up to 48 feet radius
---
XMSTORE Upgrade Mole Repellent
This mole repellant comes ready to use with all the parts connected. All you have to do is stake it on the ground and switch it on. It will produce a buzzing sound to show that the repellant is already at work.
Its strong construction ensures that it lasts for long. With a large solar panel, the XMSTORE mole repeller can charge the battery to full power in less than 5 hours of exposure to maximum sunlight.
This battery can last for up to four days with a single charge. The unit is waterproofed to survive harsh environmental conditions in your garden. It is designed to wade away moles, voles, and gophers, among other rodents.
Its design allows it to be used in paddy fields, farms, and yard. The XMSTORE Mole repeller produces a third-generation ultrasonic repellant that cannot only repel rodents but also snakes. This sonic sound is radiated over a long distance.
You can buy the unit as a two-pack or three-pack based on the size of your garden. Whichever pack you buy, the manufacturer offers a 12-months warranty with free service during the warranty period.
Pros
Comes ready to use
Produces high frequency sounds to cover a wide area
Safe for pests and humans
Made of high quality ABS plastic and aluminum materials to last long
Sports a large solar panel to charge fast
Generous 12-month manufacturer's warranty
Cons
No UV protection to keep it from getting damaged by the sun.
---
Lubatis 2-Pack Solar Power Mole Repellent
No products found.
The Lubatis 2-pack mole, vole, and gophers repellent are designed sleek to add beauty to your yard/garden and repel rodents. It produces high-frequency sonic sounds to cover an area of up to 6500 square feet; you should stake the units 45 feet apart for them to be effective.
Each unit comes with a small solar panel that takes 8 hours to charge the AAA batteries fully in 8 hours. The batteries, in turn, run the repeller for up to five days.
The solar panel is covered with strong ABS plastic attached to a corrosive resistant aluminum spike for durability. The whole unit is IP44 waterproof to survive the weather.
You can stake the whole spike underground to leave the panel head above ground alone, and it would still work great. However, ensure it does not soak in water for long.
Each unit comes with a very sharp spike making it easier for you to stake it on soft ground. You can use it in any field, including paddy fields, yard, and garden.
Besides rodents, this repellent can be used to chase away squirrels, snakes, chipmunks, and rats. The ultrasonic sound it produces does not affect humans or pets.
Pros
Comes ready to use
Fitted with a powerful Ni-CD battery to last for 5 days
Does not affect humans and pets
Produces 2 seconds of sonic waves every 30 seconds
Designed waterproof and sturdy to last long
Great price-quality ratio
Cons
Small solar panel takes longer to charge
---
Final Thoughts About Choosing a Solar Powered Mole Repeller
There are many more brands and models of repellents besides the three on our best solar powered mole repeller review above. When shopping, you need to choose a unit that performs efficiently, lasts long, and falls within your budget.
Based on our research, the Vekibee 6-Pack Sonic Solar Mole Repellent is the top solar-powered repellent. It is designed strong and sturdy with an aluminum/ABS plastic combo.
It produces a sonic wave that covers a wide area, and its price is relatively remarkable. If you have a large field, this unit might be your best option. Again, you can buy the companies as 6-pack or 8-pack to meet your needs.
When making your decision, your budget will play an essential role in the unit you choose. However, do not compromise on quality to buy an inexpensive unit.
---