There's nothing like the classic design of a tiki torch to turn up the fun at a summer party. We went through the tech specs, features, and accessories of the best solar tiki torches on the market in our round-Up.
The TomCare Solar Torch is the best overall model due to its stellar features and great price, but there are a few others you should consider. Now, let's liven up our summer fun with the best tiki torches around.
Top Picks Solar Tiki Torches
Things To Consider When Buying Solar Powered Tiki Torches
Give a new lease of life to your outdoors with the solar-powered tiki torches. You do need to remember that not all of them are created equal.
They are available in various designs and styles, and you need to choose as per your specific needs and requirements. Here are some things you should consider before you buy.
Light Source
The first thing that you should consider is how the tiki torch provides light. The traditional torches use a flame to illuminate the outdoors. The fire focused torches are available in the market, but the solar torches offer a safe alternative.
The solar-powered tiki torches don't pose a danger even when children and pets are around. Solar torches look similar to flame torches but don't pose a safety risk. The LED bulbs provide a warm glow from dusk to dawn.
Design and Material
The traditional tiki torches are available in bamboo. Bamboo torches are the most affordable. You do need to remember that torches made of bamboo material don't last long. Tiki torches made from metal last a long time.
The new solar-powered tiki torches are available in different types of material. Iron, brass, stainless steel, and copper are other materials that the tiki torches are available. Many manufacturers have also incorporated elements of ceramic, resin, and glass in the tiki torch design.
Pole or Tabletop
One of the essential things you need to decide is whether you want a standard pole torch or a tabletop torch. Pole torches are available with a rod, and this can be staked to the ground. They can also be mounted on fences.
There are different options on how to attach solar lights to fence. The pole torches are available in different lengths. Additional accessories are provided by manufacturers to increase the length of the pole. The metal pole torches are strong and last a long time.
Brightness
The flame's brightness is another essential factor that you need to consider when buying solar-powered tiki torches. If you choose solar lights with a low lumen, you will only get low brightness. The soft light will be inadequate to light up your outdoors.
Choose LED lights with a high lumen rate so that you get adequate brightness to light up your yard, patio, and pathway. Lumen rate is the brightness that LED lights to provide. If the flickering flame solar light has a high lumen rate, it will provide bright light for your outdoors.
Battery Capacity
The capacity of the battery is something that you need to pay attention to. It is best to choose a 2200mAh battery to power the solar light for at least 10 hours in summer.
A battery with a larger capacity will be able to light up your outdoors longer. To know what type is best for you, view the comparison between NiCd vs NiMH for solar lights.
Simple Ways To Use Solar Powered Tiki Torches
Apart from using the solar tiki lights as decoration at parties, you can use them all year round. The tiki lights are multi-functional, and you can use them in different ways.
Landscape and Pathway Lighting
Tiki torches are one of the best path lights, they are an excellent choice for the landscape and pathway as they radiate a warm, bright light. You can use them to illuminate different areas of your outdoor landscape.
They are great for anywhere on a deck or in the backyard but they look particularly great around the pool because of the reflection of the dancing flame in the water at night. You can also add a little more drama by adding any of the best solar tea lights.
Beach Barbecues
The solar-powered tiki torches are portable. You can take them with you for a beach barbecue party. The landscape lights can be used to light up the surroundings in multiple ways.
Spooky Halloween Décor
Put the lights along with the front door or the driveway along with spooky Halloween décor. The solar lights don't require wiring and can be moved around easily.
Best Solar Tiki Torches Reviews
Best Tabletop or Hanging Lights
E-Able Solar Torch
No products found.
When it comes to solar lights for your yard, you want to pick a light that has a natural flame look as well as a versatile Style.
Best Solar Tiki Torch Overall
TomCare Solar Torch
The TomCare Solar Torch is our best overall buy for tiki torches. This solar lantern gives you not only the most bang for your buck, but also some of the most sought-after features.
With a maximum height of 42 inches, the realistic flickering flames of these LED lights make a great addition to any patio or backyard party. The 10-hour lifespan of this light is perfect for running the full length of even the longest backyard barbecues in between charges.
The IP65 waterproofing means that you won't have to worry about assembling and disassembling these lights in between rainstorms. Speaking of assembly, all you need to do is attach the base of these tiki torches to the lights and place them in the ground.
With a great ambiance, and unbeatable ease-of-use, and a well-rounded suite of features, this tiki torch easily earns our best overall position.
Pros
Realistic flickering flame LED lights
IP65 waterproofing can withstand rain and snow
20% more efficient microcrystalline solar panel
Cons
ABS plastic can weather and breakdown during hot summers
Flame decals might not work with every yard or party
Some users were upset with the durability of the build quality
---
Best Tabletop or Hanging Lights
E-Able Solar Torch
No products found.
When it comes to solar lights for your yard, you want to pick a light that has a natural flame look as well as a versatile Style. The E-Able Solar Torch Can be staked into the ground like a traditional tiki torch as well as hung above your deck or placed on a table.
The soft glow of the 20 lumens light creates a much more realistic flame look than other yard lights with more output. This solar charge would be a great choice for individuals looking to acquire more versatile lighting options.
Pros
Can be used with a ground pole accessory like a traditional tiki torch
Hanging clip allows for versatile style options
2200mAh battery allows for dusk-to-dawn operation
Cons
Smaller than the look
The design of the ABS plastic shell doesn't look as nice when the light is off
---
Best Wall-Mounted Option
Fitybo Wall-Mount Torch
Are you looking for a way to light your area that is a little different from anything else you've seen? The Fitybo wall-mounted torch makes the top of our list for wall-mounted options because of the way it redefines LED tiki torch lighting.
If you are looking for the right solar fence lights for your yard, this is a great choice for individuals looking for something a little more sophisticated than lights staked into the ground.
These lights have a 4-inch by 6 inch footprint which makes them ideal for mounting along fences, pathways, and exterior walls.
Pros
Safer alternative to fire
66 On/Off LED lights
Light can be mounted to any surface with right equipment
Cons
Can not be used with a ground stake
There tends to be a few duds when ordering multiple lights
---
Best Traditional Decor
XMCOSY+
One of the best things about a tiki torch is the style. We've got plenty of options that have a modern look, but sometimes you just want that classic tiki vibe.
This time around we found some outdoor solar lights that deliver on the classic tiki promise while still having some modern tech inside. This light has two modes. One delivers a classic tiki torch fire look that can run for 30 hours.
The other delivers a constantly on warm white light of about 40 lumens that can last for 10 hours. The IP65 waterproofing, constantly on setting, and 20.25-inch poles make these a great choice for walkways.
Pros
2 lighting modes
Classic style looks good day and night
Capable of running for several nights in a row
Cons
2nd mode isn't super useful
Metal stakes are harder to fix if they break
---
Best Multi-Color Option
ARZERLIZE Torch
One of the coolest things about LED lights is that they can come in any color imaginable. This frees us from the traditional limitations of light sources and allows us to get really creative.
The ARZERLIZE torch is our pick for the best multi-color option because if it's stunning blue light. This tiki torch would be at home at a summer barbecue just as well as it would be during a Halloween party or an unconventional and unforgettable Christmas celebration.
Pros
Flickering blue LED lights
Automatically turns on at night
Includes 31 to 43-inch extendable pole for ground mounting
Cons
Automatic on feature has inconsistent timing
Needs very direct sun for consistent charging
---
Best Realistic Option
Newhouse
No products found.
These are the most authentic-looking solar tiki torches on the market. All of the traditional tiki look you have come to know without any of the drawbacks of having a real tiki torch.
The authentic wicker finish paired with the realistic lighting patterns of the internal LED makes for an all-around realistic light for your home.
Pros
Traditional wicker tiki look.
Available in a bamboo or black finish.
Realistic flickering flame.
4-pack offers complete yard lighting.
Wireless easy assembly and installation.
5-year limited warranty.
Cons
3-4 hour light time is shorter than most solar-powered torches.
---
The Upgrade Option
TikiTunes
This is a pretty serious upgrade from all the other tiki torches listed here. It doubles as a bluetooth speaker! It also has higher quality materials, you can actually see that in the image. You can string them together with Bluetooth for surround sound if you own a few.
The main drawback is that it's not solar powered, it has a rechargeable battery. However, if you have some portable solar panels (which, let's face it, you should) then it effectively becomes solar powered.
Pros
Doubles as a bluetooth speaker
High quality materials
Tabletop or pole installation
Chain them together with bluetooth for surround sound
Turns picnics and beach outings into insta-parties
Cons
It isn't solar powered unless you add your own portable panels
Does not have rum punch tank in base, maybe someday
---
What Makes a Solar Tiki Torch the Best?
Need a little guidance picking the best torches for you? Our experts put together this list of the most common questions, and their answers, when it comes to solar torches.
How To Choose the Best Tiki Torch?
If you want to pick a tiki torch that's right for you, you need to know what you're picking this tiki torch for. There are some basics, such as the importance of choosing torches from a quality company that makes a great product, preferably with a good warranty.
You also need one that stands up to the elements like sun, wind and rain. Torch lights made of solid material will be able to stand up to harsh weather anywhere.
You also want solar tiki lights that don't require and special wiring and can light up the amount of space you need lit, with only a touch of your finger. In addition to our own review, the products here also have great reviews on Amazon and other sites.
The Fitybo Wall-Mount Torch is a great option for people who want a permanent fixture that looks good with nearly any style. The Newhouse, on the other hand, has a classic style that might clash with more modern looking parties.
At the end of the day, the right tiki torch for you will be the one that makes you feel the best about your decor and a party you're about to throw.
What Color Temperature Should You Pick?
Kelvin is the scientific measurement of color temperature. The lower the Kelvin number is, the closer the light is going to be to the color of fire. A higher Kelvin is going to be in a light that looks white or blue.
Tiki torches are supposed to be oil lamps, so you're going to want the lowest Kelvin you can get your hands on. Most of the tiki torches and this list recreate a natural fire look which means their Kelvin is going to be hardly above 1,700.
Staked, Hanging, or Tabletop Torches?
How can you choose between a tiki torches at stake in the ground or one that you have to hang up or leave on a tabletop?
It all comes down to your personal style as well as something tiki torch buyers need to consider. The physical layout of your yard and how you've planned your party should be the guiding factors you consider when deciding between a staked or hanging tiki torch.
Most of the tiki torches on this list use stakes however some can also be used as hanging solar lights. The E-Able Solar Torch is able to hang from a ceiling or used as a light on a table.
This can be a great option for people with smaller yards or yards that have a lot of rocky or paved areas that would be hard to stake into.
Two Lighting Modes or Just One?
Almost every tiki torch on our list has just one lighting mode. This is typically a flickering flame effect. The XMCOSY+ is the only tiki torch on this list that has two modes.
If you're looking for a tiki torch that doubles as a bright white pathway light, the XMCOSY+ is the clear choice for you. With that said, it can be hard to spot the advantages of having two modes on a tiki torch.
This is a very specific piece of decoration that doesn't necessarily need to pull double duty. There are plenty of solar and smart lighting options that can take care of these secondary features and let your tiki torches do their job of bringing a warm fire light to your next gathering.
What Is IP65 Waterproofing?
Nearly every light on this list has an IP65 waterproofing, but what does this mean?
IP stands for Ingress Protection. This is a rating given to the electric devices that need to be protected from dust and water. The number six is the designation for the dust resistance. 6 is about as high as it gets when it comes to resisting dust.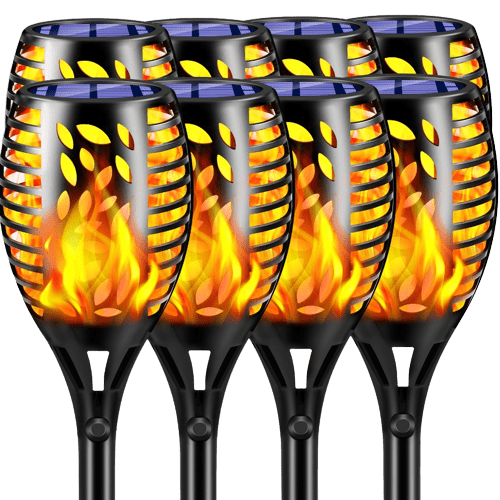 5 is a middle tier for water protection. 5 essentially means that it's going to be immune to rain and other garden sources of water like hoses and sprinklers.You can think of IP65 as a top-tier waterproofing standard for your typical garden tiki torch.
Tips for Using a Solar Tiki Torch
Using a tiki torch is about as straightforward as it gets, but there are a few sneaky tips that you should be aware of.
The biggest tip for solar tiki torches is to charge them for a few days before your big party. This gives the lights time to fully charge their batteries as well as get into a dusk to dawn cycle.
Firing them up ahead of time also gives you a heads-up should one of these lights be a lemon.
What Style Tiki Torch Should I Pick?
You should think about not only your style, but also what your guests are going to be expecting when you pick the tiki torch for your party. If you want to go all out for a wild night, you should pick the ARZERLIZE Torch.
It's blue fire LED is going to set the tone for a night that will be anything but ordinary. TikiTunes is a great choice for people on-the-go who want to take the party with them. Bring this to a friend's party or take it on your next trip to the beach for some great times!
What Tiki Torches Have the Best Battery Life?
Battery life is a big concern when it comes to solar tiki torches. You don't want your torches going dark in the middle of your big party. If battery life is a big concern, then the XMCOSY+ is the right tiki torch for you.
Where most tiki torches can run for 8 to 10 hours under up today, the XMCOSY+ is able to put out a whopping 30 hours with its flame flickering mode.
Conclusion
Whether you are the pit master at the neighborhood BBQ or you just want to breathe some tropical life into your yard's decorations, a tiki torch is what you need. The TomCare Solar Torch is a tiki torch solar and green energy fans can be proud to own.
It's improved efficiency, stunning look, and versatile style makes it the clear winner of today's round-up. With that said, you can't go wrong with the bold color options of the ARZERLIZE Torch or the classic style of the Newhouse torch 4-pack.
No matter what you pick, your tiki torch-lit party is going to be a guaranteed crowd pleaser!
---