Owning a watch for many is a must. It helps them stay in touch with time throughout their day. Many people that wear a watch every day can often run into some technicalities from time to time.
One of the many problems you encounter with a watch is that the batteries run out after a while and need to be replaced. Changing the cells of a watch isn't easy and requires professional help most of the time.
Thus, investing in solar-powered watches can save you from the hassle of constantly changing the batteries. Most of the best solar powered wrist watches are trendy, made of stainless steel, and are meant to last you for much longer than battery-powered watches.
Solar watches usually contain small solar panels instead of batteries. They absorb sunlight in the morning and use it to power the watch for the rest of the day. This means you do not have to worry about replacing the batteries once they run.
Solar watches allow you to have a constant power supply, which makes them quite practical. Solar watches can vary in terms of their elegance and ruggedness.
Finding one that suits your tastes best is not that difficult because there are tons of different kinds of solar watches on the market. However, solar watches indeed tend to be more expensive than traditional Quartz watches.
Solar watches also vary in terms of their prices, which is why this article aims to present the best solar watches under 100. Not only that, but the appearance, functionality, and brand all matter and so finding one that is perfect for you requires some research.
The Seiko SNE329 Solar Watch is our best overall option for solar-powered watches. Its utilitarian design, 10-month power reserve, and the water-resistance help it stand out. Read the complete article for the 10 best solar watch recommendations. It also discusses important things to note about solar-powered watches.
So, without any further ado, let's begin.
Top Picks Solar Watches Under $100
Advantages of using solar-powered watches
A solar watch is beneficial for several reasons, the following are some of them:
· Uses renewable energy
Non-renewable energy sources are harmful to the environment which is why renewable energy sources are better for energy conscious people. Solar energy is great as its source is the sun but it can also use other sources of light to convert to other forms of energy.
A solar watch is perfect for everyone as you do not have to worry about replacing its batteries when they're all used up. The watch rests on the wrist but is constantly being charged whenever you are in the sun.
· Low-maintenance
Someone who wears a watch everyday wants it to be durable and low maintenance. Constantly replacing the batteries can get tiresome and a nuisance.
It can also leave scratches on the back when opening it up. Thus, solar watches are a better option as you do not have to worry about the batteries or even the cost of replacing them as long as you know how to take care of your solar watch.
· Long-lasting
Solar watches have a long power reserve and can save power for up to 6 months and more. It is a much higher reserve life than other electrical and mechanical watches. They only have a reserve of about 40 hours, which is quite low in comparison.
Hence, they are better suited for long trips and adventures. Moreover, a solar watch's battery can last up to 10 years or even more because they usually have a secondary cell, which stores the energy into it.
Thus, if the watches stay frequently in the light they have the potential for lasting forever. However, that does not mean you should overcharge the watch, as that damages the battery.
· Can be charged with any light
A lot of people seem to think solar watches are only good for those who stay outdoors most of the time because it uses the sun's energy to charge the batteries. However, solar watches use not only solar energy but also artificial light to charge the watch.
Thus, fluorescent bulbs or even incandescent ones can charge your solar watch.
How to choose the best solar watch
Keep the following features in mind before you find a solar watch that is perfect for you.
1. Watch Face/Dial
The face of the watch is quite important as it may contain things other than the time. These can include the date, timer, numbers, and its shape.
Those watches that display the date can show either just the day of the week, the day and the month, or the date including the year. This is most commonly found in digital ones. The timer or stopwatch watch is often also called the chronograph watch.
This can sometimes be shown by another hand on the watch and often has a separate button on the side. Some, however, have bezels, which are a separate layer containing numbers that allow you to know how much time has passed.
Watches also display the numbers in a variety of ways. Some have Roman numerals, others Arabic, or even simple markers. Roman numerals, ranging from 1 to 12, give a simple classic effect.
Arabic numerals are a unique way of numbering and have a whole other aesthetic effect from that of modern and classic watches. While the simple markers usually are a combination of 12, 3, 6, 9, and different markers for the rest. This is perhaps the most common style of solar watches with analog displays.
The shape of the dial also matters a lot. Most watches are either round or square-shaped. Square-shaped watches are usually smart or found more commonly for women. For men, a round shape is more common, but square ones also exist.
2. The material of the band
For many, the material of the band is perhaps the most important factor in choosing a watch. There are many types of bands available but the most common ones are nylon, faux leather, silicone, leather, and link chain.
Nylon / Faux leather / Canvas
Usually, Nylon / Faux leather / Canvas watches bands are breathable, comfortable, eco-friendly. They're also cheaper than other kinds of bands. All of these materials are good for every-day use and you can wear them for longer periods.
Bands that are made of either of these materials are usually waterproof and good for rugged use. The only downside is they can get difficult to wear in the scorching heat. In addition to that, resin watches are quite common in solar watches especially if they are black-coloured.
They are good for absorbing heat, and thus converting it into mechanical energy.
Leather watches are slightly fancier as compared to the ones mentioned above. However, you can wear them for casual occasions as well. With that out of the way, real leather is expensive and so the price can be high because of the band.
Metal / Link chain bracelet
The popular material choice for metal watch bands is usually titanium or even stainless steel. Titanium is great for those people that wear the watch in a rugged environment. However, it is often more expensive than steel.
Both, however, are waterproof. These are more suited for casual occasions but people wear them during formal settings as well.
3. The window of the dial
Manufacturers usually create these watch's dial from several materials such as sapphire crystal, hybrid materials, mineral glass, or even acrylic. Sapphire crystal watches are usually the most durable and scratch-resistant watches out there.
And thus, usually only expensive watches feature it. Hybrid watches, such as the Hardlex of the Seiko watches are also durable. However, it is not as expensive as sapphire crystal but is more expensive than mineral glass.
Mineral glass watches are scratch resistant and a lot more budget-friendly. Lastly, cheap watches that are prone to scratches contain acrylic dials.
4. Movement
The movement is how the watch is powered. Mechanical watches are manually wound, while some are powered with the help of solar or artificial light. Solar-powered watches convert light energy to electrical. The watch then store the energy in usually a separate cell that is mostly rechargeable.
A lot of "eco-drive" watches are solar-powered since they are environment friendly.
5. Country of origin
Some countries are notorious for their watch-making. Switzerland for instance is famous to be the pioneer in watch-making. Japan too is a big name in the watchmaking industry.
Watches made in Switzerland are often luxury watches and are much more expensive. They have higher quality materials, more detailed, and the brands have a rich history.
Some of the names include Tissot, Rolex, and Tag Heuer. Swiss watches are also popular among the masses for classier occasions rather than for casual ones. Japanese manufacturers use skilled craftsmanship to create watches.
Some of the Japanese watch brands include Casio, Seiko, and Citizen.
6. Case dimensions
The diameter and thickness of the watch also matter to many people. The diameter helps you decide whether it will suit the size of your wrist. Smaller wrists generally go for diameters below 40 mm while larger wrists go for diameters of 40 mm and above.
The thickness of the watches varies especially with different movements of watches. For instance, raised watches are more prone to getting scratches.
7. Price
Watch prices vary greatly. Finding good quality watches under $100 is difficult. Expensive watches that cost about $20,000 and more come with a lot more features and are usually more durable. Highly-skilled craftsmen meticulously craft these watches.
8. Features
Solar watches, apart from their ability to convert light energy into electrical ones, also offer more functions. Many solar watches are also water-resistant. Thus, people who usually swim, go scuba diving or enjoy water sports often opt for watches with this feature.
Another feature found in solar watches is the backlight. Many now have LED backlights that allow you to see the watch face at any time, no matter how dark it gets.
You can easily find a solar-powered watch that offers a stopwatch. This is useful for people who engage in outdoor activities. You can time yourself when you are making a lap, hiking, or engaged in other sports.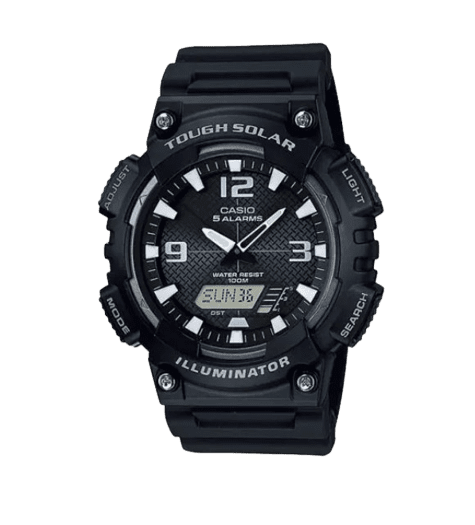 Countdown timers are also becoming popular for the same reasons as that of the stopwatch function. You can also use the countdown timer for an alarm and/or reminders. Furthermore, many solar watches feature alarms as well because they help you to stay on track with your schedules.
Watches with digital displays are quite famous now because of how easy it is to read them. Most solar watches however have analog dials but digital displays are also becoming common with solar watches.
Some watches now also feature different time zones of the world. This feature is quite useful for those that travel a lot. You can simply change the time zone when in another country and the watch will display the current time of that place.
Lastly, a feature quite commonly found in solar watches is shock resistance. These watches are great for rough use and activities, and thus ideal for sports watches.
Best Solar Watches Reviews
Best Overall
Rating: 4.5/5
Round design featuring sunray dial
Analog display with Japanese quartz movement
Buckle strap made of Nylon
The temperature of the strap can go from -5 ºC to 50 ºC
Water-resistant, can go up to 330 ft (or 100m)
The Seiko SNE329 is a reliable watch for one that is solar-powered. Its utilitarian design and stainless steel case (43mm) comes with a bezel as well as a sunray dial. The watch has a solar power reserve of 10 months.
The blue nylon band can withstand temperatures from -5 ºC to 50 ºC and the dial has the same base colour. It comes in black colour as well. It's a men's standard-sized band and a case diameter of 43 mm.
This is an imported watch featuring the movement of Japanese quartz along with an analog display. People usually sought this watch because of its water-resistant feature. It is a watch that you can wear while you go swimming or snorkeling.
However, it is not meant for scuba diving because it exceeds the water resistance of 100 m. Lastly, this watch comes with a 3-year warranty from the manufacturer.
---
Best Shock Resistant
Rating: 4.5/5
LED backlight featuring the time, day, and date
Alarm and snooze
Shows the world time as well
Rugged and shock-resistant case
The Casio GW6900-1 is a solar-powered sports watch. The manufacturer has designed this product to withstand rough use. It is a Japanese Quartz watch, with a digital display, and a black design made of plastic.
Moreover, it is a budget-friendly watch that will not be too heavy on your pocket, and it's durable because of its design. The shock-resistant case allows you to take it hiking, biking, or mountain-climbing.
It comes with 6 atomic timekeeping, alarm and snooze, day, date, and time. It has an LED backlight that shows the time, date, etc. What's more, is that it also displays the world time on the dial.
Its mineral crystal dial window sits on a 41 mm case made of stainless steel. The accuracy of the time varies by 15 seconds per month. Its solar battery saves you the hassle of getting it replaced over and over again.
Overall this watch is a good solar-powered product that you can wear anywhere thanks to its shock-resistant and rugged casing. Lastly, it has a slick back look and thus appropriate for everyone.
---
The Premium Choice
Rating: 4.5/5
Sunray dial
Quartz watch featuring an analog display
Stainless steel push-button clasp
Link bracelet design
Water-resistant and solar-powered
The Seiko SNE039 is one of the few classier watches under $100. It is made entirely of silver-colored stainless steel with a sunray dial. It is also solar-powered and water-resistant up to 30 m (approx. 100 feet).
The dial has the Seiko logo, sword-shaped hands, and the date on it. It has quartz movement and features an analog display and it is solar-powered. The case has a Hardlex dial window that rests on a 37 mm case.
It has a 10-month recharge battery life, but the longer it is under direct sunlight, the better it can charge. You also have the option to choose either English or Spanish as your language.
This product is ideal for anyone looking for a dress watch under $100. Customers usually compare Seiko SNE039 to other expensive watches because of the high-quality construction. The solar battery only needs to be in the sun for a few hours and it will last you for months to come.
Many users also shower with it since is it water-resistant. Since you do not need to replace the battery frequently, there is no need to worry about the watch getting scratched.
---
Best Value
Rating: 4/5
Lightweight (2.72 oz)
Textured leather strap
2-month battery reserve
Water-resistant to 165 ft. (50 m)
Mineral dial made of silver polished brass
The Timex Expedition Ranger is a highly budget-friendly watch that offers the best value for money. It comes in 3 different colors, has a leather band, and Quartz watch movement.
The 22 mm leather strap is textured and black-coloured and you can adjust it to fit your wrist. It runs on a solar battery that has a 2-month power life, thus you do not have to worry about replacing the batteries.
The good thing is that a few hours of sunlight is enough to charge the batteries. Its brass case is silver-coloured, is 43 mm, and features a mineral lens. It gives off a luminous effect when worn.
It is also water-resistant to 165 ft. (50 m), and suitable for swimming but not snorkelling or water diving. This watch can also handle tough stormy weather with ease. Overall it is a great dynamic watch with a black mineral dial that is accentuated with yellow color.
Not only does it show you the time but also displays the date. It has a buckle clasp, a 20 mm bandwidth, and a weight of only 2.72 oz.
---
Best Combination Watch
Rating: 4/5
LED light display with afterglow
Multilingual: English, French, Portuguese, Spanish, and Italian
5 alarms per day
Digital 1/100 second stopwatch
On/off tone when the button is pressed
The AQ-S810W-1AV by Casio is a combination of both solar and sports watches. AQ-S810W-1AV features tough solar power with a 10-month battery after being fully charged. It has a battery power indicator as well as a power-saving function so that it runs on optimal solar energy.
This watch is water-resistant to 100 m, has a LED light display with an afterglow. The hands are made of neo-brite and are luminous.
What's more is that it is multi-lingual and can display in English, French, Portuguese, Spanish, and Italian. Moreover, it has additional features such as the option of 5 alarms in a day as well as an hourly time signal notified with a tone.
Not only that, but it also features a digital stopwatch along with countdown timers as well as the option of full-auto calendars. AQ-S810W-1AV is a durable watch, has a classic black and silver design, and is compact.
It shows the world time and weekdays so that you are up to date. This is a good watch for anyone who likes both sport and solar-powered watches. Its additional features and its rugged design are great for the price that it comes for.
---
Best for Adventure
Rating: 4/5
Stainless steel dial and green band
45mm case, 20mm band, along with Analog Quartz Chrono movement
One full charge lasts for about 4 months
Water-resistant to 50 m or 165 ft.
Energy depletion warning by the second hand
The AD/1001 by Armitron Adventure is a great solar-powered outdoor watch with a stainless steel timeless design. It is also water-resistant to 50 m, ideal for short periods of swimming. It is great for an adventure lover, you do not have to worry about battery depletion as one full charge lasts for about 4 months with the help of any type of light.
A solar cell is situated under the dial, which converts any kind of light into electrical energy that is then stored in a second battery. Lastly, it has a round analog mineral window dial.
The hands are made of luminous material and they give 2-second interval movements that indicate when the watch is about to run out of power. It also has a small calendar window that shows the date of the month.
Its Nylon buckle strap makes it especially useful for outdoorsy people. It is a quartz movement watch. Its army green colour is great for people who go hiking, hunting, etc.
---
Most Water-resistant
Rating: 4/5
Multi-band atomic timekeeping
29 time zones and 48 cities
Other features like alarms, stopwatch, timer, and power-saving
Water-resistant to 660 ft (or 200 m)
10-month battery life after fully charged
The Casio GWM5610-1 from their G shock collection is a solar-powered watch that comes with many multifunctions. These include shock resistance, atomic timekeeping, EL backlight, daily alarms, etc.
It shows your city code and you have the option to select 29 different time zones and 48 cities. This watch also comes with 5 alarms that you can set in a day, a stopwatch, a countdown timer, and a battery indicator.
It is power-saving as well, which you can enable with a simple touch of the button. Casio GWM5610-1is made of a black resin dial has a slim octagonal case and has a neutral face.
It has a mineral dial window with a 20-bar water resistance depth of 660 ft. which means you can wear it while surfing, jet skiing, or swimming. Moreover, it features an EL backlight which allows you to see the time no matter what kind of light you are in.
The watch also has an auto light feature, all you need to do is hold down the light button at an angle of 40 degrees towards yourself to enable it when in a dark environment. It is a great budget solar watch for people interested in marine activities.
---
Best Eco-drive Solar Watch
Rating: 4.5/5
Stainless steel case, adjustable buckle closure, canvas strap, and luminous three hands
Light-powered and budget-friendly eco-drive watch
Rechargeable lithium-ion cell
Converts all kinds of lights including artificial to energy
5-year warranty from Citizen along with a 30-day money-back guarantee
The Citizen BM8180-03E is a solar watch from the Eco-Drive collection that comes with a screw-down crown that ensures that water and dust do not penetrate through. It is water-resistant to 100 m or 333 ft.
This allows the user to snorkel, shower, and swim while wearing the watch. The case is made of silver-tone stainless steel with a mineral crystal dial. It has 3 luminous hands and the dial displays the day and date. The band is made of nylon with an adjustable buckle and Quartz movement.
The case is 37 mm in size with an analog display and green nylon band. It is one of the most budget-friendly watches for a Citizen eco-drive watch and it comes with a 5-year warranty and 30-day money-back guarantee.
The solar watch relieves you of any worries that come with a rechargeable battery. It uses both natural and artificial lights and turns them into energy that is stored in a lithium-ion cell.
---
How do solar watches work?
Solar watches contain photovoltaic cells that start charging once they are in contact with light. The watch designer usually places the solar cells on the outside ring or on the dial (not always visible). These then use either artificial or solar light to convert to electrical energy.
This means that even if you are using your watch from inside the house it is continuously charging. This rejects the notion that solar-powered watches won't work when one wears them in the dark.
However, the output power is indeed lower when you use artificial-light as compared to the one from solar light. Most solar cells use lithium batteries to charge the watch as their solar reserve lasts for many months.
They are also eco-friendly batteries and often lead to quartz movements for the watch to work. Hence, eliminating the need for constantly replacing batteries every few months.
Conclusion
Solar watches have become widely available in the market because of their low maintenance, ease of use, and durability. As these solar watches have large battery reserves they reduce the hassle of replacing the batteries.
Solar watches are, however, generally more expensive than regular watches. Thus, finding one that is for $100 or less is not easy. We have compiled a list of less than $100 watches in this guide so that your research becomes easier.
People usually think solar watches are meant to be expensive, which is true but you can find some that are both budget-friendly and offer good value. One such example is the Timex Expedition Ranger Solar Watch .
People who partake in a lot of sports or outdoor activities usually prefer solar-powered watches. However, people who are more environmentally conscious also buy them often for the obvious reason.
Solar watches have many benefits and one of them is being eco-friendly as you don't have to dispose of your batteries every few months when they run out. Solar-powered watches are also great for people who have to work outdoor.
This watch can benefit you if your work involves rugged outdoor activities. A great watch that is perfect for outdoor activities and looks good is the Casio AQ-S810W-1AV Men's Solar Sport Watch .
Sports watches are often also water-resistant and shockproof so that the watch can last for long while being eco-friendly at the same time.
Overall, solar watches have a lot more pros as compared to cons and are thus perfect for people looking for low-maintenance watches. If you are someone who is looking for the perfect solar watch then this guide will help you choose one and also be mindful of the things you need to consider before buying one that matches your needs perfectly.