In our automobile-centric society parking lots are almost a requirement for any business. As an owner and/or operator, safety is one of your responsibilities.
We will discuss the considerations you should make when choosing the best commercial parking lot solar lighting for your business.
Commercial solar lighting is a large initial investment but will pay itself off in the long term with years of "free" energy from the sun. You can purchase an all-in-one solar lighting pole light or the panels and lights separately.
We will focus here on the simple utility of all-in-one commercial LED parking lot lights.
How To Choose the Best Solar Parking Lights
When choosing lights for your solar parking lot, there are certain things to look for. Efficiency, efficacy, lighting power density, light distribution, color qualities, light layout, and desired results should be carefully considered to achieve the best results.
You can keep it simple with all-in-one units or go all out with a solar canopy and boost it with the best solar flood lights available on the market.
Most municipalities have requirements in place guiding the use of parking lot lights. Height, timing, brightness, and excessive light must all be controlled following these regulations.
This guide will help sort through some of these issues, hopefully, in turn, making your purchase a little easier.
Mounting Styles
LED pole light fixtures are the most common way to light a parking lot surface, but floodlights are also an option. Floodlights can be very bright and are usually mounted on walls, poles, or landscaping, allowing them to be functional and aesthetically pleasing at the same time.
The number of pole or floodlights you need will be determined by how high they are placed, how bright they are, and the area's size being lit.
PIR Motion Sensor
A passive infrared sensor(PIR) is included on many solar parking lot lights to conserve battery life. All objects with a temperature above absolute zero emit infrared radiation from heat energy.
These sensors work by measuring this infrared light allowing the sensor to detect movement.
HID Lights
Traditionally most parking lots were lit with high-intensity discharge(HID) lights. The HID metal halide lamps commonly used consist of an arc tube(burner), outer envelope(bulb), and a starting gas.
The ballast supplies the ceramic or quartz arc tube with a voltage, which begins ionizing the gas(usually argon, mercury, and metal halide salts).
As temperature and pressure increase within the bulb, materials in the arc tube vaporize, emitting light and UV radiation. These lights are very bright but must be replaced every few years and are energy inefficient. These are not a viable solar option.
LED Lights
Light-emitting diodes(LEDs) use tiny microchips to produce visible light in the diode. This light production method is very efficient, and the "bulbs" don't burn out like conventional light fixtures.
LEDs instead of experience lumen degradation, slowly dimming over time.
However, this is a prolonged process, and you wouldn't need to replace your LEDs for many years after installation. The Lighting Energy Efficiency in Parking(LEEP) organization has several case studies highlighting the energy-saving benefits of LEDs.
Luminaire
In technical terms, a luminaire is a complete lighting unit consisting of a lamp or lamps together with the parts designed to distribute the light, position and protect the lamps, and connect the lamps to the power supply.
The Federal Energy Management Program(FEMP) created a guide to be used by federal agencies when installing parking lot luminaires.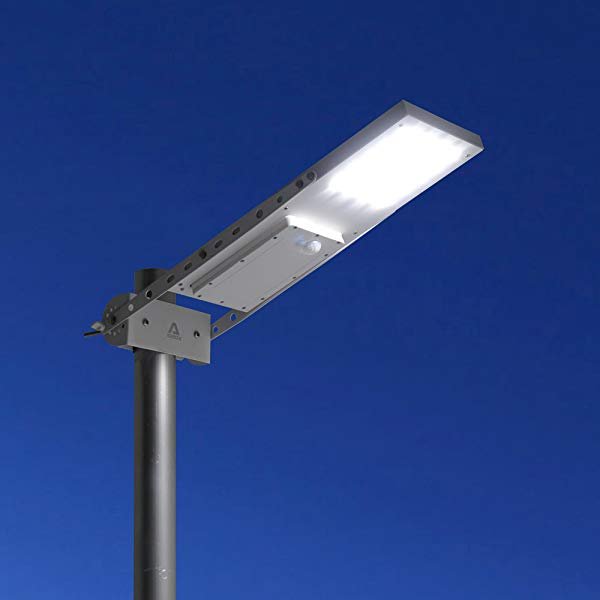 This guide is a useful resource in determining the best solutions for your parking lot lighting.
Luminaire Efficacy
A luminaires efficacy rating, LER, is measured in lumens per watt(lm/w). This rating is crucial as it will show you how much light is generated compared to the energy consumed. It is merely total light output(lumens) divided by input power(watts).
High lumen solar lights are not always the best, and you should pay attention to how well the luminaire focuses its light.
Creating a Plan
Figuring out which luminaires you want to replace, noting height, and general light information will make things easier when choosing new lights. Consider the quality and quantity of lights you may need; different facilities have different lighting requirements.
Lighting should be uniform across your entire lot as high contrast levels can obscure surveillance footage and can cause blind spots for vehicles and pedestrians. Keep this in mind as you may need to install more lights when purchasing less powerful but more efficient models.
Use lighting controls like bi-level outputs and fixed response switches to turn off specific luminaires during off-peak periods. This will conserve energy allowing you to run your solar lights longer.
Illumination Levels
The Illuminating Engineering Society of North America(IES) has recommended light levels to check out for different lighting applications. Recommended amounts are prescribed in footcandles(FC), which are the primary measurement for light falling on a surface.
Measurements can be taken with a handheld light detector. A 4:1 (bright/dark) ratio between the brightest and darkest areas is considered a suitable minimum, but a 3:1 ratio is better.
Footcandles matter more than lumens when considering parking lot lights as they tell you how much illumination the parking surface is receiving. Color temperature, measured in degrees kelvin, is also essential to consider.
Depending on what material your lot is made of, color temperature will affect how the light appears on the parking surface.
Solar and Battery Storage
Solar parking lot lights use the sun's energy, collected by photovoltaic cells, to store electricity in a battery, which is later used for your lighting needs. Look for a solar panel and battery combination that offers a large milliampere-hour(mAh) capacity.
Check the ratio between the solar panel and battery while looking at luminaire energy draw. Ensure the panel is sufficient to charge the battery and the battery has enough capacity to run the light for multiple hours.
Best Commercial Parking Lot Solar Lighting Reviews
LEDMO 200W 10,000 Lumen LED Solar Flood Light
This solar LED flood light from LEDMO is my top recommendation for many reasons. The light is exceptionally bright and will have no problem lighting those dark corners of your parking lot.
It can be mounted on a pole or exterior wall of your business, giving it a broader range of use. It is a temperature of 6,500K at the upper end of the daylight spectrum, giving you bright and natural light.
The 32W solar panel supplies enough energy to charge the 39,000mAh battery.
It also has remote control capabilities allowing you to choose between several lighting options, including auto On/Off, gradient, full brightness, half brightness, and timing modes of three, five, and eight hours, from up to 25 feet away.
The light is rated IP67, so you shouldn't have to worry about any weather-related failures for a long time. The light also has a five-year warranty, so even if something does decide to go wrong, you are covered.
This light is the most versatile option and would be suitable for medium-sized lots. It is effective at lighting vertical and horizontal surfaces and highlighting landscaping or signage you may have.
Pros
Extremely bright 10,000 lumen output.
Large capacity 39,000 mAh battery
16.5 foot connecting wire allowing independent solar panel placement
Remote control function up to 25 feet
IP 67 water and dust proof
Cons
Only generates 50 lm/W
Not as aesthetically pleasing
No PIR motion sensor
---
HXXY 100W LED Solar Street Light
This solar-powered street or parking lot lamp is the most powerful light I considered by multiple metrics. Unfortunately, it is also the most expensive. The light consists of 12V 100W Bridgelux LEDs, which can produce 11,000 lumens at maximum brightness.
It comes with an affixed 18V 120W SunPower solar panel that will soak up the sun. The panel is used to charge the large 54,000 mAh battery and, when fully charged, can provide up to 5 rainy days worth of light.
An included battery cooling device will help to avoid equipment damage from overheating. The integrated PIR sensor detects movement up to 164 feet away, changing the light to maximum brightness for incoming customers.
Three lighting modes allow the light to conserve energy when no one is around. You will need a sturdy 3" pole to affix the light to as it weighs just over 66 pounds. The fixture is IP65 water and dustproof and comes with a three-year warranty if something goes wrong.
The light has a recommended hanging height of around 30 feet. This light is the right choice for large commercial parking lots that may not access grid power. It can also be used for higher security applications.
Pros
Huge 18V 120W solar panel
Large 54,000 mAh battery
Stainless steel finish
Large PIR sensor range
Cons
Heavy
Expensive
Unadjustable solar panel
---
Alpha 1080X 10W 1,300 Lumen Solar LED Post Light
This lightweight solar post light outputs 1,300 lumens at full power. It may not be bright enough for all of your needs but can cover dark corners your other lights don't reach. It has three lighting modes: full brightness, PIR sensor activated dim/bright, or dark/bright.
The PIR sensors dim the light after no movement is detected for about 30 seconds. Before using your light, the company recommends letting the light charge for eight hours in direct sunlight.
This is something you should do with all your lights. If you have runtime problems, you can turn the light off for three days to allow a full charge of the battery. If the battery stops functioning properly, you can always replace it.
The lights have a recommended hanging height of 10-13 feet with a distance of 20-26 feet between poles. The angle of placement is adjustable with a lock nut mount allowing you to fine-tune solar panel alignment.
This light can be useful for smaller parking lots or driveways and they are also budget-friendly.
Pros
Great value
Three lighting modes with PIR sensor
Replaceable battery
Adjustable angle mount
Cons
Short runtime on full brightness
May not be bright enough for all applications
---
Final Thoughts About Choosing a Solar Parking Lot Lighting
Choosing parking lot lighting for your business might not be the most thrilling task you must undertake as a business owner or manager, but it is nonetheless essential. Lighting provides safety and security to guests, helping deter vandals and thieves from skulking in the shadows.
I also recommend you light the vertical surfaces in your lot, which can add definition to your building's outdoor appearance. After carefully considering several lights, I think the LEDMO 200W solar flood lamp is a great option to use in your solar-powered parking lot.
It can be mounted in almost any way you want, making it the most versatile option. The 16.5 foot connecting cable allows independent placement of the solar panel while the remote allows you to access lighting controls from a distance.
It is 10,000 lumens, which quickly makes it the brightest on the list, and should work for most business applications. The large capacity 39,000 mAh hour battery and 32W solar panel should keep the light running throughout the night, providing a safe space for your customers.
It may be best to purchase a single light at first so you can analyze how effectively it will fulfill your needs. With lighting alone accounting for a large portion of a business's budget, anything that can reduce cost in the long term should be considered.
Adding solar-powered lights to your parking lot may be the ticket to reduced running costs.
---