If you own property out in wide, rural areas, then you likely have had some trouble with animals. These wild animals like to graze in peoples' yards and can be quite the nuisance if left unchecked.
Deer and elk are also fairly skittish by nature, so it does not take much to scare them off. That is why electric fence chargers are so popular. Electric fences are relatively cheap, easy to set up, and can function as a barrier around your property to keep those pesky grazers out.
So to help you out, we put together this guide on the best solar electric fence charger, along with some important information about electric fences.
Top Picks Solar Electric Fence Charger for Deer
When creating our lists, we make sure to take a look at performance, quality, cost, and overall ease-of-use. We have searched through over 100 products and picked the ones we feel are the best in each individual category.
What to Look for in a Solar Electric Deer Fence
If you want to be really pedantic, the only truly 100% barrier would be a 9 ft. tall solid wall and some fence lighting. How to attach solar lights to fence is pretty easy, you can choose from the top 7 wall fence lighting ideas that we have.
But that is unrealistic to expect most people to put together. So we put together this list of important features and elements that you should look for when buying or building your own electric fence for.
Energizer
The energizer is arguably the most important part of the fence and is the thing that generates the electric current. Fence energizers can be battery-powered, solar-powered, or powered by a standard 110v electric outlet wire.
If you are making a fence out away from any external power source, then a battery-powered or solar-powered fence is probably your best bet. In our opinion, solar-powered fences are superior to battery fences because you do not have to worry about the battery running dry and having to replace it.
Also, solar power materials have become exponentially cheaper in recent years thanks to technological advances and are much more readily available for consumer use. Also, AC powered fences are much more vulnerable to electrical damage from lighting as that sends a major jolt of electricity through the power lines.
When you are choosing your energizer source, there should be a rating called "joules." This is basically a measure of how much energy that source can provide. A good rule of thumb is that 1 joule can supply enough electrical power to about 3 miles of electric fence.
Voltage
Voltage refers to the charge differential between the different poles of an electrical current. Voltage, current, and resistance all share a relationship, which you might remember if you recall your high-school physics classes.
Most experts recommend about 5,000-6,000 volts for electric fencing. That should be enough to give them a scare but not actually hurt them (or yourself if you accidentally touch it!).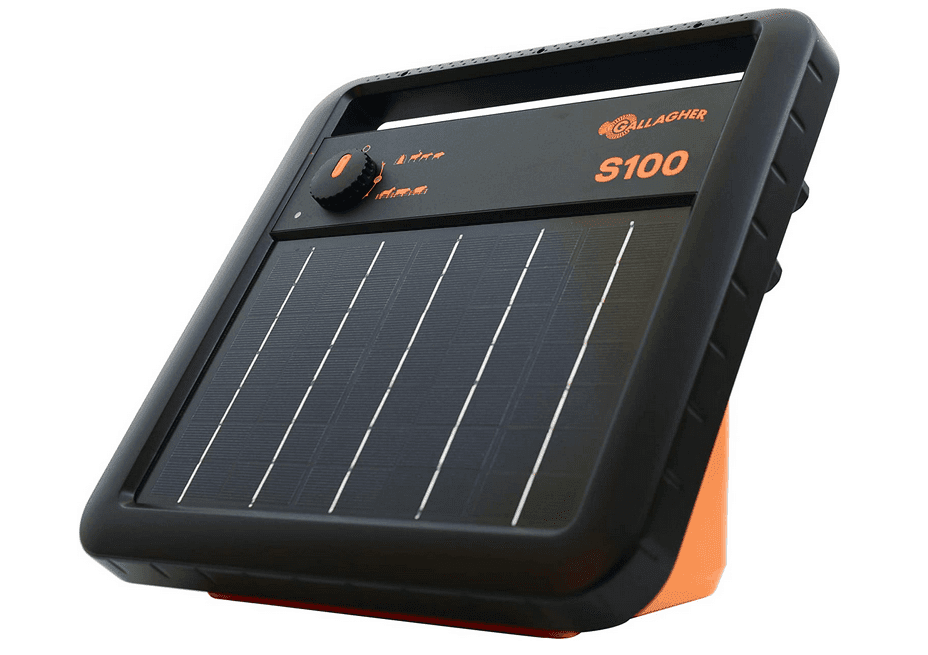 You can check the voltage of your solar powered electric fence by buying a voltmeter, preferably one that is from the same manufacturer as your energizer.
Amperage
In addition to voltage, amperage is an important quantity for your electric fence charger. The amperage measures the actual current flowing through the wires and the current is the thing that actually delivers the shock.
The best electrical fences have high voltage-readings but relatively low amps. Too much current and you'll end up killing the deer rather than just spooking them.
For a typical electric fence, experts recommend around 120 milliamps (1 milliamp is about one one-thousandth of an amp). That should be enough to give a small shock that won't actually hurt the animals but just keep them away.
Remember, voltage is basically irrelevant if you do not know the current. Voltage is not necessarily the thing that delivers the electric shock. So you need the right combination of high-voltage and low-current to make the best electric fence for animals.
Posts/Grounding
The posts of an electric fence perform two functions. They physically hold the wires up and they act as grounding units for the current running through the wires. Grounding is essential to deliver a continuous shock.
The best materials for your posts are insulated materials such as composites, fiberglass, or plastics. Experts recommend stationing posts at least 8-10 feet apart and making sure they are at least 2-3 feet in the ground.
Without proper grounding, electric fence chargers cannot properly deliver a shock to animals. The reason why you need insulated posts is that if the wire with current touches a conductive surface, such as metal, then it could cause a short circuit and damage the fence.
If you want to use metal posts then you will need a separate insulator to make sure the wire does not rest directly against the metal.
Solar Electric Fence Charger for Deer Lights Reviews
Best Overall Solar Charger
Zareba ESP5M-Z 5-Mile Solar Electric Fence Charger
Opening up our list is the Zareba ESP5M-Z 5-Mile Solar Electric Fence Charger. This fence charger won our pick for the best overall solar fence charger due to its excellent energy retention, storage capacity, and low impedance.
The Zareba is capable of powering 5 miles of electric fence on its own and can operate for up to 2 weeks without sunlight off of a single electric charge. So if you are looking for a solid and reliable solar fence charger, then this one is it.
The Zareba has a standard T-post installation design that can rotate 360-degrees to capture the optimal amount of sunlight. Simply mount the charger on whichever post you want and you can turn it so that it absorbs the most sunlight possible.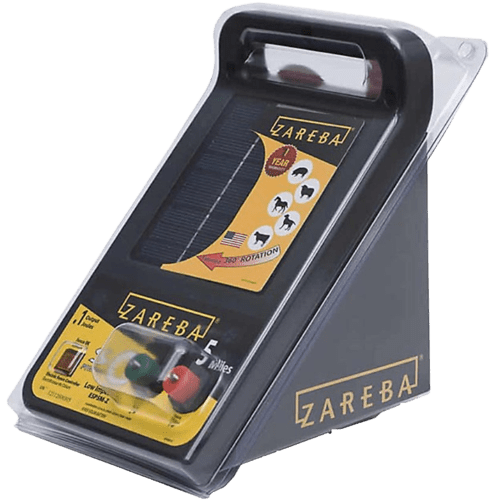 This charger works best with either steel or polytape wire and features red and green grounding terminals that are easy to connect to the Zareba also has a useful "Fence-OK" indicator light that pops up and tells you if your fence is connected and working properly.
When the light is on, your fence is in working order. Before using the Zareba, you have to make sure it has a full charge first. You will need to put it out in the sunlight for at least 3 days so it can get a full charge. Then you can connect it to your fence and turn it on.
Pros
Simple, compact design
Good utility features like fence check light
Powers up to 5 miles of wire fence
360-degree rotation makes sure it is efficiently capturing sunlight
Cons
Requires a good ground
Takes 3 days before you can actually use it
---
Best Upgrade Solar Charger
Parmak Magnum Solar-Pak 30 Mile Electric Fence Charger
Up in second place is our upgrade pick, the Parmak Magnum Solar-Pak 30 Mile Electric Fence Charger. The Parmak is a powerful solar charger that is capable of running current through over 30 miles of fence.
The Parmak itself is powered using a 12v lithium-ion battery that gathers energy during the day and runs the fence during the night. With a maximum output of 3.1 joules, this solar charger is pretty strong and would even work for some larger critters like bears and other predators.
Like the Zareba we just covered, the Parmak has a nifty check-fence mode that lets you know when everything is connected and working properly.
The built-in performance meter shows the current condition of the fence charger and the solar panel itself is made with cutting-edge photovoltaic energy that quickly and efficiently charges the battery.
The Parmak also has some good quality-of-life features, the most obvious being the on/off switch plastered right on the front. Whenever you need to turn the fence charger off for maintenance, just flip the switch and the current will be shut off.
When you are done, flip the switch back and the fence charger will be powered on again. It also has useful color-coded grounding outputs so you know exactly where to connect the wires.
Pros
Powerful battery can deliver a lot of current
Can power 30 miles of fence
Simple on/off switch on the front
Advance photovoltaic technology charges quickly and efficiently
Weatherproof, sealed design is resistant to the elements
Low impedance grants it a longer life
Cons
Somewhat large and bulky
Relatively expensive
Some customer support issues
---
Best Value Solar Charger
Patriot P10 Dual Purpose Electric Fence Energizer
Coming in at third on our list is the patriot P10 Dual Purpose Electric Fence Energizer. This solar panel charger won our pick for the best value solar charger due to its affordable price and good performance.
The Patriot can put out up to 1 joule of energy which means it can serve for about 3-5 miles of fencing. As such, it's best suited for smaller pastures that do not cover a lot of area.
The unique feature of the Patriot fence charger is that it can be charged in 3 separate ways. You can use it entirely as a solar charger (recommended use) or you can plug it into an external battery or AC power source.
The versatility is a great addition and even more welcome for such an affordable fence charger. You will have to buy separate components to use the solar, battery, and AC components though, which is one criticism we have.
The Patriot also has a 100% waterproof casing so it is very resistant against the elements. This fence charger is also very small so it's easily portable and can be set up and taken down in just a few minutes.
We would highly recommend the Patriot fence charger if you have a smaller pasture and need something that can be modified quickly depending on conditions. If you live in a place with infrequent sunlight, then the Patriot is a good choice as you can switch between solar panel, battery, and AC power.
Pros
3 ways to charge, solar, AC, and battery
Waterproof casing is durable and resistant
Powers up to 3-5 miles of fence
Portable and compact design
Color-coded grounding leads
Generous 2-year full warranty
Cons
Adaptors and solar array must be bought separately
Mounting brackets are somewhat fragile
---
Best Solar Charger for Horses
Gallagher S100 Fencer
If you live out in the western parts of the US, odds are you don't only have to deal with deer but wild horses as well. Horses are a bit more sturdy and less skittish than many other animals so an electric fence for horses needs a bit more pep in its step.
The Gallagher M300 is built for larger grazing animals like horses but also works for typical animals. The Gallagher S100 is made in New Zealand. One of New Zealand's major industries is ranching, so you can be confident that the manufacturers know their stuff.
The S100 can deliver a solid 1 joule of energy and can provide enough power for at least 30 miles of fencing. This portable and super touch solar fencer also has a durable 12v battery to power it when the sun is away.
Gallagher solar fencers are made with a special battery saving technology which allows it to run up to 3 weeks without sunlight off of a full charge. You can also switch power modes and reduce the pulse rate at night so that you save energy.
The Gallagher has a 360-degree mounting bracket for easy installation and has some good indicator features, like the light on the front that tells you when the battery is fully charged. One last feature is that the Gallagher offers an extremely generous 3-year warranty. So you can order and try it with virtually no risk.
Pros
Powerful output
Powers up to 30 miles of fence
Strong but also portable
Multiple power settings for energy conservation
Generous 3-year warranty
Cons
Takes a while to fully charge battery
Plastic casing feels cheap
---
Conclusion
So to round off our list, the best overall solar electric fence charger is the Zareba ESP5M. The Zareba is our top pick because it hits that perfect sweet spot between functionality and ease of use.
The Zareba should be good enough to power any fence on a small-to-medium pasture and can even crank out enough current to deter some larger animals and predators. The Zareba also excels for its super easy installation and useful quality-of-life features such as the fence-check mode and color-coded grounding leads.
The Zareba also has the added bonus of being made with highly efficient cutting edge solar panels. These panels ensure that the fence has a constant supply of energy.
Many reviewers also report that the Zareba has low impedance so the current son;t be blocked by any leaves or foliage that get in the way of the fence. The voltage is suitable high for an electric fence and it is easy to install in just a couple of minutes.
Grazers can wreak havoc on your yard, so a good electric fence charger is practically a necessity. Solar-powered electric fence chargers are an excellent evolution of electric fence technology and provide an affordable and flexible way to power your fence.
Any one of our recommended electric fence chargers can get the job done well. So if you are looking for fence chargers, then this guide is a good place to start.