One of the many brands of solar generators is Goal Zero,
The team here at Suntrica has researched every manufacturer of solar generators that we can find and collected some info on each one to help you make an informed decision on your purchase.
Here's what we learned:
What Products Do They Make?
Goal Zero is a corporation that specializes in offering mobile power solutions to individuals. Whether you are hiking, camping, or just enjoying a day trip, you can be confident that your phone will be charged and available for use.
Power stations and portable power banks, solar panels, and solar battery packs are among the goods manufactured by Goal Zero. They have been in the industry for more than a decade and continue to produce high-quality items.
Even though they've been in business for a while, they're always releasing items that are sure to impress their clients.
View Other Brands:
Are Goal Zero Products High Quality?
The goal zero products are great, they work well and are very portable.
What Is the Reputation of the Company?
Goal Zero was established in 2009. The firm offers its items nationwide via its website, Amazon, and other online retailers, as well as local retailers like Costco.
Currently, their expected yearly income is $33.9 million per year. This is a big rise over last year's $29.8 million in revenue.
This expansion is attributable to the company's expanding client base and rising popularity in the online retail business. They are fast developing and are one of the major merchants in the United States.
They provide a vast selection of products and are always introducing new ones.
Where Are They Based?
They are headquartered in Bluffdale, United States. They have been in business for more than 10 years and have a stellar reputation. They offer a large assortment of products and are constantly developing new ones.
Where Are the Products Manufactured?
Bluffdale, located in the United States, is where all of Goal Zero's goods are made. The firm has earned a solid name in the industry for producing durable goods of superior quality that are designed to survive for a long time.
The goods manufactured by Goal Zero are intended to be utilized in a wide variety of distinct environments.
What Is Their Standard Warranty?
Goal Zero has a two-year warranty with the purchase of any solar generator. This means that if your equipment malfunctions within the first two years of its warranty period, Goal Zero will repair or replace it at no cost to you.
Do They Have Good Customer Support?
Their customer service is excellent and they are always willing and available to help with any questions or concerns you may have. They are knowledgeable and friendly and always go above and beyond to help resolve any issues.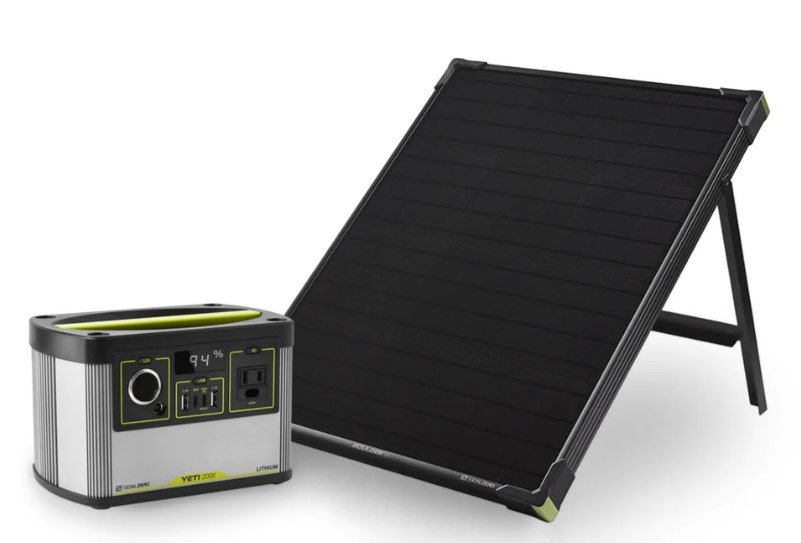 Goal Zero customer support maintains professionalism in helping their customers.
How Can I Contact Them?
You may get in touch with them by calling the number (888) 794-6250 or sending an email to support (support@goalzero.com).
Where Can I Buy Goal Zero Products?
Their items are available in shops around the United States as well as online. To locate a shop near you, visit their website and utilize their store locator. Additionally, you may purchase their items straight from their website, Amazon, and other online and local retailers such as Costco.
Conclusion
Goal zero manufacures product that is great for our source of renewable energy. They have a wide variety of products to choose from, and their prices are very competitive.
Goal Zero Solar Generator Models
| | | | | | | |
| --- | --- | --- | --- | --- | --- | --- |
| Model | Yeti 200x + Boulder 50 | Yeti 500x | Yeti 1000x | Yeti 1500x | Yeti 3000x | Yeti 6000x |
| Capacity | 187Wh | 505Wh | 983Wh | 1516Wh | 3032Wh | 6071Wh |
| Dimension | 7.9 x 5.1 x 5.1 in | 7.5 x 11.25 x 5.8 in. | 15.25 x 10.23 x 9.86 in. | 15.25 x 10.23 x 10.37 in | 69.78 lbs. | 15.3 x 10.1 x 17 in |
| Weight | 5 lbs. | 12.9 lbs. | 31.68 lbs | 45.64 lbs. | 69.78 lbs. | 106 lbs. |
| Cost Per Battery Cycle | $0.7 | $1.5 | $2.9 | $3.9 | $7.8 | $12.9 |
| Charging Time with 50W Panel | 16- 32 hrs. | 16- 32 hrs. | 8- 16 hrs. | 36- 72 hrs. | 36-72 hrs. | 24- 48 hrs. |
| Charging Time with 100W Panel | 8- 16 hrs. | 8- 16 hrs. | 4- 8 hrs. | 18- 36 hrs. | 18- 36 hrs. | 12- 24 hrs. |
| Charging Time with 200W Panel | 4- 8 hrs. | 4- 8 hrs. | 2- 4 hrs. | 9-18 hrs. | 9-18 hrs. | 6- 12 hrs. |

---