Looking to build a solar generator to reduce your dependence on the grid? Here's a step-by-step guide on how to do it.
Solar generators are a great way to reduce your dependence on the grid and an easy way to save money on your electricity bill. With a little bit of planning and some basic do-it-yourself skills, you can build your own solar generator for a fraction of the cost of a commercial unit.
Aside from the step-by-step guide, this article will also provide you with the list of components needed and some product recommendations with reviews.
Top Pick Components You'll Need To Build Your DIY Solar Generator:
1. Solar panels: This part is an important component as this will collect solar energy to supply your energy needs. You'll need one or more solar panels to capture the sun's energy and convert it into electricity.
The number of panels you'll need will depend on the size of your generator, your applications, and the amount of power you want to produce.
Solar Generator Controller Reviews
Jackery solarSaga 100 watts portable solar panel is the ideal investment for uninterrupted power in remote areas. With its high conversion efficiency of 23%, you'll make your life comfortable. It can work more efficiently and perform even better in hot weather.
Jackery solarSaga 100 watts portable solar panel is equipped with 1 USB-A (5V, 2.4A) output port and 1 USB-C (5V,3A) output port that can charge multiple small devices a single time, such as smartphones, digital cameras, tablets, etc. The only drawback of jackery solarSaga is that its USB-C port can not support PD charging.
---
2. A charge controller: This device regulates the flow of electricity from the solar panels to the batteries, preventing them from being overcharged.
Rich Solar's MPPT Solar Charge Controller boasts a sleek, modern design with equally advanced technology. Rated at 98% for conversion efficiency, the Rich Solar MPPT controller is available for purchase with 20, 30, or 40-amp current ratings.
It's compatible with all battery types and this thing can switch between 12 and 24 volts, automatically detecting the required voltage load. Thanks to its clear LCD display and helpful LED indicators, this controller allows you to monitor the system of your solar charger as easily and intuitively as possible.
You can use the controls to adjust charging parameters and check your charging status, and anything requiring your attention will show up on the indicators. The controller even connects to Bluetooth for Android app monitoring, although the BT-1 module (sold separately) is required for this function.
The die-cast aluminium construction of the controller protects against overheating while a temperature sensor allows for remote battery temperature monitoring. There have been some quality control issues relating to the heat sensor cable, however.
Considering its advanced features and high functionality, this solar charge controller is surprisingly affordable! As we've mentioned, this model is available in a choice of 20, 30, and 40 amps, with the higher amperages costing more than the lower-current options.
However, even the 40-amp model is a cheaper example than most high-quality MPPT controllers, so no matter what current rating you go for, you'll be getting an excellent deal.
---
3. Batteries: Deep-cycle batteries are best for storing solar energy. You'll need one or more batteries, depending on the capacity of your generator.
This set from WindyNation delivers two 12-volt batteries at an incredible price. These batteries are ideal for off-grid energy use among solar systems, RVs, tools, and more.
Their flexibility makes them a great investment for people looking for well-made lead-acid batteries to power their homes. As you look for ways to improve your power energy storage, it's important to invest in solar batteries that perform well.
We really like how these batteries stay cool while they are recharging. We never had to worry about overheating or issues related to overcharging. Recharge times were fast and efficient during our testing, allowing us to get optimal energy use from each of the batteries.
What is most impressive about these solar batteries, however, is their incredible price. You're getting two 12-volt lead-acid solar power batteries for the price of what many single batteries cost.
Furthermore, we were pleased with the power output, as well. Many solar contractors use these batteries when installing solar panels due to their performance and low pricing, so you can be sure that you are investing in batteries that will serve you and your solar system well.
We tried these lead-acid batteries out on our RV, and they performed remarkably well. We were able to fully operate everything in the RV while keeping devices and gadgets charged up with power.
And when you need reserve power, you can count on these batteries to get you through when fully charged. They are a great buy with dependable performance.
---
4. An inverter: Inverters are responsible for converting the DC electricity from the batteries into AC power that can be used to run appliances and charge devices.
Go Power inverter that is an exquisite option for the people who have had enough with the noisy inverters. This one provides you with such a quiet inverter experience that you can easily rely on it to back up the power requirements of your workplace.
Coming to compatibility, it works with your phone, tablet, and all the medical equipment that rarely pair up with any other inverter. The aluminium body fights all the rust and corrosion attacks to make your product last longer, and not let go of the money you've invested in it in vain.
If we talk about the technicalities, it depicts 300W power that makes it relevant for sensitive appliances. The company has attempted to distinguish this inverter from the others by introducing in it a plethora of innovations.
For instance, this inverter has two GFCI outlets that come with cables so you need not spend extra money on that. These outlets make it a piece of cake to let you connect your battery with any device of your choice.
To make you feel confident about your purchase, the manufacturer gives you a whole two-year warranty so there's no room for any risk factor. Another important aspect of this inverter is its 450 W surge power that takes care of the sudden power changes.
While you have connected your device with it, the inverter keeps at bay all the errors that might mess with the system because of the changing power values.
The inner mechanism is such that let it be weather changes, overheating, or over voltage, your inverter is capable of preventing all these incidents from happening. It weighs only 7 pounds so you can carry it around for hours without straining your back.
The compact size makes it ideal for travelling, you don't have to carry an extra bag for your power essentials anymore. To further simplify things, the company has added an instructional manual to the list, giving beginners a chance to make the most out of it.
---
5. A generator enclosure: This can be any type of weatherproof container, box, or case that will protect your generator parts from the elements. Adding wheels could also be a good idea.
Step by Step Guide
Once you have all of your materials, you're ready to start building your solar generator. Now let's get down to the process:
1. Mount the solar panels on the roof of your generator enclosure or in another sunny location. Make sure the panels are tilted at an angle that will maximise their exposure to the sun.
2. Connect the charge controller to the solar panels.
3. Connect the batteries to the charge controller.
4. Connect the inverter to the battery terminals.
5. Now you can plug your TV, wall fan, other appliances, lights, and devices into the inverter to use them. Now you're ready to start using your solar generator!
Remember to keep the batteries charged by regularly exposing the solar panels to sunlight. With proper care, your solar generator will provide years of reliable power.
Though the steps and wiring are pretty simple, no power tools needed however, for some reasons, finding the parts could be overwhelming on your side. There's nothing to worry about, we got a complete solar power generator kit with great reviews for you, one for a total starter and the other one fitted for an upgrade.
Best Solar Panel Kit for Solar Generator Reviews
Best Overall Option
The Renogy 100 Watts 12 Volts Monocrystalline Solar Starter Kit is great for those new to solar energy. This solar starter kit would be great for small projects, like an RV or boat, or for people interested in learning more about solar energy.
Included in this kit is a 100W solar panel, 30A PWM Negative ground Charge Controller, MC4 Connectors, 8Ft 10AWG Tray Cable, and Mounting Z Brackets. This kit would be great for anyone with a small project or those newly interested in working with solar energy.
If you are more experienced with solar energy or are looking at doing something larger like powering your home with solar energy this kit is probably not a good choice for you. This kit can be expanded with more solar panels and batteries if needed, but this kit is very small so if you know that you will need them it is probably worth investing in a larger one.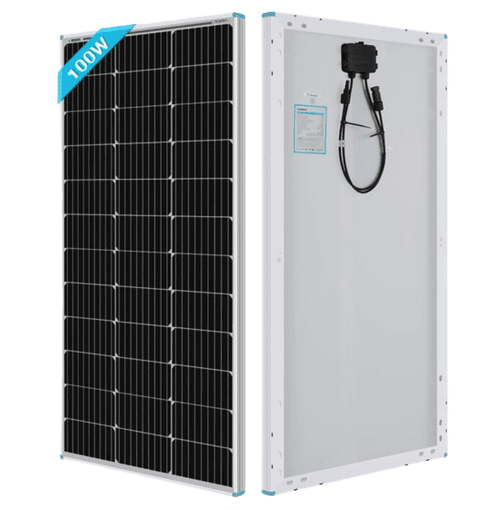 If you are brand new to working with solar energy, have limited resources to information and you couldn't find a better place to start. If you already have experience with solar energy, you should skip this kit and look for something a little bigger or more complex.
This kit is very basic and in the course or after the initial setup many will find themselves wanting a kit that can do a lot more. A short video on how to set this is available on the site of the products link.
---
Best Upgrade Option
No products found.
The Eco-Worthy 400W 24V Complete Solar Panel kit is great for those looking for a more advanced kit. This kit would be great for those looking to use it on a house, shed, farm, RV, cabin, or boat. Included with the kit are 4 solar panels, charge controller, 2 12V batteries, an inverter, z mounting brackets, connectors, and solar cable.
If you are looking to rely 100% off solar for your energy needs this kit would be a great place to start. While this kit might not come with everything you need for off the grid living it will come very close.
This kit is easily expandable from 400W to 2160W or 1080W. You can also effortlessly add additional solar panels and batteries if you need to. This is definitely a solar panel kit for those who are a bit more serious about solar energy than the average consumer.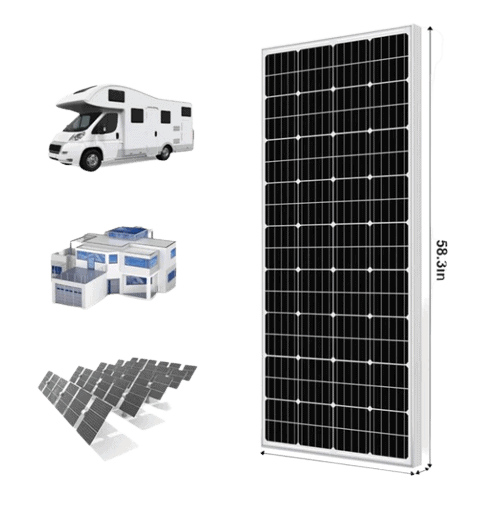 Not only does this type of kit come in higher prices, but it also has more components than many other kits. If you are more experienced working with solar energy or have a larger project this may be a great choice for you.
Otherwise, you may want to stick with a smaller kit initially.
---
Conclusion
A solar generator can be a great way to provide power for your home or business in the event of a power outage. You can either purchase a solar generator and you can totally start with more ease or build one yourself.
The steps are pretty simple, but just keep in mind folks that the cable polarities are matched. Make sure that the solar charger PV input voltage is suitable for the panel output voltage and, lastly, try to match the inverter rating to the solar panels rating, as an inverter is at maximum efficiency when fully loaded.
---