Jackery offers quite a wide range of solar generators. Some of them are very close in size, power, and use, while others are completely different from one another. This can make it pretty hard to determine which generators might be best for you.
While no one can give you the exact answer as to which generator meets your specific needs, there are some ways to narrow down your decision based on what you need it for and what you want to do with it.
What are the Differences Between the Various Jackery Models?
Most of the differences between the Jackery models have to do with size. The numbers attached to the models often correlate closely with the amount of wattage they provide. The amount of power that can be stored also changes between models.
Price, of course, is another big factor. For the most part, the bigger the battery and the more watts that can be used at once, the more expensive the model.
There are more subtle differences as well, such as the size of the solar panels that come with it, the charging speed, outputs, size, and weight. While these can all influence the model you choose, the price and the size are often the main two determinants.
How Many Options Are There?
Currently, there are 12 models on the Jackery website of their different options. These are the ones they are still currently making and their newest lines. Older models and versions may still be available on other sites but are no longer supported by Jackery.
The current model options are:
Jackery Explorer 1500 Pro
The Pro models are part of their newest line, designed to be a bit better than the others. They use different solar panels that power the device faster, have a better display screen, easier carrying design, and newer and more current outputs. (1)
As you can see, they offer a large range of different sizes of solar generators, so you can get a small one to just be used for emergency phone charging while camping that is lightweight and easy to carry, or you can get a big generator that can power your appliances during blackouts.
With this many options, it can be overwhelming, but it also means that you have a better chance of getting a generator that suits your needs best.
How Do I Know Which One I Need?
Power
The one you need is dependent on the features that fit you best. For example, when you are looking at solar generators, before you narrowed it down to the Jackery brand, you likely started to get an idea of how much power you need.
While there are some minor differences between the different kinds of Jackery generators, most of your narrowing down comes from the balance of the size you want or need, and the amount you can afford to pay.
If you haven't at least got a general idea of what you want to use your Jackery generator for, and how much power you may need, you should stop and do that before narrowing down your choices further.
To determine how much power you will need, you can get an idea of the power requirements of the items you are considering powering with your Jackery.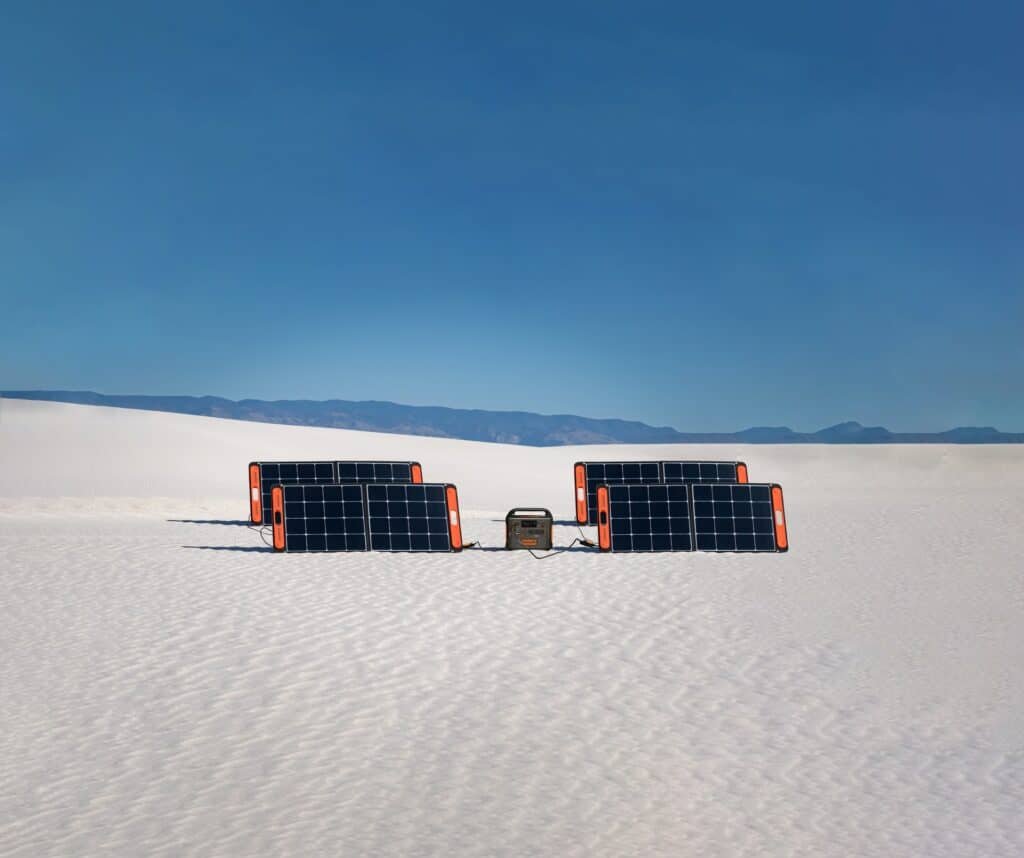 For example, if you want to be able to power a cell phone and a laptop a couple of times while out camping, you need something that has a couple hundred watts. (2) You can also take into account how often you want to charge the generator. Do you want to let it run for a few days between charging or is charging it daily not a big deal?
Of course, the higher the power limit, the higher the cost. So even if you find you want a Jackery solar generator that has several thousand watts, you can't always afford it. So finding a happy medium between what you can afford and what covers your needs is important.
Size and Weight
Another big factor that can limit your Jackery models is the size and weight. If you want something portable you can take on a backpacking trip, you don't want to go with one of the bigger generators that are 22 pounds or more.
When you are picking out generators, you need to think about where they would fit, when you are going to use them the most often, and what weight is going to be too much for your needs. If you have a disability or problems carrying objects, getting a bigger one might be a problem as well.
Charge Speeds
Some of Jackery's models charge faster than others. This is due to a mix of having more solar panels as an option, and more up-to-date efficiency in the charging.
If you have a lot of time to let your generator sit and charge, this may not matter, but some of the generators can take over 10 hours, which may not be something good to have if you are going to be moving around a lot or live somewhere that doesn't get a lot of sun throughout the day.
Charging Ports
Jackery models also have a slight difference in charging ports. These are the places where you plug in chargers and cords to power or run your devices. While many Jackerys have similar ports, they aren't always exactly the same. Some will have more outdated ports or just won't have enough of the more useful ports for your needs.
Most Jackery models come with a mix of USB-A, USB-C, and AC ports that let you charge handheld devices and electronics you would traditionally plug in at home. Depending on what you are using it for, you may need more USB ports, while at other times, having a couple of extra AC ports would be better. Some of the older models also have older port styles that you may not ever end up using. (3)
Since not having enough ports can really hamper what you are charging and the devices you can power at once, it is best to think realistically about the ports you would be using so that you can make sure that you have an amount that works for your needs.
Which Jackery Models Are Often Considered the Best?
Depending on what you need, all Jackery models are good options. However, there are three that tend to be looked at the most, due to their uses. (4)
The first is the Jackery Solar Generator Explorer 300. (5) This one is considered the best for those that just want a small generator. It has a flashlight on it and can power your basic necessities like phones and radios. It's also pretty cheap for the amount of power you get, and easy to carry around with you.
If you need a big solar generator, the Jackery 2000 Pro is also a good option. (6) It can charge quickly with 6 solar panels, and can run quite a bit on a full battery charge. But with the six solar panels, it can be hard to carry around, so it isn't great for people that are looking for a mobile generator.
Finally, there is the Jackery Solar Generator 1000 Pro. (7) This is a newer model and has some updates that older ones didn't have like better ports, a faster charge, and a better design for portability.
It offers a good, average amount of power, often able to charge things like mini-fridges for two days before it needs to be recharged.
Citations
---