There are many solar generators on the market. They all have different uses. Some people want to use their power tools, laptops, and phones anywhere, others just want a power source for their refrigerator or another appliance during a power outage.
Depending on your needs, you may find one solar power generator that works better for you than others, and fits a budget.
Most generators have factors in common like low noise, output ports, no need for gas fuel, surge protection, and specs, MPPT controllers, inverters, and capacities that make sense for solar generators. However, there are still options out there that will work better for you than others.
Things To Consider When Thinking of Buying a Solar-Powered Generator
Portability
There are two main kinds of solar-powered generators. There are ones that are for your house and installed into the grid system, and there are those that are light and portable [also known as off-grid solar generators.
If you want a solar generator that can go with you everywhere on road trips, you want to look online or in the store for a company that offers portable ones. Weight and size are important for determining if this gear is the right option for you.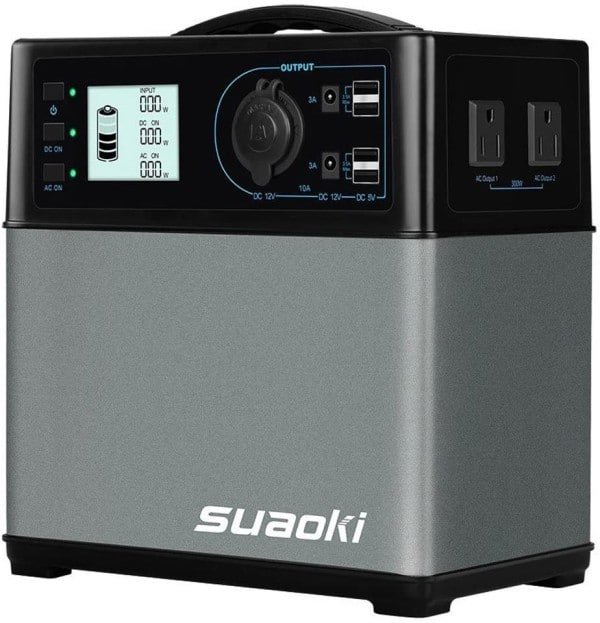 If it doesn't make a difference because your generator kit is only being used as a backup for your power needs, then you can skip this section when deciding on your purchase.
Related Articles:
Do Solar Generators Qualify for Tax Credits?
Can Solar Generators Be Used Indoors?
How Do Solar Powered Generators Work?
How Long Do Solar Generators Last?
What Size Solar Generator Do I Need?
Charging
Each company charges its devices in different ways. Some of these systems offer options to get energy via the sun, wall outlet/wall charger, or car charger, so you can effectively use it whenever you need to.
But users need to look at more than how to charge the system. You also want to look at how efficient the solar charging system is. If you compare two models with similar storage capabilities and solar panels, you want to see if their recharge rate is a similar amount of time.
You will want to check reviews and see if any mention charging time before you buy one.
Outlets/Ports
Looking at the output options is also a good idea. Everyone needs a solar generator for slightly different uses. For example, you may want to use your power station just for major appliances and lights. However, others may only want to power small electronics like a phone or laptop.
Every model is designed a little differently. Check to see what port option your potential device has available. You may want more USB ports, or maybe AC ports are a bit better for your needs and you are looking for a unit that can support that over DC power.
Price
The price of a system is always something to consider. While the perfect system for you may exist and have everything and anything you need, those units are often far outside of your price range.
Before even looking at solar generators, have an idea of the money you want to spend on them, and your price point for any potential product.
You may have to sacrifice a number of wants at times, but there are plenty of products and features available at a variety of prices, so you can find something that works for you.
Size
Size also matters. Are you trying to take your solar generator camping trip and only have a little bit of space to spare? You don't want a giant system that doesn't fit in the spot you want it to or won't fit in your car, van, or other vehicle.
Look at the dimensions and the design of the generator you are looking at and that will help you eliminate a lot of generators from your list.
Battery
Battery capacity is also something worth looking at. You want to have a large enough capacity [look for higher watt-hours or Wh] to help you charge and power everything you need without access to other sources of electricity.
If you want to power refrigerators, you might need a bigger battery, but just to power a smartphone, fan, or flashlight, you can probably handle a smaller power capacity and load.
It is important to take power output and input capacity into account. Some family members need CPAP machines for safer and healthier living, and having a generator without enough power can be a serious problem in an emergency situation, so it is important to keep that in mind.
If you have the money, you want to focus on power stations with batteries that are made from lithium-ion since they are longer-lasting, more efficient, and need less maintenance.
Brand
Some brands are better than others. They tend to use a better type of material and have higher-quality panels. Customers usually report better customer service and warranty and protection with these companies.
Some popular companies include:
Ecoflow Delta Pro
Bluetti AC200P
Jackery
Yeti
Some of these brands are a little more expensive but lack the issues of many cheaper ones you can order and also come with accessories like improved technology, an LCD screen for display, a charging cable, multiple outputs as well as better options for a solar panel, and more weather proof systems.
What To Avoid When Choosing a Solar Generator
Poor Power-to-Capacity Ratio
The capacity value is the ability of your battery to fully and reliably meet your demand. Even if your generator has a lot of power, if the capacity value isn't great, then your solar system will end up not being super useful and won't be able to deliver what it claims.
No matter your reasons for getting a generator, you don't want to look at types that don't have a good power-to-capacity ratio.
Lead-Acid Batteries
With solar generators, you should avoid lead-acid whenever you can. Lead acid batteries usually only have about a 3 to 5-year lifespan. Since you can't easily replace parts in your generator, this means they can die a lot faster and not be worth the money.
Plus, they are not efficient and they easily have about half the battery life of a lithium-ion battery pack.
---