Big power banks can be expensive, and you don't want to waste money on one that just doesn't suit your needs, or won't be dependable in an emergency.
Thankfully, we are here to help with our review of the Jackery 1500. We will provide you with the details of the good and the bad, so you know what you are getting yourself into.
Continue reading to learn about the Jackery 1500, including how it charges, how long it lasts, and even what it can power.
What's it Good for?
People use the Jackery Power Station 1500 for a variety of reasons. For example, if you just want an emergency generator, you can charge up and leave it somewhere until you need it for power, the Jackery 1500 may be a great option. It isn't strong enough to be an emergency generator for big businesses or run something like office lights, as it is more for personal use and for emergencies.
It can also be good for a simple camping trip, so that you can keep your phone charged, or even use a projector or speakers as needed, without having to leave your car running all day. Its ability to stay quiet and not have to run the fan all the time makes it ideal, so you can find the balance between enjoying nature and still being connected.
Despite its weight, some people also use it on the go. One review says that they use it to charge their e-bike when they travel.
So really, as long as you aren't hoping to use it as a full-time battery source, or for large appliances, this battery pack is limited only by how much weight you can carry and your imagination.
Large capacity: Practical for all small devices, power tools, and even some larger appliances (but not viable as a backup for whole home use)
Plenty of outlets and ports: Has a variety of outlets and supports pass-through charging
Reasonably fast solar charging: Can charge to 80% in as little as 4 hours (depending on the solar panels used)
Latest safety features: Jackery's Battery Management System ensures the battery's safety level while optimizing performance
Solid reputation: Well-known brand offering a 2 year warranty for peace of mind about your purchase
Design and Features
Output Power
The output power here is what makes Jackery stand out. While it applies to the Jackery 1500, it also applies to all of their products.
Unfortunately, when a solar generator has a certain battery capacity and inverter size, that doesn't mean that it can run on that power.
There are some solar generators that we've used that have 1,100 wh and an inverter that is 1,500 watts. However, if it was run at 1,500 watts, it could only keep it up for about five minutes. Anything above 800 watts and it would cut out after a time and not run the batteries down to zero.
With the Jackery line, that isn't an issue. This portable charger and generator we find great to be used in emergencies because the 1500 has an inverter size of 1,800 watts and the battery capacity is 1,534 wh, and it can run at this strength until it dies.
This is just one of the ways that Jackery excels in its solar charging capabilities. Every one of their models can run at full power and their machine is durable enough to keep pushing through, so in an emergency situation, you can charge and use the power station for all of your needs.
Battery Size and Capability
We mentioned it briefly above, but the battery storage capacity on the Jackery 1500 is robust for this type of device. That said, it's not intended for whole-house backup.
What this means is that, on average, these power stations can run for approximately:
Mini cooler: 21 hours
Coffee maker: 68 minutes
Pressure cooker: 75 minutes
Electric grill: 60 minutes
Microwave: 68 minutes
Cell phone: 138 chargest
Laptops: 22 charges
Heater (continuously running): an hour and a half
Gaming set-up (Playstation 4 and TV): 10 hours
Keep in mind that this is without any sunlight coming in. If it is sunny, and the battery is getting charged at the same time, the times will be extended, though only by a little as many of them draw more power than the battery bank can charge at once.
Use our Jackery calculator below to see an estimate for your devices. Just enter the devices you want to power and this tells you how long the various Jackery solar generators can run your set of devices (assuming a fully charged Jackery and no incoming power generation, i.e., using it just as a battery until it dies).
Outlets and Connectors
The Jackery 1500 comes with a wide range of outlets to meet your every need. There are:
3 standard AC outlets (regular 12v outlets like you would have on a wall in your home)
a USB-A outlet
A DC inputs
A quick charge USB-C outlet
A regular USB-C outlet
These outlets mean that you can potentially charge up to seven items at once, though that may be a bit excessive. The Jackery Explorer 1500 also comes with some new power station designs compared to the old products.
Instead of a traditional Anderson solar charging port, the new ports for solar are DC. While this limits you in some aspects, they can be used in conjunction to charge the battery faster than previous models would allow.
It's also pretty sturdy and quiet. Even with large appliances such as a fridge plugged in, the fan hardly ever comes on. Plus, with the LED display screen and the handy LED light, you can see anywhere in a room where you might need electricity for a system.
Large capacity: Practical for all small devices, power tools, and even some larger appliances (but not viable as a backup for whole home use)
Plenty of outlets and ports: Has a variety of outlets and supports pass-through charging
Reasonably fast solar charging: Can charge to 80% in as little as 4 hours (depending on the solar panels used)
Latest safety features: Jackery's Battery Management System ensures the battery's safety level while optimizing performance
Solid reputation: Well-known brand offering a 2 year warranty for peace of mind about your purchase
Charging
The battery bank can charge its battery in as little as four hours back up to 80 percent. This means that even on a partially cloudy day, you should have no problems powering this bank up.
This battery can also be discharged down to zero percent 500 times before the battery starts to show a quality decline. Usually, the quality decline will drop to 80 percent, so somewhere within the 1200 wh storage ability instead of 1534wh.
There are batteries out there that can do better, but they are also much more expensive and heavy. This battery pack is already heavy enough to make it difficult to take along on outdoor camping and adventures, so adding a more durable and long-lasting battery just isn't practical.
Plus, 500 complete discharges are pretty good and will take the average person a long time to be able to use the generator before the quality starts to deteriorate.
You can also charge the Jackery 1500 via means other than solar charging. Depending on what you use, the charging time can change.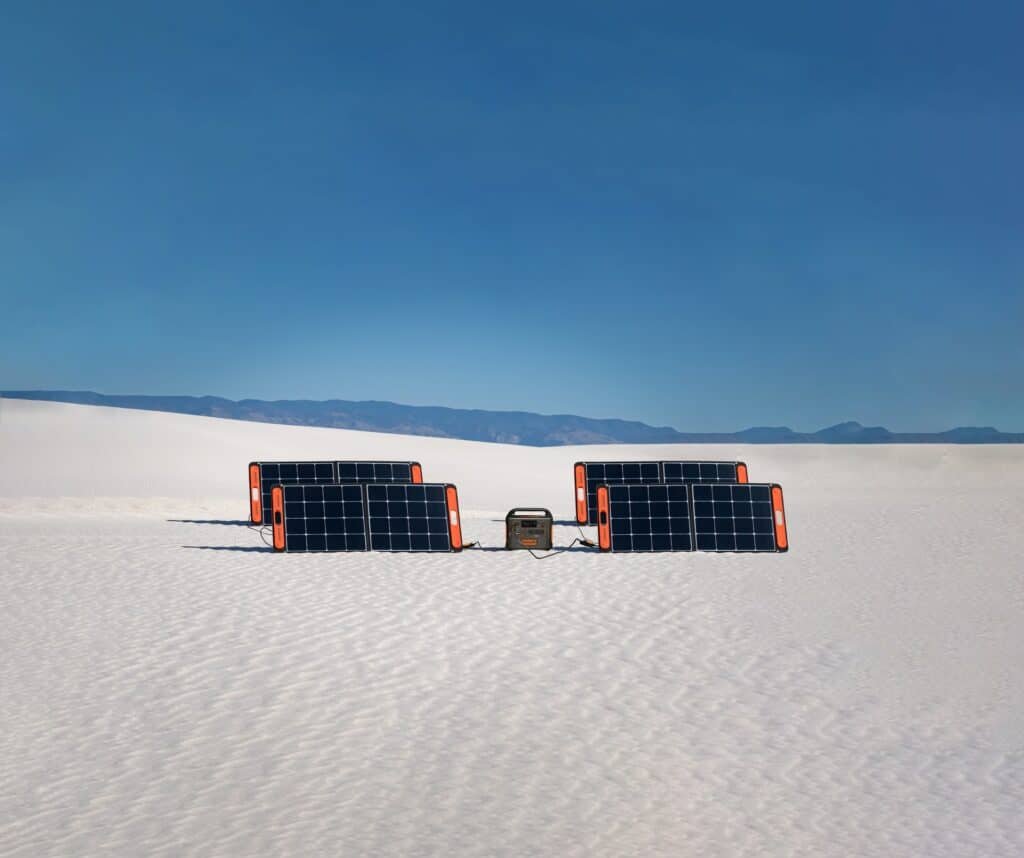 AC adapter: 6 hours
Car adapter: 13 hours
2 SolarSaga panels: 9.5 hours
4 SolarSaga panels: 4 hours
Warranty and Customer Service
Jackery has a great history of customer service. They handle problems quickly and you feel like an actual customer rather than just a purchaser that no one cares about after the product is bought.
Their warranty is pretty good as well, offering you a two-year warranty based on the purchase date of the original customer. If things aren't working right, they will offer a full exchange. You can also get a 30-day back guarantee if you decide the product isn't for you.
Expandability
There isn't too much in the way of expandability when it comes to the Jackery 1500. While you can up the solar panels to increase charging time, that is about it. It is a fully functioning, self-contained system. You cannot purchase this in the hopes of later getting a bigger inverter or battery.
That means, what you see is what you get. If you think you might have to expand later, it is probably best to just get a bigger system if possible.
Pros
Good capacity
Plenty of connections/outlets
Reputable brand
2 year warranty
Made in the USA
Cons
Expensive
Heavy
Optional solar panels aren't waterproof
Weaknesses
Price vs Value
If you are looking for a simple generator in case of emergencies, this may not be the kind of upgrade you are looking for. As it needs at least one solar panel and optimal sun to be fully charged and work, and due to the heavy size, it isn't one you want to take on a quick adventure.
For the price as well, it might be a little intimidating. The Jackery 1500 itself usually runs around $1,599. This price isn't bad, but this leaves you without the ability for solar input to charge.
It does have the advantage of being able to use electricity to charge it and be ready when you need emergency power, instead of needing to make sure you always have enough units of gas, but it isn't perfect.
The solar panels usually also cost about $299.99 or $300 each. In total, this would equal about $2,800 or more. Usually, the bundles run a bit cheaper, but can often go for the same price.
This is kind of convenient because if you don't mind the large charging time, you can start with two panels and upgrade to four later on if you need it.
This is pretty pricy, as they aren't the only company around offering this product.
However, where their value makes them shine is in the juice. As we mentioned above, when the Jackery Solar Generator says it has an 1800-watt inverter, it means it. Instead of being capped at roughly half of the power or lower, it can run fully functional at 1800 watts without having to take a break or reduce power. This, in our opinion, makes the higher price tag compared to others on the market well worth it.
What I'd Change
It would be nice if there was a way to make the Jacker 1500 lighter. The solar battery alone is 35 pounds and each of the solar panels weighs around 10 pounds. Or at the very least, easier to carry. Adding some wheels and a carrying handle could make a world of difference, and make it more practical for a variety of different generations.
We also noticed that with this generation, there is one fewer USB port than there were in previous generations. While this might not matter for some people, it is a definite disadvantage for those who are looking to hook up more than two USB-charged devices at once.
The solar panels are sold separately unless you get the bundle, which can make the price seem a little better than it is.
Our biggest complaint about the solar panels is that they aren't waterproof. This means that if you get hit by an unexpected storm, or are trying to charge them while you are out and it rains, you may end up with damaged solar panels. Most solar panels can handle water, as they are designed to be able to stay outdoors, so that definitely adds a little bit of a disadvantage to the bundle.
The panels are also pretty small, only about 100 watts each. Even with all four, that's only 400 watts coming in at once, which isn't a lot and explains the slow charge time.
The Bottom Line
Despite the hefty price tag and some issues with the solar panels, we are happy with this product. It isn't designed for outdoor sports and adventures, but more for emergency weather that can leave you without power. It can easily power a fridge while you wait for your electricity to be turned on so you don't have to throw away all of your food.
It also doesn't require gas to run, which can be a problem if your gas has gone bad or you find yourself without any during a storm. It's much easier to turn on as well, compared to most gas generators.
With a minimum of 500 cycles before the battery begins to drain, you get plenty of uses from it before it even drops down to 80 percent usability. It also has little noise, as the fan doesn't run often.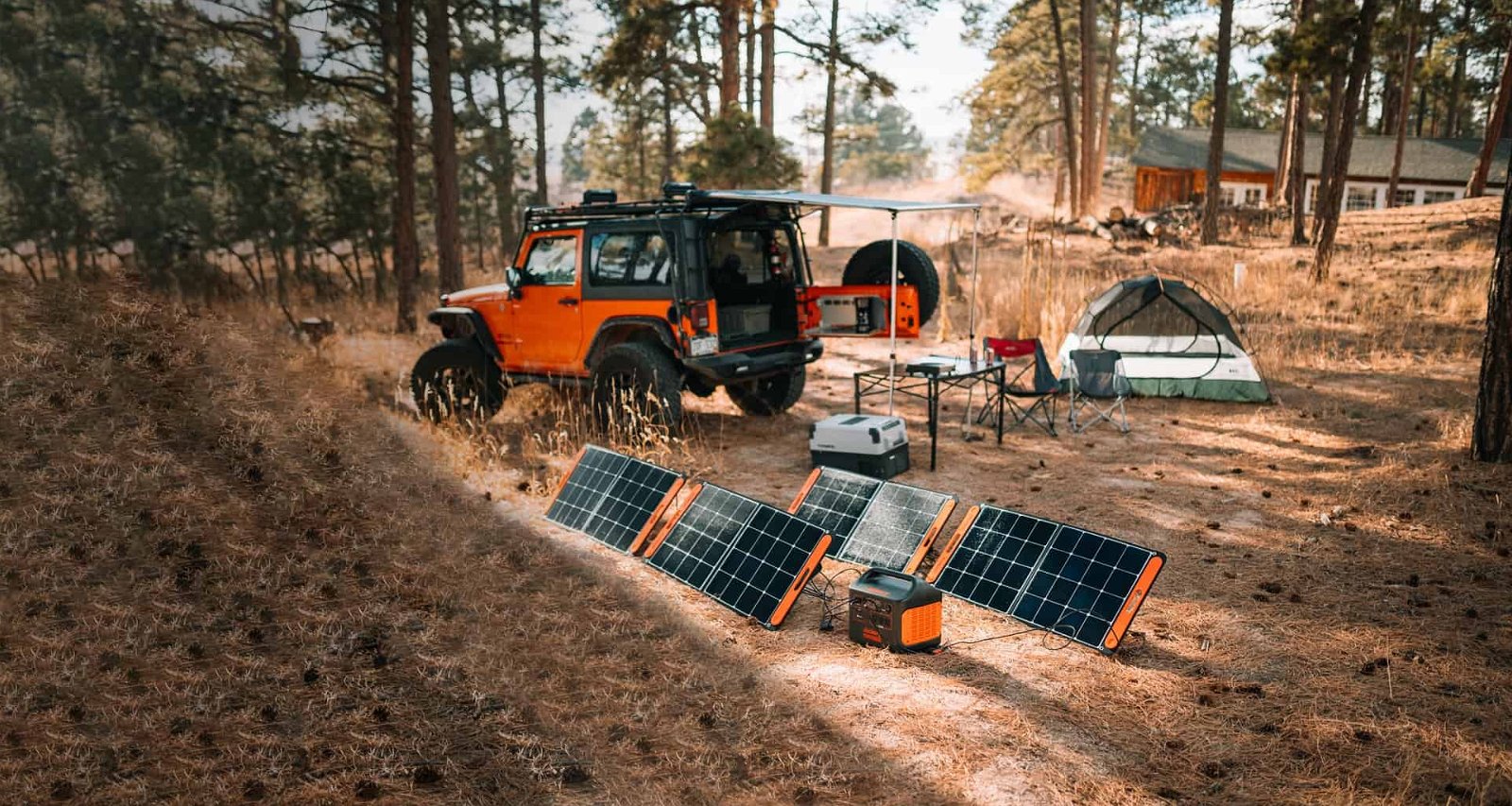 That doesn't mean this product is for everyone. Since it can't be expanded or set up into a solar system, as it is essentially just a giant power brick, the Jackery Solar Generator 1500 isn't one you want to purchase for a solar array or to go off-grid.
It can work with any tech, whether Samsung or Apple, and it has both USB ports and DC input ports, but it takes a long time to charge, which can be detrimental even with long battery life.
It also isn't going to power a house. Despite the numerous power sources, it isn't strong enough to handle most large appliances for a long time, such as air conditioners or microwave ovens.
It also isn't good for portability, as its dimensions and weight make it hard to carry around. Also, while the utility of the SolarSaga 100w solar panel isn't a problem, it is a shame the panels aren't waterproof.
FAQ
How do you use a Jackery 1500?
The Jackery 1500 is easy enough to use. The battery is self-managed, so you don't have to worry about causing any safety issues. Plus, everything is clearly labeled on the LED screen, so you can see everything at once to make sure it is working as it should.
How long does a Jackery 1500 last?
The lifespan of a Jackery depends on your use. On average, they last for two to three years at full power. They can handle 500 cycles before the battery starts weakening. This may not sound like a lot, but it is on par with competitors.
What devices are compatible with a Jackery 1500?
Pretty much any device is compatible with a Jackery 1500. As long as it uses one of the outlets that Jackery provides (or there is an adaptor available) whether it is a large appliance, a game system, a tablet, freezer, or some microwaves, it can charge it all. Even the different phone companies such as Apple and Android don't matter, nor does the version of the product. You can even charge power tools and cameras.
How does a Jackery 1500 compare to other power banks?
It ranks much higher than other power banks. Though it is average in some areas, such as how many years the battery will last and the weight, the inverter allowing the battery to run at full power for a long time makes it stand well above the rest. 
Also, it may be heavy, but it is pretty easily portable, which is more than we can say for some of the other power banks.
What are some alternatives to a Jackery 1500?
EcoFlow, Goal Zero, Maxoak, Bluetti and Renogy are all really good options as well if Jackery just isn't your style or is a little outside your budget.
---