Having a generator can be useful when camping. However, if you've ever gone camping in a campground with a lot of RVs, you may have noticed that a lot of them use gas generators. They provide the power they need, but at a sacrifice to the environment and our ears.
Solar generators rely on electricity or the sun to fill them up. After they are full, they work like a normal generator, providing you with power and energy to use the electronics and devices you need. When you look up solar generators online, you may see search results and comments on Jackery products.
One of our favorite companies is Jackery, and I had the luck to get to review a Jackery 550. If you want to know more about this solar generator, keep reading below.
If you are looking for a reason to get some type of solar generator, take this as your sign. This isn't ads for the Jackery, but a trusted review. Trust us, you'll be giving your thanks in no time (though your credit card might not).
What Can the Jackery Explorer Power?
The Jackery Explorer 550 can power all sorts of devices. A Laptop/Macbooks, iPhones and Android phones, cameras, appliances, gadgets, tools, and more. It might not be able to power a full refrigerator, but it can run some smaller appliances easily enough.
And the solar generator lasts a long time. Here are some estimates for products and how long they will last on the Jackery Explorer 550 battery.
Blender: 1.5 hours
Air pump: 8.8 hours
Drone: 10 charges
Rice cooker: 53 minutes
Drill: 1.8 Hours
TVs: 8 hours
Mini Fridge: 39 hours
CPAP: 13 to 42 hours
Electric blanket: 23 hours
Jackery Explorer 550 Portable Power Station
Large capacity: It can power many portable devices and machines, but it may not be strong enough to run large household appliances like a refrigerator
Plenty of outlets and ports: You can power your device from a wall outlet in your house, from a car output, or by the energy from the Sun through SolarSaga's solar panels
Plug in multiple devices simultaneously: You can charge your phone about 60 times and a tablet about 30
Latest safety features: Has a handy display screen where important information is recorded, how much of the charge level is left, and what power is coming in and out, so you know how much longer it will take to recharge
Solid reputation: Years of great reputation and customer service
This isn't all that these generators can power. They can also handle things like radios, electric scooters, handheld games, electronic books, electronic paint tools, and more.
Essentially, anything that draws under 500W of power at once is possible to power. This means the engine may not be able to handle a big accessory or appliance, but it can handle Apple products and your internet device, so you can scroll through Reddit, TikTok, and Pinterest without a problem.
Even if you have more unique items like tire accessories, projector for an event, GPS, toys for kids, chair accessories, fishfinders depth sounders, communication devices, cartography and charting tools, carpet cleaning devices, car fridge, pellet smoker, or electronic backpacks, you can use the Jackery Solar Generator to power all of these relatively easily.
How Do You Charge a Jackery Portable Power Station?
There are three ways to charge a Jackery portable battery bank. You can use an AC output (regular wall outlet in your house), a car output, or the SolarSaga 100W solar panels. Overall, it is pretty mainstream gear.
How Long Does It Take a Jackery To Charge?
Depending on what you use, the times vary. With other Jackery Explorer models, the number can vary pretty dramatically, but with this model, the numbers are much more aligned.
For example, with a regular house outlet, it takes about 7 hours. But with one solar panel or the car outlet, you are looking at 8 hours in ideal conditions.
How Do You Keep Track of the Jackery Explorer 550's Charge?
The Jackery Explorer 550 generator has a handy display screen where important information is recorded. This includes how much of the charge level is left, and what power is coming in and out, so you know how much longer it will take to recharge.
Taking up most of the screen is a large battery icon, with the percentage of battery left on the right. This lets you know how much battery is left until your Jackery dies.
On the same screen, the input and output wattages are displayed as well, so you can make sure that you aren't drawing too much power, or make sure that you are actually charging.
Pros
Various ports/outlets
Operates in high temperature
Eco-friendly option
Compact and portable
Digital displays
Reputable brand
2-year warranty
Made in the USA
Cons
LED display turns off quickly
Expensive
Heavy
Not waterproof
Jackery Explorer 550 Benefits
Plugs In Multiple Devices Simultaneously
One of the greatest features of the Jackery is that you don't have to charge only one device at a time. In fact, you can charge as many devices as you have ports for. With this model, there are a total of 7 outlets.
There are:
2 8mm DC outlets
1 pure sine wave AC outlet
3 USB-A Ports
1 12v car outlet
This gives you a lot of options and variability with your charging, as well as plenty of devices to plug in at once. The best part is that you can plug into all seven of these outlets at once if you want.
Keep in mind, however, that your battery bank can only offer a continuous 500W of power. If you are trying to draw more than that, it might cause your Jackery to shut off. This isn't made for those that want to go off-grid, but want a little support so they can run some kitchen appliances or browse your internet content in peace.
It also works as an emergency backup power supply. There is also MPPT technology in the Jackery, that helps to protect the Jackery when it is recharging or providing juice to your devices so that there are no problems.
Operates in High Temperatures
With Jackery products, you have a wide range of temperatures you can operate in. It can go as low as 32 degrees Fahrenheit and up to 104 degrees Fahrenheit (0-40 Celcius). This means that generally, no matter the weather, you still have a generator that will work for you.
There are even fans if it gets too hot, helping to circulate the air and stop the battery from overheating, even when it is in the heat.
Plus, without the need for pull starters, you don't have to stand out there in the hot sun, pulling a cord until your generator starts up, just press a button on your generator's display to get started.
Eco-Friendly Option
You can't deny that a sunlight powered generator is much better for the environment than a gas generator. Though there are debates on whether conventional electricity is better than gas, there is no denying that solar power is so much healthier for the environment without producing fumes.
While you can charge this generator using a car or a regular outlet, you can also allow it to charge from the natural power of the sun. With the 550 models, it all takes about the same time, so it isn't even hampering your plans.
It is also a quiet generator and doesn't need a lot of space and tubes for the ventilation of dangerous fumes. Instead, there are just trays with fans that blow occasionally to release heat. With no emissions, you can place this generator right next to your folding chairs or soft cushions, or even bag chairs, and not have to worry about the smell.
Jackery also has great replacement and maintenance assistance, without any emotional up and down moments. So, instead of throwing it away to a landfill when it stops working, simply give them a call. Their call receivers are quick and friendly.
Compact Size and Portability
The Jackery Explorer 550 weighs only 13.8 pounds, making it very easy to take around with you, wherever you need to go. It also only measures 11.8 by 7.6 by 9.5 inches, so it is nice and compact to fit wherever you need it to.
At this light of a weight, you won't even notice you are carrying it around. The design was an important part of this, including the dimensions and weight, to make it easy enough to fit into any vehicle and be able to be carried by any user.
This makes it ideal whether you just need a little bit of power in case of an emergency, or if you enjoy spending time in the great outdoors, but don't want to be alone. You can use it for your panel or fiberglass RV, camping, fishing, hunting, or even just in your backyard if you don't want to be right next to the house or have a long extension cord running through the yard.
If you have sturdy duffel bags, you can even set the generator in there to carry, though you can also buy special bags online.
Built-in LED Flashlight
In cases of emergencies, it is always a good idea to have a flashlight with you. Unfortunately, life happens sometimes and things aren't where we meant to put them. Thankfully, this solar generator not only delivers backup emergency power but also provides an LED flashlight.
The flashlight might not be ideal most of the time, but when you are dealing with an emergency, having a generator and a flashlight in one bundle can be helpful.
Also, you can leave this light on for quite a long time without it draining the battery at all, so you don't have to worry about conserving light.
Digital Display Shows You the Charge
While I haven't used a lot of full-sized generators before this one, I have used portable power packs for my phone. My biggest gripe with them is that I had no idea if the battery was low until it was too low to be of any use.
They only offered a light that would either blink or change colors when it was dangerously low. How hard would it be to have a button to read off battery percentage or a small, external display screen?
Thankfully, the display screen on this solar generator will provide you not only with a little battery image that is colored in for how charged it is, but the exact percentage right next to it, so I never have to worry about whether the generator is charged or not.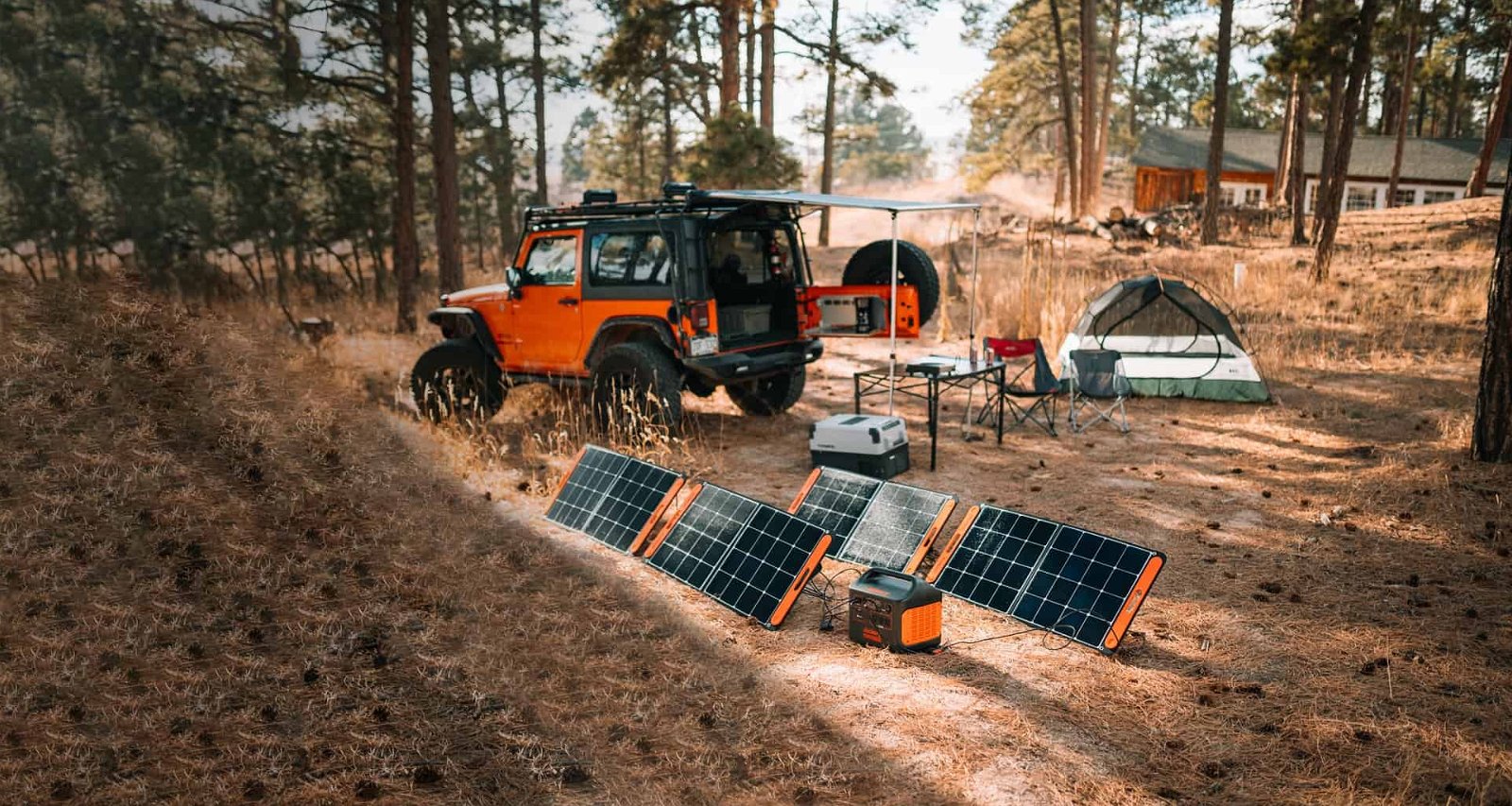 No more arrow keys to scroll through to check everything either. The charge and wattage data of this equipment are available right on the screen with the push of a button.
Pros
To break our pros down and put them simply, we've also included a list that summarizes all the benefits we listed.
Easy to fit into a car or RV
Lightweight and compact
Flashlight in case of power outage emergencies
Quiet and eco-friendly
Display menu lists all of the important information
Has a wide range of temperatures it can handle
Can charge multiple devices at once
Jackery Explorer 550 Shortfalls
Ports Aren't Ideal
Something that grinds my gears with this model is the outlet ports we are given. I don't know about you, but I've never used 8mm DC plugs, and I don't even know what would use a charger like that. So while there are seven places to plug in, two are automatically useless for me.
Also, there are no USB-C slots. While I still use USB-A slots, I know a lot of people are transitioning to USB-C. It would be nice to have both. I think you could easily replace the two 8mm DC ports for USB-C ports and many people would be happier.
Also, it would be nice to have more than 1 AC plugin. Usually, we have two laptops running at once for work, so it would be nice to be able to charge them both at once, instead of taking turns.
Not Waterproof
While not many power stations are waterproof, it would be nice to have one that thinks about that. These are used often by those outdoors, and sometimes sudden rainstorms happen. I don't want to risk breaking my battery bank because I didn't catch the rain in time.
Also, the solar panels aren't waterproof either. Some of the 200W ones are a bit more water resistant, but overall, they are just lightly water resistant, which means they also can't handle rain.
Again, to charge the battery bank, it generally needs to be outside. When it takes a full 8 hours minimum to charge, it would be nice to know that I could set it up to charge and go run errands without having to worry about rain.
Other suitcase-styled solar panels I've used are waterproof, so having ones that aren't seems like a big step back and kind of a let-down. Also, for the price of $549.00, you would expect it to be way better in terms of handling outside environmental factors.
We aren't saying we want the prices to be $0.00, but to have to place orders on solar panels and services as well, it feels like the organization has been overlooked and we have questions.
LED Display Turns Off Quickly
The final con is that the LED display turns off rather quickly. Now, I'm all for saving power, but the display surely doesn't take all that much power. When I am trying to fill up the battery bank or keep track of how much power is left, it would be nice to just be able to glance at the read-out instead of having to go and press the button.
Even an option to turn on the display or leave it on would be nice, and is something the business could improve upon in their future service.
Cons
While there aren't nearly as many cons as there are pros, we figured it was a good idea to still be fair and list them out as well.
The system isn't waterproof
The display could stand to stay on a little longer
I would prefer to have different ports to plug into
Jackery Explorer 550 Portable Power Station
Large capacity: It can power many portable devices and machines, but it may not be strong enough to run large household appliances like a refrigerator
Plenty of outlets and ports: You can power your device from a wall outlet in your house, from a car output, or by the energy from the Sun through SolarSaga's solar panels
Plug in multiple devices simultaneously: You can charge your phone about 60 times and a tablet about 30
Latest safety features: Has a handy display screen where important information is recorded, how much of the charge level is left, and what power is coming in and out, so you know how much longer it will take to recharge
Solid reputation: Years of great reputation and customer service
Comparison with Other Brands
| | | | | | | |
| --- | --- | --- | --- | --- | --- | --- |
| Generator | Peak Watts | Charging Time | Total Number of Cycles | Cost per Cycle | Dimension | Weight |
| Jackery Explorer 550 | 550Wh | 2.5 hrs. | 500 | $1 | 11.8 x 7.6 x 9.2 in | 13.32lbs. |
| Anker 535 | 512Wh | 2.4 hrs. | 3000 | $0.19 | 11.5 x 9.9 x 7.4 in | 16.5lbs. |
| Renogy Phoenix 500 | 495Wh | 2.5 hrs. | 600 | $0.9 | 12.76 x 8.19 x 9.43 in | 16.71lbs. |
| EcoFlow RIVER Max | 576Wh | 1.36 hr. | 500 | $0.9 | 11.4 x 7.3 x 9.3 in | 17lbs. |
| Bluetti PowerOak EB55 | 537Wh | 1.8 hrs. | 2,500+ | $0.3 | 10.94 x 7.87 x 7.79 in | 16.5lbs. |
| Flashfish 560W | 520Wh | 7 hrs. | 800+ | $0.5 | 11.7 x 7.4 x 6.6 in | 12.3lbs. |
| Rockpals Rockpower 500W | 505Wh | 7-8 hrs. | ≥1000 | $0.5 | 12.0 x 9.0 x 6.1 in | 12.3lbs. |
| Vigorous VXL500 | 480Wh | 4 hrs. | 3000 | $0.1 | 16.3 x 10.3 x 6.1 in | 14.3lbs. |
| Zendure SuperBase 600M | 1000W | 8-10 hrs. | 1500 | $0.4 | 12.8 x 7.4 x 5.4 in | 14.1lbs. |
| Oukitel P501 | 500W | 4.2 hrs. | 1000 | $0.6 | 10.8 x 6.9x 7.8 in | 12.3Ibs. |
| Pecron E600LFP | 1200W | 2.2 hrs. | 3500 | $0.1 | 12 x 8 x 9 in | 20lbs. |
Things To Consider Before Buying a Portable Solar Generator
What Power Capacity and Wattage Do You Require?
The most important step is to be aware of how much wattage you need. Do you need coffee to survive? You better understand how much power your coffee maker (plus grinder, plus tea kettle for heating water) takes, and how much that will drain the battery and weaken performance over time.
If you are on your phone all the time (scrolling through Instagram or looking for cute accessories, I hear you), you will need to constantly be charging that. The 550 Jackery can charge your phone about 60 times, and a tablet about 30, so if that is all you are using it for, it should be more than enough.
What works for you may not work for someone else, so always take the time to think about that. For example, my fiance enjoys gaming and uses a lot of power while we are camping, so having a bigger battery pack is ideal for us.
Do You Have the Right Solar Panels?
Some solar generators require special solar panels. For example, Jackery can only link up to Jackery Solarsaga 100w solar panels. This means that even if you already have solar panels, you will have to purchase these if you want your Jakery to charge via the sun.
Not all solar generators are this specific, but it is always good to check before purchasing a generator.
Do You Need To Charge Multiple Devices At Once?
Before buying a portable solar generator, make sure you have a good idea of how many devices you may need to charge at once, as well as what kind of outlets you would use the most.
For example, the Jackery 550 isn't one of our favorite models of Jackery because I know I won't ever use two of the plug-ins on there, and I use a fair amount of AC outlets and wish I had a few more, even taking into account that it is a small generator.
Get an idea of what kind of outlets you would use so that you know what to look for.
Are You Clumsy Or Heavy-Handed?
Unfortunately, a lot of the material is plastic and metal, with no woods involved. This means that the stations are generally much easier to break.
This does make them lighter but at the sacrifice of study-ness. If you tend to be a little clumsy or if it will get bounced around a lot, you may find that it doesn't take long for damage to occur to your Jackery 550. Some have even been damaged during shipping.
Also, for the price of some furniture or home decor, it just seems a little weak to have something so fragile, even though we understand the purpose was to make the generator lighter. There is also no anchoring or reels to hold it in place, so if it is very windy, it could get damaged.
How Long Will a Jackery 550 Last?
Generally, you have 2 to 3 years until the Jackery begins to have a lower quality. This is because a lithium-ion battery can generally get 500 cycles before losing quality. After that, the quality drops to about 80%.
A cycle is a full charge and discharge. You get 500 of those before the product begins to lose its value. This is much better than most marine batteries, which can't handle a full discharge and will begin to lose quality after just a few of them.
However, when the price is as high as these are, it can be a bummer to know you don't have very long with them if they get heavy use. It also may not seem like a good investment to get a device like this, but it is well worth the pricy investment.
The Jackery also has a pretty good warranty on it, so if you need help or one of your items or cables breaks on the Jackery, you don't have to worry. There are some exclusions to the warranty, such as modified devices and those sold from an auction house, to name a few.
However, purchases and deals from retailers allow you to retain the rights to the warranty from the Jackery company, plus any levels of warranty that the store shop gives you.
If you want to skip the full price, look for a store that offers Good Sam discounts or free shipping for members and you might be able to save some money. Places like Camping World offer free shipping on orders over $99, but Good Sam members get free shipping on orders over $69.
Related Article:
Power Up Your Adventures: How to Choose the Perfect Jackery for Your Needs
Jackery 550 Specifications
| | |
| --- | --- |
| Capacity | 550Wh (21.6V, 25.5Ah) |
| Power Outputs | 110VAC, 60Hz, 500W (1000W Surge Peak) |
| DC Charging Input | 12V-30V (100W Max) |
| Auto Shutoff | No |
| Size | 30 x 19.2 x 24.2 cm |
| Weight | 13.8 lbs (6.3 kg) |
| Included | Car Charging Cable,AC & AC Cable (2 Parts),User Manual |
| Warranty | 2-Years Warranty |
| Optional Accessories | Jackery SolarSaga 100W Solar Panel |
| Measurements | 11.8 x 7.6 x 9.5 in |
| Maximum Output Power | 1000W Surge Peak |
| AC Output Voltages | 110VAC |
| AC Overloads | Yes |
| AC Output Frequency | 60Hz |
| AC Cooling Fan | Yes |
| Charging Rates | 500W |
| Charge Times | 7 Hours |
| Flashlight | Yes |
| 12V DC Output Voltage | 12V, 10A |
| LCD Meters | Yes |
| Self Discharge | No |
Not the Right Jackery? Check out our other reviews:
What Can It Power?
| | | |
| --- | --- | --- |
| Device | Power Drawn (KW) | Time It Can Be Powered |
| air conditioner | 1.75 | 18 minutes |
| air fryer | 1.725 | 19 minutes |
| amplifier | 1.2 | 27 minutes |
| boat battery | 0.75 | 44 minutes |
| battery charger | 0.015 | 36 hours 40 minutes |
| computer/cpu | 0.5 | 1 hours 6 minutes |
| cooler | 0.05 | 11 hours |
| car battery | 0.55 | 1 hours |
| coffee maker | 1.2 | 27 minutes |
| cpap machine | 0.4 | 1 hours 22 minutes |
| dryer (cloth) | 1.5 | 22 minutes |
| electric fan | 0.04 | 13 hours 45 minutes |
| extension cord | 1.6 | 20 minutes |
| water filter | 0.06 | 9 hours 10 minutes |
| fuel pump | 1.1 | 30 minutes |
| freezer | 0.23 | 2 hours 23 minutes |
| oil fryer | 1.7 | 19 minutes |
| heater/room heater/small heater/space heater | 1.5 | 22 minutes |
| hair dryer | 1.875 | 17 minutes |
| iphone | 0.045 | 12 hours 13 minutes |
| ipad | 0.06 | 9 hours 10 minutes |
| induction cooktop | 0.9 | 36 minutes |
| inverter generator | 0.03 | 18 hours 20 minutes |
| inverter battery | 1.2 | 27 minutes |
| juicer | 0.03 | 18 hours 20 minutes |
| keyboard | 0.0025 | 220 hours |
| kettle | 1.5 | 22 minutes |
| keurig | 1.5 | 22 minutes |
| laptop | 0.15 | 3 hours 40 minutes |
| lightbulb | 0.06 | 9 hours 10 minutes |
| microwave | 0.9 | 36 minutes |
| mini fridge | 0.07 | 7 hours 51 minutes |
| mixer | 0.325 | 1 hours 41 minutes |
| normal room | 0.5 | 1 hours 6 minutes |
| off grid cabin | 5.5 | 6 minutes |
| oil cooler | 0.9 | 36 minutes |
| oven | 1.15 | 28 minutes |
| electrical panel | 0.05 | 11 hours |
| pc | 0.25 | 2 hours 12 minutes |
| projector | 0.35 | 1 hours 34 minutes |
| full size refrigerator | 0.4 | 1 hours 22 minutes |
| router | 0.01 | 55 hours |
| speaker | 0.3 | 1 hours 50 minutes |
| sump pump | 0.19 | 2 hours 53 minutes |
| tablet | 0.04 | 13 hours 45 minutes |
| thermostat | 0.01 | 55 hours |
| transmitter | 0.02 | 27 hours 30 minutes |
| turntable | 0.02 | 27 hours 30 minutes |
| tv | 0.15 | 3 hours 40 minutes |
| ups battery | 0.6 | 55 minutes |
| vacuum cleaner | 1.4 | 23 minutes |
| vacuum pump | 0.25 | 2 hours 12 minutes |
| vape | 0.1 | 5 hours 30 minutes |
| water pump | 0.75 | 44 minutes |
| water heater | 1.44 | 22 minutes |
| xbox | 0.1 | 5 hours 30 minutes |
| xlr microphone | 0.02 | 27 hours 30 minutes |
| yacht | 17 | 1 minutes |
| rivian | 0.18 | 3 hours 3 minutes |
| Dish washer | 1.44 | 22 minutes |
| Dehumidifier | 0.55 | 1 hours |
| Pressure Cooker | 1 | 33 minutes |
| Water Dispenser | 0.1 | 5 hours 30 minutes |
| Play Station 5 | 0.2 | 2 hours 45 minutes |
| Sandwich Maker | 0.75 | 44 minutes |
| Treadmill | 2.5 | 13 minutes |
| basement | 2.5 | 13 minutes |
| battery (ups) | 0.6 | 55 minutes |
| breaker box | 1.8 | 18 minutes |
| DC motor with Arduino | 0.05 | 11 hours |
| garage | 0.3 | 1 hours 50 minutes |
| fire place | 1.5 | 22 minutes |
| gas stove | 0.15 | 3 hours 40 minutes |
| GFCI outlet | 1.8 | 18 minutes |
| heater | 1.5 | 22 minutes |
| jetski | 24 | 1 minutes |
| joy con charging dock | 0.2 | 2 hours 45 minutes |
| kitchen aid mixer | 0.25 | 2 hours 12 minutes |
| kitchen faucet | 0.04 | 13 hours 45 minutes |
| travel trailer | 2.5 | 13 minutes |
| universal remote | 0.005 | 110 hours |
| upright freezer | 0.1 | 5 hours 30 minutes |
| utility pole | 0.04 | 13 hours 45 minutes |
| electric car | 75 | |
| vent | 0.55 | 1 hours |
| well pump | 1.2 | 27 minutes |
| zero turn mower | 16 | 2 minutes |
---