The Master Flow solar attic fan is one of many in a line of GAF's innovative Master Flow ventilation products. Making conventional manual attic fans obsolete, GAF introduced the Master Flow ventilation line, featuring solar and dual powered attic fans, including a 500 CFM solar fan that reduces energy and technicians' cost in one fell swoop.
I'll be talking about the gable mounted version in this Master Flow solar attic fan review.
Do Solar Attic Fans Really Work?
The efficiency and security of solar attic fans are still in question. Studies have shown that typical powered fans cost extra to work compared to the savings they generate.
They also form zones of negative air pressure. That can pull conditioned air from your home into your attic, possibly pulling dangerous gases from house appliances back into your home— specifically, carbon monoxide.
Because solar fans don't pull in as much air as conventional fans, none of these worries comes into play. Additionally, the best thing about solar powered attic fans is it is costless to operate after installation.
It also makes your house temperature more relaxed overall while simultaneously preventing dampness and growths from collecting in your attic, which leads to wood degradation and health concerns.
Who Makes the Best Solar Attic Fan?
Broan, iLIVING, and Natural Light are a few well-known businesses that produce amazing solar attic fans. However, GAF stands out as the clear winner. The company won the Gold Innovation Award twice in a row and partners with famous solar companies like Sunnova Energy to give new and more innovative projects.
Where Should I Place My Solar Attic Fan?
To install a solar attic fan, you'll have to create a hole in your roof to fix its solar panel as well as the fan itself. For gable mounts, you'll again have the solar panel on your rooftop, but this time the fan will be inside the attic.
When Should My Attic Fan Be Running?
Your attic fan should be working during the day, especially in hot sunny weather. Operating the fan when the sun's rays are hitting the roof removes the attic's heat buildup.
Features of the Master Flow Solar Attic Fan
The entire line is a brilliant solution to exhaust ventilation and lowers your attic's temperature maintenance costs. The series is available in both dual-powered and solar-powered versions.
This is useful if you live in any areas that might be more prone to rainy or cloudy days, in which case you can opt for the dual-powered models. Within the solar models, you get two mounting options: a roof vent or a gable vent.
The roof-mounted ducts will need a vent hole along the top of your roof where your solar attic fan can be placed over your vent, with a metal or plastic base below. In my case, I went with the solar fan with gable mounting since I prefer having a less cluttered roof. Just the panel for me, thanks!
The Master Flow Gable-Mounted Solar Attic Fans are known for their easy installation and sleek look. Each vent is factory-tested before being shipped and is designed using completely rust-resistant galvanized steel construction.
The gable mount exhaust fan has a high proficiency brushless motor that can ventilate an area up to a whopping 2,200 square feet of space. It's solar-powered and functions with any preexisting vents.
You can lower the temperature in the attic without having a mess of wires everywhere. It also makes installation a breeze. Add in the gable mount, and installation is a cinch. You can learn more about the vent's setup from this YouTube tutorial.
The motor a powerful and brushless 24 volt DC machine, allowing up to 500 CFM airflow without needing any extra attention or maintenance. It requires barely any power, running on a measly 30 watts of power, which you can quickly produce on a hot sunny day.
Not only are they great during summers, but the fan also gets rid of damp air produced from your heaters during the winter seasons to prevent attic damage. The whole system itself is low profile, with the fan being mounted on a gable below in the attic, while the solar roof panel sits on top facing the sun.
One of the issues I did have with the panel was angling it. Any interruptions in sunlight will stop the attic ventilation. But once I figured out the best spot, it was easy goings from there. I've had to adjust the panel may be twice or thrice since.
But otherwise, it works throughout the day without problems. The solar pane is very easy to adjust. You can make a quick change in position using the panel's swivel.
In terms of style, the panel looks pretty great on my roof, and most customers would enjoy the look of the gable mount inside as well. Most importantly, the fan saves you a significant amount on the attic's power bills and maintenance costs since it prevents moisture degradation.
Ultimately, I like the gable vent for its simple installation, efficiency, cost-saving, and adjustability. I'll briefly touch on the Master Flow Solar-Powered Roof Mount Fan, which I did heavy research on.
The roof mount attic fan is 100% solar-powered with adjustable solar panels. These panels help reduce your utility costs. They also offer an efficient ventilation performance of 500 CFM.
They're also a better replacement for typical roof louvres or power fans since they're impact resistant and durable. The most telling feature of this fan is code compliance.
GAF focuses on third party testing for performance and compliance evaluations to ensure the roof vents are up to code so that you don't waste your money on a faulty product. The best part is that both versions come with a limited warranty for five years, as well as two years of labor protection.
Now unlike the gable mount fans, the roof vents cover 2,088 square feet of space. It's not a massive difference, but one that makes sense. Roof space is limited compared to internal attic space, so the vents don't need more coverage.
Another difference would be the solar panel power output, which comes to 10 watts. A little less power than the gable mount, but still doable in sunny areas.
If you feel the power is too weak, you can install multiple fans to get your desired ventilation. And the best benefit for those who want to keep their attics uncluttered is the roof mounting, so you can keep your fan on the roof to ensure ventilation.
Benefits of the Master Flow Solar Attic Fan
Energy Saving: 100% solar-powered to reduce cooling costs that generally come with electric-powered vents.
No Expensive Electricians: Unlike conventional wired fans, solar attic fans use easy installation without needing professional technician help.
Adjustable Solar Panel: You can angle the panel using the swivel for optimal sun exposure and power production.
High Efficiency: The fan's PSC brushless motor offers the most efficiency.
Adjustable Thermostat: It is available in all models.
Optional Adjustable Humidistat: It is only available in the HT models.
Great Performance: With its 500 CFM airflow, the fan offers excellent ventilation.
Durable: The fan's solar panel has impact resistance as tested by UL 507 standards.
After searching across the internet for customer reviews, I've figured out that customers have positively received the Master Floor solar fan series. Most people praise the fan's easy installation, with one customer writing that "it only took me a Saturday morning to install this fan and have it working immediately in my attic."
---
The Master Flow vent's Alternatives
I have to mention some related products and alternatives for people who may not prefer a feature of the Green Machine series or those who may not find one available.
Natural Light
Natural Light's fans are high-quality products that come complete the installation kit with the essentials. The only drawback with this would be getting a Snap-On thermostat separately so that you can keep track of the temperature in your attic.
The solar panels are adjustable up to 45 degrees and offers a high power of 36 watts. The coverage area is also massive, up to 2625 square feet, and the best part is you get 25 years of warranty.
More power
More coverage
Longer warranty period
No thermostat
Less adjustability
Remington
Remington offers a line of attic fans powered by solar energy, with the 30-watt model covering 2500 square feet. It only comes with a roof mounting option, but the addition of a thermostat and humidistat is a plus point to the mounting.
This fan's unique feature is its noise dampening and one-hour installation period.
Only one mounting option
Shorter warranty period
Both thermostat and humidistat available
More coverage
Amtrak
Amtrak's 40-watt solar attic fan comes with a 25-year warranty. It offers both roof and gable mounting options and has a similar coverage space of 2250 square feet to the Master Flow fans.
The installation kit is complete and easy to use, and the fan comes with a thermostat for temperature checks. The one downside is that it is noisier than most other competitors, which can turn off most people.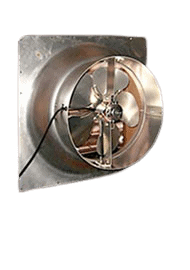 Longer warranty period
More coverage
More power
Noisier operation
Final Thoughts on the Master Flow Solar Attic Fan
I feel as the GAF Green Machine EcoSmart series offers the best savings, lowest utility bills, most resistance, and most outstanding efficiency compared to other solar attic fans on the market. It's been tried and tested, has favorable customer responses, and the backing of a good USA company for quality assurance. You can click here check it out.
---