Many people live in an RV, so you might expect that the needs for an RV are also high. Some need a large amount of output with a fancy unit having full-sized fridges, washers, dryers, and other top products. They run on a variety of AC and DC power as well.
For this reason, you may be wondering if a little portable solar panel can run on a solar generator. You may be surprised to find that almost any solar generator can power an RV, at least for a while.
However, it depends on your appliances. For example, running air conditioners to cool your space may take a lot of power that a simple solar generator cannot sustain.
Can You Use a Solar Generator With an RV?
It is entirely possible and quite easy to use a solar generator with your trailer and run it on solar energy. You may need an adaptor, depending on your RV type, but all you have to do is plug your RV into your solar generator the same way you would plug in any other device.
However, how much your power station can run in your RV depends a lot on the battery capacity and energy that the system can generate. If you just want to maintain your basic appliances and be able to work while at a campsite, you should be fine.
But you cannot expect a panel or two and your generator to run everything like if you were to run things when you hook up to a power location designed for RVs. Solar generators do provide you with a little more freedom to go and travel or have the portability you want, as long as you get a big enough system to power things like your fridge or microwave.
Do You Need a Gas Generator?
Whether or not you also need a gas generator depends on what size of battery bank you have and if it has an efficiency high enough to power your necessary systems and any appliance you may need.
Solar generators can potentially be enough, but your electricity use information is what determines it. However, gas generators can be useful for those who use a lot of big appliances, like air conditioners.
If you do tend to use a lot of electronics, and don't have or can't afford a solar generator that has a large enough number of solar panels, a gas generator may be a good option for emergency or backup power if something goes wrong.
Can You Plug Your RV Into a 15A Outlet Easily?
Most campers and RVs are set up in ways that make them work best for 30-amp or 50-amp power. Most of them do not get enough power from a 15 amp system, so they aren't often used.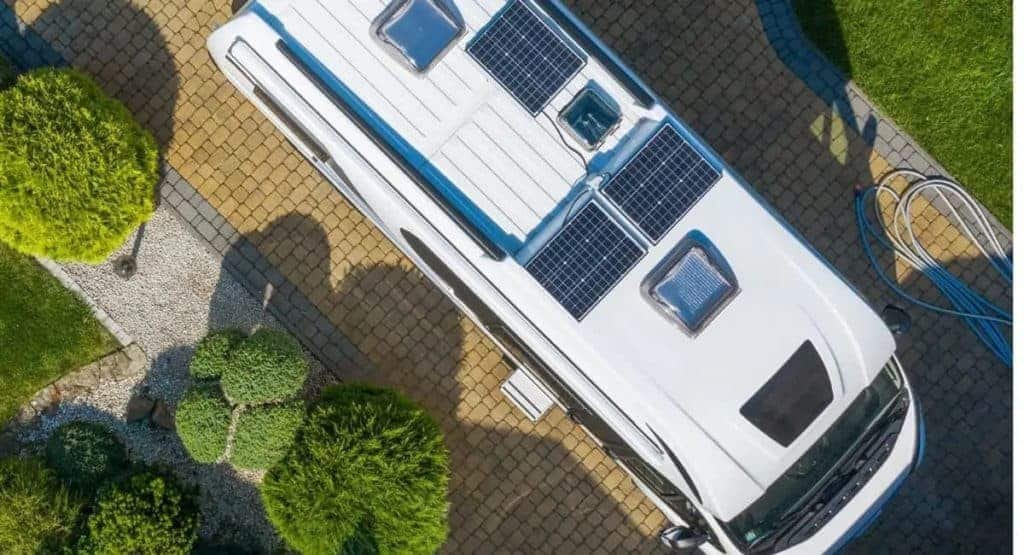 For clarification, a 15 amp system is what most homes have for their outlets. So if you have ever overloaded a breaker by plugging too many things in a nearby area, you can understand that trying to power a whole RV from one of these isn't practical.
Related Articles:
What Size of Solar Generator Do I Need?
Why Are Solar Generators So Expensive?
Where Can I Get a Refurbished Solar Generator?
Which Solar Generators Are Made in USA?
How To Make a DIY Solar Generator?
How To Get Around the RV Port Limitation
Just because you have a certain type of RV doesn't mean you can run it only on that power. A 50 amp system can easily run on 30 amps or even 15 amps as long as you are careful with your power usage.
All you need is an adaptor. They don't cost much money, and all you have to do is plug your RV port into some other cables and then into your home, or whatever 15 amp input you can find. This allows you to use almost any campground and even power your RV with shore power or a solar generator.
How Much Can You Run Your Camper on a Solar Generator?
You can run the basics of your RV on as little as 400 watt-hours per day, some RVers have said. This is equal to 1 or 2 100-watt solar panels.
If you have a solar generator bigger than 400 watt-hours, you can last for a couple of days without recharging your solar generator if you are camping, or you can have the freedom to use more electricity such as to power a laptop, coffee maker, phones, use lights, or run your TV at night.
This is a great option when you are traveling between campgrounds for the night but still want to power an item or use your microwave. Every person is different, but this gives you an idea.
Can Your Solar Generator Charge the Batteries of Your Camper?
Depending on how your RV system is set up, it is easy enough to charge your RV batteries with a solar generator. Most of them will take any excess power that you aren't using produced by your solar generator, MPPT charge controllers, and inverters, and will pump it to the batteries.
How Long Will a Solar Generator Last Me?
Depending on how much power you use and the size of your generator, you could last anywhere around half a day or longer if you keep wattage in mind and watch the battery percentage.
As far as how long solar generators last themselves, you can get around 3,000 charges or cycles, or between 15 and 20 years with a lithium battery or lithium-ion batteries.
Should You Leave Your Solar Generator Outside?
Unlike gas generators, solar generators don't do well outdoors. If it gets too hot, wet, or cold, they are not as efficient. Unless you are charging them in the sun, it is best to keep solar generators and related devices that use solar power somewhere they are protected from the elements.
Should You Leave Your Solar Panels Outside?
While many solar panels are made to go outside on a roof, your solar generator panel technology isn't always able to handle things like a high level of water or heat. Check your solar panel warranty and water rating to see if they can answer your questions and prevent issues.
List of Solar Generator For RV
| | | | | |
| --- | --- | --- | --- | --- |
| Model | Battery Capacity | Battery Life Cycles | Weight | Our Rating |
| Bluetti AC200P | 2000Wh | 3,500 | 60lbs. | 4.5 |
| EcoFlow Delta 1300 | 1260Wh | 800 | 31 lbs. | 4 |
| Jackery Explorer 1000 | 1002Wh | 500 | 22lbs. | 4.5 |
| Goal Zero Yeti 1000X | 983Wh | 500 | 32lbs. | 4 |
| Bluetti EP500 | 5100Wh | 6,000 | 167lbs | 4 |
---