One of the many brands of solar generators is the Rockpals.
The team here at Suntrica has researched every manufacturer of solar generators that we can find and collected some info on each one to help you make an informed decision on your purchase.
Here's what we learned:
What Products Do They Make?
Rockpals is a company that sells products such as generators, panels, kits, and other accessories. The company started with the idea of helping people who want to save money on their electric bills while also saving the environment by using solar energy.
Are Duracell Products High Quality?
Rockpals is a portable, powerful, fast-charging rock star of a power station. It's solid and durable, but it's also super handy—you can take it wherever you go.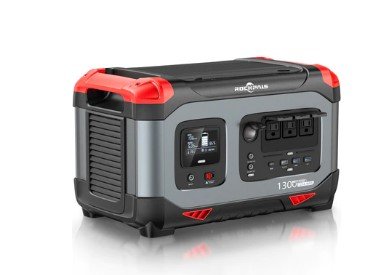 According to a Reddit review, it is excellent for emergencies when there's no electricity or when you're camping and need to recharge your phone.
View Other Brands:
What Is the Reputation of the Company?
Rockpals was founded in 2015 and had an estimated revenue of $1M-$5M. They sell their products through their site, Amazon, and other online stores and stores in your area like Walmart.
Where Are They Based?
Rcakpals was founded and based in California, USA.
Where Are the Products Manufactured?
Rockpals products are manufactured in China.
What Is Their Standard Warranty?
Rockpals offers a 24-month warranty service for all brand-new products purchased directly from rockpals.com and 6 months of warranty service for refurbished products and accessories.
Do They Have Good Customer Support?
Rockpals has excellent customer service. According to an Amazon review, they are responsive to questions and willing to help their clients.
How Can I Contact Them?
You may contact them via their phone: (877) 756 – 8666 and you may also email them at their customer support: Support@rockpals.com.
Where Can I Buy Rockpals Products?
They sell their products through their site, Amazon, and other online stores and stores in your area, like Walmart. Their products are high quality and reasonably priced.
Conclusion
The Rockpals solar generator is an ideal addition to your camping gear since it is available in both manual and electric power.
Rockpals Solar Generator Models
| | | | | |
| --- | --- | --- | --- | --- |
| Model | Rockpals 300W | Rockpals 500W | Rockpals 1300W | Rockpals Freeman 600W |
| Capacity | 280Wh | 505Wh | 1254.4Wh | 614.4Wh |
| Dimension | 10.5 x 5.3 x 8.5 in. | 12.0 x 9.0 x 6.1 in. | 9.7 x 10.2 in. | 12.8×7.8×7.3 in. |
| Weight | 7.7 lbs. | 12.3 lbs. | 39.0 lbs. | 17.6 lbs. |
| Cost Per Battery Cycle | $0.5 | $0.8 | $0.5 | $0.3 |
| Charging Time with 50W Panel | 10-14 hrs. | 4.25-4.5 hrs. | 10-12 hrs. | 10 hrs. |
| Charging Time with 100W Panel | 5-7 hrs. | 8.5-9 hrs. | 5-6 hrs. | 5 hrs. |
| Charging Time with 200W Panel | 2.5-3.5 hrs. | 4.25-4.5 hrs. | 2.5-3 hrs. | 2.5 hrs. |
---