Light Up Your Yard
Once an essential component of the "American dream", owning a little piece of land is still something very important to many homeowners. This isn't only true in suburbs or rural areas, either.
Even small city apartments sometimes have enclosed back or side yards. No matter the size of your yard, however, it always comes with the same universal concern.
What Do You Do With It?
You might use your yard as a place to let a dog off leash. Maybe it's your meditation space, or just somewhere you go to find a moment of quiet. Some homeowners entertain guests with incredible outdoor furniture and decor like seating, an eating area, or a firepit.
A yard can also be a hub for children to enjoy sunny weather, play, and grow while the sky is blue. There is, however, an upgrade you should consider no matter what you design or use your yard for. Lighting!
Having a well-lit yard is a no-brainer for extending use and enhancing ambiance. What's more, you can even do it at cost, with no continued expense and expensive maintenance after installation.
The best outdoor solar lights for the yard, landscape & lawns are such a wonderful innovation. Let's take a look at the benefits of upgrading your yard with some fence lighting.
This article will walk you through a few different options to maximize light in your yard while minimizing cost, with the help of fence solar lighting.
Top Picks Solar Fence Lights For Your Yard
Why Go Solar?
A pointed question with an in-depth answer. The first part of this is the most obvious. Efficiency. Investing in solar fence lights is the same as investing in any kind of solar technology.
If you have the opportunity to use solar power right from the beginning, before any other technology is installed, you should. The benefits are simply unparalleled.
For those unfamiliar, solar technology does not contribute to your overall electric bill, given that it is installed in a spot where it is exposed to decent levels of sunlight. Each fence solar light will connect, instead of to an outlet, to a solar panel as its power source.
They also come with a battery where energy is stored, so you can use them at night. These panels are typically created with cells of layered glass and silicon, which absorb sunlight to be converted into electricity.
This eliminates the need for the solar lights to be plugged in, sapping power from your house and driving up the electric bill. This makes them, by far, the least expensive method of lighting a yard.
Some solar appliances call for additional devices, such as inverters and charge controllers, to function. This is not the face with solar fence lights. Most of them come with a single light, or a string of lights, attached to a single solar panel.
That makes them remarkably easy to install. Plug-in lights take some coordination to make them work with your yard. They must be close to an outlet. If you're dealing with string lights, there will be a wiring cord to hide, as it runs from the end of the actual string of lights to an outlet.
If you have individual lantern-style lights, you're talking about multiple cords to hide or the constant change of batteries. Either way, you're much better off with solar lights! Simply hang or stake them where you will, so long as the solar panel is reached by the sun.
For the environmentalist out there, a solar fence light is an easy choice over all alternatives. Solar powered technology uses a resource that is, at least for the next few billion years, self-sustaining.
The less electricity we use from the grid of our cities, the less demand we put on our planet's resources. It may sound silly in the scheme of lighting a fence, but in our modern, crowded world, it really isn't.
The amount of electricity each family uses adds up, specifically, to higher demand on our planet's limited resources. If you want to light your fence without contributing to this growing demand, solar lights are the way to go.
An easily overlooked benefit of these spectacular lights is that they can be used in a far wider variety of environments. Earlier it was mentioned that solar lights are easy to install. Extend that idea a bit, and you'll realize that these solar powered lights can be installed virtually anywhere.
Have a spot in your yard too far from an outlet to plug in a light? Hang or stake some solar lights! So long as this area gets reasonable sun during the day, your lights should stay lit through the night.
This opens up a world of possibility for homeowners to declutter their yard of extension cords, or light areas they previously needed a lamp or flashlights. Spaces around sheds or driveways come to mind.
The quick and dirty benefits of solar fence lights:
More cost effective
Easy to install
Friendlier to the environment
Use them more freely, in a variety of environments
If you're looking to enhance the utility and ambiance of your yard, the answer is clear. Solar lights are the superior option. With that established, let's look at a few different options for solar lights that meet the needs of different homeowners.
The Solar Light Lineup
If you, like so many thrifty and environmental homeowners, have realized the benefits of solar lighting, it's time to consider your options. Not all solar lights are alike, or equal.
A set that works brilliantly for one homeowner may not meet the needs of another. Consider these options for your yard.
Best Solar Fence Lights for Your Yard Reviews
Average Problem Solver
Seabrook Cream/Black 100
This option is even great for those who live in a place with mildly rough weather. These solar lights are rated to withstand harsh weather, and are completely waterproof.
The Extra Mile in Presentation
Oxford 6″x6″ Brown Aluminum Outdoor LED Solar Post Cap
If home improvement is what you like to spend your money on, then you'll want to spend some here. The reason unit itself is built strong, and specialized to fit most fence posts.
For the Solar Enthusiast on a Budget
Luminar Outdoor Solar LED Fence Light 4 Pc
This package is the standard for a basic set of solar lights. So long as they get eight ours of sun during the day, they will light up whatever you need overnight.
For the Exterior Home Decorator
Sets of 3 Solar Deck Lights
If being able to see outside is sufficient for your lighting purposes, and you'd rather use them as accents to the outdoor features of your home, these solar deck lights are for you.
Average Problem Solver
Let's start with a light that will please most homeowners looking to invest in outdoor solar lighting. This purchase actually includes a set of four lights, making for a beautiful beginner's package to lighting a small yard.
These solar powered lights mount flush to a surface for easy install, is durable, offers great illumination for the cost, and even has some customization options.
Mounting is one of the biggest concerns in solar lights. Many require fence posts to sit on or hang from. Not this product from Seabrook. These lights are easy to install anywhere you like.
With a strong adhesive mount, you can stick these solar fence lights many other places besides your actual fence or for uplighting a tree. You could mount it to your shed, the wall of a house, or any other structure with a reasonably flat surface.
This means they make great deck lights as well. They are remarkably easy to install, with no configuration necessary. This option is even great for those who live in a place with mildly rough weather.
These outdoor solar lights are rated to withstand harsh weather, and are completely waterproof. It also helps that the LED light comes from bulbs inside the plastic fixture. This helps the 100 bulbs (from the name) work more efficiently and stay protected.
These solar lights are rated at 200 lumens each, making them a great value for the level of light they emit. For reference, the average flashlight shines at 100 lumens. This light emission is persistent through the night, as well.
These units are designed for efficiency and conservation of energy, earning them a dusk-dawn rating. This means that, when properly charged, the Seabrook Cream/Black 100 will stay on more than 8 hours, through the night.
You can even apply some minor customizations to these all around well-built solar lights. They have an auto-detect for light levels, meaning they turn on when the sun is low enough automatically without need for motion sensing.
However, each light is equipped with a motion sensor, in case you prefer to have it on only when needed. When the lights are on, you can even dim them if you prefer. Virtually the only drawback of these solar fence lights is the cone-shaped light they emit.
This equips them more for utility for ambiance. The short scoop: the Seabrook Cream/Black 100 is a great value for its versatility and light emission.
---
The Extra Mile In Presentation
This solar light is a great fit for a homeowner who doesn't mind forking over a bit more cash for presentation. The lights themselves are more expensive, and you will need more of them to match the effectiveness of other lighting options.
However, the fallbacks of this solar light end there. This post-cap style light is truly the easiest to install, and one of the greatest assistors in atmosphere you'll find.
If home improvement is what you like to spend your money on, then you'll want to spend some here. The reason unit itself is built strong, and specialized to fit most fence posts.
It even comes with an adaptor to help bridge gaps, if your specific posts turn out not to fit perfectly. This is where much of the additional cost from. The Oxford fence cap model will literally slip right over the top of most fence posts and… that's it.
You've got solar light in your yard!
Another element that drives the price of this option up is the need for multiple units. Each of these lights possesses only 2 10 lumen LED bulbs. However, they are intended to be put on each post in a person's fence.
Totaled, this amounts to more than you need for good visibility in a yard, and doubles as a warm ambiance. Another benefit to these lights is their outstanding durability.
They don't come with protective caps specifically because these solar post caps are intended to survive all four seasons with ease. They may be more of an investment up front, but you may actually save money over the years by choosing these lights over others.
Where many solar lights will suffer the effects of seasons if left out, these will not for years. Another slight disadvantage, but one worth noting, is the color. For most homeowners, this won't be a problem. Anyone with a wooden fence probably has some shade of brown.
However, if you have a PVC fence, or a painted wooden one, the color of this fence post cap might not work for your yard. You can always paint it, though that comes with its own host of risks.
The short scoop: the Offord "6×6" brown aluminum outdoor LED solar post caps may cost you more upfront, but will generate a warmer ambiance than any other option, and stand the test of time and the elements.
---
For The Solar Enthusiast On A Budget
This is the simplified version of everything you want in a solar fence light. You mount it and it shines. It isn't particularly bright, and there aren't any customization options.
For the homeowner who wants light illumination for an area like a walkway, these are perfect. The price is an unprecedented bargain. This package is the standard for a basic set of solar lights.
So long as they get eight ours of sun during the day, they will light up whatever you need overnight. The light given off by a single one is nothing to rave about, but you'll be able to see what you're doing.
This can also be somewhat mitigated if you only need to light a small area, or if you simply buy additional packs of four. The price is the real attractant here. For less than you'd pay for either prior option on this list, you get more solar lights!
A single set of four is enough to serve as lighting for a small deck or a walkway flanked by a fence. If you're looking for functionality over flair, look no further. These solar lights are slightly more work to install than previous entries.
Rather than simply slipping on or using adhesive, they come with separate mounting hardware. It's nothing any competent homeowner couldn't accomplish, but still more than others.
The short scoop: the Luminar outdoor solar LED fence light 4 pc. package is a fantastic jumping off point for the thrifty homeowner just getting into solar. Though not exceptionally bright or atmospheric, these lights get the job done for less cost than any other.
---
For the Exterior Home Decorator
Do you thrive on customizing the different parts of your home, inside and out? Do you value feng shui more than functionality?
If being able to see outside is sufficient for your lighting purposes, and you'd rather use them as accents to the outdoor features of your home, these solar deck lights are for you. What they lack in brightness, they certainly make up for with presentation.
These lights mount to a different kind of fence. Not the one that goes around your yard, but the one around your deck, more commonly called a guard rail. You could mount them to your actual fence, if you wanted, though.
All you need to install them is a horizontal beam. The fixture of these lights works like a clamp. You fix them around the top rail of your deck (or support beam of your fence) and attach them by driving screws down, through.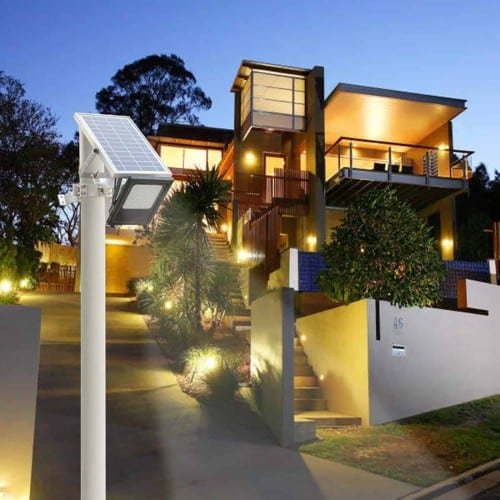 It's a little extra work, but well worth it to one who enjoys exterior decoration! The lights aren't particularly bright. They'll increase visibility in the area they're employed, no doubt. However, their primary purpose is to accent whatever they shine down on with their small cone of light.
A neat feature here is that, unlike the other lights on this list, these units produce yellow light. This produces a more homey feel and enhances atmosphere more than any other lighting choice.
The cost of these solar lights is incredibly low, as an added benefit. Also, as the name states, the package comes with not one but three of these lights. A few purchases would be enough to spruce up any deck or backyard with some nighttime lighting contrast.
Aside from the horizontal beam restriction, there is one other. The solar panels for these lights is located on top of them, which will sit on top of your guard-rail when installed on a deck.
That means that, if you have a covered deck, the lights may not receive proper light to charge. This can be corrected with strategic placement.
---
The Best Overall Pick
The best solar fence light solution for your backyard will be specific to you. However, if you find yourself torn between options or unable to decide, there is a standout candidate from this article that deserves your attention.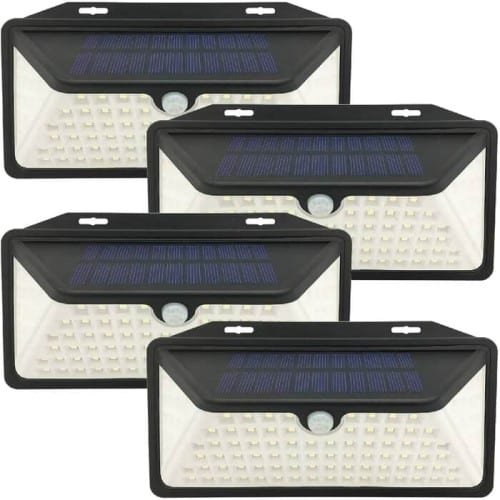 The Seabrook Cream/Black 100. The value of this package is simple unparalleled. With the purchase choices listed here, you get not one but four of these amazing units. They cover more ground, give off great light in a durable, weatherproof casing, and their lighting settings can even be customized.
With four lights, you're set to light up any small part of your yard with maybe one additional purchase to cover the rest, if you want more atmosphere. Compared to the other deals listed, it just makes the most sense for the most people.
Whether you're looking to spruce up your backyard for parties or just trying to see better with less environmental impact, solar fence lighting is a spectacular choice. Let this article guide you to the right option for your unique space.
---