With the growing awareness of the need to protect the planet, more and more individuals are switching to renewable energy to meet their daily energy needs. Solar generators are rapidly replacing conventional generators as a preferred portable power source due to their reliability and low environmental impact.
In this piece, we'll examine the various advantages of utilizing solar generators and look at some of the best brands on the market. Now that you have read our in-depth introduction to solar generators, you are prepared to release limitless energy.
The 4Patriots are a state-of-the-art, lightweight, and portable solar power system that can generate clean, sustainable energy anywhere in the world. This solar generator is ideal for powering phones, computers, and even appliances, and it was created with disaster relief and independence in mind.
The 4Patriots solar generator, with its lightweight and portable design, is the best option for anybody seeking a reliable and environmentally responsible means of meeting their electrical demands.
Aimtom provides reliable electricity wherever you go while being lightweight and environmentally friendly. Aimtom's solar generators are an excellent option for anybody wishing to tap into the benefits of renewable energy without compromising style, durability, or functionality.
A well-known and respected name in the field of renewable energy, AllPower provides convenient and long-lasting solar-powered electricity wherever and whenever needed.
The cutting-edge design and cutting-edge technology of the AllPower Solar Generator Brand are paving the way for a cleaner, more efficient tomorrow.
Anker is a safe and environmentally responsible way to charge your electronics on the move. The high-efficiency solar panels and portable design make it simple to harvest the sun's energy and use it to power electronics.
Anker solar generator brand provides a sustainable and easy solution to maintain connectivity and electricity in wilderness camping or dealing with a power outage.
If you're in the market for a solar generator, go no further than Bluetti, a market leader that offers products ideal for indoor and outdoor usage. Bluetti's solar generators are top picks for those who want to go off the grid because of their cutting-edge technology, sleek aesthetics, and environmentally friendly components.
Bluetti covers you whether you're roughing it outdoors or want a reliable backup power source at home or the workplace.
Duracell is a trusted and forward-thinking company that uses solar energy in a way that is safe for the environment and the future. Despite where your travels may take you, you can always remain in touch and fully charged thanks to its compact and sturdy construction.
Duracell solar generator is the reliable power source you need, whether camping, tailgating, or experiencing a power outage.
The cutting-edge solar generators made by Eco Flow are ideal for travellers and disaster relief organizations due to their portability and excellent efficiency. Eco Flow's solar generators are portable, lightweight, and built to last, all while providing consumers with clean, renewable energy for use in powering electronic gadgets and home appliances.
Eco Flow allows you to maintain independence and connectivity through any situation, from camping vacations to power outages.
Energizer solar generator brand provides a dependable and portable power solution that harnesses the infinite energy of the sun to accomplish just that. Energizer is a go-to brand for a durable and flexible power supply due to its innovative designs, premium materials, and cutting-edge technology.
Flashfish has a solar generator that will meet your needs whether you're an eco-conscious homeowner or an outdoor explorer. Flashfish is dedicated to providing high-quality solutions that can be relied on to provide clean, silent energy for charging, lighting, and emergency requirements everywhere in the globe.
Solar generators from the Generac brand are trusted by consumers and industry professionals as dependable and environmentally friendly power sources for homes and businesses.
With their cutting-edge technology and designs, Generac solar generators supply clean, inexpensive, and uninterrupted electricity, letting you run your house or company without worry, no matter where you are or what time it is. Generac are ideal whether you need a backup power source for blackouts or wish to live entirely off the grid.
The creative and dependable solar generators made by Goal Zero, one of the most famous names in the portable solar power market, ensure that your outdoor excursions can be powered even when you're far from civilization. Goal Zero's products combine high-quality solar panels, rechargeable batteries, to give clean, quiet, and sustainable energy solutions for every occasion, from outdoor excursions to emergency backup power.
Goal Zero can help you stay connected, safe, and self-sufficient no matter where your adventures take you, whether you're an avid hiker or a survivalist.
Honda is a solar-powered portable generator that converts energy from the sun into usable, portable electricity. This brand is excellent for those who appreciate sustainability and grid independence due to its portable size and powerful solar panels.
Whatever you need to do during a blackout—charge your phone, run your refrigerator, or power your RV—Honda has you covered with its cutting-edge technology and dependable brand name.
Hysolis is a cutting-edge solar generator brand that uses the sun's energy to create portable, dependable electricity for campers, hikers, and first responders in times of need. Hysolis' generators are the epitome of form and function, combining cutting-edge design with robust technology to provide reliable electricity wherever you go without compromising aesthetics or environmental friendliness.
The Inergy solar generator is widely recognized as the industry standard for making off-grid living convenient. Their solar-powered generators are ideal for campers, first responders, and anybody else who needs a strong, portable, and environmentally friendly power source in need.
Freedom and security without worrying about running out of energy are yours to take with you wherever you go with Inergy.
Power solutions for camping trips and unexpected power outages are available from Leoch. The huge capacity batteries and cutting-edge solar technology in their generators ensure that you'll always have electricity and internet access, no matter where you happen to be.
Leoch is a company that encourages you to embrace your inner adventure while remaining in touch with the environment around you, thanks to its dedication to sustainability and innovation.
Advanced solar-powered portable power stations called Montek might be relied on to deliver clean, consistent electricity wherever you happen. Montek is ideal for adventurers, first responders, and anybody who needs power in a pinch because of its sleek designs, large batteries, and cutting-edge features like wireless charging and various output ports.
Nature's provides cutting-edge, environmentally friendly portable solar generators that use the sun's energy to produce clean, dependable power. These generators are great for use in the great outdoors, in an emergency, or as a green replacement for standard electricity generation.
Take advantage of renewable energy without increasing your carbon footprint or decreasing your independence from fossil fuels by using Nature's.
Nexpow is a dependable and portable energy source that will keep you energized and online no matter where your travels take you. Nexpow allows you to travel off the grid confidently with its high-capacity lithium battery and efficient solar panels, allowing you to keep your electronics charged and your memories fresh for as long as possible.
Okmo is a forward-thinking company that uses solar energy to create long-lasting and dependable products. Their generators are lightweight, compact, and easy to transport, making them ideal for camping, travelling, and off-the-grid living.
Okmo provides reliable, eco-friendly electricity for all your electronics, appliances, and equipment.
Oukitel is leading the charge with its array of solar generators regarding portable power options. High-efficiency solar panels are built into their generators, providing an endless source of electricity in any setting.
This makes them ideal for campers, survivors, and anyone living off the grid. Oukitel is the best portable power solution since it is built to last and can be charged in various ways.
To put it simply, Oupes is a cutting-edge renewable energy solution that delivers a mighty blow in a bit of packaging. Oupes' advanced technology and minimalist design make it possible to create clean, renewable energy from the sun.
Pecron is a cutting-edge company that provides first responders, campers, and other off-the-grid explorers with a sustainable and reliable energy solution. Pecron's portable form factor, premium hardware, and cutting-edge capabilities make it the go-to choice for people who need constant connectivity and battery life during any situation, whether a camping trip or a natural catastrophe.
Renogy is an exciting company that provides peace of mind to campers, homeowners, and first responders with its high-quality solar power systems. Renogy's portable and permanent solutions make off-grid life more accessible and pleasurable than ever, thanks to the company's dedication to sustainable energy and excellent quality.
Whether camping out in the wilderness or stocking up for an unexpected disaster, Renogy's solar generators provide safe, clean energy wherever you are.
An innovative solar generator, Rockpals brings together high efficiency, portability, and longevity to create a revolutionary product. Portable and cutting-edge, their power solutions are made to accommodate travellers, homeowners, and those in dire straits.
With Rockpals, you can charge your electronics and appliances anywhere, using just the sun's power, without sacrificing speed or efficiency.
If you're looking for a sustainable and portable power solution for your outdoor activities, go no further than Tacklife. Tacklife's portable size, large battery life, and flexible charging choices make it a practical and effective solution to keep your gadgets charged wherever you go.
Tacklife is a must-have for anybody who spends time in the great outdoors, whether camping, hiking, or any other activity.
The cutting-edge firm Vigorous creates high-performance portable power stations that are both safe for the environment and convenient for those who live in remote areas or need to be self-sufficient in an emergency. The Vigorous is a must-have for clean, reliable power on the road, thanks to its cutting-edge technology and sturdy build.
Westinghouse provides a variety of solar-powered generators that are both dependable and cutting-edge, which may be used for emergency backup power, household usage, or recreational purposes without compromising on environmental friendliness. Their solar generators are highly sought after by eco-conscious buyers who want to reduce their carbon footprint using renewable energy sources.
When it comes to portable power options, Zendure is a frontrunner. Their premium solar generators are built to last and come in various sizes to accommodate different needs.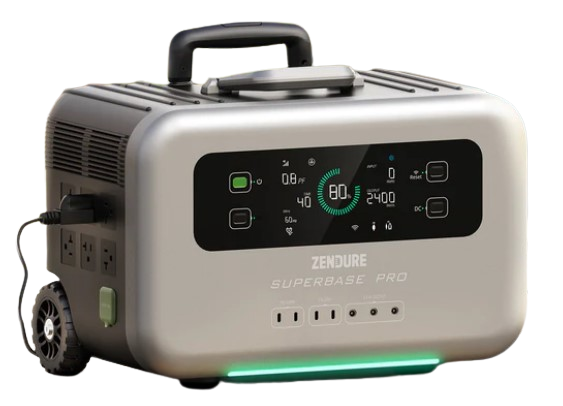 Thanks to its sturdy build, reliable performance, and valuable features, you can rely on a Zendure solar generator to keep you connected and charged no matter where your travels take you.
Related Article:
Conclusion
Therefore, solar generators are a promising and environmentally beneficial option for mobile power requirements. The market offers a wide selection of popular brands so shoppers may choose the perfect product for their needs in terms of power output, price, and features.
If you want your money to be well spent, you should evaluate several brands before making a final decision. When it comes down to it, purchasing a reliable solar generator brand may do more than provide you peace of mind about your power supply—it can also help make the future a better, greener place.
---