Many people want to stay local or at least in the country when they are shopping. However, in modern times, it can be difficult. Even if companies are based in the United States, they may not manufacture their products in the United States.
Thankfully, there are plenty of companies that are based and manufactured in the United States, which we will cover below.
Generators Fully Made in the USA
Jackery
Jackery is a company that was founded in 2012. They focus on a variety of solar products, including:
Solar generators
Solar Panels
Case Bags
Power Stations
They have been found to listen to their consumers, as their new products have a lot of the fixes and quality-of-life details that their customers had been wanting. This includes durability, easy-to-use designs, and minimal maintenance.
Jackery is based in the United States, specifically in California. This is also where all of their products are manufactured. They can be purchased online at their store, on Amazon, or in some local stores like Home Depot, REI, and Lowes.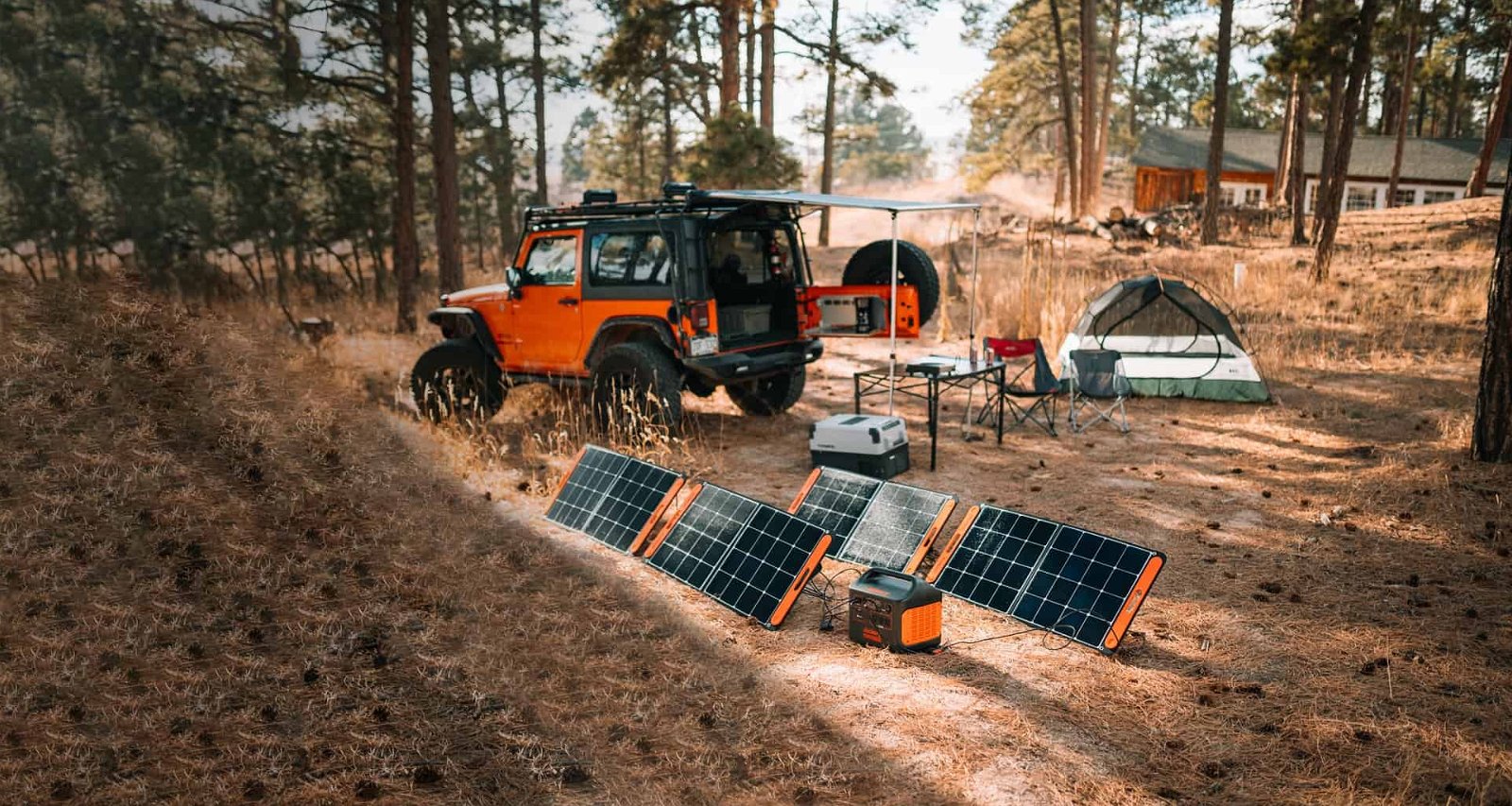 In addition to having a fully American-based manufacturing team, they have excellent customer support and warranties.
Generac
Generac is based in Wales, Wisconsin, which is where their products are also made. They are an older company, founded first in 1959.
They are considered to be a global leader in many designs and manufacturing styles for solar power devices. They have an amazing battery capacity and other appliances like pressure washers, clean energy products, portable generators, electric welding machines, and various industrial controls.
They are reported to have a good warranty that lasts about two years, and they also have great customer service for all of their products and every design.
Generac products can be bought on their website, in various local stores, and online stores like Amazon.
4Patriots
4Patriots was founded and manufactured in the United States. They first became a company in 2008. They sell solar generators and a variety of other electrical components like solar generators and power kits.
4Patriots also focuses on a variety of different camping equipment like food, lanterns, and flashlights. Most of their products have a 3-year warranty but are very slow in response to phone calls and emails, which makes their customer service pretty bad.
4Patriot is available online either in its own store or any other online outlet.
GoalZero
GoalZeo is based and manufactured in the United States. They were founded in 2009. They provide many different power options and can ship any power station throughout the country.
In addition to portable power stations and power banks, they produce battery packs, USB chargers, solar chargers, and various parts like an inverter.
They have a standard 2-year warranty, and their customer support isn't bad, just pretty slow at responding.
They have their own online store which has various size options for their products, but you can also find them on other online businesses like Amazon.
Related Articles:
How To Make a DIY Solar Generator?
Can You Plug RV Into a Solar Generator?
What Size of Solar Generator Do I Need?
Why Are Solar Generators So Expensive?
Where Can I Get a Refurbished Solar Generator?
Inergy
Inergy is another old company They were founded in 1954 and is a private company that is based in Idaho, USA, and manufactures there products in the United States. They sell solar generators, panels, flex kits, charging cords and tools, and other electronics.
Inergy is very quick with their customer service and the representatives respond knowledgeably. Their standard warranty is 2 years and their products can be found in various online stores.
WestingHouse
Westinghouse was founded in 1886 and has grown considerably. Despite that, they are based and manufactured in Pennsylvania, US.
They can be found pretty much anywhere, and have amazing warranties and customer support so you feel valued as a customer.
Duracell
Duracell is another company that has grown to outrageous numbers but stays based and produces products in the US, specifically Connecticut.
They are available in almost any store. Their warranties can go up to 5 years, and they have pretty standard customer service.
Kohler
Kohler is based in Kohler, Wisconsin in the United States. They were founded in 1920. There aren't any reviews of their customer service and their warranties are a bit strict, but they have great reliable generators that can charge a whole home.
Flashfish
Flashfish was founded in 2010 and is headquartered and manufactured in the United States. They focus on many products that have a variety of uses and can be found almost anywhere online or in person.
Their warranty is short at 30 days but they have an excellent customer service team.
Nature's
Nature's manufactures and produces in the United States, specifically California. They are a fairly new company founded in 2015. Nothing's been said about their customer support yet, but they have a 1-year warranty and can be found in many stores. They focus on generators.
Rockpals
Rockpals was also founded in 2015 and is based in California, USA. They have a 2-year warranty and great customer service. They are a big company that can be found almost anywhere. They work on helping people that want to benefit the environment and rely less on the grid.
Quantum Harvest
Quantum Harvest is based in Maine, US, which is where their products are manufactured as well. They produce a large list of products that work in all sorts of conditions and situations.
They are still a small company, founded in 2013, and its product is only available on its site. Their customer service is small but seems decent so far and they offer 1-year warranties.
Tracklife
Tracklife is based in New York, America. They have a year-long warranty, but their customer support seems lacking if they ever even respond.
This company was founded in 2015 and produces a variety of different products from solar generators, to hand tools, and office and home essentials. They can be found on their site online, or through a couple of other online stores.
Solar Generators Companies Based in the USA but Not Made in the USA
Unfortunately, there are also solar generator companies that look like they should be made in the United States but aren't.
Some examples of bigger companies you might expect to be based in the US for their manufacturing but aren't are:
Milwaukee
Bluetti
Ecoflow
Energizer
Additionally, some companies are based in the US and have manufacturing in the US, but not fully. They may have partial manufacturing in the US, and partial manufacturing in another country. Some examples of that are:
Companies That Aren't Based Or Made in the US
Then there companies that are not based or made in the United States.
Pecron- Based in Guangdong, China
Renogy- Multiple Headquarters, manufactured in China
Anker- Based in Changsha, Hunan
Tesla- Based in China
Aimtom- Based in State Council of China
Honda- Based in Tokyo, Japan
Hysolis- Little to no information about location
Oukitel- Based in Shenzhen, China
Montek- Based in Shenzhen, China
Kyng Power- Little to no information about location
Leoch- Various Locations for base and manufacturing including China, Malaysia, Anhui, Guangdong, and Sri Lanka
Oupes- Based in Japan
Okmo- Based in the Soviet Union
Nexpow- Little to no information about location
Sarrvad- Based in Hurgaon, Haryana, India
Vigorous- Based in Jiangxi Province, China
Conclusion
Solar generators and products that are sold and produced in the United States are easy to find. While there are a couple of companies that might be misleading, for the most part, you can find high-quality companies available in the United States so you can support your country.
---