Investing in a solar panel battery will ensure that you have clean reserve power if the grid goes down. But what is the best battery to buy for your solar panel system? We have narrowed down the best battery banks to make your quest for the right one much easier.
What is the best battery for solar power?
A lead-acid, deep cycle battery bank system is your best bet, although there are some really good lithium-ion versions, too. However, a lithium-ion bank system is incredibly pricey compared to lead-acid.
Both solar power battery system types ensure that your battery bank has a high percentage of depth of discharge. With a good depth of discharge, you don't have to worry about losing energy storage every time you discharge the solar power battery bank.
What happens frequently with batteries is that they lose life the more often they are charged and discharged. The better the depth of discharge, the longer life you can expect from your solar battery bank.
Furthermore, it's important to remember that you want to leave a certain percentage in your solar power battery system before recharging relative to its depth of discharge.
This will ensure that you get the best ratio of solar to battery system use. If you want a solar power battery with the best depth of discharge, we recommend investing in a lithium-ion solar power battery.
They are a bit more costly, but you can look forward to getting much more life t of your investment.
Is it worth getting batteries for solar?
The great thing about investing in a solar battery solar bank is that it ensures you will have backup power in the event that there is a power outage. And while it's true that some deep cycle solar power battery bank system brands can cost more than a diesel generator, you can't beat the clean energy that they provide.
If you want to do your part in protecting the environment, a solar power battery bank is definitely the way to go. If something happens the main grid, solar power is a switch away.
The amount of energy you store depends on the size of the solar battery bank system and how much energy you typically use per day.
How many solar panels does it take to charge a 12-volt battery?
A single solar panel can adequately charge up a 12-volt battery system. With that being said, you will need additional accessories for your energy storage needs. Aside from a solar panel system, you will also need a charger controller.
This accessory improves the performance of your panel system while boosting protection as your solar battery charges. This controller allows the battery power to stop charging once it is completely topped off, ensuring that overcharging doesn't occur, potentially ruining your solar battery.
A deep cycle battery is needed to successfully handle multiple recharges of solar battery power. Because deep cycle batteries are so efficient, you never have to worry about damage occurring during the charging cycle.
You will also need an inverter, as this allows power currents to be converted into compatible energy used in your home and throughout your appliances.
How long does it take to charge a deep cycle battery bank?
Once you have everything in place, you are typically looking at around 6.5 hours for your solar panel to recharge your solar battery bank. It's important to note that the position of the sun can affect the total charging time.
When the solar panel has optimal, direct sunlight, your solar battery bank will see a boost in charging speed. To avoid any loss in charging times, you might want to consider investing in a solar tracker.
These devices allow your solar panel array to follow the sun as it rotates around the earth, ensuring that your panels receive optimal sunlight throughout the day. When nighttime arrives, the solar tracker will move your panel array back to an eastwardly position to prepare for the following day's sunrise.
This will ensure that you get as much energy as possible, getting the most out of your panels and deep cycle solar battery bank.
Best Solar Panel Battery Bank Reviews
Best Overall Option
This set from WindyNation delivers two 12-volt batteries at an incredible price. These batteries are ideal for off-grid energy use among solar systems, RVs, tools, and more.
Their flexibility makes them a great investment for people looking for well-made lead-acid batteries to power their homes. As you look for ways to improve your power energy storage, it's important to invest in solar batteries that perform well.
We really like how these batteries stay cool while they are recharging. We never had to worry about overheating or issues related to overcharging. Recharge times were fast and efficient during our testing, allowing us to get optimal energy use from each of the batteries.
What is most impressive about these solar batteries, however, is their incredible price. You're getting two 12-volt lead-acid solar power batteries for the price of what many single batteries cost.
Furthermore, we were pleased with the power output, as well. Many solar contractors use these batteries when installing solar panels due to their performance and low pricing, so you can be sure that you are investing in batteries that will serve you and your solar system well.
We tried these lead-acid batteries out on our RV, and they performed remarkably well. We were able to fully operate everything in the RV while keeping devices and gadgets charged up with power.
And when you need reserve power, you can count on these batteries to get you through when fully charged. They are a great buy with dependable performance.
Pros
Two Batteries – For the price, it's hard to beat the fact that you are getting 2 solar power batteries with your purchase. Each solar power battery is the standard 12-volt size, too, so you can be sure that you are investing in batteries that are easy to work with and rely on for backup power.
One-Year Warranty – WindyNation includes a 1-year warranty with their solar power batteries, so if you have any issues during that timeframe, you can expect the manufacturer to resolve your trouble in a timely fashion. So far, we have found WindyNation to be quick and efficient in handling orders, so we would hope that includes warranty issues, as well.
Cons
Limited Warranty – As nice as it always is to get a warranty with your solar power batteries, this one is awfully limited. with only a year to cover you from malfunctions, it begs the question if you will see any issues arise after the one-year mark. Still, for the price and what you're getting, these batteries are almost too good of a deal to pass up.
---
Best Upgrade Option
If you want the ultimate in solar battery banks, Battle Born's LiFePO4 won't disappoint. This monster of a battery is easily one of the most dependable solar batteries we've ever used. It's a traditional 12-volt battery, and yet it's so much more.
Battle Born Batteries uses green energy in their batteries, meaning you're getting a battery that is made using 100% nontoxic and safe renewable energy. Furthermore, the depth of discharge on this battery is leagues better than anything you'd find with lead-acid solar batteries.
This is because this battery uses lithium-ion in its construction, ensuring that you get the greatest amount of energy use per day. Moreover, this battery is incredibly lightweight compared to its lead-acid counterparts, making it much easier to transport and work with.
We really appreciate that Battle Born gives you an amazing 10-year warranty with their battery, too. This gives you the confidence that you are investing in a battery that will stand the test of time and serve you well during its lifetime.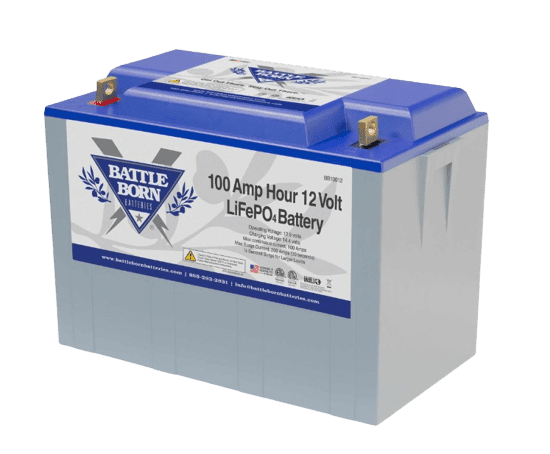 You need to know that your solar batteries will perform well if there's a problem with the grid. Solar batteries that use lithium-ion are some of the most reliable around, o you can be sure your money is well-spent.
The only real downside to this incredible solar battery system is that it will cost you a pretty penny. Lithuim-ion batteries are much more expensive compared to lead-acid variants, but for good reason.
You're getting a battery that will likely outlast the competition and provide you with power for years to come.
Pros
Limited Warranty – With only a 1-year warranty to back you up, you hope that nothing goes wrong after the year is up. We would like to have seen a longer warranty provided, but considering the low price, this is to be expected.
Amazing Warranty – With a 10-year warranty backing you up, you can rely on this battery to serve you well without issue. Battle Born has one of the best warranties in the industry, and it shows. They will cover you in the event that there is an issue, adding further value to your investment.
Green Power – Thanks to the renewable energy efforts fo Battle Born, you can look forward to providing your home or RV with clean power throughout the life of the battery. Each charge and discharge is thereby faster than lead-acid batteries, ensuring that you get the most out of your energy storage.
BMS – Short for Battery Management System, this system ensures that your battery is regulated to protect in the event that there are unsafe charging conditions. This system gives you the peace of mind that your solar system is safe and protected at all times.
Cons
Expensive – You need to know that you're going to pay nearly 3 times as much as what you would spend on a traditional lead-acid battery. That's quite the price increase. With that begin said, you can't beat the longevity and performance of a lithium-ion battery.
---
Best Value Option
If you're looking to save as much as you can in your quest for clean solar energy, VMAX has you covered with this affordable battery entry. Solar batteries can be pricey, so it's nice to see a battery that won't break the bank.
It's a 12-volt solar battery that provides clean power if there's an issue with the grid. Solar batteries need to be capable of handling plenty of recharges. We were pleased with the performance of this battery in our testing, as it appeared to handle recharging efficiently.
Our solar panels charged this battery quickly, allowing us to get ample use from the reserved power. Smaller homes will benefit well from this battery, as it does a fine job of distributing power accordingly.
We were able to use large appliances when using the reserve power from this battery, although larger homes may struggle to get adequate use of everything. Still, for the low price, its performance is commendable.
Pros
Military-Grade – Thanks to these custom-made plates, you can look forward to investing in a solid, durable, and high-quality solar power battery. We appreciate the effort that went into crafting this battery, as it should serve you well for quite some time.
Affordable – Solar batteries aren't necessarily cheap, so it's nice to see an option for homeowners on a budget. The tough quality ensures that care went into making this battery, too.
Cons
Limited Warranty – With only a 1-year warranty to back you up, you hope that nothing goes wrong after the year is up. We would like to have seen a longer warranty provided, but considering the low price, this is to be expected.
---