Solar energy is changing the market for the better. A solar panel kit allows you to assemble your own system. They amazing at providing a power source and installation is meant to be easy.
Plus, without having a team handle the installation and putting the solar system up yourself, you will be saving money. There is a solar power kit out there for your shed, this guide can make sure you find it.
Solar panel kits can be installed easily, so you can do it as a home projected. They work best on small structures, such as RVs or sheds. Depending on your power needs, you'll need different kits. In this section, we are going to help you learn about these solar panels.
How Much Solar Power Do I Need for My Shed?
To determine how much power you'll need, you will need to calculate watts and lumens. You can think of a lumen as a measurement of light, with one lumen equating the amount of light from one small candle.
A light bulb that uses 60 watts gives off about 800 lumens of light. You can bring an extension cord to your shed to decide how many light bulbs you'll need to put inside.
From there, you can get the right solar panel kit. For a small shed, you might want to try 50 watts output. Your shed might need more or less, but you should be able to find a kit.
You might also want to check the amount of sunlight you have in your area or see what part of the United States is best for capturing solar energy.
Is It Cheaper To Build or Buy Solar Panels?
A DIY solar panel kit takes out the cost of installation. A typical install can cost about 10% of the solar panel bill. If you are comfortable doing this project with out a customer service team, then you can save a small amount of money.
As long as your shed is in a space where the solar battery can charge, you will get the most use and value from one of these kits. Be sure to use caution while installing and we are sure you will enjoy your new solar panels kit.
If you want to add panels to something larger, then you will still want to consider professional help. However, for an install on a shed, you should be able to handle this as a DIY project.
How Do You Heat a Solar Shed?
One way to heat a solar powered shed, would be to install heaters that use that power too. You could attach the heaters to the solar system and use the sun to power them- just like they are giving power to the lights.
You may need any of the best solar power generators or a radiator to do that. But, if you are already planning on installing the solar panels, you might as well use the solar kits to heat the shed. Keeping everything green and on one source is great for small structures.
If you are unsure of how to hook your heat source up to the solar panels, you will first want to be certain that you are doing it correctly. They are easy to install, but you still want to be sure you are putting them into place properly and safely.
You might consider using a solar air heater as well. They often need to be attached to the roof or window to capture the heat from the sun's light. They are also great at saving you money on heating costs.
Why Use Solar Power for a Shed?
They are a great way to provide your smaller structures with power. Solar energy can be easily harnessed and used in most areas. If you want a convenient way to get power to your shed, then this is a great option for you.
You might also only need one solar panel. This keeps the install easy enough for one person to do on their own.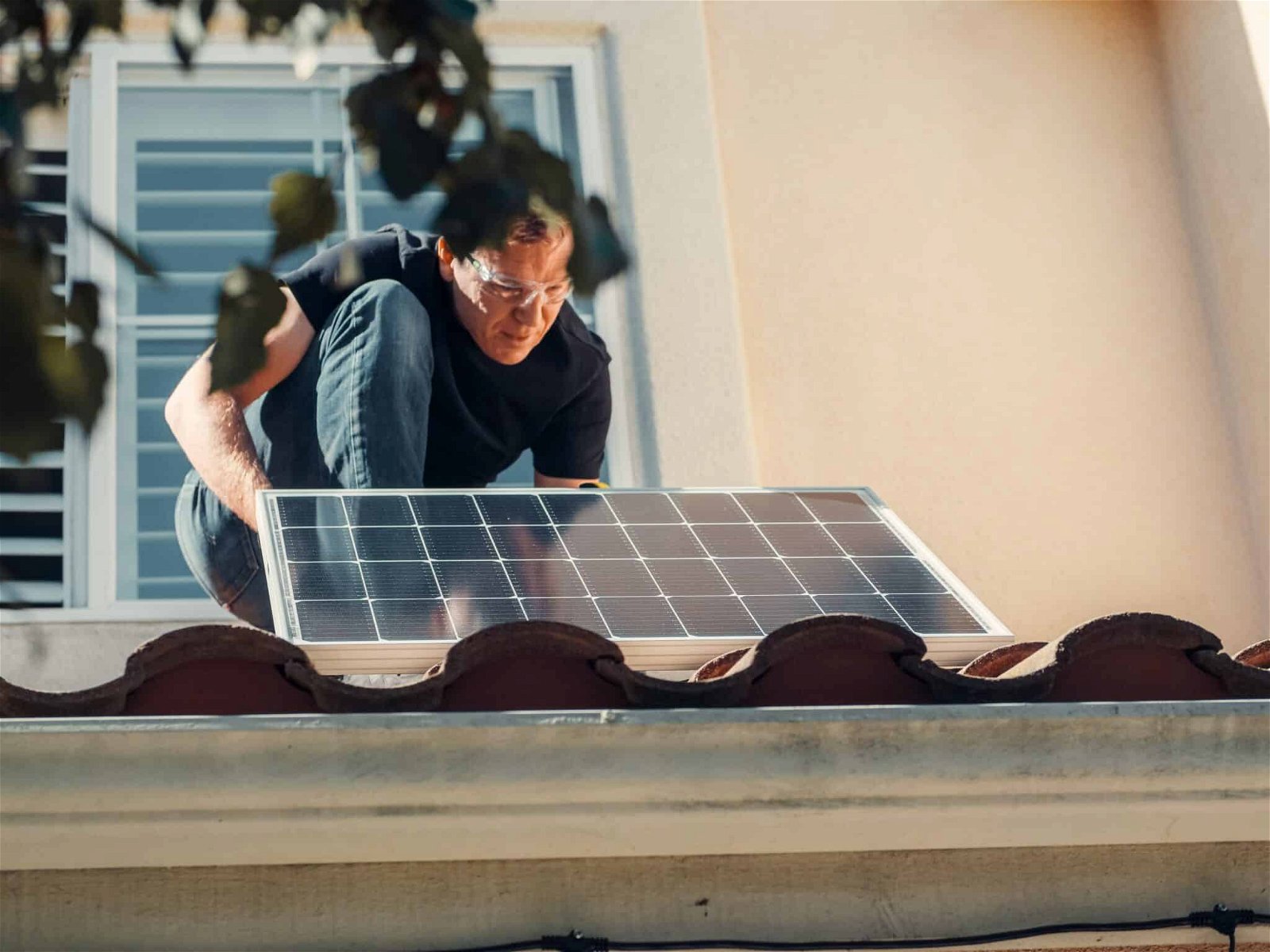 Plus, if you were thinking of trying a larger solar project in the future, installing a solar panel kit is a good way to get some experience under your belt in working with the system.
Solar panels kits come in multiple versions. They have a grid, box, charge controller, or might have different amounts of watts. Each kit can provide you with electricity and lighting for your shed.
How Do I Install My Solar Panel Kit?
Many solar panel kits include the mounting hardware, DIY solar panels you build, and grid tie inverters. All of these tools are needed to properly install your new solar power system.
You'll need these basic parts:
Solar panels to charge
A battery bank or box
A charge controller to set the battery charge
Wiring in the shed and outlets
Electrical panel
Some battery power packs include outlets on them, so you do not have to install more in the shed to use your tools. They also are portable, so you can lift it and bring it anywhere in your yard that you need to use solar energy. This can be helpful for yard work and landscaping tasks.
There are different ways to install the grid panels. You might use brackets, clamps, rail systems, or DIY them into place. Every kit might include something different, but you can find the answers in the directions.
Installation is generally quite easy, so do not allow that to deter you from trying them out. These are all of the best products that we could find.
If you want to try out a truly great solar powered system for your shed, then be sure to consider one of these options. We will be breaking each one down for you, so keep reading to learn more about these kits.
Best Solar Panel Kits for Shed Reviews
Best Overall Option
Renogy is one of the top solar panels brands on the market at the moment. They offer great deals and wonderful products. We chose this kit because it has everything that you'll need and is easy to install on your shed.
The solar kit comes with all of the basics- except for the battery pack. This kit is very easy to install alone, making it our top choice.
Several users have mentioned in their reviews that they easily set up the system on their sheds by themselves. The panels were light and great at providing you with an alternate source of power. The panels also are made from monocrystalline solar cells, which have an amazing efficiency rating.
The solar panel kits weigh about 90 pounds- which is really light for one of these products. Renogy is one of the leading brands when it comes to this product, so you can be sure that they are offering you a quality solar system.
This version also comes with a charge controller to be easy for you to use the battery box. The panels charge your battery pretty fast as well, meaning that you can have a reliable source of power for your small structures.
Overall, this is a great product. Renogy offers many high quality options when it comes to using green energy- and this is one of the best solar panel kits out there.
Pros
Very light weight and easy to install on your own. This is an amazing product if you are looking for a DIY solar panel system. The grids are efficient and the charge controller is easy to use.
Can be used to power any small structure. Sheds, RV's, boats, or even cabins can all be supplied with power through this system.
The panels use monocrystalline solar cells. These have a high efficiency rating of 21% MPPT and 97% charge controller peak efficiency. This system is great at what it does- which would be providing your shed with power.
Cons
The order is delivered in multiple packages. You should receive them all together, but there might be a case where they are separated in the mail.
Always check the charge controller is included. If not, be sure to talk to the brand's customer service team. Some users reported that they were missing the solar controller in their delivery.
The system does not include a battery bank in the solar kits box. You'll need one with less than 800 watts or 24 volts of power available- since this is the most that the charge controller can handle at one time.
---
Best Upgrade Option
This kit is more expensive, but it has it all. All of the essential tools are included, making the installation super easy for one person. Plus, each solar panel comes pre-drilled so you do not need to worry about that part.
The brand also offers a great one year warranty when you purchase this product. This kit is extremely expensive, but worth investing in. It offers high watts, has an efficient grid, can charge fast, and comes with a good charge controller.
If you receive a damaged product, the company will make sure that you get the replacement you need right away. The box has everything that you'll need inside of it.
The installation is also extremely easy, plus, if you have a larger shed this is a good kit. It includes a larger amount of panels so that you can set up a large grid on your shed.
If you have a smaller roof, you may want to consider the more cost effective options on this list. There would be no point to buying this kit if you did not have the right amount of space for it.
A user mentioned that the extension cables that come off the solar panels was not long enough. In some cases, you might need to purchase a longer cable to work with the kit.
However, the battery box that comes with the kit is powerful and the charge controller was extremely effective. If you need higher watts, the brand also has some other options for you to consider.
Pros
This solar kit has everything that you could possibly need when setting up your own project. You do not have to make sure to buy any other components when you decide to buy this kit.
The battery is powerful and can hold a charge for a good amount of time. Plus, the included charge controller is efficient and works well with the system.
Cons
This kit works well on many sheds, but might be too much for a small structure. If you are not sure what you need, make sure to check out cheaper options first.
This solar panel set is very expensive. However, you are paying for quality and a kit that is easy to install and assemble quickly on your own.
Users have reported receiving damaged solar panels, so make sure that you check the box as soon as you get it. If you notice anything wrong, you will want to contact customer service for a replacement. They seem to be good about getting them sent in a timely manner.
---
Best Value Option
if you have a budget, but still want to add more solar energy to you life, then you can try out with kit. It offers you 100 watts and includes a flexible design for a lower cost.
It is simple to set up and has a 21% efficiency rating on their panels. To put it in perspective, other solar panels normally offer 15% with their grid rating.
This 100 watts panel is perfect for those on a tighter budget. It can still power a small shed and has a uniquely flexible design- making it good for those who are new to working with a solar grid at home.
You should know that you will still need to get a battery box and a charge controller with this product. However, you are still saving a good amount of money on the actual solar panels, so we think that it is worth it.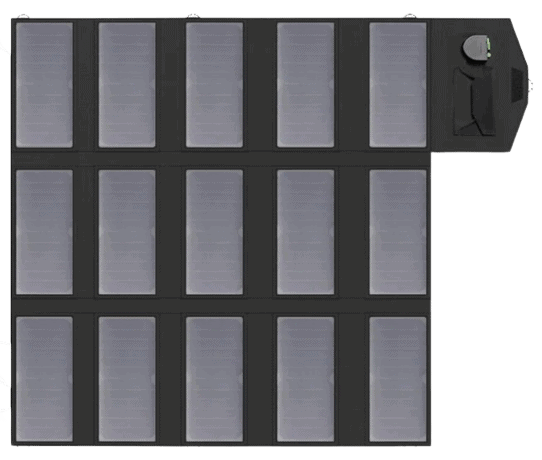 If you want to power your shed at a low cost, then this is the perfect pick for you. The ALL POWERS solar panel will not work as fast as the other options on this list, but it still works well at what it was designed to do- which is to charge your batter with solar energy.
It also can work with many different electrical devices, making it a good survival tool or camping option. Users reported powering their RVs, sheds, smartphones, campers, and even small houses with it.
The flexibility allows you to transport them easily as well. Each panel only weighs 4 pounds- significantly less than our top pick. If you need something cost efficient and small, then this solar panel will be the best kit for you.
Pros
The panel is light, portable, and easy to install alone. That makes it a good choice for those who are just starting to get into the world of DIY solar panel kits. This option is very efficient and best for those on a budget, since it costs much less than other solar panel kits that have more watts.
You can make it work for you- it will charge a variety of different tools and can be used in more places than just your shed. However, it works well at providing power to those types of small structures. If you just need a little bit of power, the flexible panels can fit anywhere that you need it to.
The solar grid is flexible. This is good for placing it where you need the solar panels to fit. You may be able to bend it slightly to fit it better in the sunlight- getting you more power. These flexible kits are amazing at providing you with electrical power because of this.
Cons
These kits need more products to get them working. You will need to also buy a charge controller and a battery to get the grid up and running. We wish that it came with more parts, but the cost is low enough to justify not having them included.
They do not produce as much power as you might want it to. It can handle small items, such as a little fridge or a smartphone and a lightbulb. If you want more power, you want to check out different kits.
This solar system, does not expand well, meaning that it will not combine with more panels or another added controller. Even if they are the exact same brand, users mentioned that they had trouble and were dropping watts when using more than a single kit at a time on their shed.
---
Conclusion
In short, we think that out of these solar kits we reviewed, the Renogy 200 Watt Kit is the best option. It beats all of the other kits with its efficient power generation and accurate controller.
If you want something that is easy to install and works well, then this would be a kit worth looking into. When reviewing these kits, we wanted to consider efficiency, cost, and ease of installation.
This product definitely goes above and beyond the competition when it comes to providing power to your shed. We would recommend it for using on your shed or any similarly sized building.
Users reported using it on other structures as well, but a shed-sized building would be the most efficient. If you have a question, please send us an email. We would love to hear about what solar DIY projects you're doing at home and give you information to help choose the best kits for your needs.
---