Solar panel snow build-up will prevent your panels from producing electricity. But you need to make sure that you remove it correctly, as you don't want to risk damaging your solar system.
To help you with this, we reviewed the best solar panel snow rakes for removing solar panels snow.
Do solar panels work in the snow?
Got snow on solar panel? This could be a problem. If any amount of snow is covering your solar panels, it won't be able to get the sunlight it needs to function properly.
It is therefore imperative that you get rid of the snow as quickly as possible to ensure that you are generating the electricity your home needs. Solar panels will continue to operate when it's snowing, but you want to make sure the snow isn't accumulating on your panels.
Solar panels in snow won't be able to get the sunlight needed to produce electricity.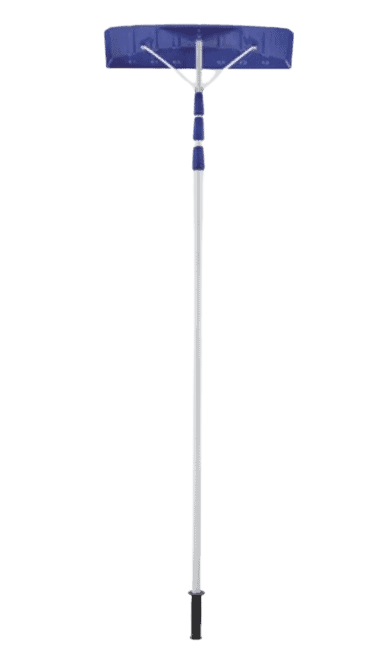 How to Keep Snow Off Solar Panels?
Investing in a snow rake or roof rake is your safest bet for keeping snow off of your solar panels. Roof snow is tough to get to, so make sure you have a good roof rake that is capable of reaching your roof safely.
You can always wait for the snow to melt, but this may take too much time and put you at the risk of losing out on precious electricity. The sooner you can get roof snow off of your panels, the sooner you can get back to producing electricity.
How to Remove Snow from Solar Panels?
You want to use a roof rake to safely remove snow from solar panels. If you use anything else, you could risk damaging a solar panel. Removing snow on solar panels is easy when you have the right tools for the job.
Roof rakes are designed to be used on solar panels without harming them. It's best to invest in one that has a telescoping pole, as this could keep you from having to climb up on your roof and risk injury.
Best Solar Panel Snow Rake Reviews
Best Overall Option
This tough snow rake is just what you need to safely remove solar panel snow. When snow accumulates on your roof and solar panels, you need a tool long enough to reach and pull off the snow.
The Avalanche! Snow Rake Deluxe could be the perfect tool for the job. This roof rake comes with an impressive 20 feet of pole to help you safely reach the snow on your roof.
Unlike other models, the pole isn't telescopic. Instead, it connects in sections until you have the reach you need to get to the snow. If you don't need all 20 feet, you can even leave sections out, making the Snow Rake Deluxe more manageable.
Pros
Lightweight – At just 7 pounds, the Avalanche! is easy to use and carry. And although it is lightweight, it's very well-made and feels tough and sturdy.
20 Feet – Make no mistake, 20 feet is a lot of pole. This length makes reaching your roof much easier, as you are less likely to need to climb up on your roof and put yourself in danger.
Cons
Non-Telescopic – It would be easier to simply telescope the needed length of pole. It takes a little more time to snap each section together to get the desired reach you need to safely pull off the snow from your roof.
---
Best Upgrade Option
For the ultimate in snow removal, consider the SnowPeeler. This heavy-duty contraption gives you 20 feet of telescopic pole to make removing snow from your panels safe and effective.
Even high roofs are handled with ease thanks to the length of the SnowPeeler. The durable aluminum construction makes this one tough entry. However, it also makes the SnowPeeler a bit on the heavy side.
It weighs in at nearly 11 pounds, so be sure it's something you can safely handle before investing.
Pros
Aluminum – We like the aluminum body, as it lends to the SnowPeeler's durable and long-lasting build quality. If you don't mind the added weight, this is an excellent investment for keeping snow off of your solar power system.
Snow Slide – With a 9-foot tear-resistant slide, you don't have to worry about wind drifting as you work to eliminate the snow from your solar panels.
Cons
Pricey – If you want the very best, you're going to expect to pay for it. This may be an expensive tool, but it's also one of the best-made. The high quality ensures that you're investing in a product that will last.
---
Best Value Option
If you're on a budget and looking for the least expensive, yet most effective, tool for removing snow from your roof, look no further than to the Snow Joe.
This tool features the longest pole of all, measuring in at 21 feet. If you're tired of climbing on your roof during snowstorms, the Snow Joe may be the perfect tool for safe and effective snow removal.
Pros
Ultra-Lightweight – At less than 5 pounds, the Snow Joe is a cinch to use and manage. This versatile tool is just what you need for removing snow that's accumulated on your panels.
Longest Reach – Thanks to a 21-foot reach, the Snow Joe sports the longest extension of all rakes we reviewed.
Cons
Low Build Quality – The only drawback to this tool is that it uses cheaper components in its construction. We're not too confident in its longevity because of this.
---
Conclusion
We found each entry to work really well in our tests, but only one can take the top spot. In the end, the Avalanche! Snow Rake Deluxe got our pick. When you take into consideration its build quality, price, and performance, the Snow Rake Deluxe is your safest option.