If you're like most people in the United States, you want to lower your electric bill. The best way to go about this is to install solar panels.
Today, we are looking at the best panels that you can buy for your home, and what they can do for you.
How Many Solar Panels are Needed to Run a House?
On average, you will need anywhere between 28 and 34 solar panels to power your home in the United States and cover all of your electricity use. If you're just interested in intermittent solar energy use, your home will require far less.
At that point, it is up to you as to how many solar panels you need for your home. Just remember, the more panels you have installed on your home, the more free energy you stand to produce.
If your goal is to eliminate your electric bill completely, we recommend investing in the maximum amount of solar panels.
How Many Solar Panels are Needed to Power a House in South Africa?
To power a home in South Africa, you would first need to determine the desired electricity use each month, as well as the size of the home. A 900 square foot home, for example, would need enough panels to provide 2000W of power each day.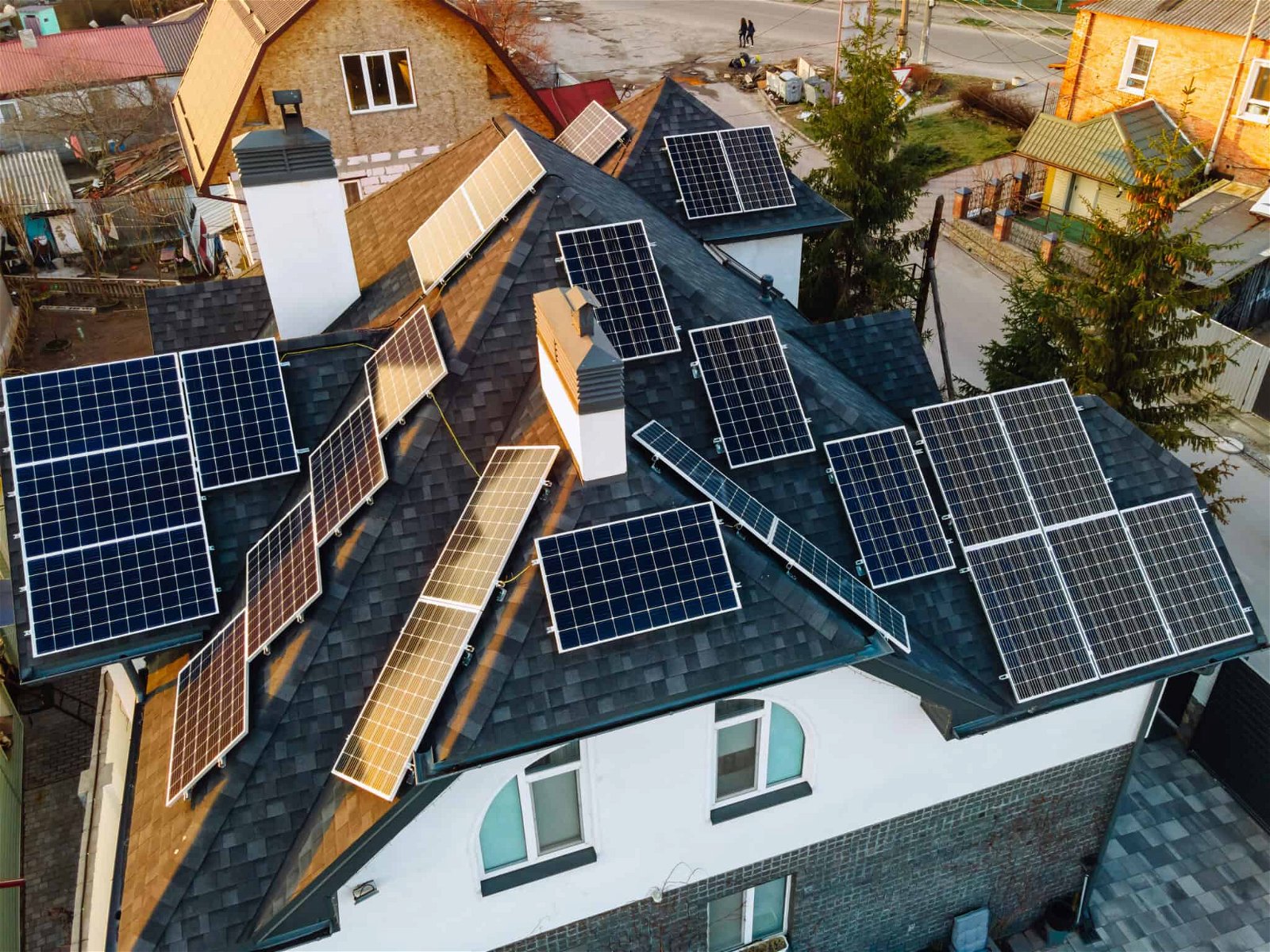 Can you Install Solar Panels Yourself?
Many people do indeed install home solar panels by themselves. However, you should have considerable knowledge and know-how before tackling such a job. If you are unfamiliar with solar home installation, it is highly recommended that you hire a professional to do it for you.
Oftentimes, people who take on residential solar installation without sufficient knowledge ultimately run into issues that end up costing them far more. The need for renewable energy in the United States is understandable, as you want to save as much money as possible.
But it's always best to forego doing in yourself and to hire a professional. This will ensure that your solar pan system is properly installed on your home and that nothing is overlooked.
Is solar a good idea for my house?
In the United States, solar panels stand to save you a considerable amount of money over the lifetime of your system. Depending on where you live and how much power you use, solar energy panels can save you an average cost of anywhere between $10,000 and $30,000 over the life of the solar power system.
You may even consider getting involved with net metering, whereby any unused solar power energy is reserved in the grid for later use. This helps to keep costs down and ensures that no power is wasted.
You could potentially see credits on your electric bill if you save enough solar power energy. Moreover, you can often get a federal solar tax credit in the United States.
This tax credit allows you to take a percentage off the cost of solar panel installation from your federal taxes. You might also want to check your location or what part of the United States is best for capturing solar energy.
With so many benefits to installing solar energy panels in the United States, you could see big savings that go beyond just producing renewable energy for your home.
Best Solar Panels For Home Reviews
Best Overall Option
If you're interested in a complete solar energy kit that will make home installation in the United States a breeze, consider ECO-WORTHY's solar power kit. This robust solar system is designed to withstand harsh weather conditions so that you can be sure you are investing in home solar panels that last.
During the time we had with testing these panels, a couple of them broke on the way to the office. However, the company was prompt in replacing them and sending new ones out to us. If you're looking for a great company to do business with, we recommend these panels.
Solar energy is on the rise in the United States, with more people switching over to try and save money on power expenses. We appreciate these solar panels because they are so easy to work with.
Installation was a breeze, as everything that's included is straightforward and easy to work with. With that being said, we recommend you hire someone if you aren't familiar with installing solar panels on your home.
And although these residential solar power panels had some issues during transit, we found them to be just fine once everything was in place and installed.
Pros
Excellent Support – We were quite impressed with ECO-WORTHY and their customer support. There was no waiting around to get our panels replaced, and the ones sent worked as expected. Our home definitely benefited from these during testing.
Incredible Value – What males these residential solar panels stand out from other is that you're getting a complete system at an amazing price. We didn't need to provide our own equipment or buy anything extra to make this kit work.
Cons
Limited Power– The only real issue we have is that ECO-WORTHY claims this solar panel home kit will deliver 1000W of power. We were able to get 700W. It's possible your home could see 1000W under optimal conditions, but we didn't.
---
Best Upgrade Option
This 10-panel home system is a great start if you're looking to add solar power in the United States. We were pleased with the quality of these panels, as each one is well-made and sturdy.
At 300W each, you're getting a potential total of 3000W with this solar panel bundle. Your solar system will be off to a good start by investing in these residential solar panels.
Pros
Corrosion-Resistant – Thanks to the durable quality of these residential solar panels, you needn't worry about water damage or corrosion.
10 Panels – With so many panels included, you'll be well on your way to providing sufficient solar power to your home. This package is ideal for someone who wants to limit their electric bill by as much as possible.
Cons
Renogy 1200W Monocrystalline Panel
---
Best Value Option
Renogy makes the list again, this time with a smaller solar panel bundle. If you're looking to save some money but still want high-quality solar panels, this is the way to go. Each solar panel is 300W, for a total of 1200W of solar power.
The quality is excellent, and you get Renogy's 25-year solar power output warranty, as well. Each of the four panels we received was sturdy, durable, and very well-constructed.
Pros
Iron-Tempered– The glass on these panels feels strong and long-lasting. If you're looking for an investment that will provide you with plenty of use, Renogy is a safe buy.
Versatile– We love how many applications these home panels can be used in. From on-grid to off, DIYers will especially love what they can do with these.
Cons
Shipping– We weren't particularly thrilled with the shipping, as the boxes aren't the sturdiest. We could see orders getting easily damaged in transit as a result.
---
Conclusion
If you're interested in switching to solar power, it pays to invest in quality solar panels. In each of our tests, we found the solar panels to work well. But for the money, ECO-WORTHY's Solar Panel Kit is the best deal. You're getting everything you need to get started, and what's included in the solar kit is well-made.