Aside from some of the best solar motion security lights, all night or "dusk to dawn" lighting is a great way to keep your home safe. It will light your way when you leave the house or come home late at night.
This post will cover some of the essential factors to consider when buying the best solar powered dusk to dawn light. Some of the top products available on the market right now will be reviewed as well.
How To Choose the Best Solar Powered Dusk to Dawn Light
Before you rush out to buy new solar-powered dusk to dawn lighting, there are a few factors that you should consider. Here are the top features you will want to look out for in solar dusk to dawn lighting and why they are essential.
Brightness
Like with all floodlighting and commercial parking lot solar lighting, the brightness of dusk to dawn floodlights is measured in lumens. The higher the number of lumens, the brighter the light it will be.
For reference, an average kitchen or bathroom bulb will have around 800 lumens or less – and some solar floodlights can go all the way up to 5,000 lumens. Dusk till dawn lights, in general, are not as bright as other floodlights because they are designed to stay up all night without losing their charge.
The average dusk to dawn light will have around 1,000 lumens – that is bright enough to illuminate a larger outdoor space like a driveway or garden, but not so bright that it will disturb the neighbors or keep you up all night.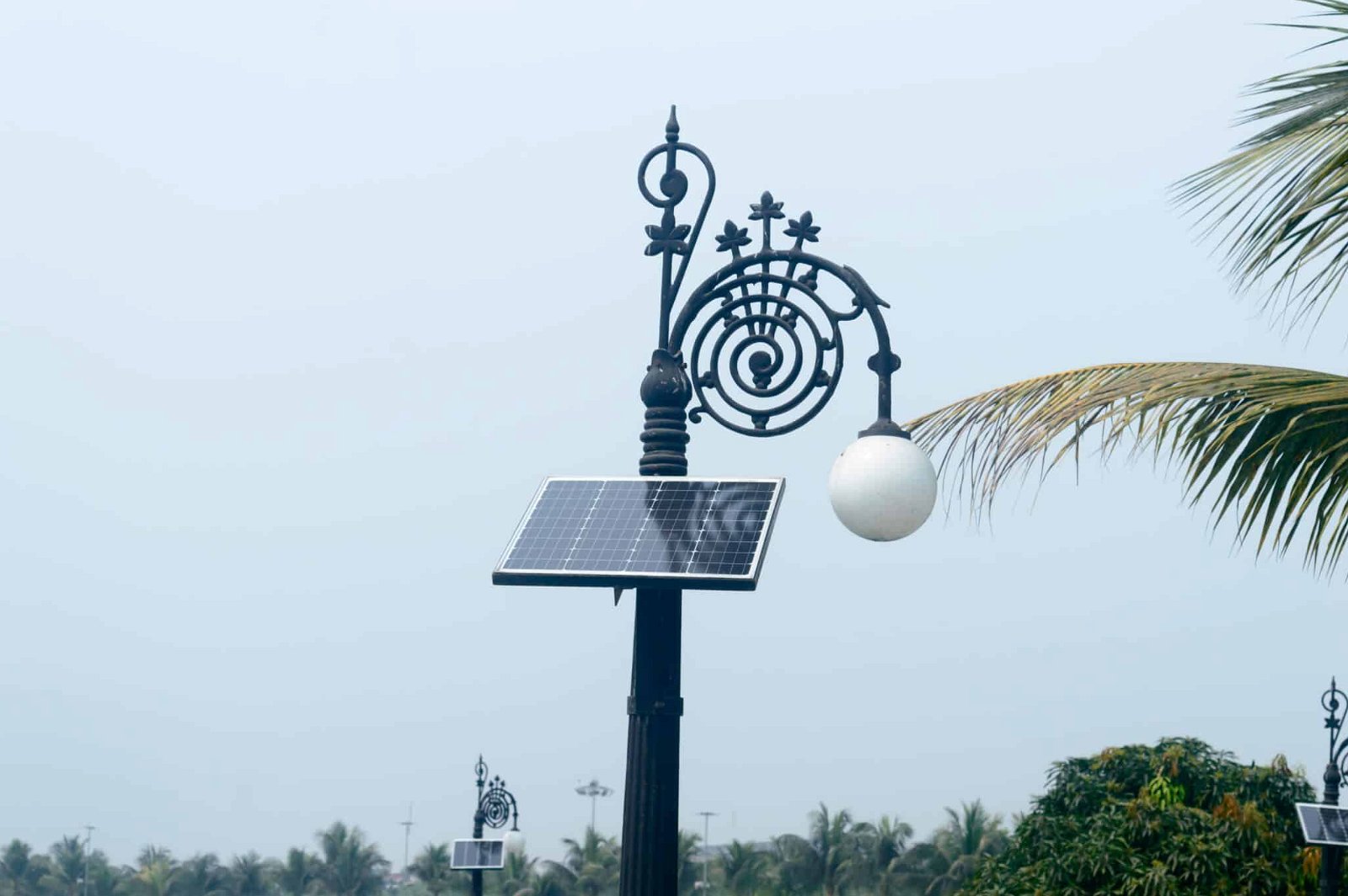 Some dusk to dawn light controls will have multiple brightness settings to have a brighter light when you need it.
Energy Efficiency
Solar-powered lights get their charge from the sun, so they are generally very cost-effective in your home. Leaving your solar-powered floodlights on all night will not run up your energy bill.
That said, the best dusk to dawn lights will still use energy efficiency so that they can hold their charge to stay up all night. You can look at a light's run time to know that it will be able to hold its charge from dusk until dawn.
If a light has an average run time of fewer than 8 hours, it won't work well as your dusk to dawn outdoor light.
Weatherproofing and Durability
Dusk to dawn lights are meant to be used for outdoor spaces, so it is vital that they can withstand the elements. All outdoor lights are waterproof to some degree. For the best waterproofing, you should look for a dusk to dawn light with a high IP rating.
IP, or Ingress Protection, ratings are the measure of how well-sealed and encasing is. An IP over 65 will not just keep out moisture, but dust too, and will stay dry even if submerged in deep water.
If you live in an area that sees a lot of storms and wet weather, a high IP rating is a good indication that you will be able to use your dusk to dawn outdoor lights for a long time without needing to replace or repair them.
Additionally, you should make sure that the casing around your solar-powered light is corrosion resistant and durable enough to last for years outdoors without needing replacement.
Mounting and Placement
Most outdoor dusk to dawn lights is designed to be mounted on a wall so that you can light up an area right outside your house. Mounted lights are great for use in your driveway, back yard, or over your front door.
But if you are interested in placing dusk to dawn light somewhere you will not be able to mount it on a wall – like in a garden or your yard, for example – you will want to choose solar dusk to dawn light that can be placed in the ground on a stake or can be mounted on a high pole.
However you mount or place your solar-powered light, it must be located somewhere it will be in direct sunlight during the day. Most lights need around 7 or 8 hours of sunlight to fully charge – you should be conscious not to place the light in a dark or shady area.
Some lights come with detached solar panels, which allows you to mount the light wherever you want and then mount the solar panel separately, somewhere it will see plenty of direct sunlight.
Dusk to Dawn Sensor
One of the essential features of a dusk to dawn light is that it will automatically turn off and on with the daylight. Built-in dusk to dawn sensor in your floodlight will actually read the brightness, turn the light on at dusk, and then shut it off again at sunrise.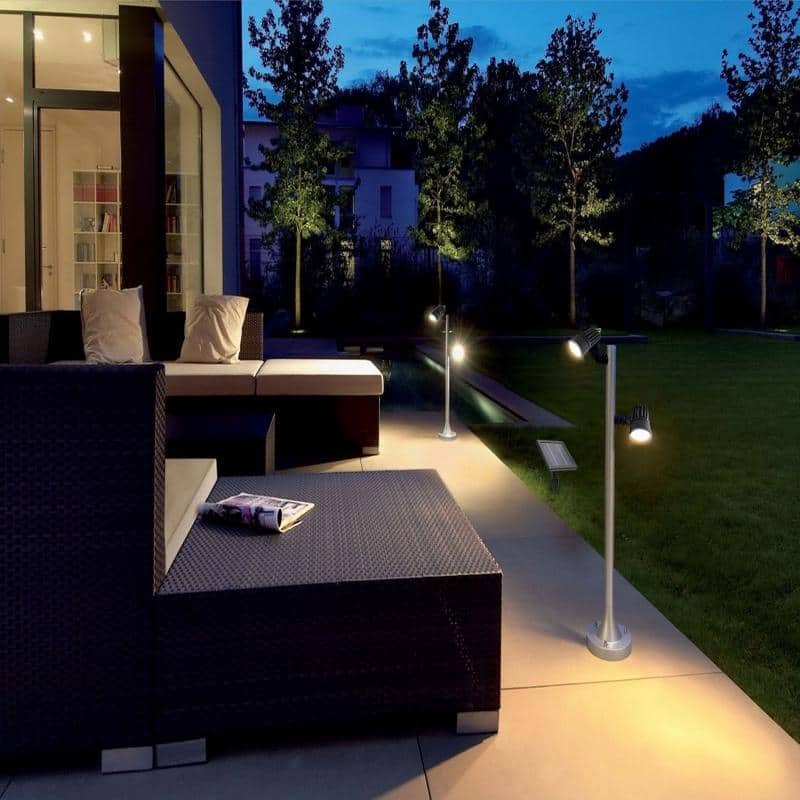 This feature helps to save energy and makes it easier for you – you don't have to worry about turning the light on and off manually or setting a timer according to changing daylight hours.
Motion Sensor
While dusk to outdoor dawn lights is great for security, they can also be pretty annoying if they are shining in a window. They can also disturb wildlife like owls and bats around your home.
Some lights come with a motion sensor that will detect movement and cause the light to change from a dim to a bright setting to limit those issues. That means the light can be just bright enough to see all night and only get brighter when you walk in front of it.
Best Solar Powered Dusk to Dawn Light Reviews
Now that you know what features to look for, here are three of the best solar powered dusk to dawn lights available on the market right now. These are all excellent quality outdoor lights, but they each have the features that make them unique.
You can also check our recommendations for the best solar flood lights.
Solar Powered Dusk to Dawn Lights Reviews
GUARDIAN 580X Solar Security Floodlight
The Guardian security light is number one on our top dusk list to dawn floodlights because of its convenience, durability, and excellent value price. This light has 730 lumens at its brightest.
That is a little bit dimmer than some of the other dusks to dawn flood lights available, but still bright enough to illuminate a smaller space, like the area around your front door.
It has three brightness settings and can be set to a low 55-lumen output, in case you need just the bare minimum nighttime lighting. A detached solar panel means that you can mount the light anywhere and pick a particular spot for the solar panel, where it will get plenty of sunshine during the day.
Both pieces are easy to mount on a wall or rooftop. In addition to the dusk to dawn mode, this security light has a motion sensor. That means that it can be left on dim mode and switch to the brightest light only when someone walks in front of it.
All in all, this could be a good light for someone who wants security without the super good floodlight effect of some other lights.
Pros
3 brightness modes
Comes with motion sensor technology
Solar panel and light can be mounted separately
Small, discrete panel and light
Cons
Not as bright as other options
Dusk to dawn mode only operates on dimmest setting (with motion sensor activated to increase brightness when someone walks by).
---
Sunwebcam 120 LED Solar Powered Flood Lights
This Sunwebcam solar-powered light is a little pricier than some of the other options out there, but it comes with tons of unique features and is a great multipurpose outdoor light.
An IP65 rating ensures that this floodlight will stay dry and protected during even the stormiest weather. It is also resistant to dust and other particles.
This is a light built to last – once you have mounted it, you will not need to take it down for repair or replacement for years. It can be mounted on a wall or rooftop and also comes with a bonus pole mount to place it further away from your home.
The brightest setting on this 120 LED light is 1000 lumens. A handheld control can adjust the brightness either in steps (50%, 30%, etc.) or in increments. You can also set the light to change brightness at certain times or after certain hours.
The one downside to this multi-function flood light is that it does not have a dusk to dawn sensor. To use it all night, you will need to set it to run for 8 hours every day.
That said, it has an excellent run time and is guaranteed to hold its charge all through the night, even on the highest brightness setting.
Pros
Adjustable brightness
Handheld remote for easy control
Comes with bonus pole mount for easy mounting anywhere
High quality, weatherproof build
Cons
No dusk to dawn sensor – operates on a timer
​Attached solar panel – must be mounted somewhere it will get direct sunlight during the day.
---
Dyxin Solar Spot Lights
This versatile solar light is bright, comes with plenty of special features, and is available at a super affordable price. This could be an excellent option for someone who wants a great lighting system without paying too much for high-tech qualities.
The light can be mounted on a wall or placed in the ground with an included insert stake – this makes them great for lighting a garden or other outdoor space. It has an IP65 waterproof rating and is made of rigid ABS plastic.
The light has two heads, which can be angled independently to light a larger or smaller space, as you need it. The brightest setting on this light has 1000 lumens. It also has a smart PIR motion sensor.
It can be set to stay on all night or to get brighter when it detects motion. One of the most significant issues you might have with this light is the installation.
It can be tricky to mount, and driving the stakes into the ground can take some time and effort. Once the light is installed, though, it will work great and last for a long time, in any weather conditions.
Pros
IP65 waterproof rating – super durable and
weather resistant
Can be mounted on a wall or in the ground
Double, independent heads for farther reach
Bright – 1000 lumens on the highest setting
Cons
May be tough to install
Attached solar panel – cannot be mounted separately
---
Final Thoughts About Choosing a Solar Powered Dusk to Dawn Light
All three of these options are high-quality outdoor floodlights that can be used dusk to dawn. While they are all great, we think that the Guardian solar security floodlight is a clear winner over the other two.
The Guardian light checks all the criteria mentioned earlier in this post: it is weatherproof, has an independent, detached solar panel, a great run time, and a dusk to dawn sensor.
While it is not the brightest LED dusk to dawn light out there, the Guardian light has a motion sensor that will cause it to get brighter whenever someone is walking through. That means that it will give you the comfort and security of staying on all night, without being bright enough to disturb your neighbors or upset wildlife.
We like the Guardian solar flood light best, but one of the other two options might be better suited to your needs. Whatever light you choose, make sure you mount the solar panel somewhere, it will get plenty of direct sunlight, and your outdoor light will keep your home secure night after night.
---