Are you traveling and want to have a solar generator with you, but don't know the guidelines? Thankfully, while there are still some very specific guidelines and rules for taking generators and panels on planes, it isn't a straight no.
Here are the basic guidelines for most airlines so you can see if your generator will be accepted. Always double-check with your airline first to make sure that rules don't change or that they aren't different from other airlines.
Which Bags Can You Put Solar Generators In?
While you can take a solar generator on a plane, there are some guidelines. The first is that solar generators can only go in certain bags. This is because of the TSA rule that lithium batteries are allowed on planes, but only in certain situations.
Like laptops, solar generators and battery banks can be brought on but they cannot be in a checked bag. They have to be in your carry-on.
What Size Can Solar Generators Be on a Plane?
In addition to where your battery bank can go, there is also a size limit. If you were hoping to bring on your giant solar generator with 1,000Wh, you will be disappointed. Only a small-sized generator is allowed.
The limit is somewhere between 101 and 160Wh. This changes a little based on the airplane and TSA agents, so we recommend staying on the lower end to ensure you can bring it on the plane and avoid getting rejected.
Essentially, you are looking at a small battery bank that can power things like a cell phone or your laptop on the flight, and that's it. In other words, the battery can be no bigger than a basic laptop battery or video and audio equipment.
What About the Solar Panels?
Solar panels are allowed on planes. We would recommend foldable solar panels like ones that come with solar generators like Jackery devices. This is because they take up less space and are less breakable if they get mishandled.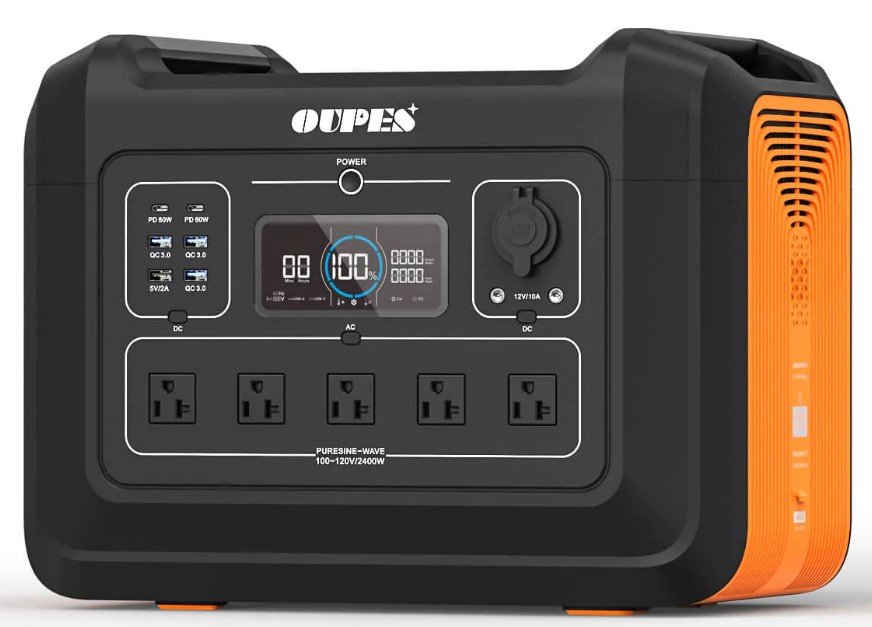 Solar panels can be stored in your carry-on or your checked bag without a problem, as long as they aren't connected to any batteries. Since there are no batteries or electronics involved, there is no danger to planes or passengers, and the guidelines are pretty lax on solar panels themselves.
What Other Guidelines Are There?
Another guideline is how many batteries you can bring. The general rule of thumb is that you can have a total of three batteries. This is one basic battery, like your laptop battery, and two backup batteries. Each one can be no more than the 160Wh allowed.
Related Articles:
Where Can I Get a Refurbished Solar Generator?
Which Solar Generators Are Made in USA?
How To Make a DIY Solar Generator?
Are Solar Generators Worth the Money?
What Size of Solar Generator Do I Need?
There are some different rules for lithium batteries that can't be taken out, like cell phones, certain laptops, and cameras, so look at those as well. This is the full battery size as well. You can't only partially charge a bigger battery and hope that it works. The total battery size has to be no more than 160Wh.
Every airline is a little different. So while using this as a guideline is fine, don't expect it to be 100% true. Always call your airline and talk to TSA agents before your flight to make sure your airline will accept them.
Additionally, you need to make sure that your solar generator and solar panels fit. Planes have specific sizes and weights for carry-on and checked luggage, and many airlines are changing the weights and sizes so what once worked may not be accepted anymore.
Check to make sure your bags and your products don't push the weight or size boundaries so you can ensure all of your stuff gets on the plane.
---