Solar power is one of our main renewable resources. There are many ways to harness solar power, both the heat and light released by the sun.
Let's go over some of the ways to harness solar energy and the technology used to do that.
What Is the Process of Harnessing Solar Energy?
Solar energy is harnessed by solar panels. They take the light from the sun, specifically the photons, and use it to energize the electrons, which generate electricity. Each cell on a PV panel can harvest energy from the sun.
Heat can also be harvested from solar energy. This is usually done by using products and colors that absorb heat well. Then, the heat is transferred to the rest of the house via a liquid like antifreeze, water, or a mix of both.
Ways to Harness Solar Power
People have always harvested power in one way or another. While using it to generate electricity is relatively new, using the heat and light from the sun has been used widely throughout every environment.
Thanks to climate change, we now need more green resources and more alternative fuel options that are sustainable and don't have a harmful emissions that they release.
Photovoltaic Cells
Photovoltaic cells are what are used in solar panels. They aren't very efficient, only having about 15% efficiency, but research is being done all the time to make them more efficient.
The best systems usually swivel and tilt, so you can get the best angle from the sun, and move to continue getting sun throughout the whole day.
They rely on light from the sun to shake electrons lost from the cell and create a current. This process is known as the photovoltaic effect.
Some of the new models, called thin-film solar cells (TFSC) are only a few millimeters thick and go on any surface. They can be shingles, tiles, or facades and cover entire homes.
Solar Thermal Technology
Solar thermal technology relies on the heat from the sun instead of the light. It is often used to heat and cool homes, as well as heat your water.
For water, pipes are usually attached to a plate that is painted black. The top of the device is transparent and holds fluids. The fluids can be moved either passively or actively with pumps.
As the water is heated, it is moved and stored inside, and the cooler water is brought in to heat up. Sometimes these can be used solely to heat water, or just require less heating, as the water is already warmer than standard.
For solar heating and cooling of buildings, they work similarly. This is what allows you to have heated floors. However, some systems release the heat trapped in the liquid into homes to heat. They can also absorb the heat to help cool it down.
Active vs. Passive Solar Heating
Active systems are systems that use mechanics to generate electricity or to move parts of the system for heat. For example, a pump used to move hot water and cold water around is an active system. Solar panels also count as active, since they generate electricity to power heating and cooling system.
Passive is when you just rely on things to happen by themselves. For example, you use something that has a high thermal mass such as dark-colored tiles, stones, metal, or brick. Since hot water rises naturally, you set the system up so that the higher level is where hot water is stored and the lower level is where water can be heated.
Community Solar
Community solar consists of a large set of panels. If you don't want to purchase a solar system, or can't due to renting or living in a space without access to a roof, then this is a great option for you.
People nearby can rent the rights to a certain amount of solar a day or month. This is a great way to get credit for your utilities and help the earth a bit.
Concentrated Solar Power
Concentrated solar power works by using mirrors and lenses to create a large concentration of light from the sun in one area. This area is usually a receiver that takes the concentrated heat and uses it to power steam turbines and creates thermochemical reactions.
Rooftop Solar
Rooftop solar is the traditional way people get solar power. This is often done by using solar panels installed on the roof to generate electricity.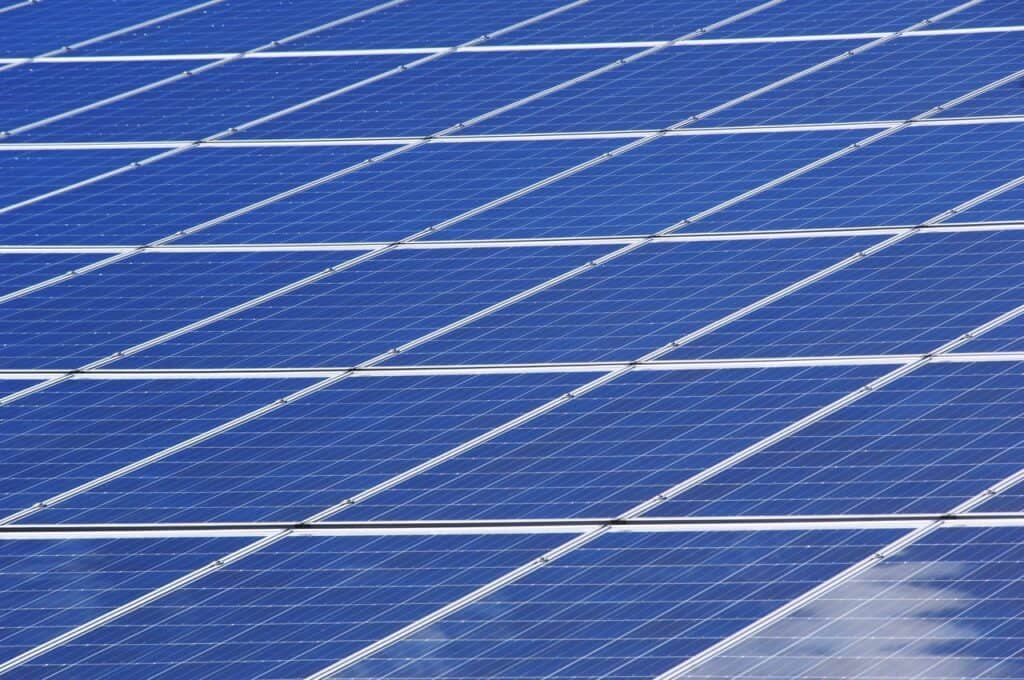 New technology is coming out that turns the shingles or tiles of a building into solar panels.
Hybrid Systems
A hybrid solar system is when you use solar panels but still are connected to the grid. Often, you can also have a battery backup for when there are power outages or not enough sunlight to power your home.
This is the most common system. Unless you are trying to go completely off-grid and want to rely solely on solar and wind power, then you have some form of a hybrid system.
Solar Panels
Solar panels are the main part of any system that relies on photovoltaics to provide electricity. While solar panels can't currently use heat from the sun, they are used for power generation.
Solar panels rely on energy from the sun, specifically photons that cause all the electrons packed into a cell to move. This is a more sustainable method than traditional coal plants, and the technologies are ever-improving.
FAQ
How much does it cost to harness solar power?
The general estimation is that it costs about $2.94 per watt of energy harvested from the sun. This changes based on the location, the amount of solar, the company, and more, but it is a good estimation. 
How much solar power can be harnessed?
Solar power is not a limited resource. The amount of sunlight and heat from the sun that hits the earth doesn't get depleted from the use of solar panels.
While it isn't technically an infinite resource, the use of solar panels doesn't take away from anything else or deplete the amount of sun we get. Technically, the sun releases 120,000 terawatts of energy onto the earth. Currently, we only have enough systems to absorb 13 terawatts or 0.01% of that energy.
What is the efficiency of solar power?
Currently, the efficiency of solar panels only reaches between 11% and 15%. Some new panels have managed to get to 22%. 
---