One of the many brands of solar generators is Zendure.
The team here at Suntrica has researched every manufacturer of solar generators that we can find and collected some info on each one to help you make an informed decision on your purchase.
Here's what we learned:
What Products Do They Make?
Zendure is a firm that offers generators, power stations, and various accessories, among other things. Their goods are made to be robust and dependable, so you can rely on them in times of need.
Are Zendure Products High Quality?
On Amazon, Zendure has 4.8 out of 5 stars. According to the evaluation, Zendure is an excellent and aesthetically pleasing power plant with several features.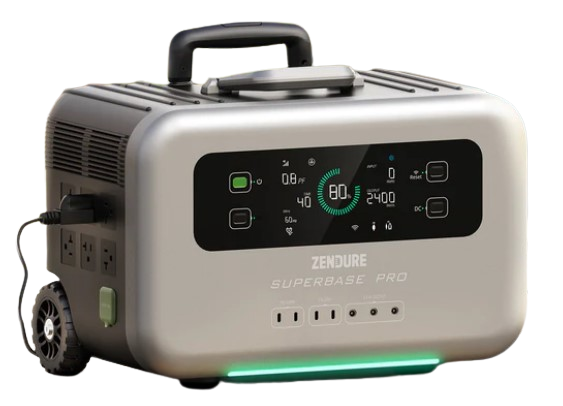 With its high energy output and large battery capacity, the Zendure may be utilized in a variety of settings. Whether you're using it as a mobile power station or emergency backup, this indispensable device will help you survive your camping trip or power outage.
View Other Brands:
What Is the Reputation of the Company?
Zendure is a company that was founded in 2013. It has an estimated revenue of $8 million and is a private company. They sell their products through their site, Amazon, and other stores.
Zendure's main product is a solar generator that can be used to generate electricity from the sun. The device is lightweight and portable, which makes it easy to carry around.
Where Are They Based?
Zendure is one of the most rapidly expanding EnergyTech startups in Silicon Valley, California, the Greater Bay Area Silicon Valley, China, and Japan. Their objective is to make energy accessible and available when and where it is needed.
Where Are the Products Manufactured?
Zendure products are made in China.
What Is Their Standard Warranty?
The warranty duration is up to two years and begins when the item is purchased from zendure.com or an authorized merchant. Other specific warranty periods are available from Zendure; you can see your product's documentation for details on the duration of warranty protection.
You may need information regarding your order, warranty card, and, if necessary, your product's serial number to authenticate your purchase and better assist you.
Do They Have Good Customer Support?
According to an Amazon review, Zendure has great customer service. Their reps are professional and kind.
How Can I Contact Them?
For any questions or inquiries, you may email them at: support@zendure.com or call them at 8009916148
Where Can I Buy Zendure Products?
Zendure has been selling their products through their website, Amazon and other online stores, as well as Walmart.
Conclusion
Zendure is an efficient solar generator for a variety of reasons. It is a low-cost solution that does not sacrifice quality. It may be used to charge your phone at the beach, jump-start your car, or even power a laptop.
Zendure Solar Generator
| | | | | | | |
| --- | --- | --- | --- | --- | --- | --- |
| Model | Zendure SuperBase V | SuperBase V4600 | Zendure SuperBase Pro 2000 | Zendure SuperBase Pro 1500 | Zendure SuperBase 1000M | Zendure SuperBase 600M |
| Capacity | 6,438Wh | 4,608Wh | 2096Wh | 1440Wh | 1016Wh | 607Wh |
| Dimension | 28.7×13.6×17.4 in. | 28.7×13.6×17.4 in. | 17.56×10.51×13.86 in. | 17.56×10.51×13.86 in. | 325x190x138 mm | 280x190x138 mm |
| Weight | 130 lbs. | 121 lbs. | 46.5 lbs. | 41.5 lbs. | 18.26 lbs. | 14.08 lbs. |
| Cost Per Battery Cycle | $1.3 | $0.4 | $0.5 | $0.2 | $0.6 | $0.2 |
| Charging Time with 50W Panel | 120-160 hrs. | 72-88 hrs. | 32-44 hrs. | 16-22 hrs. | 16-20 hrs. | 8-10 hrs. |
| Charging Time with 100W Panel | 48-80 hrs. | 36-44 hrs. | 18-22 hrs. | 15-20 hrs. | 8-10 hrs. | 4-5 hrs. |
| Charging Time with 200W Panel | 24-30 hrs. | 18-22 hrs. | 9-11 hrs. | 5-9 hrs. | 4-5 hrs. | 2-4 hrs. |
---