You know how you go to pick out some mustard at the grocery store and there are 53 varieties to choose from? Well, solar sun rings are NOT like that.
There are really only a few types and once you understand which one is right for your pool, the choice becomes easy. We're going to break it down for you right now…here are the best solar rings for pool use.
Top Picks Solar Pool Rings
Four Types of Solar Sun Pool Rings
"Rings" is a misnomer because some of them are square, but you know what I mean. Here are the four types of solar sun rings you'll encounter:
Round with anchors
Round without anchors
Square with inflatable sides
Square without inflatable sides
And without further ado, here are our top picks in each category. That said, at least one of these is to be avoided so keep reading before making any rash decisions.
How To Choose the Best Solar Pool Rings for Your Pool
Here's how to know which is right for your pool:
Round With Anchors
This is likely to be the most appropriate choice for most people. When they say "anchors" here, don't think about something metal and/or hook-shaped. What they mean is that they have a vinyl bladder below the ring that fills with water.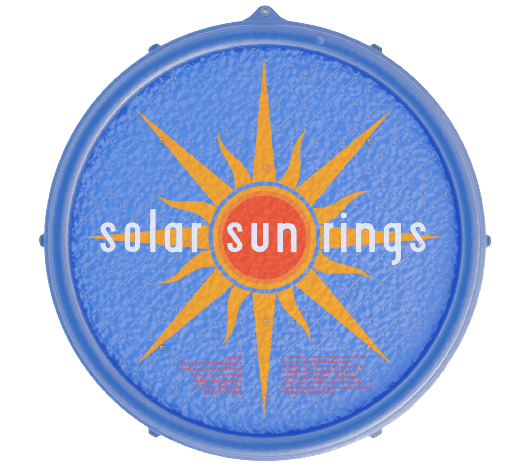 The weight of that water keeps the ring from blowing away in a storm. When you lift them out of the pool, it empties. They are slightly more expensive than other options, but it's not enough to matter to most people if it's the appropriate choice.
Round Without Anchors
These have magnets on the perimeter that keep them attached to other rings in the pool. This makes them stay in place better and makes them less likely to blow away than if they didn't have anything.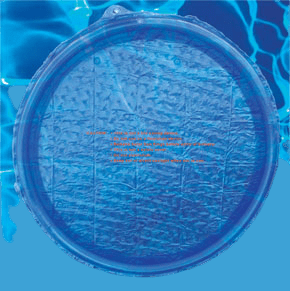 The only reason to buy these instead of the anchored version is if your pool rarely sees much wind and you want to save a little money. The anchored version also has magnets, so they will also stay in place, no difference there.
Square With Inflatable Sides
Right off the bat, I'll say that for several reasons, neither of the square options make any sense to me. This version does cover more area because it's square instead of round. The way the geometry works out, it's about 22% larger.
However, it's also the most expensive option by far and has no anchors. So rationally, I don't know who would buy this. We took this one step further with the math to put everything on a level playing field.
This is just a snapshot in time when it comes to pricing, could go up or down, but it gives you an idea. Here are the cost per square inch of pool surface coverage of the options here:
Round with Anchors: $0.011
Round without Anchors: $0.097
Square with Inflatable Sides: $0.129
Square without Inflatable Sides: $0.097
So with these 5-foot squares you do get more coverage per unit, but it's not a better deal.
Square Without Inflatable Sides
These are fundamentally different than the others in terms of construction. First, they are 54″ inch squares, so they are smaller than the other square option and in terms of square inches of coverage they are very similar to the round options (probably no accident).
They have a patented design on the edges that prevents them from lifting off the water, so they stay on your pool without anchors or magnets. They are tied for the most affordable and because they are not inflatable they are likely to last longer than all the other options.
Sounds great so far right? However…because they have no inflatable edges they tend not to stay in place on the surface of your pool. They float under one another, bunch up and require a lot of oversight to stay in place. For that reason, we cannot recommend them.
Related Articles:
Using Solar Energy for Residential Pools
Other Factors To Consider With Solar Pool Rings
Solar Rings Quality
Solar rings for pool heating are designed from two sheets of heavy-duty vinyl. The vinyl is UV-resistant so it does not as easily get destroyed by heavy sun exposure and UV rays.
The thickness of the vinyl layers also prevents degradation from long term exposure to pool chemicals and also to damage from children, pets, pool cleaners, etc. Although these are not toys or flotation devices.
All that said, as any pool owner can tell you, inflatable products don't last forever. A good solar ring can last up to 4-5 years if cared for properly, but most last three years or less. They are fairly low maintenance as well.
There isn't a wide variety of brands available, most of these are variations from one company. So there really aren't plenty of options to consider in this case.
Warranty
On a related note, pay attention to the warranty offered. You're not going to find a super long warranty, but having one is important anyway because inflatable products have a higher than average defect rate.
You need to be able to get a replacement if it doesn't hold air.
Size of Your Pool
Unlike normal pool covers that cover the entire pool, solar pool rings cover a section of the pool. This means that you have to buy many rings depending on the size of your pool.
Aim to cover at least 50% of your pool's surface, but no more than 80%. Depending on the pool shape and size, this can be a pretty broad range so plan accordingly. If you cover less of the area, you could even swim with the rings in the pool without really affecting the swimming experience.
Similarly, the depth of your pool matters. A 3 foot deep above ground pool will be much easier to heat than a 9 foot deep inground pool.
Ring Design and Appearance
For better or worse, they all look about the same. They have different shapes and there are slight differences in color. They are all blue, they don't really come in other colors. The sizes can be slightly different.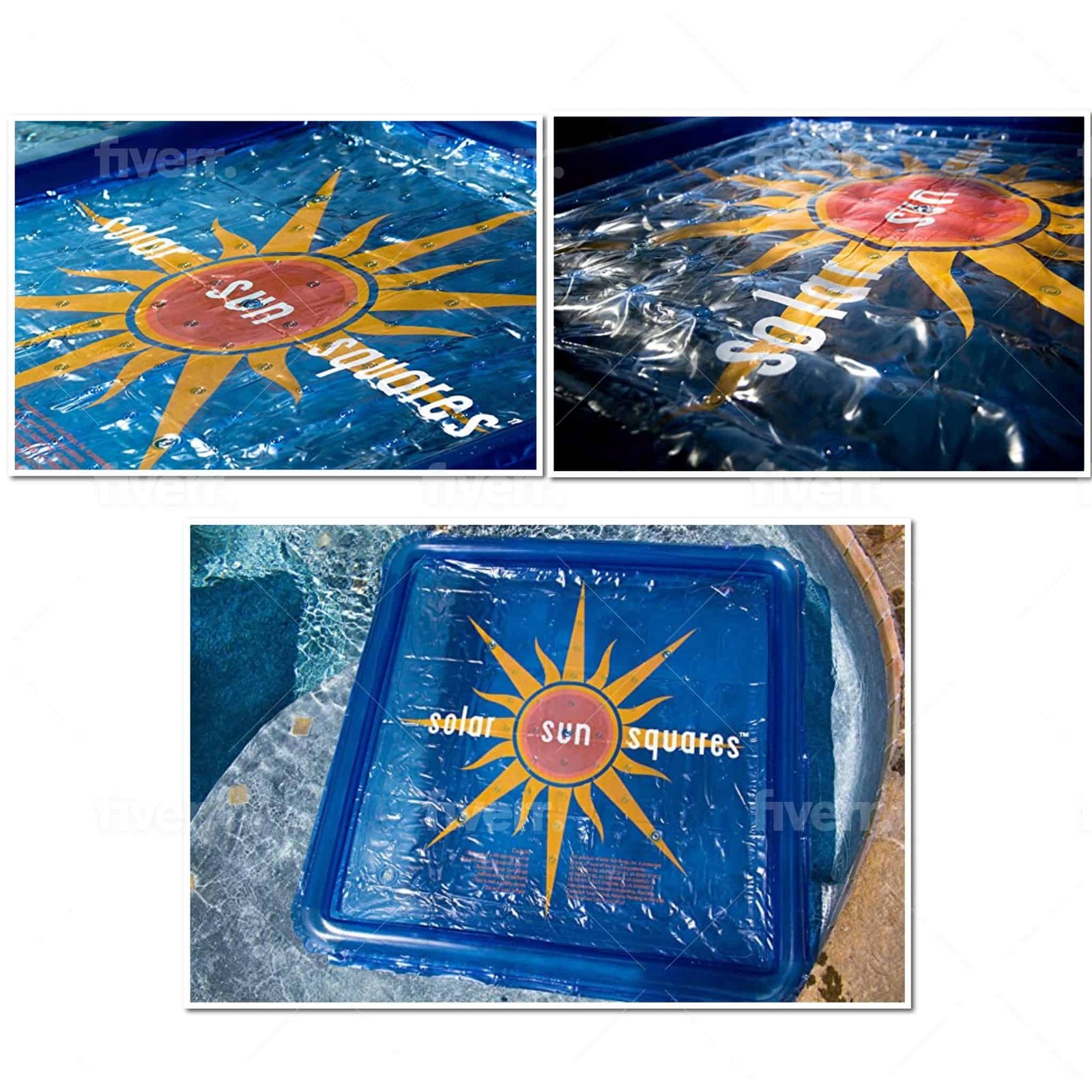 Mostly though, they look like thin blue floating solar panels that form a DIY solar blanket on the surface of the pool. Most have grommets or holes on the edges so that you can easily hang the pool heating ring up; they are flat so storage isn't a huge concern.
Hanging allows for drainage if they have anchors.
Solar Ring Heating Power
Most solar sun rings can absorb up 50 percent of the sun's energy to heat water in your pool. The rings can provide up to 21,000 BTUs of heat to keep your pool warm. When shopping, look at product specifications to see the insulation performance of the solar sun ring.
You should set your expectations appropriately here. These are not as good as a full pool cover and definitely not as good as a gas or electric heater. A reasonable expectation is that they'll warm your pool about 5 degrees, maybe as much as 10 if your pool is smaller and/or shallower than normal.
That's definitely enough to be worth the investment but not a full replacement for the other methods. I find that it matters most when the swimming pool temperature is close to where you want it to be.
Taking the water from 80 to 85 degrees matters to me, whereas taking it from 65 to 70 doesn't (both are just too cold for me). It should be easy to see the effect of these solar pool mats throughout the swimming season if you are heating your pool with gas or electricity.
The heating costs should go down if you add a pool cover of any sort. Saving energy doesn't just benefit your budget through lower heating bills, it also helps the environment. You could also go for a solar pool heater.
How To Use a Solar Pool Ring
Solar rings have to be inflated to make them buoyant before they are placed on the pool's surface. All you have to do is inflate the outer surface until it is firm and inflate the inner portion slightly.
Place them on the surface of the pool, and the material they are made of will start heating your water and keeping your swimming pool warm. Most solar pool rings are fitted with magnets on their edges.
It is easy for them to stay connected and more completely cover your pool area. The magnets also ensure the rings do not overlap. Rings or squares will not cover every part of your pool, and as such, you can still run your pump.
Not covering the whole surface is an advantage as it allows sunlight to pass through, thereby reducing the growth of algae. It can also be a disadvantage as leaves and other debris still find their way into your pool.
Unlike other pool covers, solar pool covers can be removed easily; all you need is to detach the magnets and pull them out of the water. They offer the best swimming pool covering experience in my estimation because they are so easy to place and remove.
The best pool solar rings are light enough to move easily but heavy enough to stay in place. The optimal way to use these discs is to keep them on when you're not using the pool and remove them when you are.
As always, use the instructions that come with the product as a guide on how to improve the longevity of the materials from which they are made.
How To Store Solar Rings
Solar rings are small elliptical or square pool covers; this makes them easy to store. When you are swimming, you can stack them somewhere on your pool deck, away from the wind. Most solar covers feature a loop from which you can hang them when they are not in use.
If you want to store the rings for a long time, get them out of the water and spray them off. Use a soft brush to clean off debris when the rings are still inflated to ensure that no dirt is trapped in the creases.
Next, dry the rings by hand. If you decide to dry them with a leaf blower, hold them, so they do not fly all over your yard. Deflate the rings, flatten them and store them in their bag.
If the rings did not come with a bag, store them in a lidded container. This is a good idea anyway because mice like to nest in them over the winter and can ruin them quickly. Rings should be kept away from sunlight and abrasive surfaces.
Benefits of Using Solar Rings
There are some ways in which the features of solar rings just make them a better fit for certain swimming pools and use cases:
They reduce water evaporation (not as much as a full cover but they are far cheaper and less work too)
They reduce debris in your pool (same caveats as above vs. full cover)
They increase your pool temperature. The heat retention and efficiency are less than a full cover but better than no cover.
Installation, if you want to call it that, is super easy. Just throw them on the pool.
Multiple shapes to choose from
Efficiency – they can reduce the electricity or gas required to run your main heater, keeping your electricity bills lower
Best Solar Pool Rings Reviews
Solar Sun Rings With Anchors
Aside from being warm, the next best thing for your pool is for it to look good. That is exactly what you get with Solar Sun Rings's original model solar pool heater.
The way they work is by using the top vinyl layer to collect thermal energy from the sun – the heat is then passed through the bottom layer of vinyl and into your pool's water.
It comes in a package of nine, which is actually not a bad guess for how many are typically needed. You might need more, but you won't likely need fewer of them.
They have "anchors" which are vinyl bladders that fill with water when you put them in the pool to add weight that prevents them from getting blown out of the pool in high winds or other bad weather conditions. They also have magnets that keep them in place relative to the other rings on the surface of the pool.
The anchors automatically empty their water when your remove them from the pool. This makes them lighter to transport and less likely to develop any mold.
Pros
Have both anchors and magnets to keep them right in place
Among the more affordable options
Two year warranty against defects
Cons
Anything that is inflatable will fail over time
Air can leak slowly in very hot conditions
---
Solar Sun Rings Without Anchors
These are exactly the same as the first option but without the water bladder anchors. They have the same warranty and have the magnets to keep them in place. The other main difference is that they are slightly cheaper without the anchors.
If you have a sheltered pool that doesn't get much wind, you can save a few bucks by skipping the anchors. They also have a different appearance but whether that's a pro or a con will be entirely determined by personal taste.
This version comes in a six-pack, which is a little more flexible for getting exactly the number you need.
Pros
A very affordable option
Lack of the anchor makes them lighter to remove from the pool
Cons
Lack of anchors makes them more likely to exit the pool in very windy conditions
---
Solar Sun Squares With Inflatable Sides
Solar Sun Squares come from the same people that brought the original Solar Sun Ring model covered above and these work the same in a general sense.
These are some of the largest inflatable solar pool heaters on the market which makes them an intuitive option for larger square or rectangular-shaped pools.
However, they don't have anchors or magnets, so keeping them in place won't be as easy as it is with the round options. They are also the most expensive option by a wide margin, both on a per unit and per square inch of coverage basis.
Pros
Can provide very complete surface coverage in square or rectangular pools
Largest amount of coverage per unit
Cons
Expensive
No anchors or magnets to keep them in place
---
No Air Heat Squares
No Air Heat Squares is one more option when it comes to passively heating your pool with the sun's thermal energy and keeping the pool water warm without extra heating equipment. One of the best parts about this model is that it does not require any inflation, so there is zero setup and you never have to worry about re-inflating your solar pool heater ring on those extra hot days.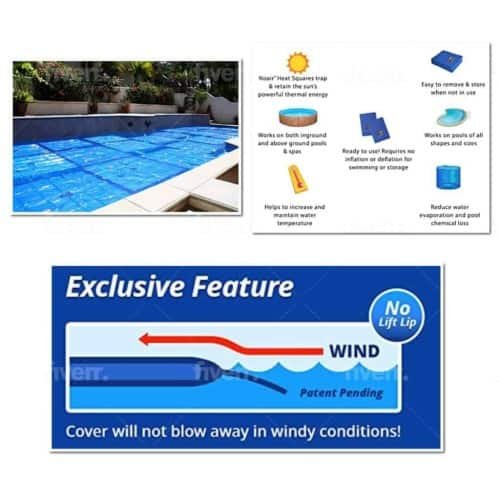 This design is an alternative to the other swimming pool heating devices we've reviewed thus far. While the materials are durable and require no inflation so the reliability should be higher than the other inflatable options, the unique design also has a terrible flaw.
They tend to overlap one another and bunch up instead of staying in a grid pattern. So while they are a value in many ways, their effectiveness can get reduced to nearly nothing.
If your pool size is small–perhaps on a spas or hot tubs these might work just fine–they may work for you. But the manufacturer didn't think all the way through the use of these on larger pools.
Pros
No inflation means minimal setup and easy removal and storage
Cell foam core allows for prolonged buoyancy (air doesn't leak out)
Likely to be most durable option
One of the most affordable options
Cons
Don't stay in place
Tend to bunch up or overlay one another
---
Final Thoughts About Choosing a Solar Pool Ring
Solar pool rings are great when you need a quick solution to heating your pool and keeping (some) debris off. Our top recommendation is the round, with anchors, Solar Sun Rings.
The conclusions in our reviews are often more nuanced than this. But in this case–when considering all the relevant factors–we just have a clear winner for most pool owners.
FAQ
Do solar sun rings work?
They do work, by trapping solar energy and converting it to heat for your pool. Many users see temperature increases of 2-8 degrees Fahrenheit, depending on the size of the pool and number/surface coverage of the rings. They are not a replacement for a full cover or gas/electric powered heater though.
How many solar pool rings do I need for my pool?
It depends on the size of your pool and the amount of surface coverage you want. A good range for surface coverage is 50%-80%. You can get an idea from the chart (4th image in listing) here.
Are solar pool rings safe to use?
The usage of solar pool rings is widely accepted as safe. They are comprised of a thin, translucent material that floats on the water's surface and soaks up the sun's heat to keep the water at a comfortable temperature.
There is no evidence that solar pool rings are dangerous to your health in any way. Solar pool rings are a fun addition to any pool, but they require the same care as any other pool accessory.
Before letting anybody into the pool, check that the rings are correctly positioned and secured according to the manufacturer's instructions. Rings should be inspected often for wear and damage, and replaced as necessary to protect swimmers.n.
Do solar pool rings cause algae?
Direct sunlight prevents algae, so any covering will make the water more prone to developing algae. However, pool rings are not intended to cover the entire surface and the round ones don't provide full coverage because of their shape.
Because of all this, they are the least likely form of covering to produce algae (aside from a liquid cover, but that's a whole different use case).
Do solar pool rings blow off?
Most of the time, no. But in storms and high wind conditions they can blow out of the pool. Some versions have magnets and anchors that make this very unlikely, but enough wind will do the trick.
---