One of the many brands of solar generators is the Okmo.
The team here at Suntrica has researched every manufacturer of solar generators that we can find and collected some info on each one to help you make an informed decision on your purchase.
Here's what we learned:
What Products Do They Make?
Okmo is a company that provides solar power solutions for homes and businesses. They sell generators and power stations, which provide electricity when there is no grid connection or if the grid is down.
Their products are used in places where there are frequent blackouts and where the grid is unreliable.
View Other Brands:
Are Okmo Products High Quality?
Okmo is a wonderful fit for your requirements, according to a 4.3-star Amazon rating. With a consistent power supply and superior quality, it represents the finest value.
What Is the Reputation of the Company?
Okmo was founded in 2012 and is projected to generate $31.6 million in income by 2021. Okmo offers its goods via their website, Amazon, and other online retailers, as well as eBay and other local retailers.
Where Are They Based?
Okmo's headquarters is based in Shenzhen, China.
Where Are the Products Manufactured?
Okmo is a solar generator manufacturer. In Shenzhen, China, they have a manufacturing facility.
What Is Their Standard Warranty?
Okmo provides a risk-free purchase with a 2-year guaranteed warranty and 24-hour after-sales assistance. This means that you can purchase an Okmo product with confidence, knowing that you will be covered in the event that something goes wrong.
Do They Have Good Customer Support?
According to an Amazon review, Okmo's customer support was great and they are professional.
How Can I Contact Them?
You may contact them through their email Jodie@okmotech.com and Hello@okmotech.com.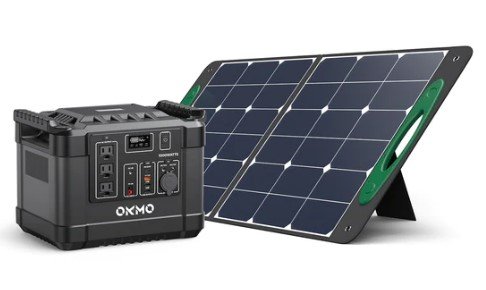 Where Can I Buy Okmo Products?
They sell their products through their site, Amazon, and other online stores, as well as stores in your area, like Home Depot.
Conclusion
The Okmo is an innovative and eco-friendly design which comes with a powerful solar panel that harnesses the sun's energy and converts it into electricity.
Okmo Solar Generator Models
| | | |
| --- | --- | --- |
| Model | Okmo 2000W | Okmo 1000W |
| Capacity | 2220Wh | 1110Wh |
| Dimension | 43″L x 3″W x 14″H | ‎43 x 3 x 14 inches |
| Weight | 46 lbs. | 24 lbs |
| Cost Per Battery Cycle | $0.9 | $0.5 |
| Charging Time with 50W Panel | 28 hrs. | 30-34 hrs. |
| Charging Time with 100W Panel | 14 hrs. | 17 hrs. |
| Charging Time with 200W Panel | 7 hrs. | 8.5 hrs. |
---