You have probably heard of outdoor solar lights. You may have even seen some small ones at the store in the gardening section.
Perhaps you have considered getting an outdoor solar light to cut down on electricity, but you simply haven't seen one that fits your needs. Or maybe you think that the right one for you doesn't exist.
In this list of 33 gorgeous and eco-friendly outdoor solar lights, I will show you that there is a solar light for any outdoor lighting need you may have.
Gorgeous and Eco-friendly Outdoor Solar Lights Reviews
1. Solar Flood Lights – Protect Your Home
Floodlights are one of the most popular and simplest ways of increasing the security of your home.
Solar floodlights, especially LED ones, are durable, easy to install, and will save money on your electricity bill among other things.
For the full details, watch our Solar Flood Lights Review.
The best solar flood lights also come in a variety, some having the added advantage of motion sensors.
---
https://www.youtube.com/watch?v=PwPUNouzIDE
2. Solar Flagpole Lights – Increase the Effect of Your Flag
Having a flagpole at your office is good for catching attention. A solar flagpole light will increase this effect and enable you to keep your flag up after dark.
Solar flagpole lights turn on automatically when it gets dusk, all that it needs is to be installed.
This is easy to do since most weigh less than one pound.
Check out the options in our Solar Flagpole Lights Review.
---
3. Solar Christmas Lights – Perfect for Celebrating the Season
Perhaps one of the best reasons to go with solar Christmas lights is the fact that you can now decorate the far edges of your lawn you were formerly unable to reach with an electric cord.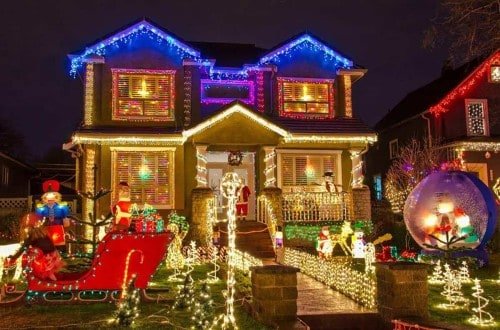 They are very easy to set up and, if you are in doubt, tutorials are easy to find on YouTube.
You can also find out more here: Full Review Of Solar Christmas Lights | Best Solar Christmas Lights.
---
4. Solar Camping Lanterns – Great for Outdoor Enthusiasts
Solar camping lanterns also compare well against hand-crank ones and often have the added benefit of being able to act as a charger for your phone.
The brightness of camping lanterns is measured in lumens. Solar camping lanterns can have different settings that provide different lumens according to how much light you need.
To help you choose the right one, watch our Solar Camping Lantern Review.
---
5. Solar Spotlights – Create a Focal Point
Solar spotlights deliver a direct beam of light and are the perfect thing to use for highlighting a statue or any other feature that you want to highlight.
They come in a wide variety of sizes and prices and can have their solar panel attached by a long cord that can allow you a lot of flexibility when placing it.
For the full details, See Full Review Of Solar Spotlights.
---
6. Solar Motion Lights – Lights of Many Uses
Motion lights are most often used to scare off potential robbers, but can also be used for things like hunting.
Some are specifically designed to gradually get brighter so as not to scare off the game.
There is a wide range of different kinds of solar motion lights to choose from so asking yourself some important questions about its purpose will help you to decide which one you need.
We can help you out with this in our Solar Motion Security Lights Review.
---
7. Solar Path Lights – Light Up Your Walkway
Using solar lights for your path requires no cords whatsoever, the small solar panel is built right into the tops of the small lights.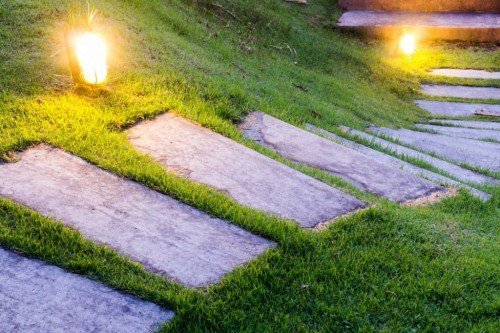 Inexpensive options do not tend to last long but still can do a great job of lighting up the edges of your driveway or path. Check out the more durable options in our Solar Path Lighting Review.
Besides, they can also look romantic for a nighttime stroll.
---
8. Solar Gutter Lights – Cleverly Hidden
The main advantage of solar gutter lights is that they are not on the ground in the way of mowing and yet still easy to install.Another key feature is that they are small and portable enough to be taken on camping trips or on vacation and they still increase the security of your home.
---
9. Solar String/Rope Lights – Works Wherever You Want It
Solar rope lights are made with the lights in the case of plastic tubing that protects them from damage and prevents them from getting wet.
This helps them last and also means that you can place them on the ground even near wet areas. They also come in a wide variety of colors and have different settings available.
For more info on how to choose, See our Solar String Lights Review.
---
10. Solar Deck/Patio Lights – Invite Your Guests Outdoors
Outdoor solar wall lights are perfect for decks and patios. They shine most of the light down toward the ground so that you can see where to step without any risk of tripping over the light.
Another option is to get flush mount solar stair lights which are installed into the floor of the deck itself so that they lay flush with the rest of the floor.
For more info on how to choose, See our Best Solar Deck Lights.
---
11. Solar Shed Lights – Light for Your Work Space
Solar shed lights that are good quality can give anywhere from six to twenty-four hours of light after dark, giving you plenty of time to work.
Another benefit of solar shed lights is that you can also place them in barns, greenhouses, porches, and anything else that has a roof and needs light inside.
For the full details, see our Solar Shed Lights Review.
---
12. Solar Post Cap Lights – Perfect for Any Fence
Solar post cap lights are easy to install and have a definite aesthetic appeal, especially on wooden fencing.
However, you do not have to have a wooden fence to get one of these and there is a wide variety of ones to choose from, whether you like the look of stained glass or more of a backwoods style.
To help with choosing the best ones, see our Solar Post Cap Lights Review.
---
13. Solar Lamp Posts – Classic Beauty for Your Yard
Solar lamp posts have two main ways of installation: stakes or planters. Stakes are driven into the ground and require a bit of digging, while planters take up more room and prevent and are literally surrounded by a square or round planter at the base.In stormy areas, these can be equipped with flat panels to help it cope with high winds and some can stay lit for more than one night, even without the sun coming out.
---
14. Solar Powered Dusk to Dawn Lights – All Night Options
Dusk to dawn lights is ideal for things like schools, roads, driveways, golf courses, and more.
They can come in different sizes and kinds and all are built to harness the maximum amount of sunlight and to store the energy in internal batteries for use at night.
To help to choose the best option for your needs, see our Solar Dusk To Dawn Lights Review.
---
15. Solar Garden Lights – Light Up Your Masterpiece
No matter what the theme of your garden is there is likely a novelty solar garden light to go with it, whether you like gnomes, or prefer castles, or animals.
Easy to place and safe to use around kids and pets, can even be safely used around your pool
Solar Garden Lights | Best Outdoor Solar Lights for the Yard, Landscape & Lawns
---
16. Solar Yard/Lawn/Landscape Lights – Show Off Your Hard Work
No matter what the theme of your garden is there is likely a novelty solar garden light to go with it, whether you like gnomes, or prefer castles, or animals.
Easy to place and safe to use around kids and pets, can even be safely used around your pool.
How to Choose the Best Outdoor Solar Lights for the Yard, Landscape & Lawns
---
17. Solar Fairy Lights – Perfect for a Delicate Touch
Fairy lights can look magical in your garden and most have eight different flashing modes so you can have the exact ambiance you want.
They are cool to the touch and make a lovely finishing touch to wedding centerpieces and floral arrangements, having the added benefit of being waterproof.
We've highlighted some great options in our Solar Fairy Lights Review.
---
18. Solar Street Lights – Perfect Lighting for Playgrounds and Businesses
Some of the most common uses include providing light for highways, parks, playgrounds, and parking areas.
They are completely independent of the grid, require less maintenance, lower the risk of accidents caused by external wires, and have a much lower risk of overheating.
---
19. Hanging Solar Lights – Showcase Your Outdoor Area
Often look like lanterns and you can even make them yourself by up-cycling other kinds of solar lights.
They can come with either a wire handle or a clip and can also come in animal shapes such as owls, butterflies, jellyfish, and more, or in a simple orb shape.
Hanging Solar Lights | Best Hanging Solar Lights
---
20. Decorative Solar Lights – Add Style and Beauty
Decorative solar lights allow for amazing creativity and DIY options can be as cheap as going to a dollar store and putting a few things together, yet they can have incredible results.
The fact that by using you can still go outside and enjoy having lights should your electricity go out is only one of the benefits.
Solar For Decorative Outdoor Lights | Best Decorative Solar Lights
---
21. Solar Fence Lights – Mark Your Boundaries
There are two main options for lighting your fences: post cap lights work well on thick and sturdy fences, while side-mounted lights can be placed on any fence, large or small.
They not only clearly mark where your fence is at but they can also light your driveway or path if it is near a fence.
Solar fence lights | Top 7 wall fence lighting ideas | The right solar fence lights for your yard
---
22. Solar Driveway/Parking Lot Lights – Light Your Home or Business
Though you will need to get an estimate for how many lights you need, most can be installed without causing damage to your parking lot during installation.
These solar lights can also be used to light up long, dark driveways and even gun ranges if you want to practice your aim after dark.
---
23. Solar Security Lights – Many Options and One Goal
Any building that has lights on looks occupied and is less likely to be vandalized. With solar, this protection is still there even if the power goes out.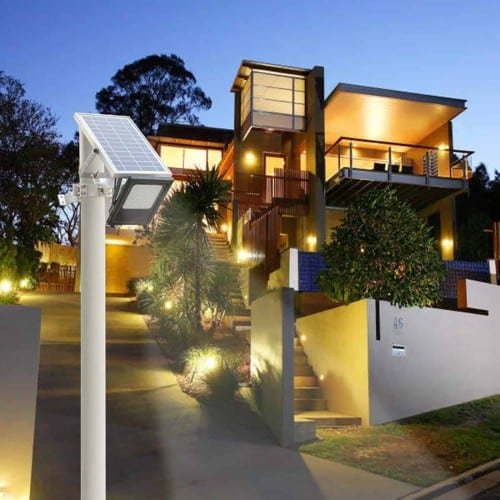 When deciding what you need, take into consideration that a study on burglars was done that proved that the most common deterrent was a lack of hiding places available on well-lit properties, so choose that minimize these areas.
Solar Security Lights | Best Commercial Parking Lot Solar Lighting
---
24. Solar Umbrella Lights – Both Shade and Light
Used in restaurants that have an outdoor area, are also a great feature on your home patio.
They come in a wide variety of colors, with tilting options, and can have their stand in the center or even on to the side for easy use should you already have a table that has no hole for it.
---
25. Solar Dock Lights – A Boating Essential
Power pedestals act like a small lighthouse for larger boats while piling lights or wharf lights can add a very pleasing touch. There are even underwater solar dock lights that are perfect for attracting fish.
Solar Dock Lights work near both saltwater and fresh, and in some places, there is even tax incentives for installing them.
---
26. Solar Garden Stakes – Small and Versatile
Solar garden stakes are cheap and can easily be converted into outdoor solar chandeliers, lamps, or any number of other yard decorations that can cost less than $5 to create.
Or you can Buy Solar Garden Stakes that are works of art and are made of glass, metal or other materials that are waterproof and have always-in-bloom flowers or Precious Moments figures in your garden.
---
27. Solar Tea Lights – All Purpose Light
These tiny lights can be used as a safer alternative in place of candles inside Jack-O-Lanterns, as a light in 'fairy jars,' placed in frosted jars to make lanterns and any number of other creative ideas.
Solar Tea Lights also look lovely placed in a row along the top of a low wall or on the ground along the edge of a patio or stone pathway.
---
28. Solar Tree Lights – Moonlight Every Night
Besides wrapping your tree in lights, the other options are down-lights and up-lights. Down-lighting looks more like moonlight and shows off what is on the ground around the tree, while up-lighting focuses more on the tree itself.
Of course, if you are wealthy you can Buy Solar Tree Lights that give light, Wi-Fi access, recharge things for you, and have an info touch screen.
Best Solar Spotlights | Best Solar Uplighting for Trees
---
29. Solar Pillar Lights
Pillar lights are made to sit on top of the ground, being heavier at the bottom and needing no stakes, but they can also sit on wide rock walls or fences.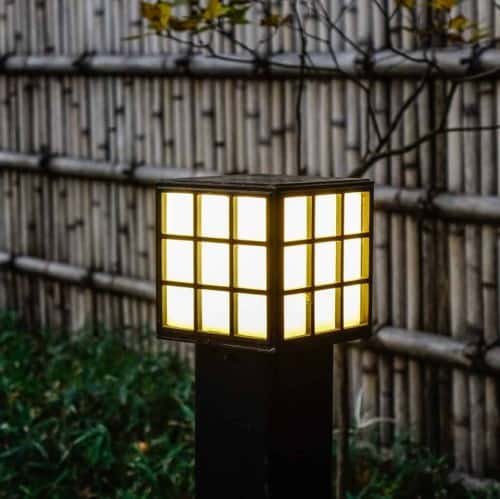 They are a staple in high-end outdoor décor due to their classy looks, yet are a quite affordable and cost-efficient method for lighting.
Solar Pillar Lights | Best Outdoor Solar Pillar Lighting
---
30. Solar Rock Lights – Highlight Your Rock Garden
Solar Rock Lights are designed to look like ordinary rocks in order to camouflage into the rest of the scenery and come in a range of sizes.
These can also come as stepping stones which can look like actual stones or nothing like them at all. Some rocks can even have butterflies or dragonflies above them that light up.
Best Solar Powered Rock Lights
---
31. Solar Disk Lights – Great Small Lights
Disk lights are small, round, and have a short stake that keeps them stable as it is pushed all the way into the ground so that the only visible part is the disk which can handle flooding.
They last an average of 8-10 hours and can be used on flat areas by simply not attaching the stake. It can also come in different colors and with different settings.
---
32. Solar Powered Grow Lights – Perfect for Your Greenhouse or Garden
Power can be one of the biggest factors in planning a greenhouse and, even in indoor setups, light is perhaps the most important thing for seedlings which is why Solar Powered Grow Lights are so useful.
These lights can also be used in a regular garden to help the plants grow a little faster and to allow you to work in your garden at night in the summer when it can be too hot to go out during the day.
---
33. Solar Garage Lights – Light Up Dark Rooms
Solar Powered Garage Lights come in kits and can be used for any garage, shed, or even your house should your electricity go out and can often serve as a charger to your phone as well.
Other uses can include chicken coops or cabins, and most can provide somewhere between 4-10 hours of light and have small enough solar panels so that you can install them yourself.
---
Conclusion
With so many different solar options I know that you found one in the list above that you could use. You may have known about one of these and yet never thought of a possible use that I mentioned for it.
Did you enjoy my list and learn anything that you didn't know before? If so, please let me know what you learned and what you think of these 33 solar light options!
---