Sometimes, it is hard to go off-grid, as much as you want too. We need devices with a lot of power to work, stay in touch, and do things we enjoy. However, that doesn't mean you are completely helpless. There are little generators available that run off of the sun.
The Jackery 300 is a generator that won't break the bank, but allows you to just be a little more environmentally friendly. Using its 300 watts of power, you are able to charge many devices at once, completely off of the sun.
To learn more about the Jackery 300, including all the pros and cons, continue reading.
Specs and Features
What Comes With It?
While the Jackery 300 doesn't come with a set of solar panels, it does come with some things to help you charge your generator in other ways, as well as protect it with a warranty and a guide on how to use the Jackery.
Jackery Explorer 300 Portable Power Station
Large capacity: Can charge up a couple of devices occasionally or in case of an emergency
Display Screen: Shows how many watts are charging as well as how much battery have left and with a quick touch of a button
Safety features: It has MPPT technology that is built into the system to allow for faster recharges and additional safety features
Various ports: Has 6 outlets available in a variety of different shapes and types that you can charge multiple devices
Car charger
AC charger
Soft case for carrying the chargers
User manual
Warranty card
Media card
Solar Panels
The Jackery Solar Generators use Solarsaga solar panels. These aren't included usually and have to be purchased separately. They have a 100W solar panel, which is ideal for the generator. Some people have managed to use bigger solar panels, or use two at once, but for this size of generator, Jackery doesn't recommend it.
Charging Ports
The Jackery Explorer 300 comes with six ways to charge your devices and power appliances. You get:
One USB C plugin (which can be used as both an input and an output)
Two USB-A plugins
Two pure sine wave AC plugins
A 12V DC Plugin (like you would see in a car)
Battery
The battery is lithium-ion and has a battery capacity of 293.8Wh (watt-hours). It also comes with MPPT technology that is built into the system to allow for faster recharges and additional safety features.
Power
The Jackery 300 can handle about 300 watts of stable power being used from it. It can go up to a peak of 500 for a few minutes as needed. Any more than this, and it will turn off to save its battery and not be able to run enough to charge it.
Display Screen
If you've ever used a battery pack, you know that they can be frustrating when you are trying to determine how much battery is left and you only have a light that blinks or changes colors to tell you when it is low.
This isn't good if you are trying to see if you have a full charge, or at least enough to charge up your device.
However, the display screen for the Jackery provides a lot of information. They understand that their Jackery's are used a lot for emergencies, and having the exact battery power is a necessity.
Weight and Size
The Jackery weighs about 7 pounds, which makes it really easy to carry with you wherever you want to go. It measures 9.1 by 5.5 by 7.8 inches. You can fit it anywhere without a problem and it won't take up too much space in a bag or car.
However, the Jackery isn't waterproof, so you must be careful to keep it somewhere it can't get wet.
Pros
Virous outlets/ports
Easy to charge
Quiet and fume free
Eco-friendly
Sleek design
Reputable brand
2-year warranty
Made in the USA
Cons
Can't replace a gas generator
USB-C charging port
Expensive
Heavy
Not waterproof
Pros
Lightweight
The solar generator Jackery 300 is light, and small. Weighing only 7 pounds, you won't even need to think about lifting it and carrying it anywhere. Even in a backpack, it won't take up a lot of space or add too much weight.
Easy to Charge
With basically 4 charging options, you can charge this device however works best for you. Whether you wan't to get a little taste of being off-grid and use solar panels, or want to be able to charge up in your car, you have plenty of options.
Display Screen
The display screen is an amazing addition. While Jackery isn't the only company that has it, any battery alert that isn't just a LED light is a huge improvement over most battery packs. Being able to see how many watts I am charging and using as well as how much battery I have left is amazing, and I love that I can do it with a quick touch of a button.
Quiet and Fume-free
Unlike gas generators, the Jackery 300 is quiet. It has a little fan to help remove heat from around the battery, that is the most noise it makes. Otherwise, it is completely silent.
Additionally, since is doesn't rely on gas, it doesn't have any fumes that escape and smell bad. It is odorless, fumeless, and quiet. Way better than a gas generator.
Eco-Friendly
Speaking of no gas, it is also much more environmentally friendly than gas generators. Or at least, it can be. Though many people debate gas vs coal-powered electricity, no one is able to deny that solar power is the best.
By using this generator with a solar panel, you are making your devices much better for the environment.
Various Ports
I hate only being able to charge one device at a time, or not having the port I need. Thankfully, that isn't a problem with the Jackery Explorer. The 300 model has 6 outlets available in a variety of different shapes and types, so you always have an outlet you need, and sometimes multiples of the same one.
Sleek Design
Instead of hard, sharp edges, the Jackery models come with rounded edges and smooth, compact design. This allows you to fit as much as you can into a little package, and reduce the chances of injuring yourself or something else on sharp corners.
Also, the short design being so compact allows it to be close to the ground and therefore more stable. You don't have to worry as much about it tipping or being knocked over.
Cons
Can't Replace a Gas Generator
Obviously, the Jackery 300 can't replace a gas generator. If you are getting one this small, you don't need much more than a few devices charged occasionally anyway.
However, solar generators in general just aren't up to the task for emergency power quite yet. Even Jackery's biggest one, which is pretty pricy, isn't able to run a full house during an emergency. It can definitely power the essentials, but I still think between their long charging times and lack of power without a hefty price tag, they still have a bit further to go.
Expensive
The generator itself is a pretty good price. At $300, I would be happy to buy it. However, another $300 for the solar panels seems like a little much, especially when there are far better panels out there on the market.
The pack is still well with it, but it is a rough initial purchase for sure.
Not Waterproof
One of my biggest disappointments with both the Jackery and the solar panels is that they are not waterproof. I've handled quite a few solar panels and I haven't ever come across any that couldn't handle rain. Maybe they couldn't be submerged in water, but a little rain is not a problem.
While you can't get full power on a cloudy day, you can sometimes still get pretty good power through solar panels. So having to pack them up every time I fear it might rain seems like a waste and pretty inconvenient.
The Jackery is also pretty disappointing but a little more understandable. For being toted as an outdoor-adventurer's generator, I expected it to be a little more durable. The plastic is already a little too flimsy for my taste, though I understand it helps reduce weight, but it also can't get a little rain?
USB-C Charging Port
While I love the dial functionality of the USB-C charging port, it takes some getting used to. The biggest issue is that this port can be used as an input and an output to charge another device or recharge itself. If I am not really paying attention, I may mean to recharge a battery pack, only to find out the Jackery 300 has been taking the power instead and draining the battery pack.
It does have a green LED to let you know if it is charging or being charged, and I can also check on the wattage, but it can be frustrating sometimes if I overlook it.
Related Article:
Power Up Your Adventures: How to Choose the Perfect Jackery for Your Needs
Jackery Explorer 300 Portable Power Station
Large capacity: Can charge up a couple of devices occasionally or in case of an emergency
Display Screen: Shows how many watts are charging as well as how much battery have left and with a quick touch of a button
Safety features: It has MPPT technology that is built into the system to allow for faster recharges and additional safety features
Various ports: Has 6 outlets available in a variety of different shapes and types that you can charge multiple devices
Comparison with Other Brands
| | | | | | | |
| --- | --- | --- | --- | --- | --- | --- |
| Generator | Peak Watts | Charging Time | Total Number of Cycles | Cost per Cycle | Dimension | Weight |
| Jackery Explorer 300 | 500W | 2.5 hrs. | 500 | $0.6 | 9.1 x 5.2 x 7.8 in | 7.1lbs. |
| Renogy Phoenix 300 | 350W | 3.5 hrs. | 1000 | $0.2 | 7.1 x 6.1 x 5.6 in | 6.4lbs. |
| Lion Trek – Portable Solar Generator | 150W | 3.3 hrs. | 2000+ | $0.09 | 5.47 x 1.57 x 8.54 in | 2.1lbs. |
| EcoFlow RIVER 2 | 300W | 1 hr. | 3000 | $0.09 | 9.6 x 8.5 x 5.7 in | 7.7lbs |
| Bluetti EB3A | 600W | 40 mins. | 2,500+ | $0.14 | 7.20 x 7.09 x 10.04 in | 10.14lbs. |
| Inergy Kodiak LT | 350W | 8-9 hrs. | 2000 | $0.3 | 6.6 x 10 x 5 in | 7.6lbs. |
| Oukitel P301 | 300W | 5 hrs. | 1000 | $0.1 | 9.3 x 6 x 6.2 in | 10.56lbs. |
What Is the Capacity of the Jackery 300?
The Jackery's battery capacity is just under 300Wh. This lasts a good, long time for those that just want to charge up a couple of devices occasionally or in case of an emergency.
What Is the Jackery Explorer 300 Price?
The Jackery Explorer 300 costs $299.99 or just under $300. However, this is just for the Jackery Explorer and not the solar panels. While you can sometimes be lucky enough to find a bundle, you generally have to shell out another $300 or so dollars, which doubles the price to bring it up to $600.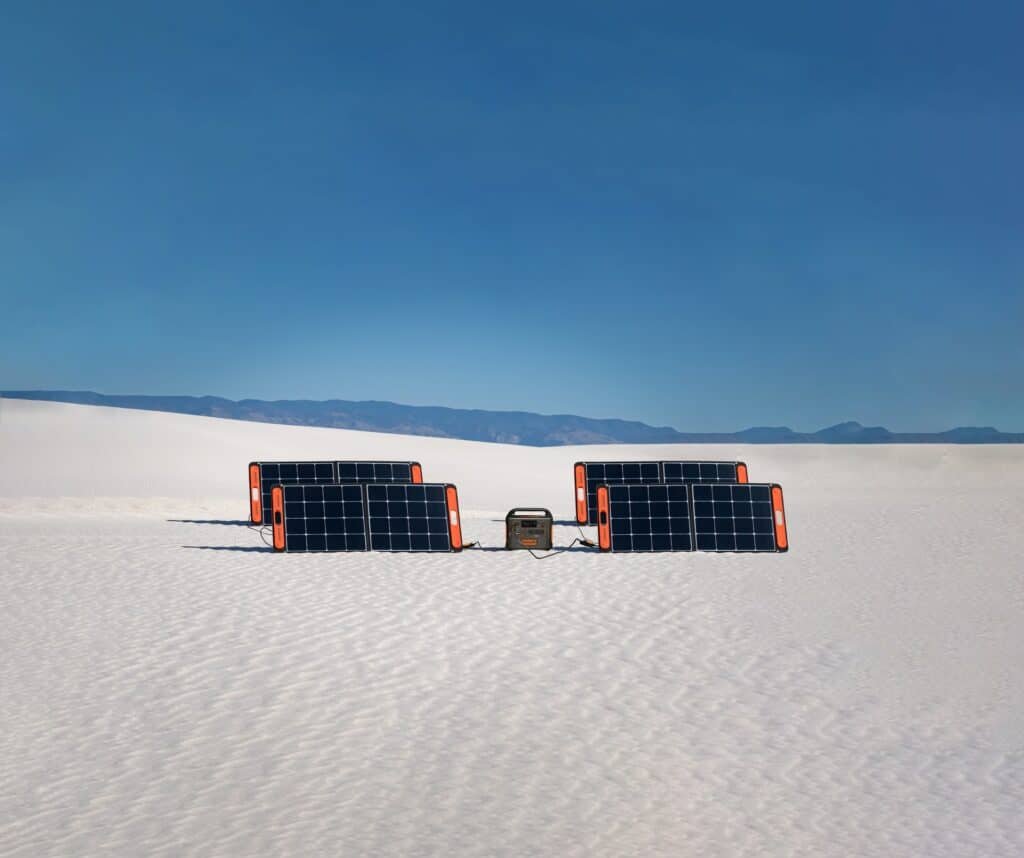 While you certainly don't need the Solarsaga 100w panel, it is a good option if you are going to be out boondocking.
How Do You Charge the Jackery Explorer 300?
There are three main ways to charge the Jackery Explorer 300. You can use a wall outlet, a car charger, or solar panels. Each one takes slightly different times to charge.
Additionally, with the USB-C port being an input and output, it can charge your Jackery as well. However, it is recommended that you use it in conjunction with the wall outlet for faster charging times.
How Fast Does the Jackery Explorer 300 Charge?
According to Jackery, it should be charged in anywhere between 2 to 4 hours. These numbers only take you up to 80%, so it may take a bit longer to get up to full charge.
Wall outlet plus USB-C: 2 hours
Solar panels: 3.5 hours
Wall outlet: 3.5 hours
Car outlet: 3.7 hours

However, people often say that these numbers are pretty exaggerated and it can sometimes take up to double of the amount listed, especially when it comes to solar panels.
Is the Jackery 300 Enough?
The answer to that question depends heavily on you and your needs. If you want to be able to run and charge a lot of electronics at once, the answer is probably no. however, if you just want something small that can charge a phone and maybe a speaker, then this should be more than enough.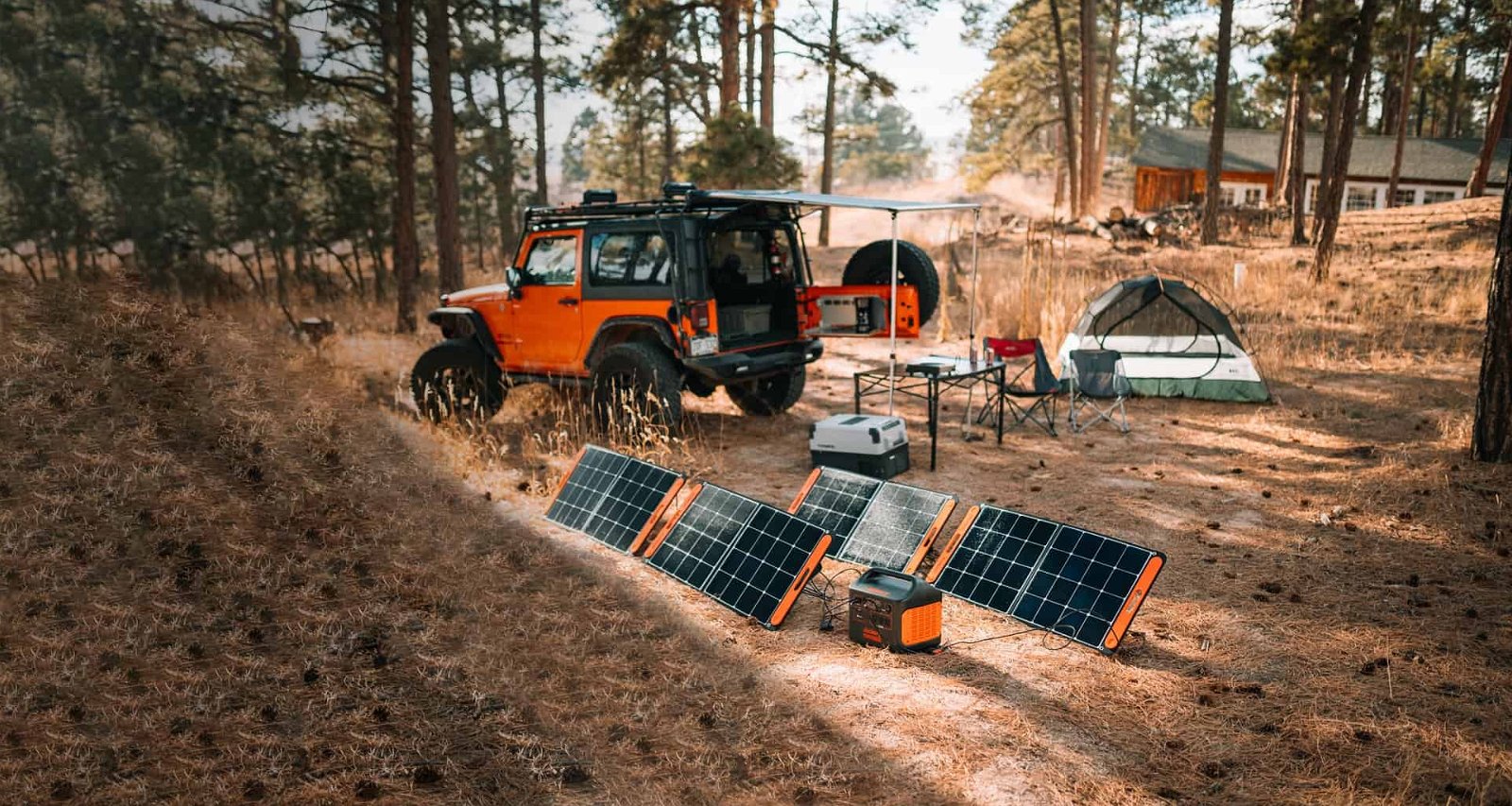 To determine if this is enough for you, you need to look at your power usage and what you want to charge. Things like kitchen appliances won't be able to be powered by this, so if you need a teapot, a blender, or something else, this will probably not provide you with enough power.
How Long Will a Jackery 300 Last?
Most Jackerys can last 3 or so years before they start to decline in quality. This is because Lithium-ion batteries can handle about 500 full cycles (a full charge and discharge count as one cycle) before they start to lose quality.
For the average person, this usually means about 3 years of working at 100 percent. After this, it can decline to 80% battery capability.
Switch: 40 hours
Camera: 54 charges
Fan: 15 hours
Laptop: 4 charges
Mini cooler: 5 hours
Phone: 30 charges
TV: 4.5 hours
Light: 27 hours
What Can You Run on a Jackery 300?
As long as you aren't pulling more than the allotted watts, you can charge or run just about anything small. I have seen people charge e-bikes and drones. Power tools, smartphones (including an iPhone), laptops (Macbook), tablets (iPad), smartwatches, speakers, fans, and more are all acceptable options.
What Are Brands Similar to Jackery 300
If a Jackery doesn't seem right for you, don't fret. There are plenty of other solar generators out there that have similar reviews and benefits that might work a bit better for your needs.
Goal Zero Yeti
EcoFlow Delta
Anker Powerhouse
Nexus
FlashFish
Bluetti
Can You Charge a Jackery 300 While Using It?
It is entirely possible to use a Jackery 300 while it is charging. However, it isn't often recommended, because it charges pretty slowly. This means that though it might be able to handle 300 watts usually, it might only be getting 100w of power coming in.
This makes it easier to fully discharge the battery, and you may not be able to charge at all during this process.
Jackery 300 Review
| | |
| --- | --- |
| Capacity | 293Wh (14.4V, 20.4Ah) |
| Power Outputs | 110VAC, 60Hz, 300W (500W Surge) |
| DC Charging Input | 12V-30V (90W Max) |
| Auto Shutoff | No |
| Size | 23 x 13.3 x 19.9 cm |
| Weight | 7.1 lbs (3.2 kg) |
| Included | Car Charging Cable,AC & AC Cable (2 Parts),User Manual |
| Warranty | 2-Years Warranty |
| Optional Accessories | Jackery SolarSaga 100W Solar Panel |
| Measurements | 9.1 x 5.2 x 7.8 in |
| Maximum Output Power | 500W Surge |
| AC Output Voltages | 110VAC |
| AC Overloads | Yes |
| AC Output Frequency | 60Hz |
| AC Cooling Fan | Yes |
| Charging Rates | 90W |
| Charge Times | 2.5 Hours |
| Flashlight | No |
| 12V DC Output Voltage | 12V, 10A |
| LCD Meters | Yes |
| Self Discharge | No |
SolarSaga100W Specification That Use To Charge Jackery Explorer 300
| | |
| --- | --- |
| Peak Power | 100W |
| Weight | 10.33lbs. |
| Dimension (folded) | 24 x 21 x 1.4 in |
| Dimension (unfloded) | 48 x 21 x 0.2 in |
| Cell Efficiency | 23% |
| Charging Time of Jackery Explorer 300 | 3.5hrs. |
What Can It Power?
| | | |
| --- | --- | --- |
| Device | Power Drawn (KW) | Time It Can Be Powered |
| air conditioner | 1.75 | 10 mins |
| air fryer | 1.725 | 10 mins |
| amplifier | 1.2 | 14 mins |
| boat battery | 0.75 | 23 mins |
| battery charger | 0.015 | 19 hrs 32 mins |
| computer/cpu | 0.5 | 35 mins |
| cooler | 0.05 | 5 hrs 51 mins |
| car battery | 0.55 | 31 mins |
| coffee maker | 1.2 | 14 mins |
| cpap machine | 0.4 | 43 mins |
| dryer (cloth) | 1.5 | 11 mins |
| electric fan | 0.04 | 7 hrs 19 mins |
| extension cord | 1.6 | 10 mins |
| water filter | 0.06 | 4 hrs 53 mins |
| fuel pump | 1.1 | 15 mins |
| freexzer | 0.23 | 1 hr 16 mins |
| oil fryer | 1.7 | 10 mins |
| heater/room heater/small heater/space heater | 1.5 | 11 mins |
| hair dryer | 1.875 | 9 mins |
| iphone | 1.045 | 6 hrs 30 mins |
| iPad | 0.06 | 4 hrs 53 mins |
| induction cooktop | 0.9 | 19 mins |
| inverter generator | 0.03 | 9 hrs 46 mins |
| inverter abttery | 1.2 | 14 mins |
| juicer | 0.03 | 9 hrs 46 mins |
| keyboard | 0.0025 | 117 hrs 12 mns |
| kettle | 1.5 | 11 mins |
| keurig | 1.5 | 11 mins |
| laptop | 0.15 | 1 hr 57 mins |
| lightbulb | 0.06 | 4 hrs 53 mins |
| microwave | 0.9 | 19 mins |
| mini fridge | 0.07 | 4 hrs 11 mins |
| mixer | 0.325 | 54 mins |
| normal room | 0.5 | 35 mins |
| off grid cabin | 5.5 | 3 mins |
| oil cooler | 0.9 | 19 mins |
| oven | 1.15 | 15 mins |
| electrical panel | 0.05 | 5 hrs 51 mins |
| pc | 0.25 | 1 hr 10 mins |
| projector | 0.35 | 50 mins |
| full size refrigerator | 0.4 | 43 mins |
| router | 0.01 | 29 hrs 18 mins |
| speaker | 0.358 mins | 1hr 32 mins |
| sump pump | 0.197 hrs 19 mins | 29 hrs 18 mins |
| tablet | 0.04 | 14 hrs 39 mins |
| thermostat | 0.01 | 1 hr 57 mins |
| transmitter | 0.02 | 29 mins |
| turntable | 0.02 | 12 mins |
| tv | 0.15 | 1 hr 10 mins |
| ups battery | 0.6 | 2 hrs 55 mins |
| vacuum cleaner | 1.4 | 23 mins |
| vacuum pump | 0.25 | 12 mins |
| vape | 0.1 | 2 hrs 55 mins |
| water pump | 0.75 | 14 hrs 39 mins |
| water heater | 1.44 | 1 min |
| xbox | 0.1 | 1 hr 37 mins |
| xlr microphone | 0.02 | 12 mins |
| yacht | 17 | 31 mins |
| dish washer | 0.18 | 17 mins |
| dehumidifier | 1.44 | 2 hrs 55 mins |
| pressure cooker | 0.55 | 1 hr 27 mins |
| water dispenser | 1 | 23 mins |
| play station 5 | 0.1 | 7 mins |
| sandwich maker | 0.2 | 7 mins |
| treadmill | 0.75 | 29 mins |
| basement | 2.5 | 9 mins |
| battery (ups) | 2.5 | 5 hrs 51 mins |
| breaker box | 0.6 | 58 mins |
| DC motor with Arduino | 1.8 | 11 mins |
| garage | 0.05 | 1 hr 57 mins |
| fire place | 0.3 | 9 mins |
| gas stove | 1.5 | 11 mins |
| GFCI outlet | 0.15 | 1 hr 57 mins |
| heater | 1.5 | 9 mins |
| jetski | 24 | 11 mins |
| joy con charging dock | 0.2 | – |
| kitchen aide mixer | 0.25 | 1 hr 27 mins |
| kitchen faucet | 0.04 | 1 hr 10 mins |
| travel trailer | 2.5 | 7 hrs 19 mins |
| universal remote | 0.005 | 7 mins |
| upright freezer | 0.1 | 58 hrs 36 mins |
| utility pole | 0.04 | 7 hrs mins |
| electric car | 75 | |
| vent | 0.55 | 31 mins |
| well pump | 1.2 | 14 mins |
| zero turn mower | 16 | 1 min |
Not the Right Jackery? Check Out Our Other Reviews:
---