Not just energy-efficient and cost-effective, but solar-powered water features are eco-friendly options for your garden or backyard. In addition to enhancing your outdoor space's beauty, the water feature encourages wildlife as it's an ideal pit-stop for birds and animals for drinking and bathing.
For those who appreciate nature and like spending time outdoors, a solar-powered water feature is a great way to upgrade your outdoor area. They come in a different array of styles and sizes to suit your garden style as well as budget.
Place it on grass, gravel, patio, fountains, ponds, it's easy to install and maintain. Bring tranquility and peace to your outdoor space!
Here are the top best solar powered water features on the market. However, the best overall option is because of its durable construction, dry protection, 3 tier cascading flow, LED illumination, and battery backup. Scroll down to about more options.
Top Picks Solar Powered Water Features
Benefits of Adding a Water Feature to Your Garden
Water feature offers a soothing presence in outdoor settings.
Not only do they create a backyard beauty by increasing the visual interest of your overall landscape but the bubbling water sounds seem to bring a sense of calm to any outdoor space.
Best of all, water features attract birds, butterflies, dragonflies, frogs,
toads, water spiders, and all kinds of good wildlife that brings life to your garden.
When powered by solar energy, this becomes a cost-free solution for you. Plus, there's no need for an electric outlet.
Things To Consider Before Choosing Solar-Powered Water Features
Performance
Since these water features are powered by small solar panels, their performance is affected by the intensity of sunlight. The pump performance is directly related to the amount of strength of sunlight received in your garden or backyard.
Full direct sunlight offers maximum performance while partial sunlight provides reduced performance. On the other hand, a cloudy or shady environment offers minimal to low flow and the water feature will not run at night.
However, your fountain will be ready to run the next day as soon as the sun directly shines on the solar panel. Solar-powered water features are more suited for summer days. Performance is also affected by when a solar panel or water inlet gets blocked or dirty.
If you want water-feature to work at night time as well as winters, look for the ones like the Sunydaze Water Fountain that have internal backup battery for overcast days and includes the following:
Battery Backup
Modern Cascading Bowls
LED Lights
Modern Patio
Garden or Porch Decor
Outdoor Water Feature
Rechargeable Solar Battery
28 Inch and Smart Solar 20326R01 Umbrella Series Solar Fountain
Boy and Girl Reading on a Bench, Aged Bronze Finish
Utilizes Smart Solar Dual Solar Panel Technology
The backup battery also aids in illuminating the integrated LED lights during the night. If you don't want your fountain to work all day long, a water feature with no battery backup won't be an issue for you.
Materials
Known for creating spectacular visual display and a calming environment in the garden, water features come in a variety of different styles and designs ranging from traditional to modern. A natural-looking garden ornament not only merges perfectly with flowers and plants, but also attracts wildlife.
Stainless Steel
The water feature made from stainless steel has a modern, clean, and stylish look that works great if you prefer to give your garden a contemporary look. They not only add a beautiful mirror light-reflecting effect to the surrounding space, but stainless steel water features also show great weather-resistant properties.
Stone/Marble/Granite
If you need a more rustic, realistic, and natural look, the traditional stone-made water feature can be a great option. Constructed from granite lumps, slate, marble, polystone, or hardwearing rocks, they appear more natural.
Their rugged appearance blends in with the garden quite well. Some also have built-in LED lights.
Polyresin
Water features construction from polyresin offers a realistic rock effect. As polyresin can mold into different shapes, styles, and textures, these water features come in various designs. Polyresin water features are most lightweight as opposed to rock or steel counterparts.
Besides, they are also available at a much lower price than the expensive and heavy carved-rock water features.
Resin and Fiberglass
These water features use lightweight flexible fiberglass properties with a hard resin. One layer of fiberglass combines with 2 layers of resin material to make any shape and paint your desired color.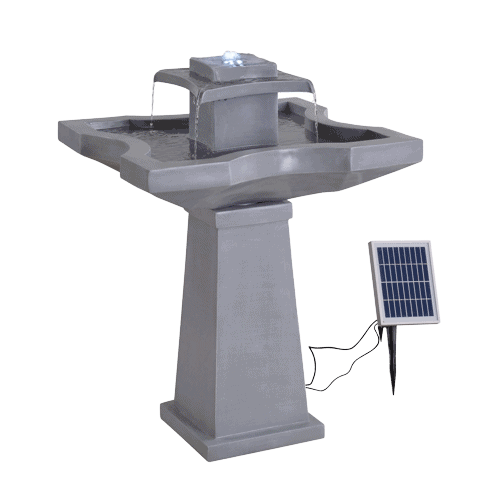 Metal
Metal water features are another great option for both modern and traditional outdoor spaces. They are durable and sturdy but some cheap metal features are prone to corrosion.
Ceramic
Water features made of ceramic are mostly hand-crafted from clay ceramic and then glazed for a smooth finish. They are easy to clean and maintain. However, ceramic water features tend to break if accidentally dropped or tipped over.
Freezing and Frost Damage
Solar-powered water features are designed for the outdoor garden. So, they must be made out of durable material to resist all weather conditions.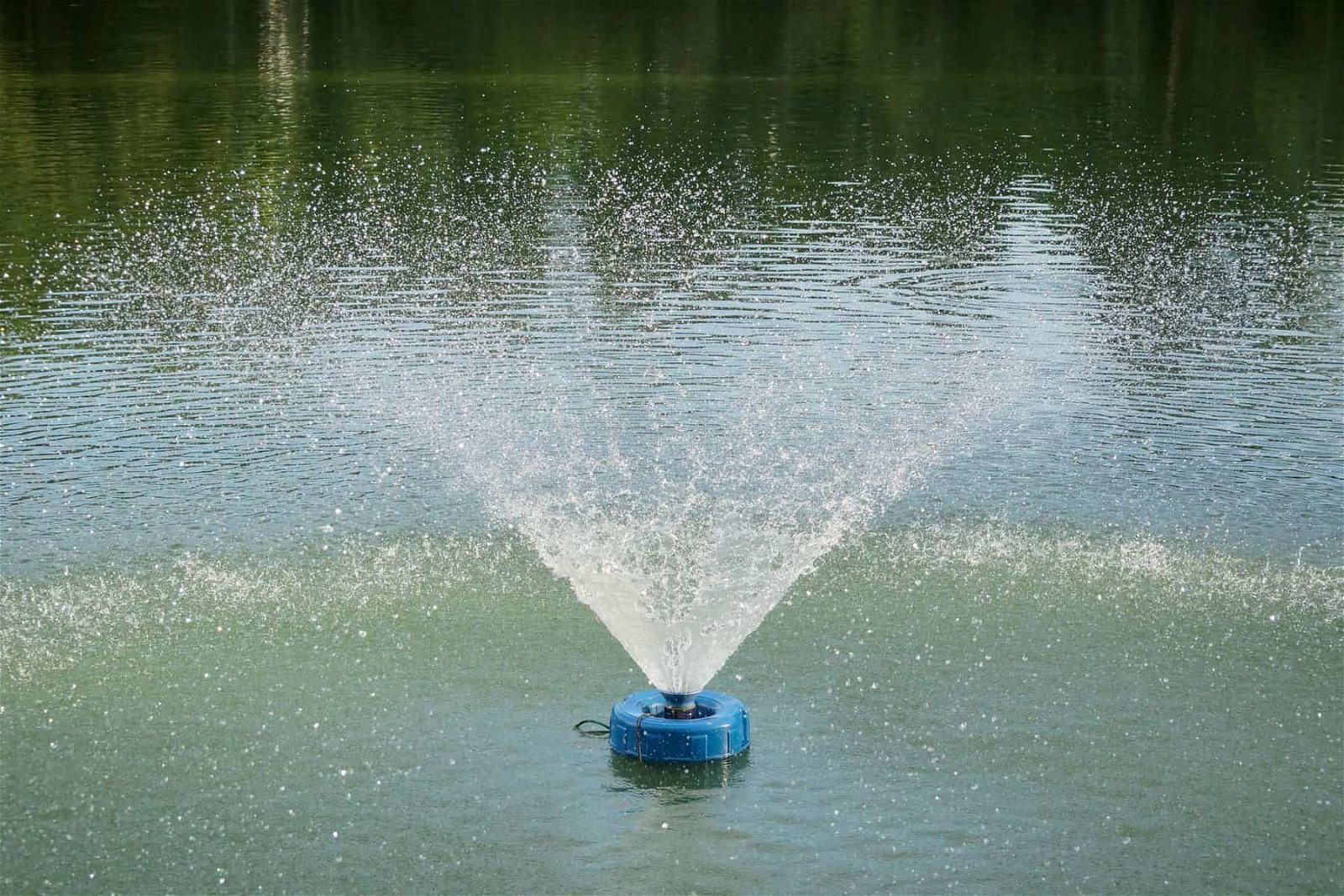 Freezing temperatures can cause damage to the water feature so before the temperature falls below 4 ̊C; you must store the unit in a dry place like the garage or shed during the winter season.
Move your water feature indoors in the winter to prevent it from cracking or freezing. It's best to choose a water feature made of weather-proof material like polyresin that's both frost and UV resistant to prevent damage.
Sound
Sound is another important consideration to look at when choosing a water feature. It must produce the same noise intensity and ambient sound effect that you want. The sound differs from one model to another with varying power capacity and size.
If you prefer the soothing bubbling stream sound, then opt for a water feature that creates a bubbling water stream. For bubble bath tone or rain trickling relaxing effect, choose the water feature carefully.
Best Solar Powered Water Features Reviews
Sunnydaze Solar Water Fountain with Battery Backup
Rating: 4.5/5
Battery backup
LED light illumination
Resin construction
This modern and stylish water fountain with cascading bowls designed by Sunnydaze solar can be perfect for your contemporary garden, patio, and porch. 15 x 15 x 28" dimensions make it ideal for all yard sizes. It comes with a remote 12 x 7" solar panel with a long 16 ft. cord to place at the area which receives maximum sunlight.
The great thing about this Sunny daze Solar water feature is the dry protection technology. The pump will automatically shut off when the water level is too low. This outdoor patio décor also comes with one top tier LED light for that illumination effect on bubbling water.
Best of all, it's constructed from sturdy resin to withstand all weather conditions. Thanks to the battery backup, it also runs at nighttime or when cloudy.
---
Smart Solar 23931R01 Ceramic Solar Cascading Fountain
Rating: 4/5
Remote solar panel
Low voltage water pump
4 Tier fountain
A must-have for your beautiful garden!
This Ceramic solar cascading fountain can be an elegant yet relaxing addition to your backyard, garden, or lawn. Smart Solar provides a wide range of solar-powered, environment-friendly, and energy-efficient water feature for your garden or patio.
Their Cascading fountain is powered by a small remote solar panel that requires direct sunlight to work. This separate solar panel comes with a 10ft. cord so you set it under strong sunlight. It's simple to set up and install with no wiring.
Since it runs by direct sunlight, you don't have to worry about operating costs. The 16.93 x 16.93 x 10.24" water feature has a low-voltage water pump and filters to recycle water coming from the main bowl with 2 gallons water capacity.
Contemporary yet natural look; it has a 4 Tier design and is made from Vietnam sourced ceramic black clay. Besides, the green bamboo glazed finish and textured details create an eye-catching effect. For indoor use, you can add an AC adapter that's separately sold.
---
Kenroy Home 51009SNDST Frost Outdoor Solar Floor Fountain
Rating: 4.5/5
Comes with wind vents
Heating tubes cover a wide area
Fiberglass strengthened over-molded header
4 x 20 ft. The heating panel, with a square ft. Of 80
The SMARTPOOL S601P is a superb solar pool heater option not just for in-ground pools but for above-ground pools as well. This solar pool heating system has a pre-installed pump that makes the water flow via solar collectors that heat the water to almost 6 to 10 degrees F, more significant than the average temperature.
The 4 by 20 feet long heating collector can fit well near the pool or on top of your roof for maximum sunlight collection. It is made of fiberglass enforced header that allows this pool heater to last for long.
Moreover, its solar panels are designed so that each tube is greater in surface area, so more solar energy reaches the valves. The heating panels are made of long-lasting polypropylene and its liquid heat shield stores heat by reducing the pool's evaporation.
Additionally, the reel system allows you to apply or remove the solar blanket easily. The Installation is comparatively more complicated, and it requires the user to buy an SK21 system kit. This solar heating system covers an area of 80 square feet which is quite large.
---
Sunnydaze Submersible Water Pond Pump Solar Powered Fountain Kit
Rating: 4/5
1-tier rose-esque bubbler
Scratch-resistant sturdy resin construction
Premium-grade solar panel
The Kenory Home Classic outdoor fountain can be the striking focal point of your garden. Mediterranean traditional look with textured sandstone finish is perfect to create a European-styled garden.
The 22 x 22 x 44" high fountain brings the sound of calming water to your backyard. This architectural beauty powers by solar energy and sends water up via the Rose-esque spiral carved bubbler to flow through the light-toned 2 tier bowls.
The bottom basin has small riveting along its edges while the sculptural pedestal is long. Made with resin, it matches the surface paint texture and resists chipping or fading over time.
Industry-leading pump motor and components offer superior performance while the premium-quality solar panel has high conversion efficiency. Assembly is super-easy and simple; thanks to the step-by-step setup instructions.
This fountain silhouette may require routine maintenance for the pump. However, you can adjust the flow using the access door at the bottom; No need to fully drain or disassemble. Weighing only 24.6lbs makes it lightweight to move the fountain from one place to another even after fully assembled.
---
Smart Solar 20326R01 Umbrella Series Solar Fountain
Rating: 4/5
48 GPH flow rate
Water-proof integrated solar panel
Lotus white flower design
The Sunnydaze solar-powered water feature has a white lotus flower appearance and comes with a submersible pump. It makes a great colorful addition to any man-made small pond because of its realistic design that resembles real-life water lilies.
11 x 11 x 2" mini pond fountain only weighs 2 lbs and freely floats in your garden lake to create a dramatic effect. This floating feature can spray water to a height of 20" with 48 gallons per hour flow rate. No wires, no cables, no installation, plumbing, or setup!
Simply place it on the water and let the sunlight do the rest of the work, thanks to the unique solar kit that utilizes sunlight to pump water. This US-based water feature has a 1-year limited warranty.
---
Goldflower Solar Bird Bath Fountain
Rating: 4/5
Aged bronze finish
GFRC construction
Dual solar panels with 2 modes
As the name suggests, the umbrella solar fountain by Smart solar features a whimsical fun design with a girl and boy reading a book sitting on a bench with an umbrella. What makes it stand out from other water features is the patented solar on-demand technology.
It comes with 2 solar panels and there are 2 two modes marked on the top of the solar panel. This allows you to turn the switch to change between modes. One mode works when the pump powers by a solar panel in direct sunlight.
When clouds block the sun, the backup battery activates automatically to keep the fountain running without any interruption. Thanks to high-quality solar panels, it allows for uninterrupted water flow on sunny days.
When switched to an off position, the fountain doesn't run and the panel charges the backup battery. This 33" tall birdbath has a single one-tier 2.3" deep basin with 1-gallon capacity and finished with aged bronze.
Made from durable glass fiber reinforced concrete, it weighs only 22 lbs and is designed for minimal maintenance. Also, it's backed with a 1-year limited warranty. This birdbath produces soft ambient noise and beautifully blends in all outdoor settings.
---
Smart Solar 22300R01 Solar Powered Ceramic Frog Water Feature
Rating: 4/5
Free-standing floating design
4 nozzle types
30-40cm spray jet
Perfect for your fish pool, pond, and tank, this free-standing fountain by goldflower doesn't require any wiring or electricity. A 6V 1.0W and 130 by 3mm Solar panel integrates on the top surface with 4 different size sprayer heads to adjust spray height to a maximum of 40cm.
It starts pumping water as soon as the sun shines bright on it! The 0.5-0.85W pump power offers 150L/H maximum water flow. Pump with incorporated brushless motor offers long service life with low energy consumption.
Thus, this gillyflower provides more than 10,000 hours of long life. Not only an ideal birdbath or fountain, but it also circulates water for oxygen in a fish pool.
---
Toscano DW35127 Anchor Falls Rock Garden Decor Tabletop Desk Fountain Water Feature
Rating: 4/5
Self-contained water feature
1-gallon capacity
Low-voltage pump
It's another solar-powered water feature by Smart Solar that can be a great addition to your patio, garden, or outdoor space. What makes it unique is the simplest installation that doesn't require any plumbing or additional water reservoirs.
Since it has a self-contained design, it recycles the same bowl of water again and again. Thanks to the low-voltage water pump, it creates a mini waterfall effect. The pump also comes with a built-in filter to prevent any blockage.
Powered by a remote solar panel that comes with a long 10ft cable cord, this lets you place water features in shade and panel in direct sunlight. This 14.5 x 14.5 x 7" water feature is constructed from ceramic and has a mini frog statue on top.
The green-colored glazed finish blends naturally with any garden setting. Water flows uniquely; water from the bowl flows through the frog's mouth back into the 1-gallon basin. However, it's not very strong in terms of durability and weather-resistance.
---
Types of Water Features
Various solar-powered water features include:
Fountains
Solar fountains are perhaps the most common type of solar water feature that you can add to your landscape. They come in a variety of shapes and sizes to complement any design aesthetic and budget.
Waterfall
As compared to other solar water features, solar waterfalls or streams are relatively cheaper and easy to install and maintain. If the goal is to add movement, drama, sound, and natural beauty to your landscape, mini waterfalls, and streams are the water features to consider.
Solar-powered waterfalls create sounds and sights that most people are looking for in their backyards. Like most some solar lights are even becoming more realistic to the core like some of the best solar powered rock light this is also available in realistic rock or stony appearance, these solar-powered cascading waterfalls or mini streams create more natural meandering settings and bring a sense of flowing water into your space.
These also mimic the sound and flow of a real waterfall. They do it in a way that accommodates potential space and budget constraints.
Pond Water Features
These solar-powered water features are designed to float freely in your garden ponds. This type of water feature has a built-in solar panel on its surface. The pond fountains can spray water up to 20" depending on the sunlight and water feature size.
The compact ones often have shapes like a lotus flower to add more scenic beauty. If water animals like fishes are present in the pond this is usually partnered with the best solar powered aerator to help increase oxygen levels in the water.
Birdbath
This polar-powered water feature is a common choice among people who are looking for a fountain that also works as a birdbath. They usually are tall with a water bowl at the top and a bronzed oil finish.
To fit your particular décor needs, solar-powered water features are available in many different styles that include cascading, tiered, column, statuary, and wall hanging.
What Is a Self-Contained Water Feature?
A self-contained water feature is one that needs no additional reservoir to work. Most of the modern water features in the market have a self-contained design, this means they don't require water plumbing. Water recycles or re-circulates from the pond, hidden sump, or water bowl.
This makes installation easy and simple as you don't require a constant water supply connection. Since water is reused, the self-contained water feature requires little or low maintenance and low operating expenses.
Is a Remote Solar Panel a Better Choice?
The benefit of a remote solar panel with a long cable allows you to place water-feature in the shade while the solar panel is under direct sunlight. You get the freedom to install a water feature and solar panel at your desired location.
Those water features that have an integrated solar panel need to be placed under sunlight for maximum performance. Keeping it under shade mix greatly reduces fountain performance.
What Is Dry Run Protection Technology?
As the name suggests, the dry run protection technology protects the pump when the water feature runs dry. This built-in protection feature prevents overheating of the motor and breakage of the pump due to component wear.
If the static water level is too low, it automatically stops the motor. The pump automatically resumes operation after an optimal water level.
Conclusion
A solar-powered water feature can make a lovely and lively addition to your patio or garden. A great choice for people who wish you have tranquility and serenity within their lawn!
Sunnydaze Solar Water Fountain with Battery Backup, Modern Cascading Bowls, LED Light, Modern Patio, Garden, or Porch Decor, Outdoor Water Feature, Rechargeable Solar Battery and 28 Inch is the clear winner here with its solar technology combined with battery backup that lets people enjoy the solar fountain in the evening or nighttime.
Plus, the Sunnydaze water feature has a solid construction and offer dry-run protection for better performance and durability.
---