One of the many brands of solar generators is Bluetti.
The team here at Suntrica has researched every manufacturer of solar generators that we can find and collected some info on each one to help you make an informed decision on your purchase.
Here's what we learned:
What Products Do They Make?
The firm Bluetti manufactures portable power stations, solar generator kits, home battery backup systems, solar panels, expansion batteries, and accessories. Their goods are created for those who wish to be prepared for any eventuality, be it a power outage, a natural disaster, or a camping vacation.
They think that everyone should have access to clean, dependable, and inexpensive energy and their products are an excellent method to assist people to achieve this objective.
View Other Brands:
Are Bluetti Products High Quality?
With a generator from Bluetti, you can be assured that your home will always have power. It has 4.5 stars out of 5 stars on Amazon, and the review says that it has great power, which is very useful.
You may use them for emergencies or to keep your house operating properly around the clock. The power is respectable and serves its intended purpose.
What Is the Reputation of the Company?
Bluetti, which was developed by Wonder Law and James Ray, was born in 2019. During the company's first year of operation, products were made available on both its website and Amazon. Additionally, it is accessible in local retailers such as Walmart. Furthermore, they have wholesalers and distributors in each state.
Where Are They Based?
Guangdong, China is where Bluetti's headquarters are located.
Where Are the Products Manufactured?
The production of their products takes place in the Chinese province of Guangdong.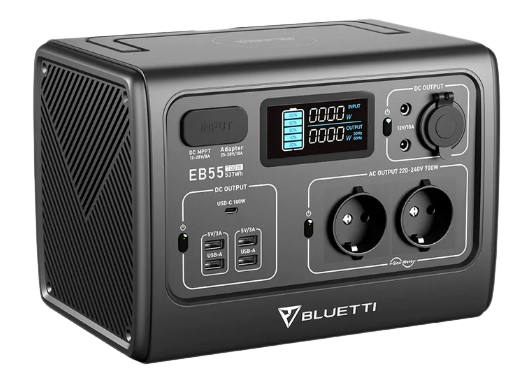 What Is Their Standard Warranty?
All Bluetti items come with a two-year limited warranty. They may extend the contract by two years, giving you peace of mind that your goods will be insured for as long as feasible.
This implies that you may contact them if any issues develop, and they will be eager to assist you. They are committed to ensuring that you are entirely delighted with your purchase.
Do They Have Good Customer Support?
Bluetti provides good customer service, is quite professional, and is always prepared to respond to any queries or concerns that their clients might have.
How Can I Contact Them?
You may get in touch with them about any issues by sending an email to service@bluettipower.com or calling their customer support at +1 702-463-4792. Both options are available to you.
Where Can I Buy Bluetti Products?
Bluetti distributes its items on its website, through online stores, and in local retailers like Walmart. The firm offers an extensive selection of items, such as portable solar generators, power stations, solar panels, and more.
Bluetti also provides an extensive selection of accessories, including batteries, chargers, and more. With so many alternatives available, it is possible to discover the ideal way to power your house or workplace.
Conclusion
Bluetti produces a variety of high-quality goods despite the aforementioned constraints. The Bluetti solar generator is an excellent option for people in need of a way to retain power for vital electrical devices when camping or hiking in isolated locations.
Bluetti Solar Generator Models
| | | | | | | |
| --- | --- | --- | --- | --- | --- | --- |
| Model | BLUETTI AC300 | BLUETTI AC50S | BLUETTI AC200P | BLUETTI EB40 | BLUETTI EB150 | BLUETTI EB240 |
| Capacity | 300WH | 500WH | 2000WH | 400WH | 1500Wh | 2400WH |
| Dimension | 9.9*7.1*6.9inch | 11.6*7.5*7.7inch | 16.5″L x 11″W x 15.2″H | 5.7 x 9 x 11.2 inch | 14.4 x 15.5 x 6.5 inch | 19.4*6.5*14.4inch |
| Weight | 10.4lbs | 13.6lbs | 60.6lbs | 12.3lbs | 37.5lbs | 8.5lbs |
| Cost Per Battery Cycle | $1.1 | $0.9 | $0.8 | $2.6 | $0.7 | $1 |
| Charging Time with 50W Panel | 4- 6 hrs. | 5- 10 hrs. | 20- 40 hrs. | 4- 9 hrs. | 15- 30 hrs. | 24- 48 hrs. |
| Charging Time with 100W Panel | 2- 3 hrs. | 4- 5 hrs. | 16- 20 hrs. | 3- 5 hrs. | 12- 15 hrs. | 20- 25 hrs. |
| Charging Time with 200W Panel | 1- 2 hrs. | 2- 4 hrs | 8- 16 hrs. | 2- 3 hrs. | 6- 12 hrs. | 10- 20 hrs. |

---